1965 Ford Mustang Fastback EBF II
Images of new cars sitting in a snowy driveway wrapped in a big red bow have long been a staple of automotive advertising this time of year. But unlike those marketing scenarios, this is the true story of a 16-year-old boy who got a very special Ford Mustang for Christmas in 1964.
As 1964 drew to a close, Mustang had been on sale for about eight months, and it was already clear the car would become one of the biggest new model hits of all time. That first year it would top 418,000 sales.
One of the factors that made Mustang so appealing was the ability for customers to personalize the car to their own tastes. With three available bodystyles, four engines, 17 colors and myriad other options, Mustang was widely promoted as "The car designed to be designed by you."
Throughout Mustang's history, the car was available in some special-order custom colors such as Playboy Pink in 1968 and Mystichrome in 2004. In 1964, a very special Mustang fastback was sent to the paint shop to be coated in a pearlescent white finish with slim blue racing stripes over the top of the body and along the rocker panels.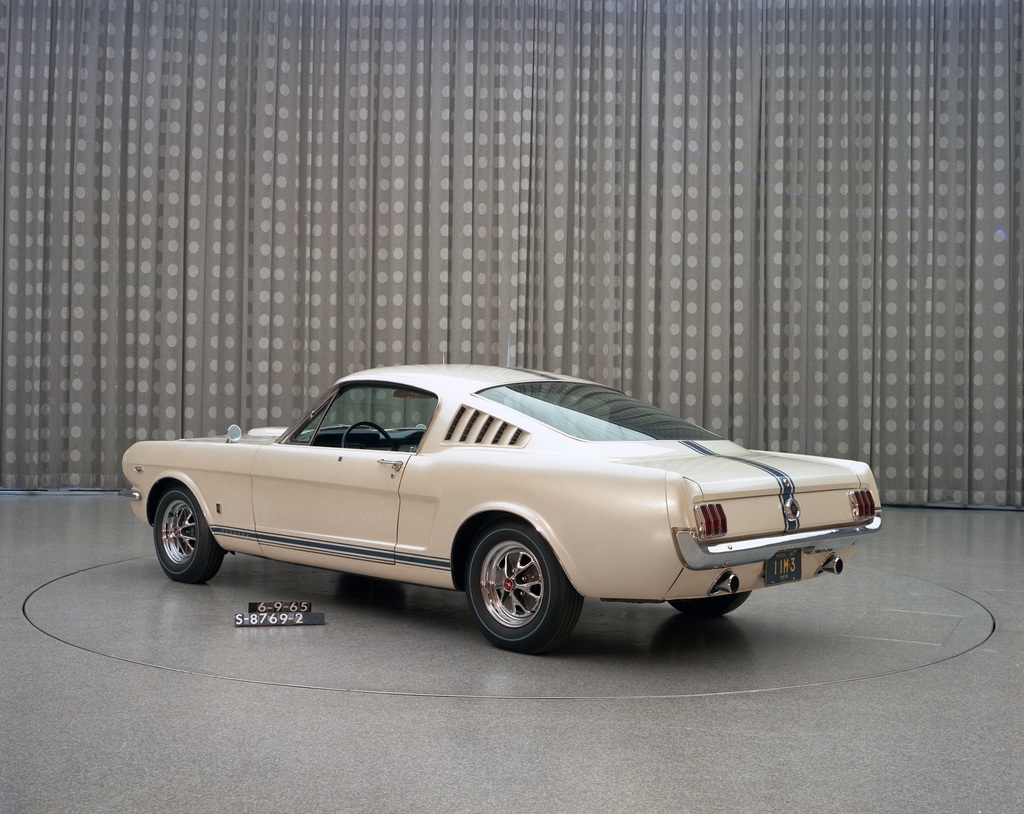 Other exterior details setting this Mustang apart were a functional hood scoop, chrome trim on the three gills in the headlamp buckets, and fender-mounted rearview mirrors similar to Mustangs sold in Europe at that time.
There was another, more subtle detail most people probably wouldn't notice. The rear fuel filler cap, which was typically adorned with the galloping pony logo, featured the initials "EBF II," for Edsel B. Ford II, great-grandson of company founder Henry Ford. Then-Ford Motor Company CEO and president Henry Ford II had had this Mustang prepared as a gift for his son's 16th birthday, which fell on Dec. 27, 1964.
"I came downstairs that Christmas morning with my sisters, and my father indicated I should take a look outside," said Edsel Ford, Ford Motor Company director. "This amazing Mustang was sitting in the driveway, and I immediately grabbed my coat and shoes and went outside to check it out."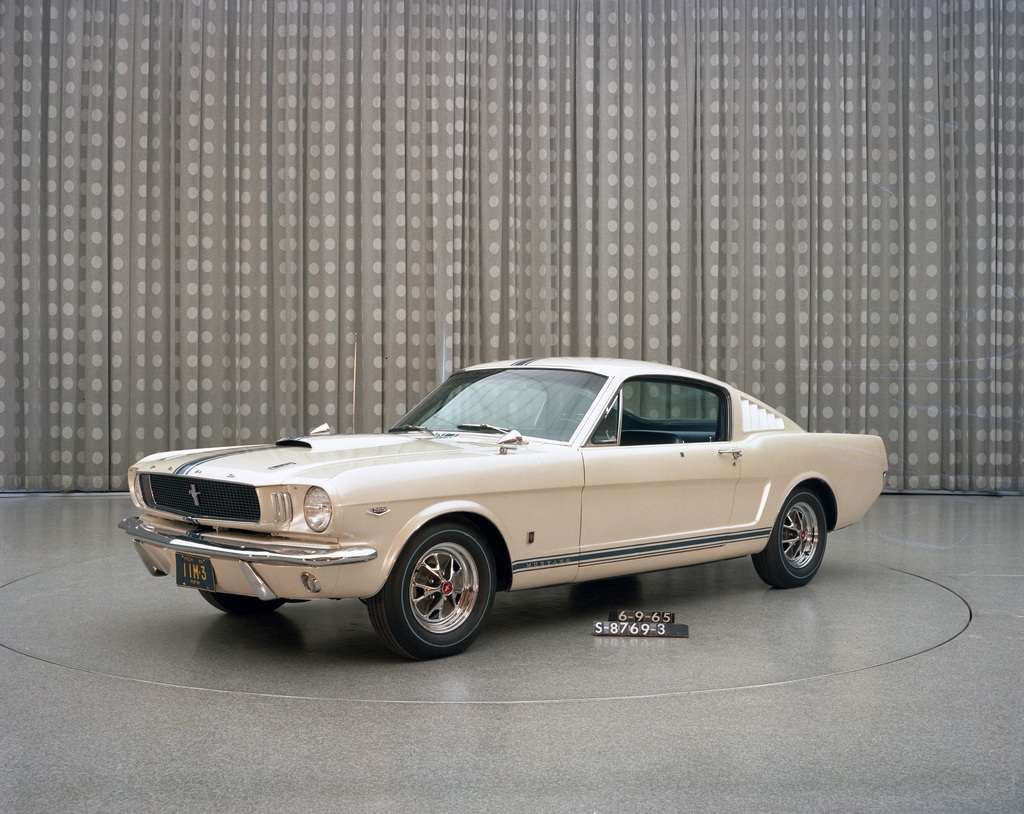 The younger Ford slipped into the custom cabin, which had been finished in blue leather with aluminum trim, and took the car for a short drive, taking several laps of the driveway in front of the house.
"The rumble of the high-performance 289-cubic-inch V8 was always intoxicating," said Ford. "I only drove it for a few minutes that first day because there was snow on the ground, but as soon as the roads were cleared, I drove it almost every day."
Despite being a one-of-a-kind car, that Mustang became Edsel Ford's daily driver as he finished high school and went off to college. Sadly, the car was destroyed in an accident four years after Ford got it for Christmas when a friend borrowed it; fortunately, no one was hurt.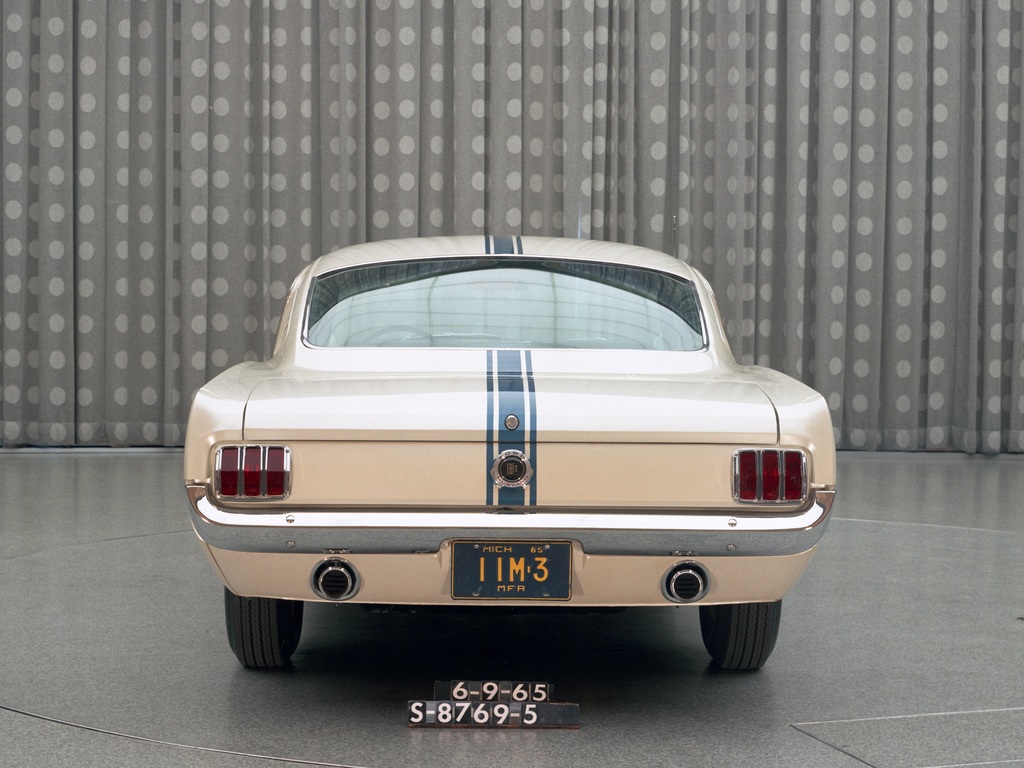 In the 49 years since getting his first Mustang, Edsel Ford has owned a few others, along with other Ford cars that had more space for his wife and four sons. After graduating from college, he joined the Ford marketing department, eventually working on campaigns for Mustang and many other Ford vehicles.
"That Mustang was my first car and one of my favorites," he said. "Seeing the photos that were discovered in the Ford archives brought back many fond memories."
1965 Ford Mustang Fastback EBF II Gallery
In Detail
| | |
| --- | --- |
| submitted by | admin |
| type | One Of |
| built at | USA |
| engine | High Performance V8 |
| position | Front, Longitudinal |
| aspiration | Natural |
| bore | 101.60 mm / 4.00 in |
| stroke | 72.90 mm / 2.87 in |
| compression | 10.5:1 |
| power | 202.1 kw / 271 bhp |
| torque | 423.0 nm / 312 ft lbs |
| body / frame | Steel Body over Steel Platform Chassis |
| driven wheels | RWD |
| wheel type | Steel Disc |
| front brakes | Drums |
| rear brakes | Drums |
| front wheels | F 33.0 x 11.4 cm / 13 x 4.5 in |
| rear wheels | R 33.0 x 11.4 cm / 13 x 4.5 in |
| f suspension | A-Frame and Lower Arms w/Coil Springs, Anti-Roll Bar |
| r suspension | Solid Axle w/Leaf Springs |
| transmission | 4-Speed Manual |
| gear ratios | 2.78:1, 1.93:1, 1.36:1, 1.00:1 |