1966 Ford GT40 Mark III
After developing the GT40 for two years, Ford finalized the car and put it into regular production. A total of eighty four production versions were completed at Ford's Advanced Vehicle facility in Slough, England. This production number was sufficient to homologate the GT40 and after GT40P1084, Ford Advanced Vehicles was dissolved.
Following the departure of Ford Advanced Vehicles, J.W. Automotive Engineering took over the Slough facility and started manufacturing strictly road going versions of the GT40. J.W Automotive was headed by John Wayer who was the GT40 ex-team manager and Ford's distributor in England. His goal was to create a more road-worthy GT40 than the production versions made by Ford Advanced Vehicles. This new car was called the GT40 Mark III.
Many external changes distinguished the Mark III. Safety regulations dictated that the headlights had to be raised with circular sealed beams installed. At the rear, the body was extended to provide space for a rear locker. Inside, the interior was fitted with more upholstery and standard seats that did not incorporate the Mark II's clever cooling system.
The Mark III's engine was changed to the much more simple 289 found in the Shelby 350 Mustangs. These engines used a four barrel Holley carburetor instead of the Webbers used on the Mark I. However, the transmission and clutch were identical to the race car's setup.
Unfortunately, John Wayer failed to make a superior GT40. The fit and finish did not match the cars made Ford Advanced Vehicles which were built under a no-expense-spared policy. This may be the reason that only seven or eight were ever completed. Despite these facts the Mark III was still a very capable car that used the same proven chassis and aerodynamics that helped the Mark II conquer Le Mans.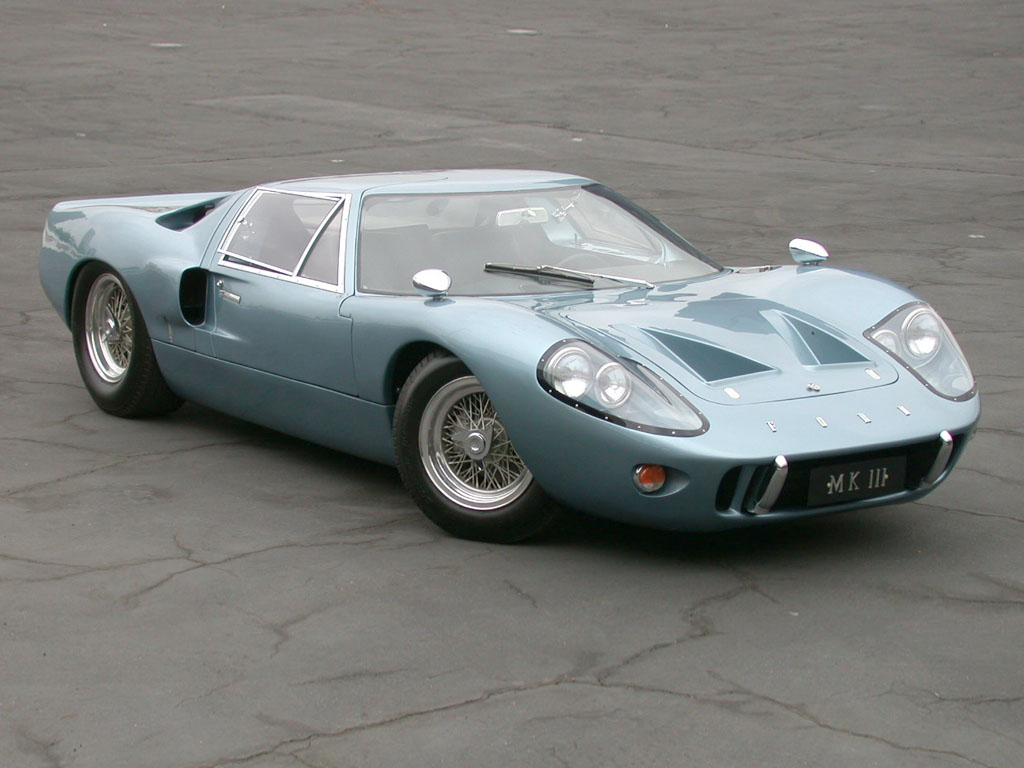 In Detail
| | |
| --- | --- |
| submitted by | Richard Owen |
| built at | Detroit, Michigan, USA |
| price $ | $18 500 USD |
| engine | Water Cooled, 90 Degree V8 w/Dry Sump |
| position | Mid Longitudinal |
| aspiration | Pushrod Operated OHV |
| valvetrain | OHV |
| fuel feed | Holley 4-Barrel 715CFM Carburettor |
| displacement | 4736 cc / 289.0 in³ |
| bore | 101.6 mm / 4.0 in |
| stroke | 72.9 mm / 2.87 in |
| compression | 10.5:1 |
| power | 228.2 kw / 306.0 bhp @ 6000 rpm |
| specific output | 64.61 bhp per litre |
| bhp/weight | 293.38 bhp per tonne |
| torque | 446.0 nm / 329.0 ft lbs @ 4200 rpm |
| redline | 6200 |
| body / frame | Fibreglass Body over Sheet-Steel Semi-Monocoque w/Square Tube Stiffening |
| driven wheels | Mid Engine / RWD |
| front tires | Goodyear 5.00×15 |
| rear tires | Goodyear 7.00×15 |
| front brakes | Girling Solid Discs |
| f brake size | x 292 mm / x 11.5 in |
| rear brakes | Girling Solid Discs |
| r brake size | x 284 mm / x 11.2 in |
| front wheels | F 38.1 x 16.5 cm / 15 x 6.5 in |
| rear wheels | R 38.1 x 20.3 cm / 15 x 8 in |
| steering | Rack & Pinion |
| f suspension | Wishbones w/Coil Springs, Anti-Roll Bar |
| r suspension | Transverse Top Link w/Lower Wishbone, Trailing Arms, Coil Springs, Anti-Roll Bar |
| curb weight | 1043 kg / 2299 lbs |
| wheelbase | 2423 mm / 95.4 in |
| front track | 1353 mm / 54 in |
| rear track | 1372 mm / 54 in |
| length | 4293 mm / 169.0 in |
| width | 1778 mm / 70.0 in |
| height | 1041 mm / 41.0 in |
| transmission | ZF 5DS-25 5-Speed Manual |
| gear ratios | 2.42:1, 1.47:1, 1.09:1, 0.96:1, 0.85:1, :1 |
| final drive | 4.22:1 |
| top speed | ~257.5 kph / 160.0 mph |
| 0 – 60 mph | ~5.2 seconds |
| 0 – 100 mph | ~12.2 seconds |
| 0 – 1/4 mile | ~13.6 seconds |