Ferrari 275 GTS/4 'NART Spyder'
Only ten Ferrari 275s officially came from the Ferrari factory in spyder configuration (25 were planned). These were all made for Luigi Chinetti who was Ferrari's North American Importer at the time.
When Ferrari launched the 330 GTS and the 275 GTB/4, Luigi Chinetti felt as if there was a gap in Ferrari's line-up that he wanted plugged for his American clients. The 330 GTS was luxurious top-down cruiser while the 275 GTB/4 was a more aggressive Ferrari GT. Americans at the time wanted a convertible offering the best aspects of both cars. Chinetti reluctantly convinced Enzo Ferrari to build it for him, the 'NART Spyder'.
Chinetti first got the idea for the car at the Paris Motor Show when the 275 GTB/4 was shown. Ferrari at first denied his request to built a factory spider, but after talking to Sergio Scaglietti who manufactured the 275 bodies, Ferrari was finally convinced. Chinetti named the car after his North American Racing Team (NART) which contested all the top races in US and abroad.
Just 10 examples would be built, even though it won the hearts of enthusiasts worldwide and is considered today to be one of the most beautiful and desirable Ferraris ever to leave Maranello.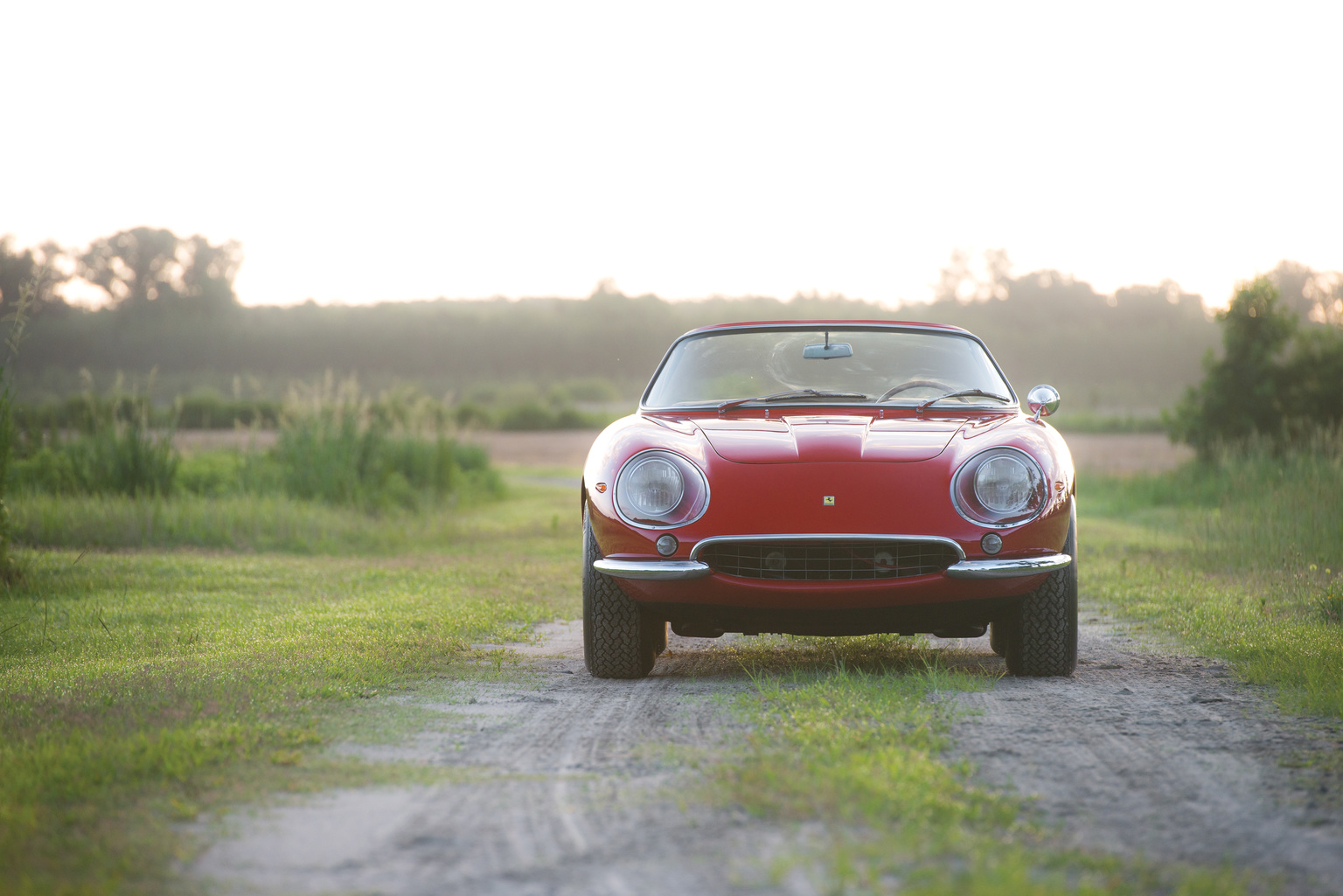 Initially, Chinetti ordered 25 cars which were executed by the experienced craftsman at Sergio Scaglietti's workshops. Although the chassis of the 275 relied on the body for rigidity no additional bracing was introduced with the NART Spyder.
In the end, Ferrari only shipped 10 Spyders to Chinetti and they were all sold through his eastern USA dealership. The first of these cars came with aluminum body and was immediately put into race duty to promote the model. After the race, Chinetti had a hard time selling the cars and had to sell the final few at a marked discount.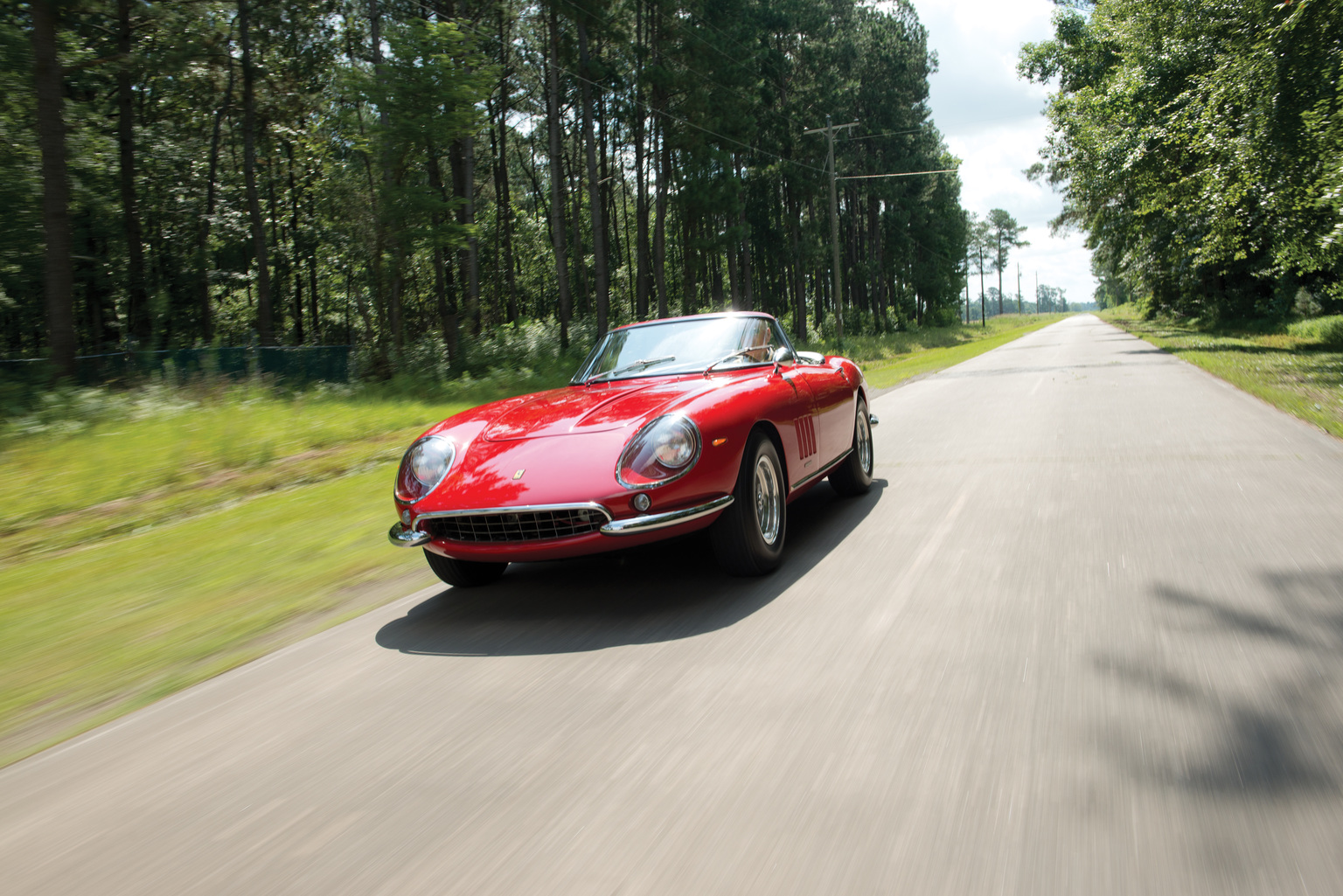 Feature Car
Our feature car is chassis 10709 and was purchased new by Eddie Smith Sr., of North Carolina. He carefully and respectfully kept the car for his life until his passing in 2007. In the 1980s it was painted from its original hue of Azzurro Metallizzato to resale red.
In 2013, RM Auctions sold 10709 for the Smith family with all the proceeds benefitting charity. It sold for $27,500,000 USD which was a record for a motorcar at auction.
275 GTB/4 NART Video
Photos & Image Gallery
See full 1967 Ferrari 275 GTS/4 'NART Spyder' Gallery here
Specs & Performance
| | |
| --- | --- |
| | |
| type | Limited Production Car |
| built at | Maranello, Italy |
| body stylist | Pininfarina |
| coachbuilder | Scaglietti |
| production | 10 |
| price $ | $ 14,400 |
| predecessor | 1960 Ferrari 250 California SWB Spyder |
| successor | 2009 Ferrari California |
| engine | 54 Degree V12 |
| position | Front Longitudinal |
| aspiration | Natural |
| displacement | 3286 cc / 200.5 in³ |
| bore | 77.0 mm / 3.03 in |
| stroke | 58.8 mm / 2.31 in |
| compression | 9.8:1 |
| power | 223.7 kw / 300.0 bhp @ 8000 rpm |
| specific output | 91.3 bhp per litre |
| bhp/weight | 269.3 bhp per tonne |
| torque | 294.21 nm / 217.0 ft lbs @ 6000 rpm |
| body / frame | Steel over Steel tube Frame |
| driven wheels | Front Engine / RWD |
| wheel type | Light Alloy Slotted |
| front tires | 205R-14 |
| rear tires | 205R-14 |
| front brakes | Dunlop Solid Discs |
| rear brakes | Dunlop Solid Discs |
| front wheels | F 35.6 x 17.8 cm / 14.0 x 7.0 in |
| rear wheels | R 35.6 x 17.8 cm / 14.0 x 7.0 in |
| steering | Worm & Roller |
| f suspension | Double Wishbones w/Coaxial Coil Springs, Koni dampers |
| r suspension | Double Wishbones w/Coaxial Coil Springs, Koni dampers |
| curb weight | 1114 kg / 2456 lbs |
| wheelbase | 2400 mm / 94.5 in |
| front track | 1402 mm / 55.2 in |
| rear track | 1417 mm / 55.8 in |
| length | 4409 mm / 173.6 in |
| width | 1725 mm / 67.9 in |
| height | 1245 mm / 49.0 in |
| transmission | 5-Speed Manual |
| gear ratios | 3.076:1, 2.119:1, 2.572:1, 1.250:1, 1.038:1 |
| final drive | 3.555:1 |
| top speed | ~249.4 kph / 155 mph |
Auction & Sales Results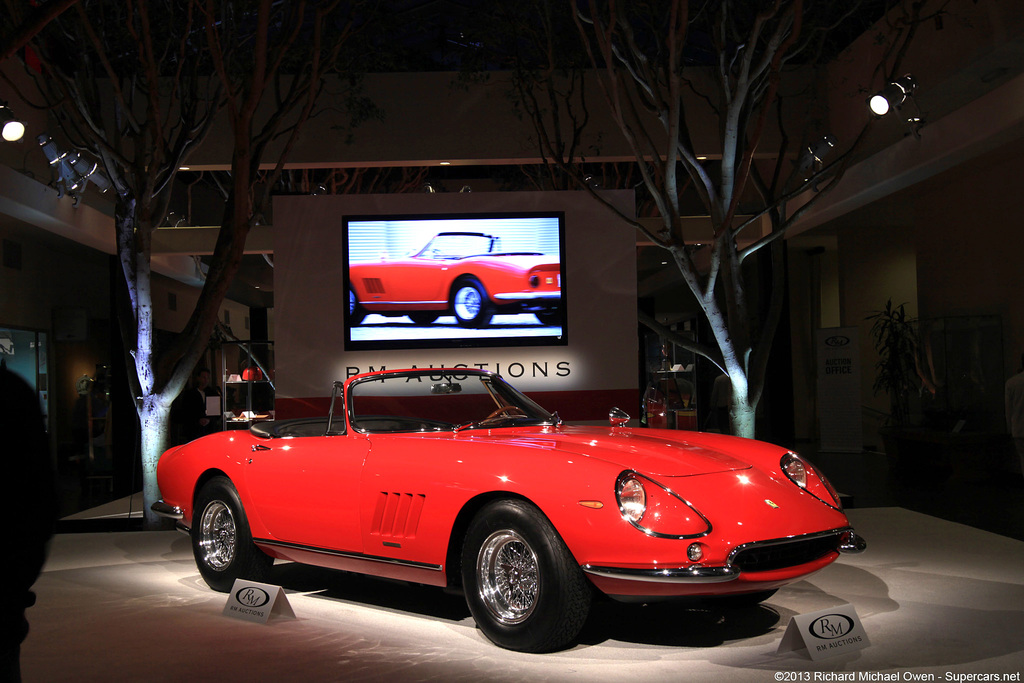 1967 Ferrari 275 GTS/4 'NART Spyder' 10709 – sold for $27,500,000 Single-ownership from new. Purchased new by Eddie Smith Sr., of North Carolina. Matching-numbers, fully restored example. One of only 10 highly desirable N.A.R.T. Spiders ever built. Proceeds to benefit charity. Auction Source: 2013 Monterey Auction by RM Auctions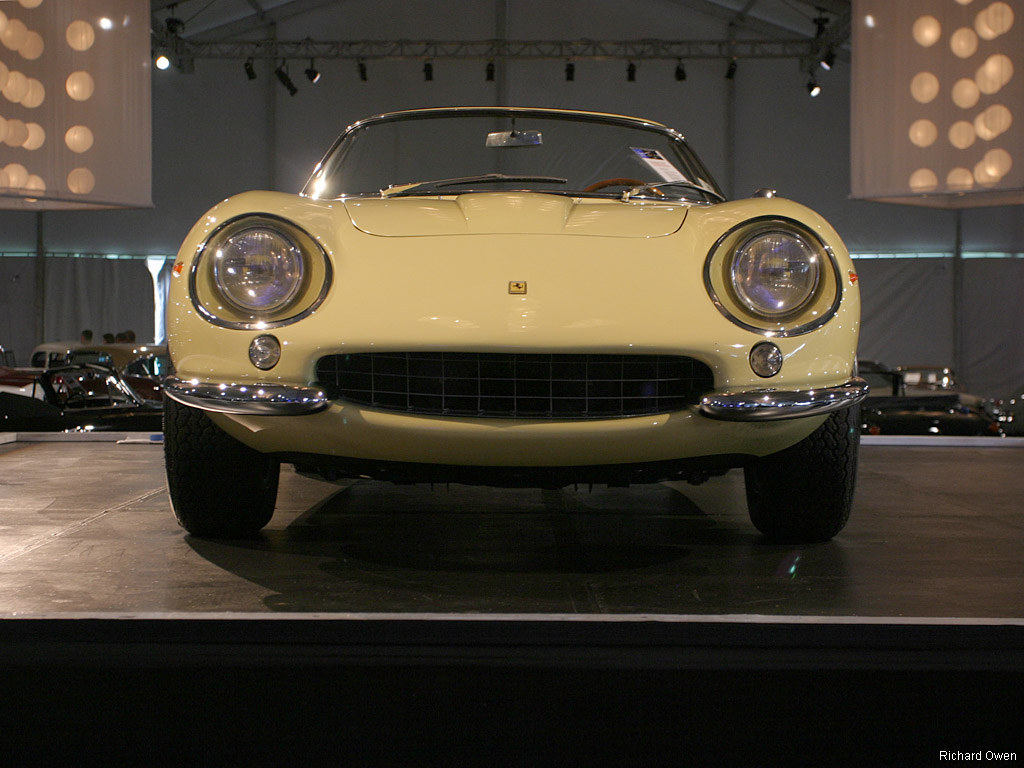 1967 Ferrari 275 GTB/4 NART Alloy Spyder 09437 – 1967 Ferrari 275 GTB/4 NART Alloy Spyder. Upon delivery it was immediately prepared with a roll-bar for race duty and first contested the Sebring 12 Hours with drivers Denise McCluggage and Marianne 'Pinkie' Rollo behind the wheel. They had a tiny crew and limited equipment, but after 12 hours, the 275 endured, and finished just half a lap behind the class-winning Shelby Mustang. A fantastic finish for a showroom-stock Ferrari, albeit with a 330 bhp competition engine. Not long afterward the car was freshened by Chinetti then displayed as the cover car on Road & Track's September 1967 issue. Auction Source: 2005 Monterey Events