1967 Ferrari 330 P4
One of the most revered Ferraris is the 330 P4. It immediately draws attention with curvaceously low lines and a sleek, yet aggressive demeanor. And since only one completely original car remains, it's an elusive sight for many fans. Interestingly, the P4 is also one of the last Ferrari prototypes that still resembles a sports car. The original body was drawn up by stylist Piere Drogo and the factory tweaked his design to be more purposeful every year.
The 330P was built during a very exciting time for sports car enthusiasts. By the time the P4 was lapping the world's circuits, Ford had finally pulled together their GT40 program and made history by beating Ferrari at the 1965 24 Hours of Le Man. However, Ferrari persisted with a much smaller-engined prototypes in hopes that their technical sophistication and superb handling would outclass Ford's big-block might. Technical engineer Mauro Forghieri was responsible for the 1967 challenge.
This P4 was the culmination of a series of rear-engine Ferraris that progressively got larger, as much as weight balance and transaxles would allow. By 1964, these rear-engine cars had worked their way up to Ferrari's largest engine, the long-block, Lampredi V12. By the time the 330 P4 debuted in 1967, Ferrari included such novelties as Lucas fuel injection and intakes that were mounted directly on the cam covers.
The P4's raced alongside both the 330 P3 which was an earlier evolution of the car, and the 412P which was a much less complicated version of the P4 that did without fuel injection and opted for regular carburetion. P4s were outwardly distinct amongst this crowd as they had slight smaller bodies and were built as open-air spyders.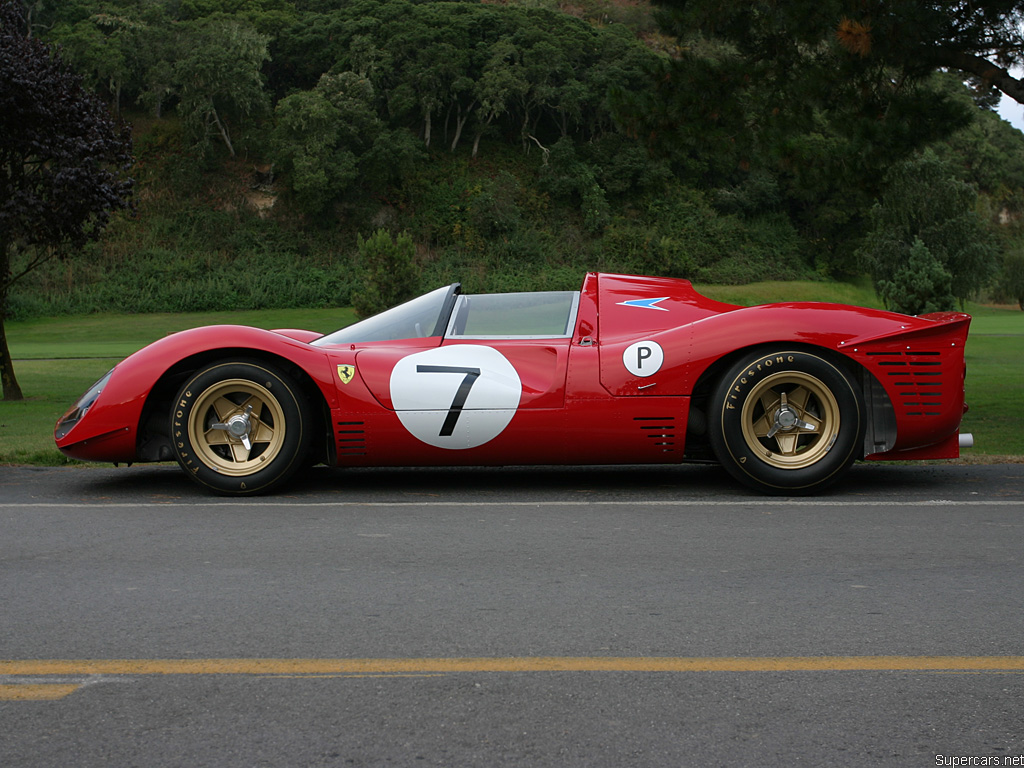 Easily, the P4's best moment came at Daytona when Enzo Ferrari got his sweet revenge and placed 1-2-3 at one of America's most respected sports-car races. Until his death, Enzo kept a picture of the trio on their final lap of the momentous race. Other notable victories included the car's debut 1000 km races at Monza, but the P4s were beaten at Lemans by Ford's superb 7-litre Mk IV.
Three chassis, numbers 0856; 0858 and 0860 were originally made and raced as close coupes. These were all converted into spyders for the Brands Hatch BOAC 500 race. Regulations at the end of the season meant that Ferraris famous P racers had to come to an end in Europe, however two of the P4s were radically prepared for Group 7 Can-Am duty. Afterwards the world was left with only on P4 in its original configuration; because of this, chassis 0856 is now one of the most valuable cars in the world.
Due to its attractive body, tremendous history and massive rarity the P4 has also been a popular kit car. Companies such as Noble have gone as far to make a series production of these replicas and up to 100 have been made with various engines. These cars vary quite a bit depending on the owner's level of detail, but most can fool a Ferrari enthusiast into believing he's seen the real deal from afar.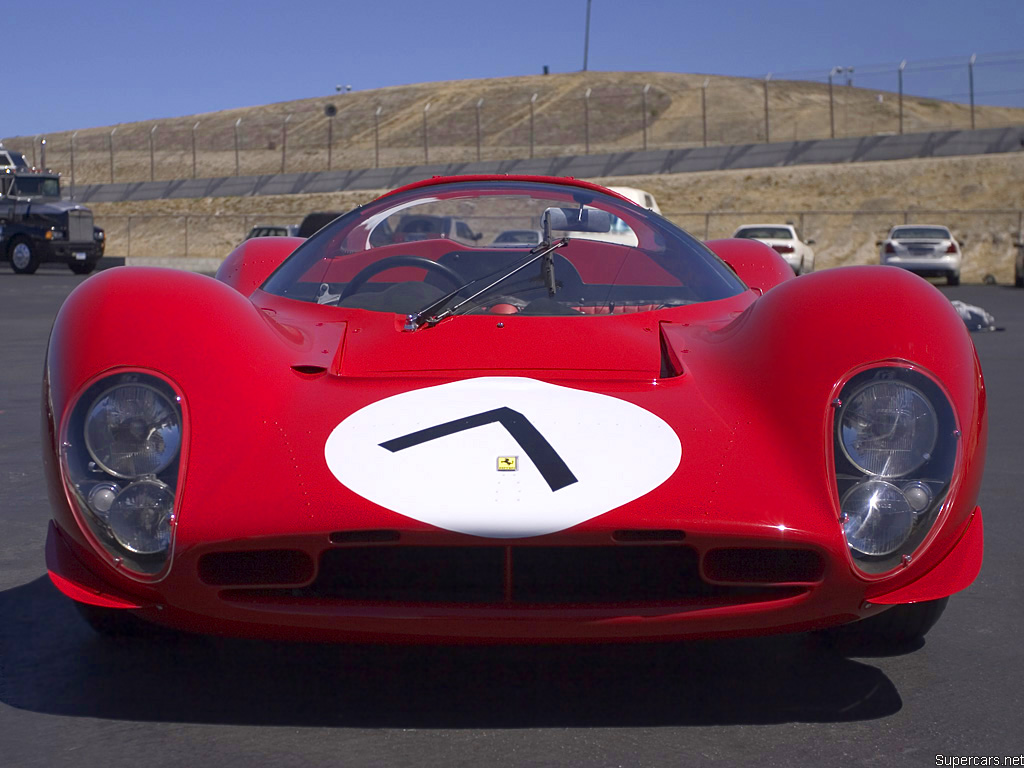 Chassis by Chassis
0856-Owned by Canadian Lawrence Stroll, 0856 is the only P4 that retains its original body and mechanics. For this reason, Lawrence's car is one of the few Ferraris that almost every collector in the world would like to get his hands on. Before Ferrari was the feature marque at Monterey, Lawrence sent 0856 to Bob Smith coachworks for some minor touchups. The resulting job was magnificent, and a definite highlight of the weekend.
0846-Another remaining Ferrari that resembles a P4 is Jim Glickenhaus' 330 P3/4. It was built using parts from David Piper with assistance from Ferrari and has since caused a rift in the community. While Jim has proven that accident damage to the chassis he has matches the damage 0846 received at LeMans, established entities such as Cavallino Magazine will not accept the car as a real Ferrari. One major point of contention is the coupe body Jim originally put on the car. His 330, started out life as a P3 Roadster and was never made with a coupe body. After getting the tail section from another car, 0846 was brought back to its original and correct configuration.
Ferrari 330 P4 – Photos & Image Gallery
Ferrari 330 P4 Specs & Performance
| | |
| --- | --- |
| | |
| type | Racing Car |
| built at | Modena, Italy |
| engineers | Mauro Forghieri |
| engine | Aluminum, Type 237 60º V12 |
| position | Mid Longitudinal |
| aspiration | Natural |
| valvetrain | DOHC, 3 Valves per Cyl |
| fuel feed | Lucas Fuel Injection |
| displacement | 3967 cc / 242.1 in³ |
| bore | 77 mm / 3.03 in |
| stroke | 71 mm / 2.8 in |
| compression | 11.0:1 |
| power | 335.6 kw / 450.0 bhp @ 8000 rpm |
| specific output | 113.44 bhp per litre |
| bhp/weight | 568.18 bhp per tonne |
| body / frame | Aluminum Body over Tubular Steel Chassis |
| driven wheels | RWD |
| front brakes | Ventilated Discs |
| rear brakes | Ventilated Discs |
| f suspension | Double Wishbones w/Col Springs, Damper Units, Anti-Roll Bars |
| r suspension | Double Wishbones w/Col Springs, Damper Units, Anti-Roll Bars |
| curb weight | 792 kg / 1746 lbs |
| wheelbase | 2400 mm / 94.5 in |
| front track | 1488 mm / 58.6 in |
| rear track | 1450 mm / 57.1 in |
| transmission | 5-Speed Manual |
| top speed | ~338.0 kph / 210 mph |
Ferrari 330 P4 Videos
As much as any other car, the Ferrari 330 P4 is the embodiment and culmination of an entire era of racing. With its low-slung stance and voluptuous lines, it is also among the most visually stunning cars ever produced. Combine these factors and the word "icon" slips to the tip of one's tongue.
Further Reading
Beehl, Nathan.Ferrari P series – The Rear Engined V12 Sports Cars 1963-69. Automobilia, 1989.
Casucci, Piero.Ferrari P 1961 – 1973,Ferrari rear-engine Sports and Prototypes. Automobilia, 1989.
Godfrey, John.Ferrari Dino SPs.Patrick Stephens, 1990.
Marasca, Paolo.Ferrari 330/P4. Electa: 2000.