1967 Ferrari 350 Can-Am
After the Ferrari 330 P4s finished their duties in 1967, they were returned to the factory and two were converted for the Canadian-American Challenge (Can-Am). Even with their striking new body and enlarged engine, these spyders were no match for the competition in Group 7 and fell behind cars like the McLaren M6A-Chevrolet.
In Maranello, the defunct P4s were converted into the 350 Can-Am. Ferrari fitted a smooth spyder body that had no front headlights and gave the car an exceptionally low frontal area. On the engine deck were two curved intake scoops that fed the intake trumpets.
Ferrari enlarged the engine as much as they could to keep pace with the big-block American specials they would be up against. An increase in bore brought the engine displacement up to 4176cc, but it was still no match compared to competition. Ferrari retained the Tipo 237 designation as the Can-Am engine shared the same crankshaft and stroke.
Late in the '67 season two Ferraris joined the Can-Am championship with mediocre results. At Ferrari's Laguna Seca debut, Chris Amon finished fifth overall. It would be the best result a Ferrari would achieve in Can-Am.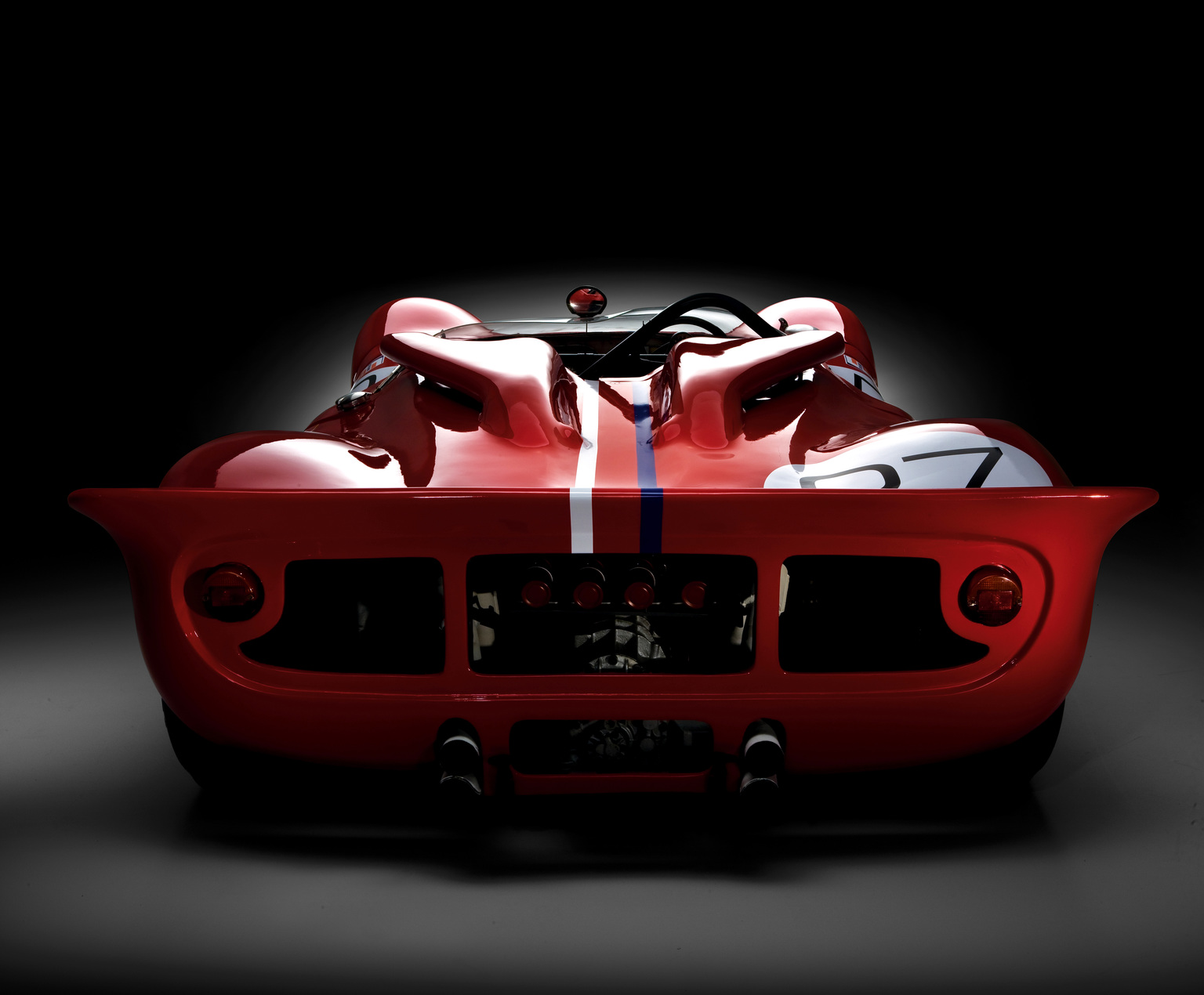 Our feature example, chassis 0858 raced the 1000km Monza, 1000km de SPA Francorchamps, the 24h Le Mans and BOAC 500 before being sent back to factory for Group 7 Can-Am bodywork. It was raced in America by Jonathan Williams at Laguna Seca, Riverside and Las Vegas in 1967 with no real results. Afterwards it was raced once in Australia before being sold to Paul Hawkins who raced the car extensively in 1968/69 to a number of first place victories.
Eventually the car ended up in the collection of Walter Medlin in Orlando, FL. It was restored in 1994 and appeared at the Monterey Historic Races that year. Later, in 1996 the IRS issued several auction listings for 0858 which was never sold nor confiscated. Instead a lien was placed on 0858.
In 2009 0858 was offered by RM Auctions for their Leggenda E Passione auction. Described as "Entered by William Harrah's Modern Classic Motors and liveried with longitudinal red and white racing stripes, 0858 ran in three races late in the 1967 season – the Monterey Grand Prix at Laguna Seca, the Riverside Grand Prix and the Stardust Grand Prix in Las Vegas, driven twice by Amon and finally by the young factory driver Jonathan Williams of Britain.
In 1968 chassis 0858 was sold to David McKay's Scuderia Veloce in Australia and was immediately entered in its only Australian race at Surfers Paradise. Paul Hawkins secured its purchase from Australia and had it shipped immediately to South Africa for the Springbok Series. The 1968 season in South Africa proved to be extremely rewarding for 0858 with five outright victories and two second-place and one third-place finish.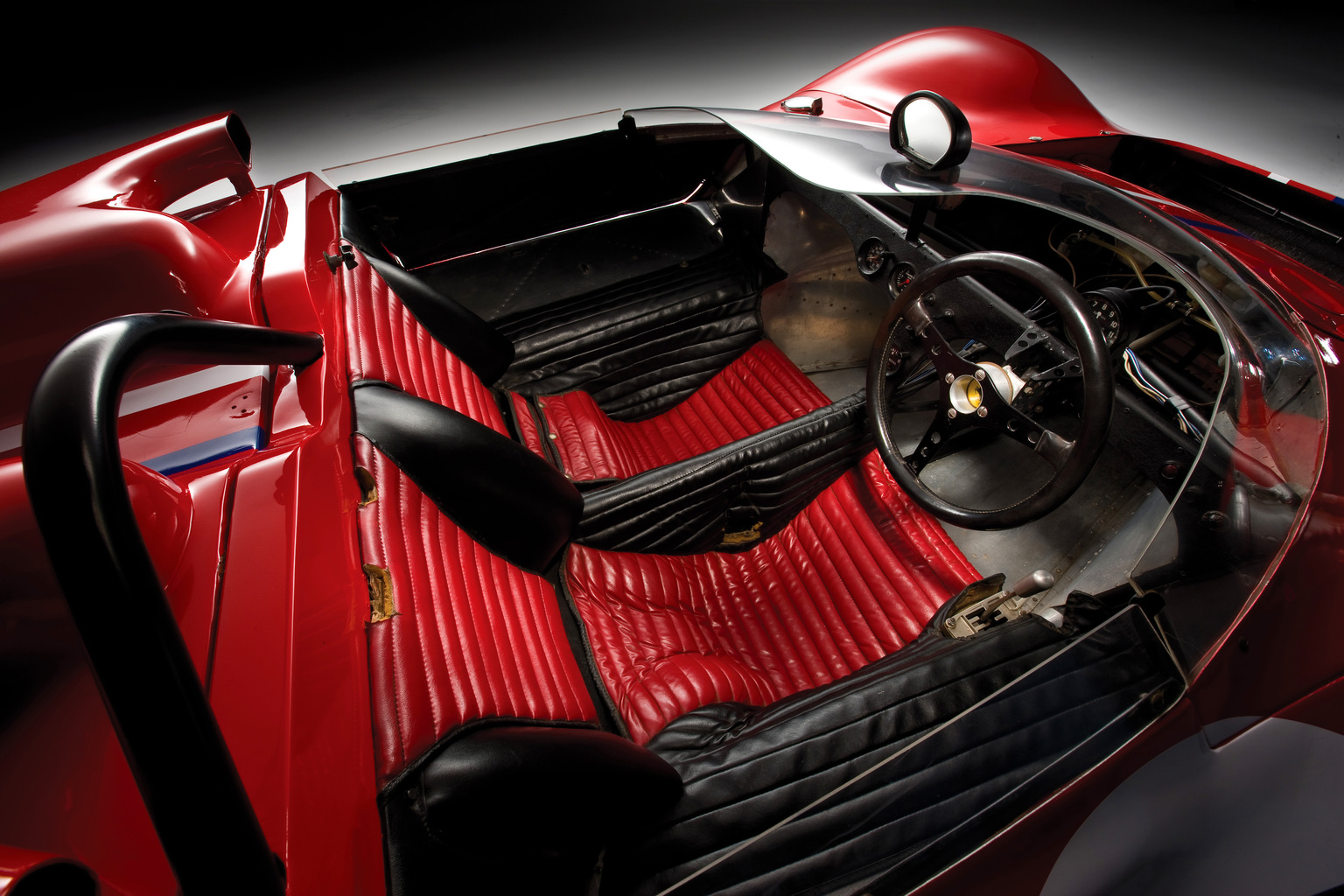 In early 1969 chassis 0858 then made a brief reappearance in Europe where twice it finished first overall but did not finish at Dijon in May because of a flat tyre. 0858 was then sold through David Piper to Alistair Walker who sent it back to South Africa where it was entered in such prestigious events as the 9 Hours of Kyalami, Cape Town 3 Hours and the Laurenço Marques 3 Hours in Mozambique. Piper then bought the car back from Walker in 1971 before its current owner acquired 0858 from Piper. Since its purchase, the owner has treasured this important works Ferrari for 38 years, having only shown it at very few exclusive events in the United States. Chassis 0858 is one of just three original 330 P4s and its distinguished racing career includes a third overall at the 24 Hours of Le Mans in 1967 and a win in the 1000-kilometre race at Monza.
Ferrari P4s are considered by many to be the ultimate and most breathtakingly beautiful of all racing prototypes and this car, with its continuous and nearly four decade-long ownership, has never been offered on the market before. It is a very important and highly desirable part of Scuderia Ferrari racing history, presented today with its original Can-Am bodywork and mechanicals, ready to thrill its new owner.
If ever there was a once in a lifetime opportunity to own one of the most important sports racing cars ever built, this is it!"
After the Auction. David Piper and Talacrest's John Collins converted the car back to a P4 Berlinetta.
Story by RM Auctions
In Detail
| | |
| --- | --- |
| | |
| type | Racing Car |
| built at | Modena, Italy |
| production | 2 |
| engine | Type 237 60º V12 |
| position | Mid, Longitudinal |
| aspiration | Natural |
| block material | Aluminum Alloy |
| valvetrain | DOHC, 3 Valves per Cyl |
| fuel feed | Lucas Indirect Fuel Injection |
| displacement | 4176 cc / 254.84 in³ |
| bore | 79 mm / 3.1 in |
| stroke | 71 mm / 2.8 in |
| compression | 11.0:1 |
| power | 357.9 kw / 480 bhp @ 8500 rpm |
| specific output | 114.94 bhp per litre |
| body / frame | Fiberglass Body over Steel Spaceframe Chassis |
| front brakes | Discs |
| rear brakes | Discs |
| f suspension | Double Wishbones w/Coil Springs, Telescopic Shock Absorbers |
| r suspension | Double Wishbones w/Coil Springs, Telescopic Shock Absorbers |
| wheelbase | 2400 mm / 94.5 in |
| transmission | 5-Speed Manual |
https://www.youtube.com/watch?v=NP5oOvJ6HfA