1967 Ford Fairlane 427 Lightweight
Sold as part of the Ellis Collection at Dana Mecum's 2009 Original Spring Classic Auction. Described as "Ford's first order of business for the 1967 drag racing season was to unseat Chrysler's latest crop of Hemi Super Stockers, and they took care of that business with the second-generation 427 Fairlane. Early testing by Ford Drag Racing Coordinator Dick Brannon showed that a specially lightened version powered by the "Medium Riser"-spec 427 consistently ran record-beating elapsed times.
The 1967 Ford 427 Fairlane Lightweight 2-Door Sedan offered here is truly unique, one of only 35 lightweights delivered in 2-door "post" body style rather than the GT and GTA hardtop. This rare "North of the Border" racer is originally from British Columbia, specially ordered by Meyers Holland Motors of Nanaimo on Vancouver Island and purchased by drag racer Donnie Hackwood of nearby Cedar, BC.
The 427 under the Fairlane's scooped fiberglass hood is fitted with a dual quad tunnel wedge intake manifold topped by dual 652cfm Holley carburetors. The 427's notoriously tough internals include a forged steel crankshaft and 12:1 compression pistons, and a solid lifter cam with 0.600 inch lift and 324 degrees duration enables reliable 7500 rpm shift points. A Ford top-loader four speed transmission with a stout 1 3/8 inch input shaft sends the 427's considerable torque to a bulletproof Ford 9-inch Detroit Locker rear end running 4:57:1 gears; traction is maximized by a set of Lakewood bars.
With documentation that includes a Marti Report, this veteran of Northwest/West Coast Super Stock drag racing is one of Ford's fastest Fairlanes, with a best quarter-mile run of 11.41 seconds at 121 mile per hour.
Highlights:
– Historical documentation by Travis Miller
– Originally sold to D.H. Hackwood of Cedar, British Columbia, Canada by Meyers Holland Ford
– Original 427 Medium Riser engine
– Factory dual four-barrel tunnel wedge intake
– Two Holley 652 cfm carburetors with Ford progressive linkage
– Ford top loader
– Ford 9" rear end
– Factory lightweight lift-off hood
– Marti Report"
Story by 2008 Mecum Auction Inc.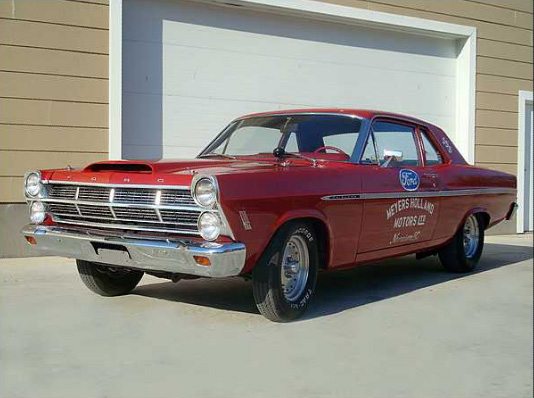 In Detail
| | |
| --- | --- |
| | |
| type | Series Production Car |
| built at | USA |