1967 Ford GT40 Mark IV
In 1966, Ford achieved top honors in the field of international endurance racing. Despite growing costs, Ford decided to continue development of the GT40 for the 1967 season. This campaign was already the largest and most expensive American assault on the predominantly European series.
While the 427-powered Mark II cars proved a remarkable success in 1966, their hefty weight motivated Roy Lunn, a senior designer at Ford, to seek out drastically new designs. Two promising projects had already been in development and both incorporated aluminum in their chassis design.
The first such car was the X1 prototype built by McLaren Racing Limited. This car featured an aluminum version of the GT40 tub and raced quite successfully, winning at Sebring in 1966. The second project, called the J car, was a much more experimental than the X1. This fresh approach appealed to Lunn, who convinced Ford to move forward with the project.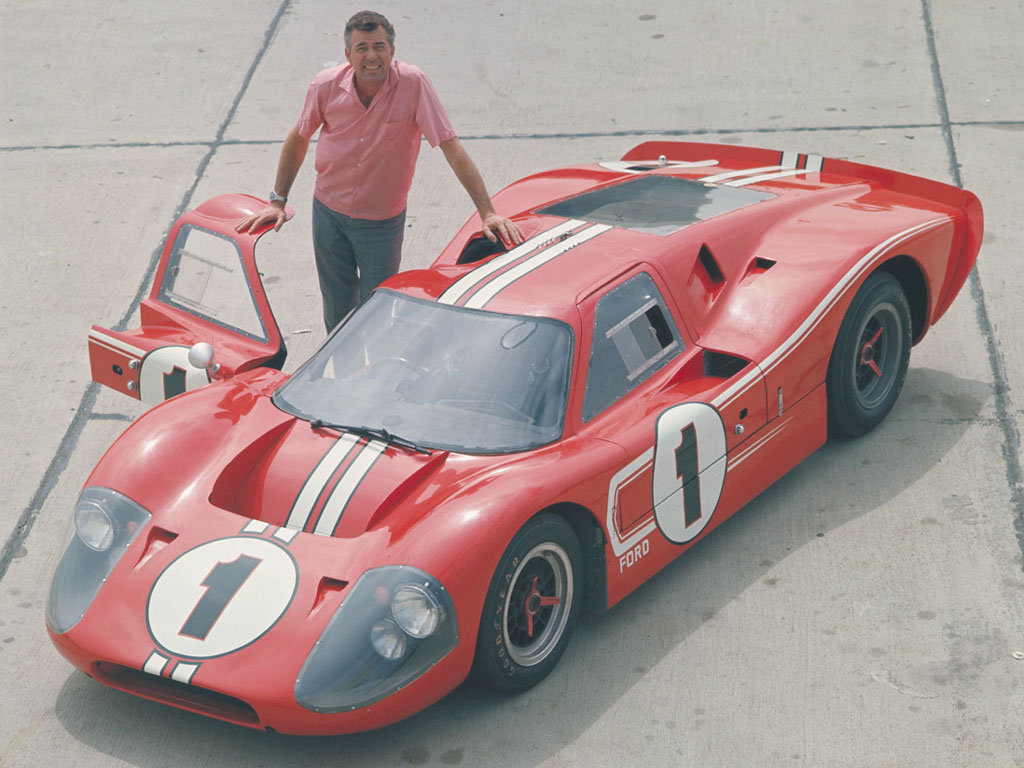 The J Cars
It was the technique of using honeycomb-sandwiched aluminum which motivated the J car. This technique used half inch honeycomb aluminum panels which had to be bonded together. The first J car would use this honeycomb aluminum to form a central tub chassis similar to the GT40's. The final specification for the car adhered to the Appendix J regulations for race car construction.
Since Ford Advanced Vehicles had been sold off, the J Car was produced by Fords subsidiary Kar Kraft. Ed Hull headed construction of the experimental J-Car program with assistance from the Brunswick Aircraft Corporation.
The first J-car, called J-1, was completed in March of 1966. It's chassis, which weighed 86 lbs, supported the fiberglass body and 427 engine. J-1 made its first public appearance at the LeMans trails that year. It weighted 2660 lbs which was nearly on target with the 300 lb weight reduction Ford was looking for. At such a weight it was not surprising that the J-Car took the fastest time at the trials. Unfortunately, the J-Car was sidelined for the rest of the 1966 season to help the GT40 Mark II's effort.After the 1966 1-2-3 Le Mans win, Ford decided to invest more money in the J-Car program. A second car, made up to Can Am specification, was made to help sort out the aluminum honeycomb chassis. Unfortunately, this car was completely destroyed during testing in an accident which claimed the life of Ken Miles. Driver error was never considered.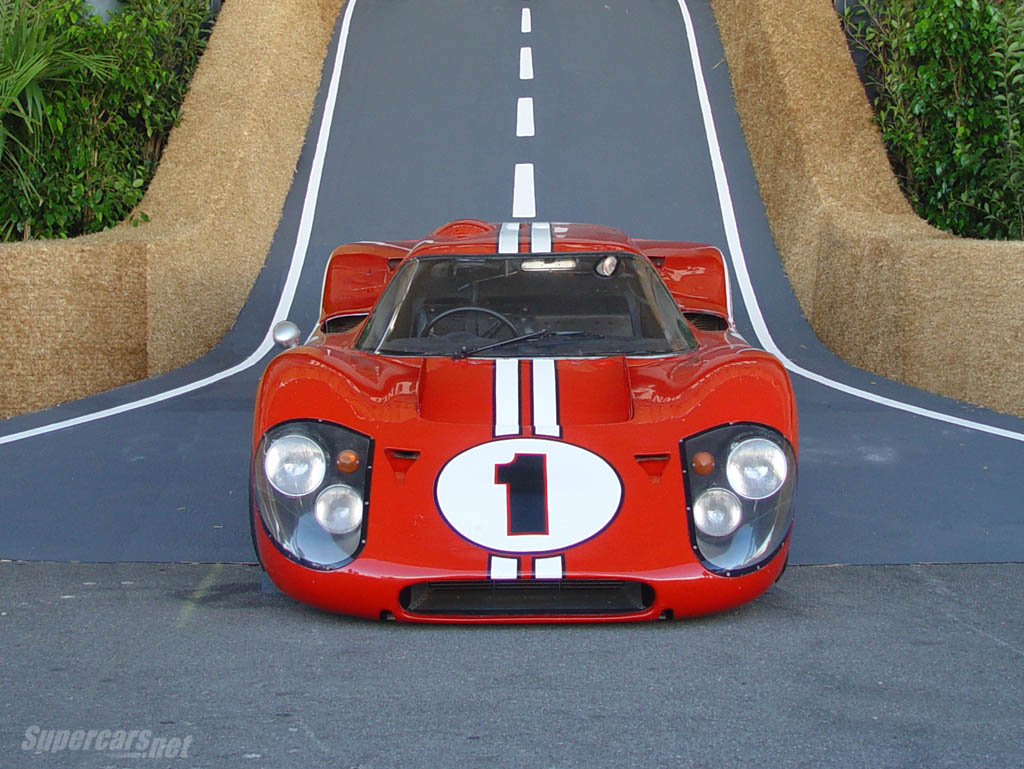 After a weak performance at Daytona, where transmission problems plagued six Mark IIs, Ford reluctantly continued the J-Car program in preparation for Ferrari's 330 P4. They worked on chassis J-3 and J-4 in preparation for Sebring. During this time, Roy Lunn, Chuck Mountain and Phil Remmington worked on the J-cars extensively. They created a new body for the chassis which incorporated a longer front nose, a Can Am style tail section and a new roof line to accept a rear window. During this transformation the J-Cars officially became known as the GT40 Mark IV.
On The Track
With the promising results attained during testing, Ford debuted the Mark IV GT40, specifically J-4, at Sebring. From the start, J-4 led the race, ahead of Jim Hall's Chapparal 2F. It took victory with McLaren and Andretti behind the wheel. After winning on it's debut race, Ford decided to prepare more Mark IVs for Le Mans, the most important race of the year.
Of the twelve Fords which appeared for the 1967 Le Mans, four were Mark IVs and they were divided evenly amongst Holman & Moody and Shelby American. With Ford facing eight Ferrari Prototypes, including three factory-supported 330 P4s and two Chapparals, the 1967 Le Mans was a great battle.Throughout the night, each manufacturer had their fair share of retirements. At 3:30am, Andretti's Mark IV spun on the track and came to rest in the middle of the track, eventually causing three Ford retirements. Luckily no drivers were seriously hurt. Through this accident, the red Gurney / Foyt Mark IV had held the lead, but the lineup was now Ford-Ferrari-Ferrari-Ferrari-Ford-Porsche.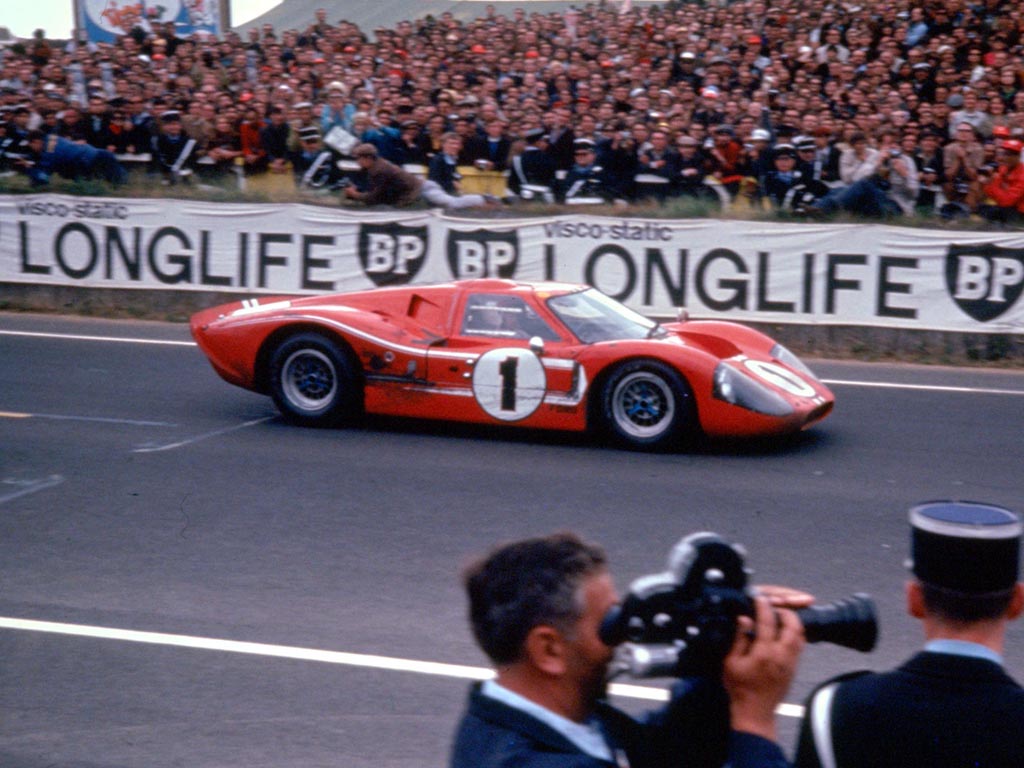 A Ford Victory.
For the remaining hours, the Gurney / Foyt Mark IV kept the works Ferraris at bay. Decaled number one, it was Ford's sleek red supercar that took victory at the 24 Hours of Le Mans.This remarkable and heavily-reported event appears to have been a good note for Ford to end their motor sports campaign on. After Le Mans, no Mark IVs would race again. Ford had beat Ferrari at Le Mans – for the second time – and that's the story they were after.
1967 Ford GT40 Mark IV Gallery
In Detail
| | |
| --- | --- |
| submitted by | Richard Owen |
| type | Series Production Car |
| built at | Detroit, Michigan, USA |
| engine | V8 |
| position | Mid Longitudinal |
| aspiration | Natural |
| valvetrain | Pushrod Operated, OHV |
| fuel feed | 4V Holley Carburettors |
| displacement | 6997 cc / 427.0 in³ |
| bore | 107.7 mm / 4.24 in |
| stroke | 96.1 mm / 3.78 in |
| compression | 10.75:1 |
| power | 372.9 kw / 500.1 bhp @ 6400 rpm |
| specific output | 71.47 bhp per litre |
| bhp/weight | 500.1 bhp per tonne |
| torque | 637.2 nm / 470.0 ft lbs @ 5000 rpm |
| body / frame | Fibreglass over Unit Aluminum Honeycomb Tub |
| driven wheels | Mid Engine / RWD |
| front tires | 9.75 x 15 Goodyear |
| rear tires | 12.8 x 15 Goodyear |
| front brakes | Ford Vented Discs |
| rear brakes | Ford Vented Discs |
| front wheels | F 38.1 x 20.3 cm / 15.0 x 8 in |
| rear wheels | R 38.1 x 30.5 cm / 15 x 12 in |
| steering | Rack & Pinion |
| f suspension | Double Wishbones w/Coil Springs, Shock Absorbers, Anti-Roll Bar |
| r suspension | Trailing Arms w/Lower Wishbone, Coil Springs, Shock Absorbers, Anti-Roll Bar |
| curb weight | 1000 kg / 2205 lbs |
| wheelbase | 2413 mm / 95.0 in |
| front track | 1397 mm / 55 in |
| rear track | 1392 mm / 54.8 in |
| length | 4343 mm / 171.0 in |
| width | 1791 mm / 70.5 in |
| height | 978 mm / 38.5 in |
| transmission | Kar Kraft T44 4-Speed Manual |
| gear ratios | 2.32:1, 1.69:1, 1.29:1, 1.00:1 |
| final drive | 3.09:1 |
| top speed | ~354.1 kph / 220.0 mph |
Sources & Further Reading
Jones, Gordon et. al. The FORD That Beat FERRARI: A Racing History of the GT40, Kimberley's, London: 1985.
Ludvigsen, Karl E. The Inside Story of The Fastest Fords, Style Auto Editrice: 1970.
Pritchard, Anthony. Ford vs Ferrari: The Battle for LeMans, Zuma Marketing: 1984.
Shoen, Michael L. The Cobra-Ferrari Wars 1963-1965, CFW: 1988.
Spain, Ronnie. GT40, An Individual History and Race Record, Osprey Publishing: 1986.
Turner, Philup et al. 'Ford Fantastic'. Motor, June 1967.
Story by Richard Owen, edited by Leif Parker for Supercars.net