1969 Datsun 240Z
The Nissan S30 (Datsun 240Z) was the first generation of Z GT two-seat coupe. Production ran from 1969 to 1978. All models had a 4-wheel independent suspension with MacPherson struts in front and Chapman struts in back. Front disc brakes and rear drums were standard.
The 240Z and 260Z used twin, variable venturi Hitachi one-barrel side-draft SU-like carburetors. The carburetors were changed beginning with model year 1973 to comply with emissions regulations, but the earlier carburetors were superior for performance as compared to the later Webers.
Fuel injection (L-Jetronic electronic fuel injection, designed by Bosch) was added for the 280Z in 1975 for the US. This was primarily in order to cope with the difficulty faced in getting enough power using carburetors while still meeting US emissions regulations.
See full 1969 Datsun 240Z Gallery here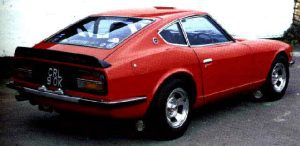 In Detail
| | |
| --- | --- |
| | en |
| type | Series Production Car |
| built at | Japan |