1969 McLaren M6 GT
Real World Speed Racer
I just wanted to preface with how few cars there are in the world, that are as era-defining as the McLaren M6 GT. Its very stature and appearance immediately reminds me of the Speed Racer cartoon from the late 1960s. It is a McLaren model for the ages.
While it might not be as obvious as to whether the animated series was inspired by the M6 GT or vice versa, there is no denying that both protagonists in each of their own elements, were imagined from the prevailing sentiment of embodying the ultimate sports car of the time.
Each entity would go on to greatly influence the automotive landscape in their own ways, setting the precedence of how and why we enjoy cars today. In fact, the M6 GT is the spiritual forefather of the McLaren F1 – produced over two decades later – which has come to define, and ultimately establish the McLaren brand commercially on a global basis.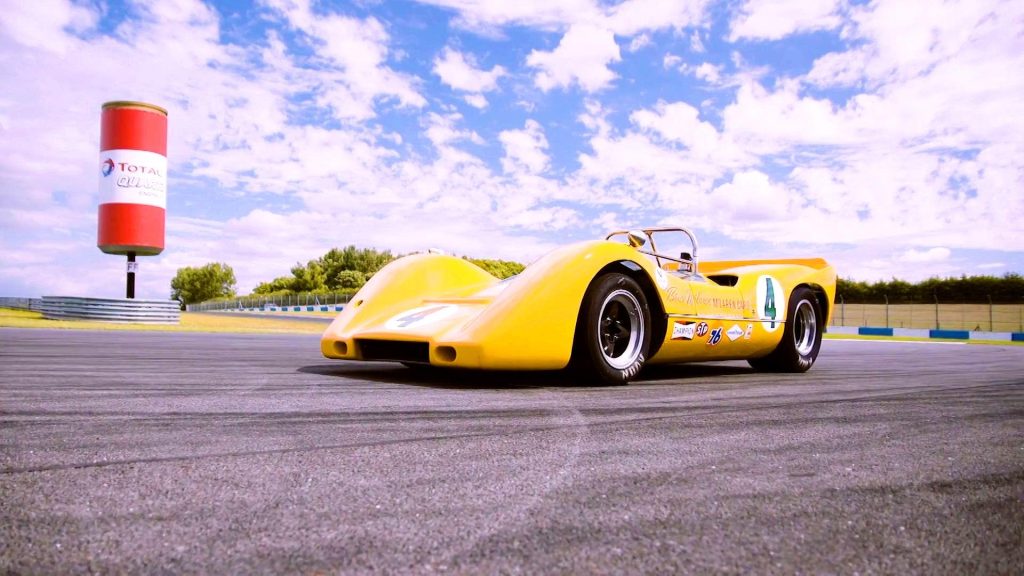 McLaren M6A
The McLaren M6A was a race car built by Bruce McLaren and his team for competition during the 1967 Can-Am season, and would eventually provide the foundation upon which the M6 GT would be designed. Arguably the most notable feature of the M6A was that it was the first monocoque chassis produced by McLaren; something that has become an ever-present figure in McLaren's design philosophy.
Powered by a Chevrolet V8 engine, the M6A would end up dominating the season, doing so in an extroverted McLaren Orange livery which would go on to be synonymous with Bruce McLaren and the McLaren brand.
When the M6A was retired, McLaren tasked motorsport outfit Trojan-Tauranac Racing with the construction of replicas of the chassis. Known as the M6B, these publicly sold examples were virtually identical to the M6As, but came without an engine.
McLaren M6 GT
The lead up to the eventual construction of the McLaren M6 GT began well before the success of the M6A, at least in theory, as Bruce McLaren had long desired to build a mid-engine race car augmented by his experiences in the Can-Am competition.
As a project, the mandate was relatively simple – weld a coupe body onto the M6 (A/B) monocoque, make it the fastest car of its kind in the world, then race it in Group 4 of the World Sportscar Championship alongside the big names, such as Ferrari and Porsche.
For the McLaren Motor Racing team's own M6 GTs, the same engine used in the M6A would be carried over, although Bruce McLaren left the door open for the accommodation of a 7-litre Ford unit. McLaren originally intended to build 250 units of the race chassis per year, of which the majority would be sold to public customers, sans an engine.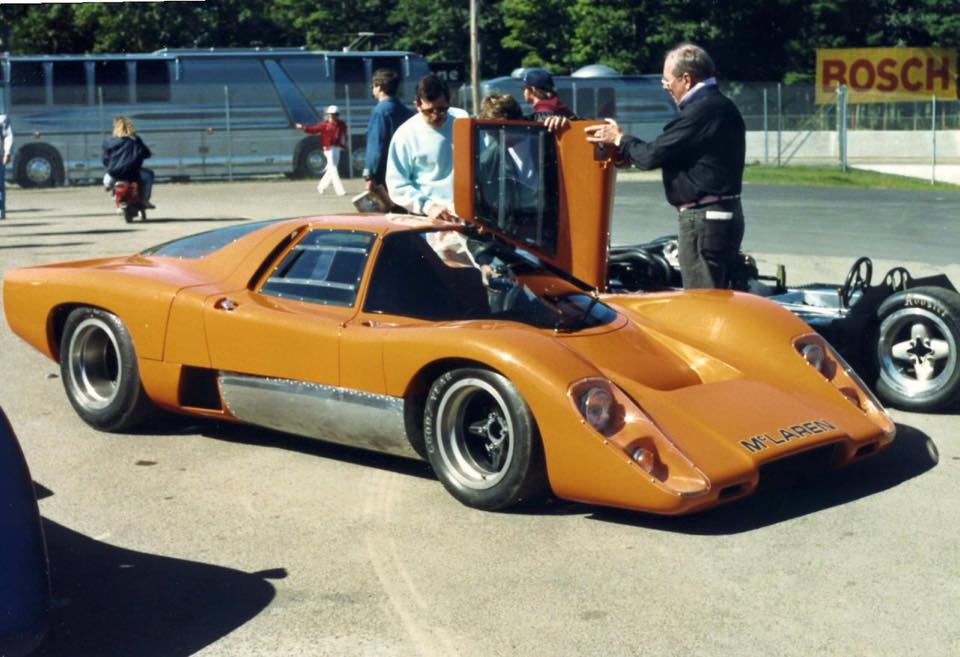 However, in order to be homologated for the 1968 season, McLaren would have to satisfy new requirements introduced by the FIA that year, which stated that a minimum of 50 production examples were needed for application into the series. While McLaren was prepared to manufacture more than enough quantity of chassis, they did not intend nor could they afford fitting engines in so many of them.
Unable to meet these demands, the M6 GT program was scrapped soon after – but not before a few prototypes were produced by McLaren and Trojan-Tauranac. Two of these examples would later be converted to be road-legal, of which one would be Bruce McLaren's personal car.
The Road Car
Bruce McLaren didn't let the homologation set back deter him from getting an M6 GT on the road, legally. While it wasn't destined to dominate the world's circuits, it could still be faster than anything with a license plate before it.
Road-legal, but based essentially on a prototype race-car, the M6 GT had a cramped interior and no real semblance of usability or practicality. But more importantly, it did come with a Bartz-tuned Chevrolet engine and had an estimated top speed of 165 mph, amongst a host of other outstanding features.
While performance was always going to be at the forefront of the car's overall disposition, Bruce McLaren wanted to use the M6 GT as an opportunity to benchmark future McLaren road cars. In fact, he had a red M6 GT made as a personal car – infamously registered as OBH 500H – which he drove on a daily basis in order to get the reliable data needed for his ongoing research.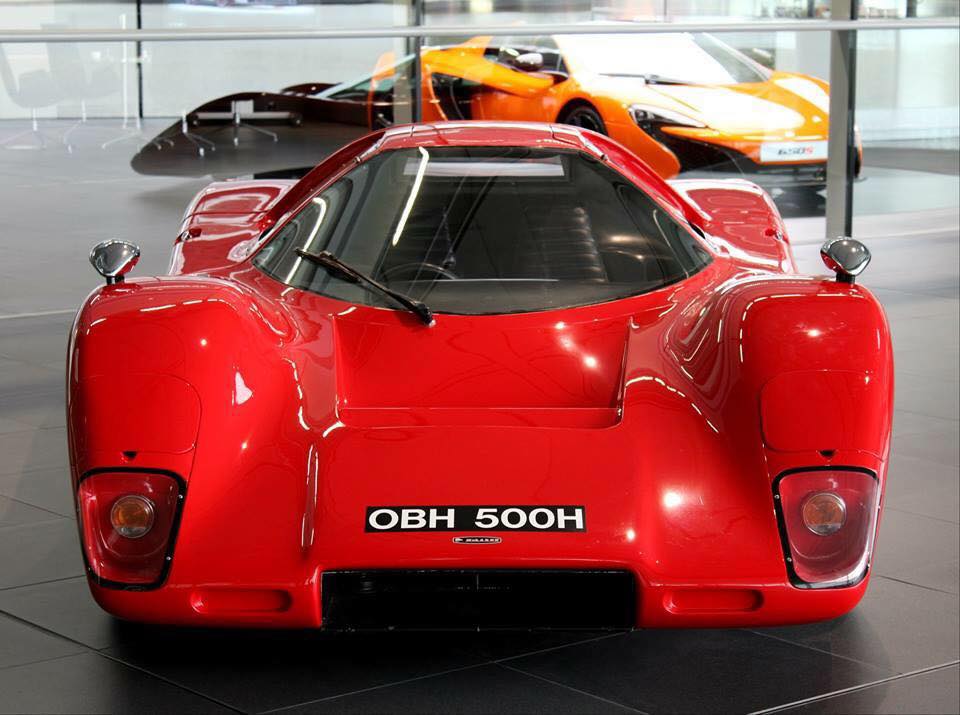 With Bruce McLaren's unexpected and untimely passing in June of 1970, the M6 GT would never see any production numbers on a larger scale. Only a select few other than Mr. McLaren would have the privilege of experiencing the M6 GT, with Road & Track reviewing one of the M6 GT examples in 1974, declaring it 'the wildest road car'. Another example was also raced fairly extensively by British race driver David Prophet.
Only 4 units of the M6 GT were ever produced – two painted red, another in yellow, and the last finished in the iconic McLaren Orange.
The Legacy
Bruce McLaren didn't just race cars; he was an enigmatic figure who always seeked to innovate the automobile in all its forms. He was not shy about the approach to his passion, writing in his autobiography 'From the Cockpit', "To do something well is so worthwhile that to die trying to do it better cannot be foolhardy. It would be a waste of life to do nothing with one's ability, for I feel that life is measured in achievement, not in years alone."
After Bruce McLaren's death, his vision to create a road-going sports car which would race in a production series, would be shelved indefinitely. It would take over twenty years, and a renaissance of McLaren in Formula 1 racing, for this dream to finally be realized. This was through the conception and production of the 1994 McLaren F1 supercar, which would go on to win the 24 Hours of Le Mans in competition form.
Engine
At the heart of the McLaren M6 GT was a mid-mounted Bartz-tuned 5.7L Chevrolet LT1 engine which output 370-horsepower @ 5,800 rpm and 370 lb-ft of torque @ 4,000 rpm. This allowed the car to accelerate from 0-62 mph in 4.2 seconds and reach a top speed of 165 mph.
Chassis & Design
Essentially, the M6 GT was a re-skinned, road-legal version of the M6A race car. As such, it was extremely light – weighing in at just over 800 kg – a catalyst for the intended driving dynamics for the car.
The coupe body was made primarily of fibreglass and underneath, continued to feature the aluminum monocoque derived from the race car. Visually, the M6 GT styling queues were contemporary with other well-known race cars, such as the Group 6 Ferrari. Notable features included the 'butterfly' doors, and manually operated pop-up headlights on some examples.
Performance Summary
Engine

Configuration
Chevrolet LT1 90º V8
Location
Mid, longitudinally mounted
Construction
Cast-iron block and head
Displacement
5,735 cc / 350 cu in
Bore / Stroke
101.6 mm (4 in) / 88.4 mm (3.5 in)
Compression
11.0:1
Valvetrain
2 valves / cylinder, OHV
Fuel feed
4 Weber Twin choke Carburettors
Aspiration
Naturally Aspirated
Power
370 bhp / 276 kW @ 5,800 rpm
Torque
502 Nm / 370 ft lbs @ 4,000 rpm
BHP/Liter
65 bhp / liter
Drivetrain

Body
Fibreglass body
Chassis
Aluminium monocoque
Front suspension
Double wishbones, coil springs over dampers, anti-roll bar
Rear suspension
Double wishbones, twin trailing arms, coil springs over dampers, anti-roll bar
Steering
Rack-and-pinion
Brakes (fr/r)
Girling ventilated discs
Gearbox
ZF 5DS-26 5 speed Manual
Drive
Rear wheel drive
Dimensions

Weight
800 kilo / 1,764 lbs
Length / Width / Height
4,114 mm (162 in) / 1,854 mm (73 in) / 1,016 mm (40 in)
Wheelbase / Track (fr/r)
2,450 mm (96.5 in) / 1,350 mm (53.1 in) / 1,350 mm (53.1 in)
Performance figures

Power to weight
0.46 bhp / kg
Top Speed
290 km/h (180 mph)
0-60 mph
4.2 s
Pictures & Videos
Video Gallery
Full Technical Detail Table
| | |
| --- | --- |
| submitted by | Richard Owen |
| type | Series Production Car |
| engine | Chevrolet LT1 V8 |
| position | Mid-Longitudinal |
| valvetrain | Pushrod OHV, 2 Valves per Cyl |
| fuel feed | 4 Weber Twin choke Carburetors |
| displacement | 5735 cc / 350.0 in³ |
| bore | 101.6 mm / 4.0 in |
| stroke | 88.4 mm / 3.48 in |
| compression | 11.0:1 |
| power | 275.9 kw / 370 bhp @ 5800 rpm |
| specific output | 64.52 bhp per litre |
| bhp/weight | 462.5 bhp per tonne |
| torque | 502 nm / 370.3 ft lbs @ 4000 rpm |
| body / frame | Sheet Aluminum Chassis |
| driven wheels | RWD |
| front brakes | Girling Vented Discs |
| rear brakes | Girling Vented Discs |
| steering | Rack & Pinion |
| f suspension | Double Wishbones w/Coil Springs over Dampers, Anti-Roll Bar |
| r suspension | Double Wishbones w/Coil Springs over Dampers, Anti-Roll Bar |
| curb weight | 800 kg / 1764 lbs |
| wheelbase | 2450 mm / 96.5 in |
| front track | 1350 mm / 53.1 in |
| rear track | 1350 mm / 53.1 in |
| length | 4114 mm / 162.0 in |
| width | 1854 mm / 73.0 in |
| height | 1016 mm / 40.0 in |
| transmission | ZF 5DS-26 5 speed Manual |
| top speed | ~289.7 kph / 180 mph |
| 0 – 60 mph | ~4.2 seconds |
Legacy Article
Leading up to 1970, Bruce McLaren decided he was going to build the fastest mid-engine car in the world based on his potent Can-Am principles. The idea was to put a coupe body on his M6 monocoque and contend the Group 4 category in the World Sportscar Championship. This was always one of McLaren ambitions and it became one of his favorite projects.
McLaren intended to build 250 cars per year and sell the chassis and body without an engine. While the first prototypes used Chevrolet engines like his Can-Ams, Bruce imagined the seven liter Ford unit was suitable as well.
Unfortunately, homologation requirements changed, and a minimum of 50 cars had to be made for the M6 GT to race. This made the project too large for McLaren, and without the initial promotion of the cars on the track, the M6 GT race program was scrapped.
However, this didn't detour McLaren from offering one of the most impressively equipped cars in the world, essentially a road-legal, prototype race-car. But this meant that the car had a cramped interior and no real usability.
The first prototype was built at the McLaren racing factory and became Bruce's personal car. Two or three more cars followed and came from Trojan-Lambretta, the company that manufactured McLaren's customer cars. One of these was raced fairly extensively by David Prophet.
Bruce McLaren used a red M6 GT as his personal transportation until his unexpected death in June of 1970. With his untimely passing, the M6GT never made it to any large scale production. Just over twenty years later, however, with the revival of McLaren in Formula One, Bruce McLaren's dreams were realized when the McLaren F1 supercar was released in 1994.
The December 1974 edition of Road & Track did a cover article on one of the M6 GTs and despite being four years old, they christened it 'the wildest road car'.
Bruce's personal car, with license number OBH 500H only had 1900 miles when he died. It sold to Denny Hulme in New Zealand, eventually making its way to the Mathews Collection near Denver Colorado. Fortunately, it remains there in absolutely original condition.
Auction Sales History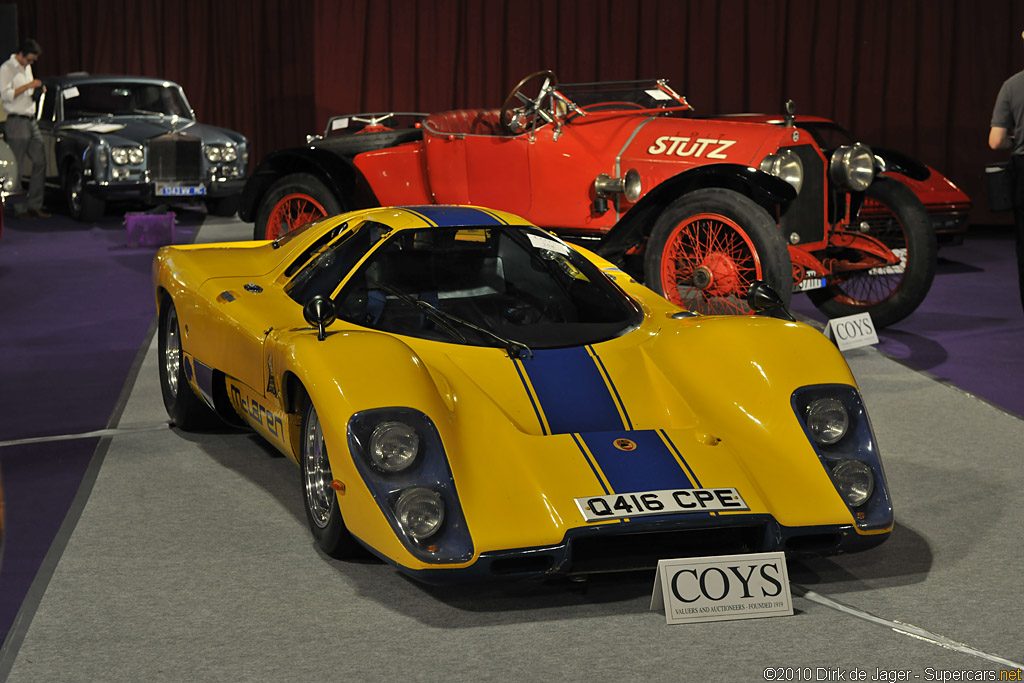 1968 McLaren M6 B GT Recreation – sold for €159,734 In 1980 a German businessman decided to have an M6 B GT built as all three original ones were not available at the time. He started with, as did Bruce McLaren before, an open M12 with chassis number 60-05, and had Northdown Racing put an original Coupe body, which were still lying around at Trojan, to that chassis number. A photographic record of these works are still available with the car. The car was commissioned to retain its roadworthiness as a road legal car, and the car was finished and road registered in the UK in 1984. The German owner subsequently campaigned the car in some races of the "Steigenberger Supersports Car Series". He sold it in 1998 to fellow German Hanns Arnold, who has a six litre Aluminium engine fitted to the car. The car is presented in good original condition with the mechanics "on the button". A very rare chance to purchase a road legal McLaren M6.
Auction Source: Coy's 2010 Legende et Passion Auction