McLaren F1
The McLaren F1 is a supercar designed and manufactured by McLaren Automotive, the same guys that run that incredibly successful Formula 1 team. Originally a concept conceived by Gordon Murray, he convinced Ron Dennis to back the project and engaged Peter Stevens to design the exterior of the car.
The McLaren F1 debuted in 1992. It was the cost-no-object approach to building a car and was such a leap ahead in almost every imaginable way that it changed way we think about supercars forever.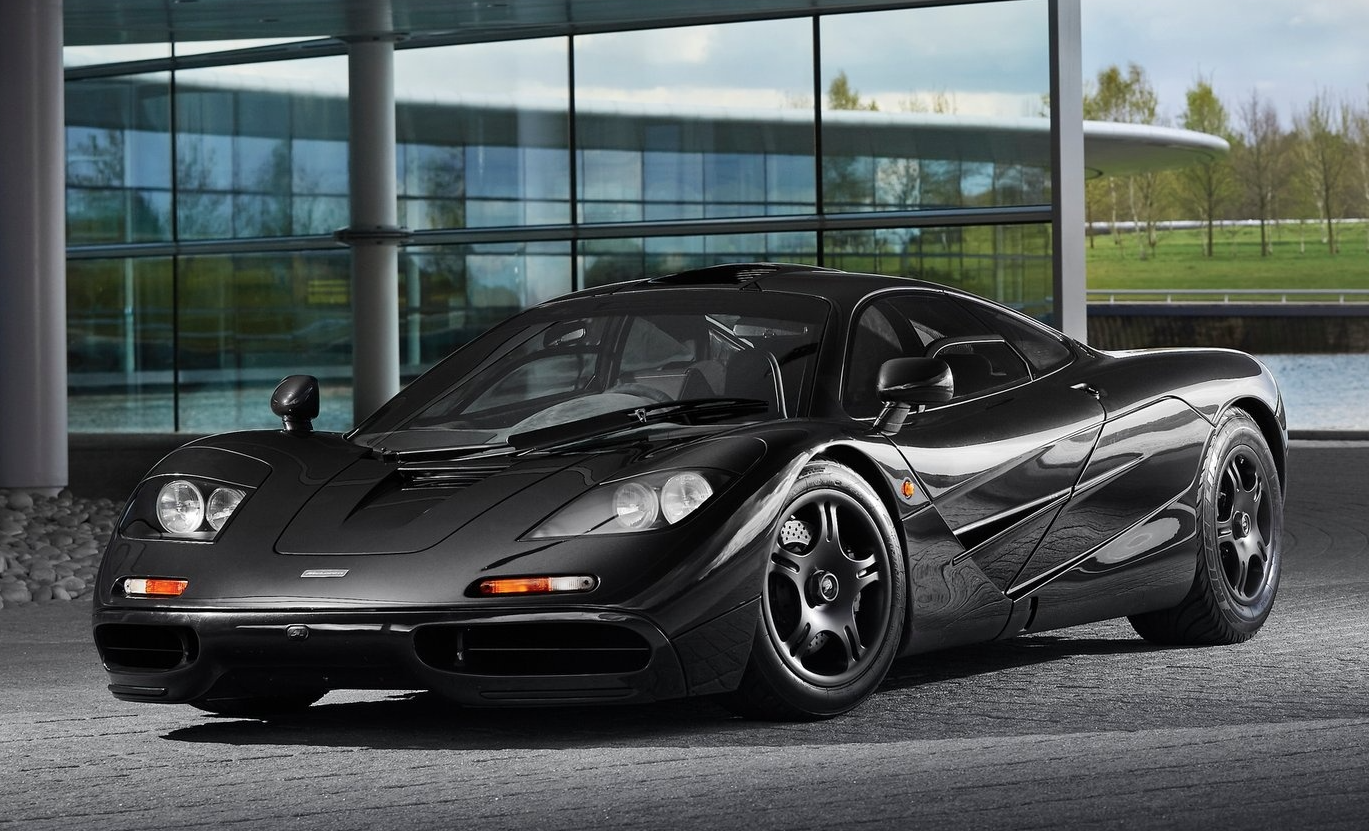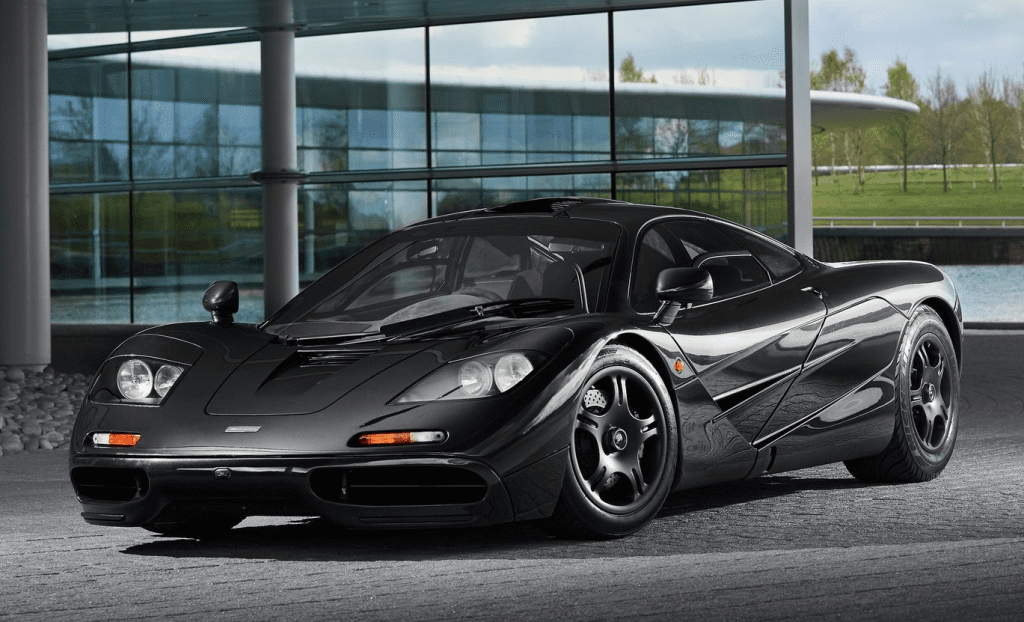 The McLaren F1 was a clean-sheet design, with all components except the tail lamps built specifically for it. The guiding principle was efficiency. Thus it is compact, with body panels and understructure of featherweight carbon fiber, and virtually every mechanical component of aluminum or magnesium. The obsession with weight was the stuff of legend. The Kenwood stereo, the air conditioning and the gold-plated titanium tools were all designed by their manufacturers to specific weight specifications that Murray has asked for. Completely customized for the F1 and so light that most parts manufacturers at the time were not sure they could meet the targets.
Most people don't know that the F1 had a great racing history. The 220-mph GTR competition version took first, third, fourth, and fifth overall against a slew of purpose-built racers and did so almost immediately after launching. It blew the competition away. When production of the F1 ended in 1998, McLaren had given the world seven prototypes, seventy-two street-legal examples, and twenty-eight full-on race versions. The Sultan of Brunei owns eight or so, and untold numbers have been destroyed at the hands of over-exuberant owners.
The Story
Even today (2012), the F1 remains one of the fastest cars ever built. I still would rather have an an F1 in my garage than just about anything else ever created. It is that awesome. The screaming engine, the central driving position, the gullwing doors and much much more.  A fun fact that most people don't realize is that while the Bugatti Veyron and a few other cars have since beaten the F1s top speed, all of those cars use forced induction. That means that the McLaren F1 is still (in 2013) the fastest naturally aspirated production car in the world. Not bad for a car launched in 1992.
You've heard it before and you'll hear it again, the McLaren F1 is world's best supercar. It's currently the most expensive modern supercar in the used market and it has a performance pedigree to backup up the heavy price tag.
The story begins in 1988 when partners of the McLaren Cars Ltd – the world's leading Formula One team, winning 15 out of 16 races – finished their successful season and decided that they should move beyond their current program and go one step further by building the finest road car possible. To them, this meant developing a no compromise supercar, built with nearly endless funds to achieve the highest power to weight ratio but retain usability for everyday driving.
To meet these goals, technical director of McLaren Gordon Murray and stylist Peter Stevens realized that the car had to be small, use the lightest components available and have a large capacity, normally aspirated V12 engine. Little did they know, this design philosophy would break many speed records and win championships it wasn't even originally intended for.
Related: McLaren F1 Image Gallery / McLaren F1 Videos / McLaren News / McLaren Model List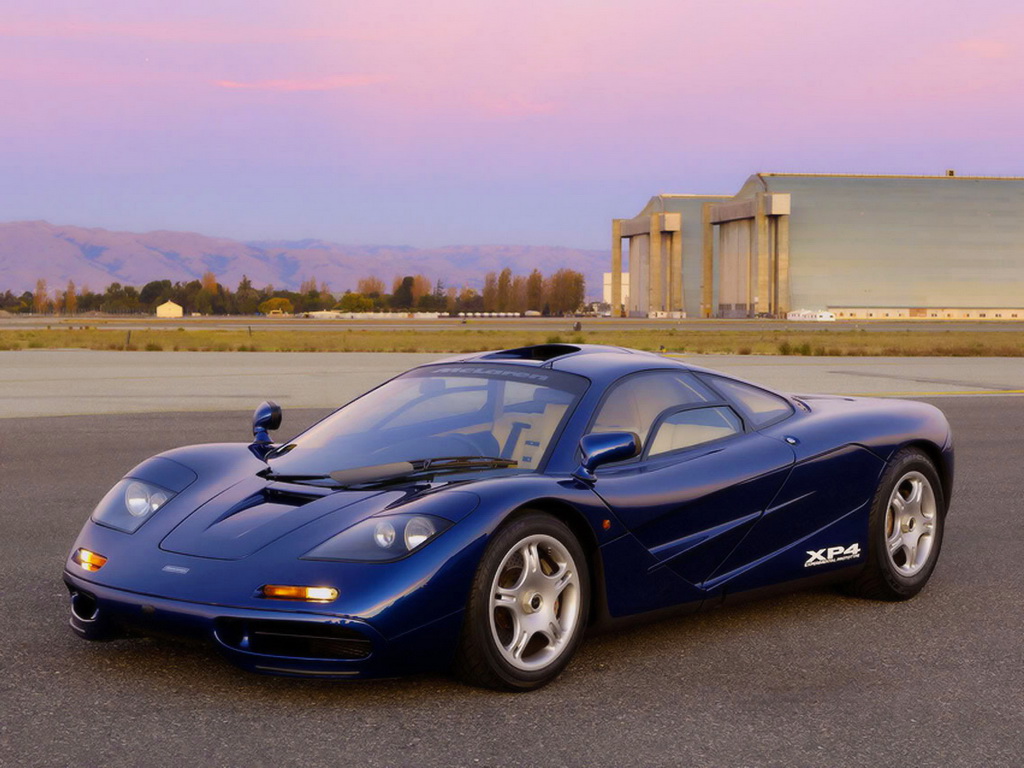 Four years after the McLaren's costly development, the first car made its official debut at the 1992 Monaco F1 week where McLaren could finally reveal to world what they had been doing. At Monaco, the targeted customer base learned that only 100 examples would be made, and that the McLaren would be the fastest, most exclusive car in the world. These attributes and gorgeous styling helped potential clients look past the 634 500 GBP price tag and beyond competitors like the Ferrari F40, Porsche 959 and Jaguar XK220.
After its release, the F1's potential was immediately realized when it reached 0-100-0 in 11.4 seconds and a record top speed of 240.14mph in its XP5 pre-production trim. Although, the success didn't stop in the record books, as special GTR versions won Le Mans outright in 1995 and took two FIA GT World Championships.
The F1's success can be attributed the McLaren's Formula One expertise. The small dedicated team picked by Gordon Murray designed 5000 individual pieces which were predominantly carbon fiber, magnesium, titanium to keep minimum weights. The car's carbon fiber monocoque was the world's first and supported BMW's impressive BMW S70/2, 620 horsepower engine. This engine produced considerable heat, so the engine compartment was lined with pure gold and air conditioning came as standard. But the greatest innovation was its seating arrangement.
To show off McLaren's dedication and Formula heritage, Murray used a central drivers seat and provided an option for two seats on either side. Like a race car, this provided the best possible view and was the good example of how uncompromising the F1 was. Additionally the McLaren wasn't equipped with any driving aids which meant it lacked traction control, ABS, power brakes and power steering.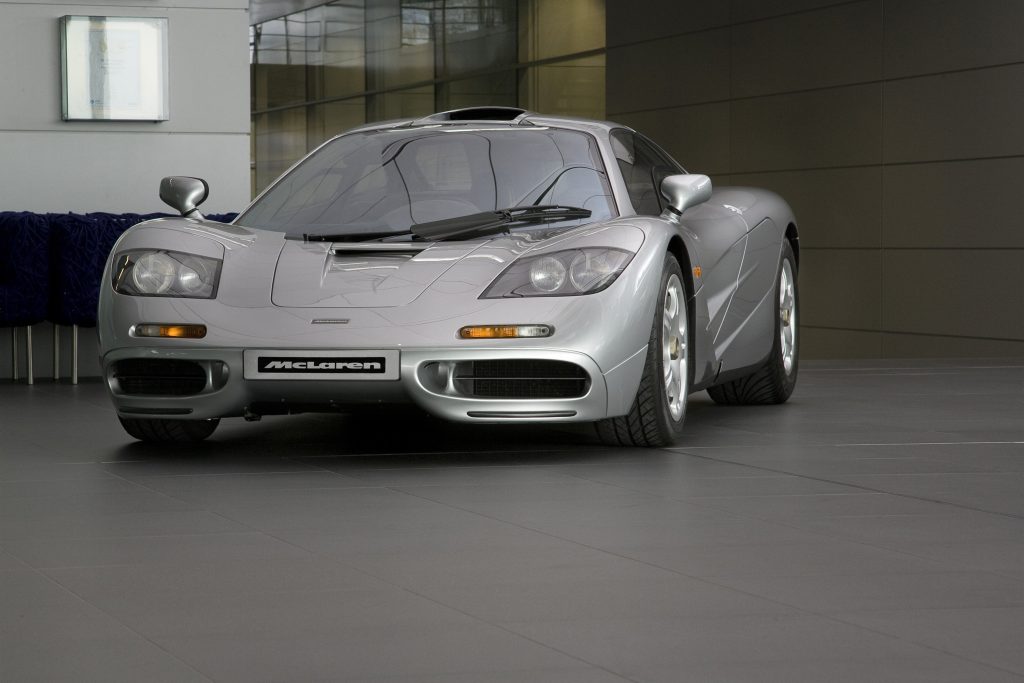 Quick Links: Read about the McLaren F1. See the McLaren F1 Image Gallery. Watch McLaren F1 Videos. More McLaren Posts, Videos and Images
Included with the purchase of every McLaren was bevy of lush appointments including a specially designed lightweight stereo, a tailored golf back, custom fitted luggage and the mother of all full tool boxes, used for McLaren personal to use if they needed to do remote work on the customers car. Included was a modem, which could send data directly to McLaren. With this, one customer in Germany was found to reach 200 mph almost daily on his way to and from work!
After delivering 100 customer cars McLaren stopped production after seven prototypes, 64 road cars, 5 special F1 LMs (built to commemorate victory at Le Mans in 1995), three F1 GTs (road going versions of the long tail 1997 F1 GTR race car) and 28 F1 GTR road cars. Of these, the Sultan of Brunei owns the most, and has two very special black F1 LMs with striking Pininfarina graphics as well as an exact replica of the F1 GTR that won LeMans.
Since delivery, McLaren have stayed committed to the F1 and continue to service the many cars. Almost every car has been returned to the factory and some have received custom modifications to suit the needs of their owners. The most radical of these are the few race cars which were converted back to road cars with the most minimal of changes. Other less daring cars have treatments that include new aerodynamic packages and custom interiors. As these cars get better, they keep the F1 up to pace with modern alternatives.
McLaren F1 Basics
| | |
| --- | --- |
| Engine | BMW S70/2 |
| Type | 6.1 liter 48 valve V-12 with aluminum block and heads |
| Horsepower | 627 bhp |
| Bore and stroke | 3.38 x 3.41 in (86 x 87 mm) |
| Displacement | 370 cubic in, 6064 cc |
| Compression ratio | 10.5:1 |
| Engine control system | Bosch Motronic with port fuel injection |
| Valve gear | Chain-driven double overhead cams, 4 valves per cylinder, hydraulic lifters, variable intake timing |
| Power (SAE net) | 618 bhp @ 7400 rpm |
| Torque (SAE net) | 479 ft-lb @ 4000 rpm |
| Redline | 7,500 rpm |
McLaren F1 Technical Highlights
BMW Motorsports was contracted to design and build the engine, which McLaren specified be naturally aspirated for instant response. And they delivered in spades. The F1 has the best power-to-weight ratio ever in a production road car. Standard cars were good for 231 mph and it did this without the need for turbos or supercharging… or all-wheel drive, ABS, power steering or power brakes. Just amazing. Which is why the McLaren smashed just about every performance record for a production car ever, including top speed which was 242.96 mph (391.01 km/h) (with rev limiter removed).
Another innovation at the time was the driver centrally located in a form fitting seat, with room for passengers on either side. The drive being placed centrally allowed for optimal command without intrusion from wheel arches or the nuisance of offset pedals and the best weight distribution, thus maximizing cornering speed. It also had small electric underbody fans that would generate ground-effects grip and an active rear spoiler that raised during hard braking to improve stability and slow the car faster. It was this attention to every detail that made the F1 the stuff of legend. Even the engine bay was not left along. Gold is the best heat deflector so Murray lined the F1 engine bay with gold leaf. There were no compromises.
The McLaren F1 with the BMW S70 engine had a 0-60 mph time of 3.1 seconds and a top speed of 240+ mph. Powering the McLaren is a quad cam, 48-valve, 6.1-litre BMW V12 engine with variable valve timing. It produces a staggering 627 bhp.
The F1's engine uses competition inspired dry sump lubrication. More complex than a conventional wet sump, it shaved vital inches from the oil pan, allowing the engine to be mounted lower. Later on, the McLaren F1 LM had a few engine upgrades that took the LM model up to 680 hp and 520 ft-lbs of torque! Issued in honor of the McLaren F1's that won the 1995 LeMans race, the LM's set a 0-100-0 mph world record for a production car.
McLaren F1 Performance
On 31 March 1998, Andy Wallace set the record for the fastest road car in the world, topping at 231 mph (372 km/h) with rev limiter on, and 242.95 mph (391 km/h) with rev limiter removed. Many still believe that with better gearing (inclusion of a 7th gear) the McLaren was capable of even higher speeds. Drivers who got the McLaren up to top speed said the car was still pulling and only gearing stopped them for achieving more.
Even today (2012), the F1 remains one of the fastest cars ever built. A fun fact that most people don't realize is that while the Bugatti Veyron and a few other cars have since beaten the F1s top speed, all of those cars use forced induction. That means that the McLaren F1 is still (in 2012) the fastest naturally aspirated production car in the world. Not bad for a car launched in 1992.
Acceleration
0-30 mph (48 km/h): 1.8 s
0–60 mph (97 km/h): 3.2 s
0–100 mph (160 km/h): 6.3 s
0–124.28 mph (200.01 km/h): 9.4 s
0–150 mph (240 km/h): 12.8 s
0–200 mph (320 km/h): 28 s
Top Speed
With rev limiter on: 231 mph (372 km/h)
With rev limiter removed: 242.96 mph (391.01 km/h)
What They Said At The Time
Probably best described by the guys at Car Magazine:
"Long before I'm beyond urban limits, I realise where the mighty F1 is going to score over all its distant rivals: no matter what gear you're in, or what the revs, the huge muscle of its fabulously potent and tractable V12 engine can be switched on and off like a light bulb. It's that immediate. No wonder Murray eschews the lag-prone turbo. The harder you squeeze the F1's throttle – and there always seems to be more movement, more revs, more decibels in reserve, so huge is the car's performance envelope – the greater the ferocity, the more strident the noise. No Ferrari V12 gets close for aural uplift, never mind for sheer, pulverising power. The world's greatest road-car engine is right here, behind my back in the F1.
It was the McLaren's maximum that made the headlines, but it's the car's breathtaking acceleration that frightens and thrills. Nothing, but nothing gets anywhere close to this car, which has the world's best power-to-weight ratio. Even now, I'm not sure which is the more addictive: the slingshot thrust when you slash through the gears, left leg and right arm pumping like pistons, (Palmer had warned that shifting was lightning-fast), or the breathtaking sound effects that go with it, terminating in a Formula One-style demented yowl.
Who needs anti-lock brakes, for that matter? Passengers gasped at the way the F1 stopped in its tracks, as though arrested by some mighty elastic hawser. Little did they know how hard I was heaving on the pedal. Never mind. The heavier the brakes, the easier it is to modulate them. Heel-and-toe downshifts are also facilitated by a solid brake fulcrum. Unless you look out for it in the mirror, the levitating rear spoiler – a brake and balance foil in McLaren-speak – that pops up to stabilise the car under high-speed braking goes unnoticed. It's the only surface-breaking aerodynamic aid on the F1, which achieves downforce via a fan-assisted ground-effect system."
McLaren F1 Pictures & Gallery
See the McLaren F1 Image Gallery. Watch McLaren F1 Videos. More McLaren Posts, Videos and Images
McLaren F1 Videos
Watch more McLaren F1 Videos
Specs & Performance
| | |
| --- | --- |
| type | Series Production Car |
| production years | 1992 – 1998 |
| released at | 1992 Monaco F1 |
| built at | Woking, England |
| body stylist | Peter Stevens |
| coachbuilder | McLaren |
| engineers | Gordon Murray |
| production | 65 |
| price $ | $ 970,000 |
| engine | BMW S70/2 60 Degree V12 |
| position | Mid Longitudinal |
| aspiration | Natural |
| valvetrain | Chain Driven DOHC w/4 Valves per Cyl, Variable Inlet Timing |
| displacement | 6064 cc / 370.0 in³ |
| bore | 86.0 mm / 3.39 in |
| stroke | 87.0 mm / 3.43 in |
| compression | 10.5:1 |
| power | 467.6 kw / 627.1 bhp @ 7400 rpm |
| specific output | 103.41 bhp per litre |
| bhp/weight | 550.09 bhp per tonne |
| torque | 649.4 nm / 479.0 ft lbs @ 5600 rpm |
| redline | 7500 |
| body / frame | Carbon Fibre Monocoque w/Front Upper Sub Frame, Active Aerodynamics |
| driven wheels | RWD w/Torsen Differential |
| front tires | Goodyear F1 P235/45ZR-17 |
| rear tires | Goodyear F1 P315/45ZR-17 |
| front brakes | Unassisted Vented & Cross Drilled Discs |
| rear brakes | Unassisted Vented & Cross Drilled Discs |
| front wheels | F 43.2 x 22.9 cm / 17.0 x 9.0 in |
| rear wheels | R 43.2 x 29.2 cm / 17.0 x 11.5 in |
| steering | Unassisted Rack & Pinion |
| f suspension | Ground-Plane Shear Centre Double Wishbones w/Light Alloy Dampers, Co-Axial Coil Springs, A |
| r suspension | Double Wishbones w/Light Alloy Dampers, Co-Axial Coil Springs |
| curb weight | 1140 kg / 2513 lbs |
| wheelbase | 2718 mm / 107.0 in |
| front track | 1568 mm / 61.7 in |
| rear track | 1472 mm / 58.0 in |
| length | 4288 mm / 168.8 in |
| width | 1820 mm / 71.7 in |
| height | 1140 mm / 44.9 in |
| transmission | Transverse 6-Speed Manual w/AP Triple Plate Clutch |
| gear ratios | 3.23:1, 2.19:1, 1.71:1, 1.39:1, 1.16:1, 0.93:1 |
| final drive | 2.37:1 |
| top speed | ~386.4 kph / 240.1 mph |
| 0 – 60 mph | ~3.2 seconds |
| 0 – 100 mph | ~6.7 seconds |
| 0 – 1/4 mile | ~11.6 seconds |
| designers | Gordon Murray, Peter Stevens |
Auction Sales History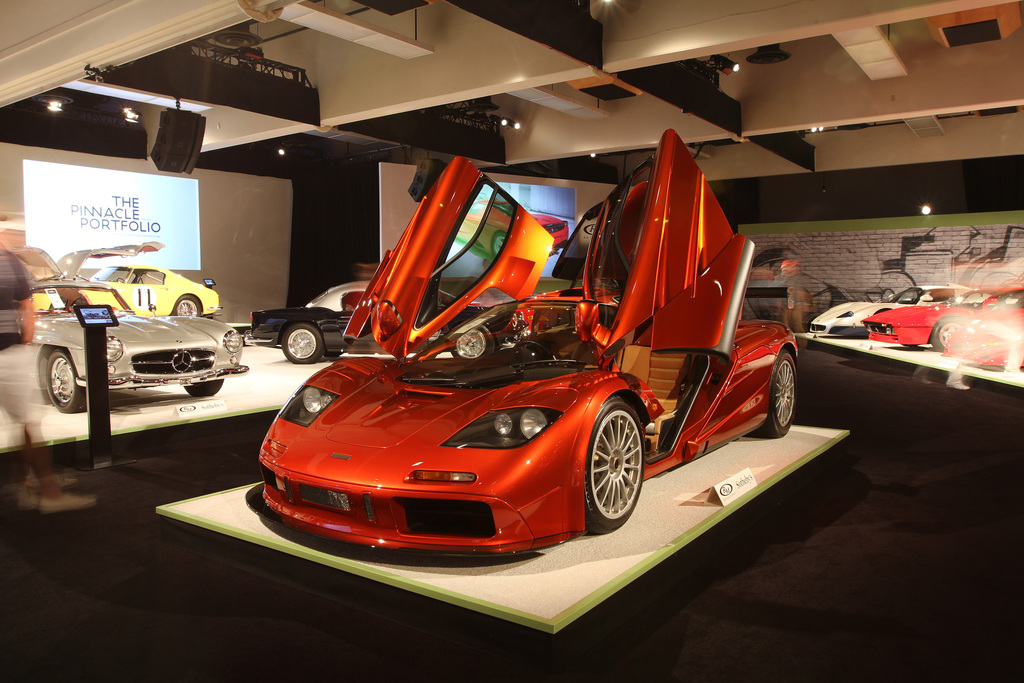 1998 McLaren F1 'LM-Specification' SA9AB5AC4W1048073 – sold for $13,750,000 The most iconic supercar of the modern era. The 63rd and second-to-last road-specification F1 built. One of two examples upgraded by McLaren Special Operations with an LM-spec engine, while retaining its road-specification interior with numerous upgrades, including satellite navigation. Fitted with the additional Extra High Downforce Package. The best of both worlds: a fully street-legal F1 with LM performance and modern upgrades for a fraction of an LM's price. Auction Source: RM Sotheby's Monterey 2015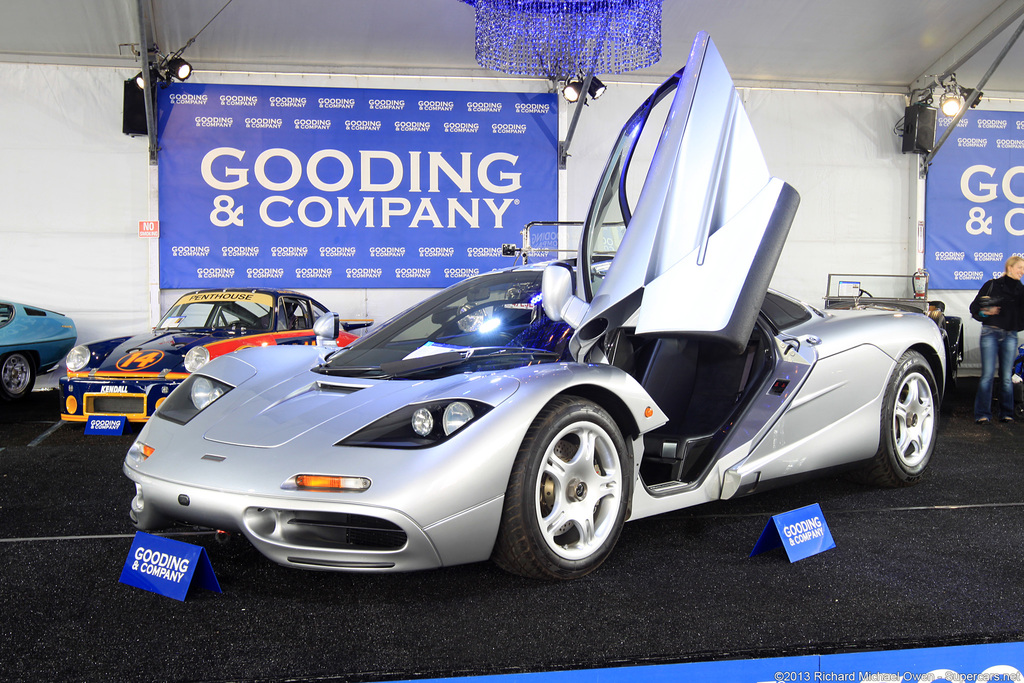 1997 McLaren F1 SA9AB5AC9V1048066 – sold for $8,470,000 A Landmark in Automotive Design. A Highly Original, Two-Owner F1. Finished in Iconic Magnesium Silver Livery. EPA and DOT Certified. A Well-Documented Example with Known History. Fastidiously Maintained by McLaren. Complete with Tools, Fitted Luggage, Service Records, and Much More. Less than 14,000 Miles from New. 2012 Full Service by the McLaren Authorized Service Center. A Rare Opportunity for Discerning Collectors. Auction Source: Gooding & Company's 10th Anniversary 2013 Pebble Beach Auction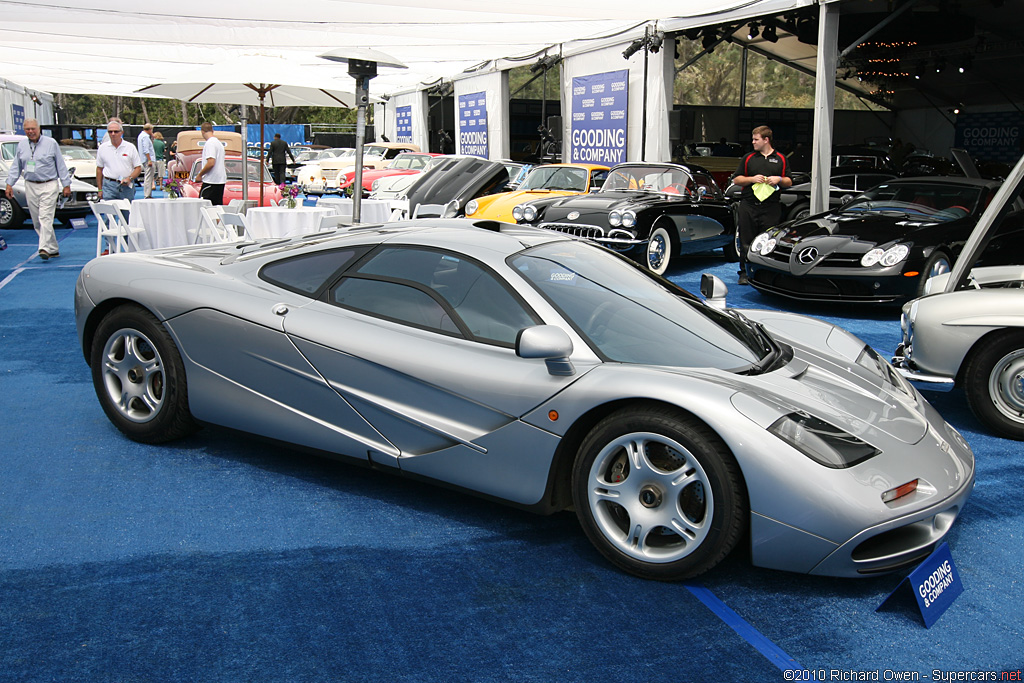 1994 McLaren F1 – sold for $3,575,000 Finished in Magnesium Silver over a black interior, 062 is a pinnacle example of the world's most recognized high-performance car. In its 15 years, it has never been modified from its original appearance and has seen just enough use to keep it in fine running order without compromising its outstanding cosmetic condition. Unlike many examples, this car has never been abused, modified with GT components or been through a color change. Auction Source: 2010 Gooding & Company Pebble Beach Auction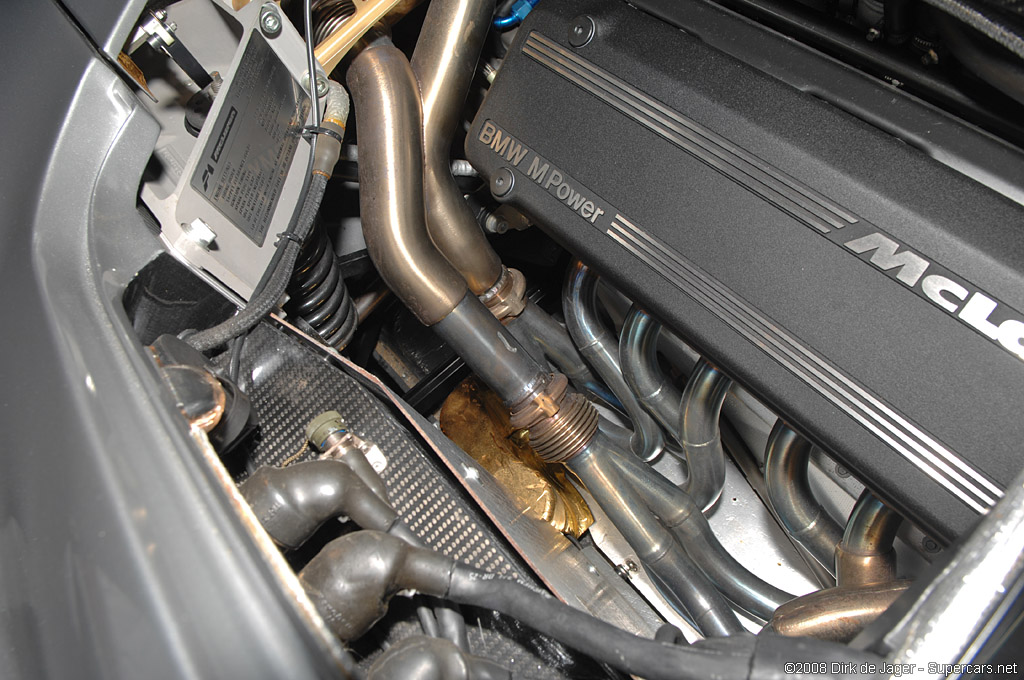 1997 McLaren F1 065 – sold for €3,251,050 In 2004 McLaren elected to close the Park Lane showroom and chassis 065 returned to the factory where it underwent a full service in preparation for its sale to the current Asian owner. As such, it is the last McLaren F1 ever delivered and, since delivery, has never been raced or driven aggressively. As every McLaren, it has been subject to the utmost attention to detail, with the current vendor even flying a McLaren mechanic to Asia to service the car 12 months ago. It has since been returned to the McLaren factory in Surrey for a full service, and is offered with a full clean bill of health. Auction Source: 2008 RM Automobiles of London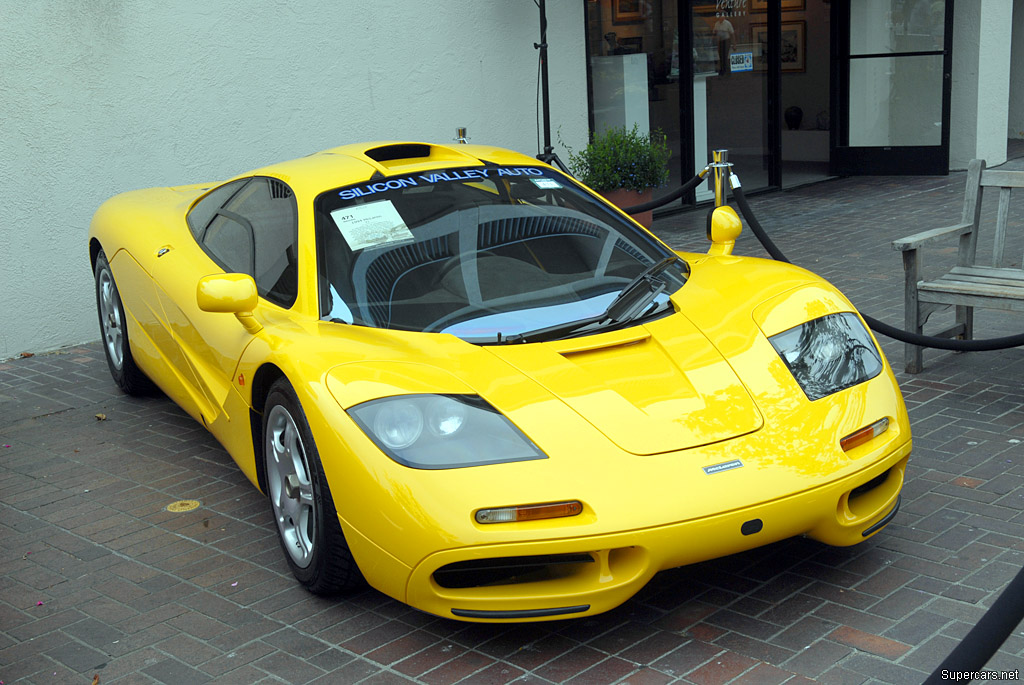 1994 McLaren F1 – sold for $1,705,000 Less Than 3,300 Miles From New and 49 State Legal. complete with all ancillary items as delivered – luggage set, manuals and vehicle build sheet. The beautiful yellow paint and black leather interior are nearly flawless. As a special bonus, Michael Schumacher's signature (dated 12/03/96) is on the left side doorsill. Auction Source: 2006 Monterey Preview