1969 Pontiac Trans-Am Ram Air IV
The L85 Ram Air V engine was the ultimate product of Pontiac's decade-long racing engine development program that began at the turn of the Sixties and was arguably the genesis of the musclecar era. Pontiac Special Projects Group developed three versions in displacements of 303, 366 and 400 cubic inches, the latter for street and drag race duty. All featured special high-flow tunnel-port heads, forged steel crank, four-bolt mains, 10.75:1 compression, 800cfm Holley 4-barrel, aluminum intake and a special high-rpm camshaft. The big 400 generated over 500 horses.
In March of 1969, Pontiac quietly announced a new performance/trim option for its popular Firebird model, but it did not stay quiet for long. Dubbed the Trans Am (after the Trans American Racing Series), it quickly became a pony car icon and one of the best-known American muscle cars ever, ultimately dethroning the mighty GTO as Pontiac's most popular performance model.
Trans Ams were easy to spot because each one was finished in Polar White with medium blue racing stripes and a trunk-mounted airfoil. Twin fiberglass, rear-facing scoops helped vent heat from the engine compartment. The hood, unique to the model, had functional air inlets to aid engine breathing.
Story by RM Auctions
In Detail
| | |
| --- | --- |
| | |
| type | Series Production Car |
| built at | USA |
| engine | L74 400 H.O. V8 |
| displacement | 6555 cc / 400 in³ |
| power | 257.3 kw / 345 bhp |
| specific output | 52.63 bhp per litre |
| body / frame | Unitary Steel Monocoque |
| driven wheels | RWD |
Auction Sales History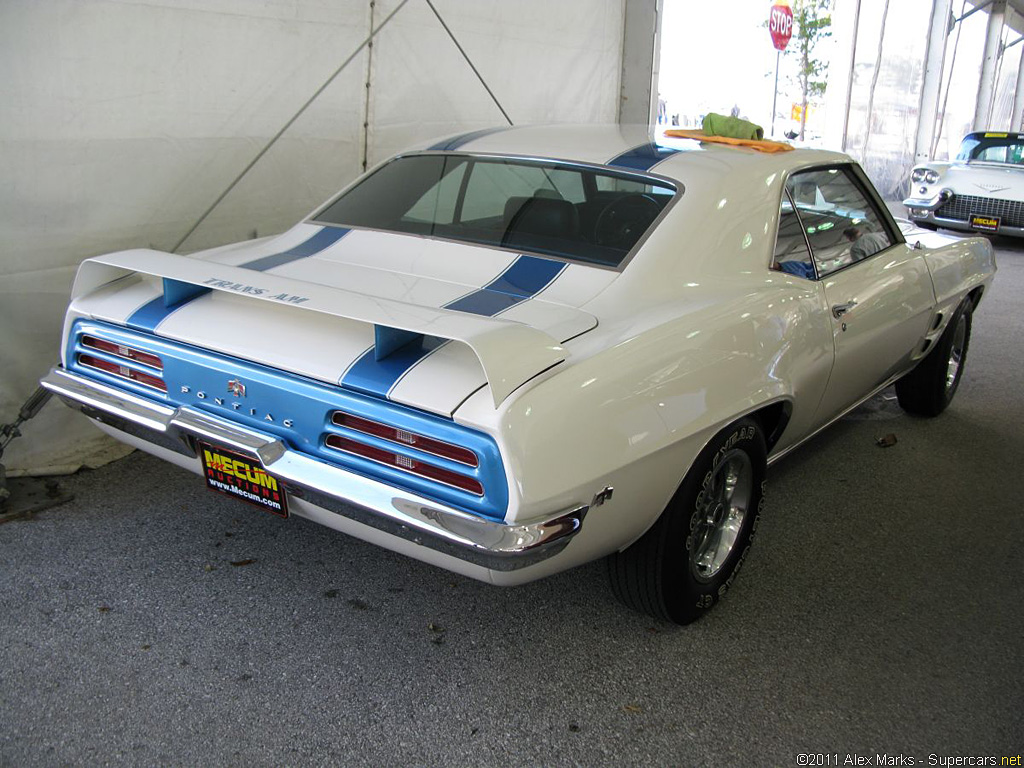 1969 Pontiac Trans Am RAM AIR V – sold for $90,000. Known simply as the Lance Kramer car, it is one of only 697 Trans Ams built that first year, and the only one equipped with the ultra-rare L85 Tunnel Port Ram Air Mark V V-8. Kramer purchased the car in pieces, along with several NOS parts, from its Michigan owner in 1988. He then commenced a five-year rotisserie restoration according to the factory PMD build sheet, using both the NOS parts that had come with the car and others he had collected himself over a period of several years. Auction Source: 2011 Mecum Kissimmee, FL Auction