1970→1971 Porsche 917 Kurzheck
The 917 Kurzheck Coupé (917K) first appeared in 1970 and contributed more to the Porsche 917 story than any other variant. It was a high-down force version that featured a cut-off tail for increased downforce. This reduced the cars top speed, as much as 30 mph, but it helped the Porsche win Le Mans two years in a row.
917 Development
Few race cars have attained the same notoriety as the 917. It was dangerously quick and also reliable enough to win Porsche's first overall victory at Le Mans in 1970. The feat was repeated in 1971 and the 917 has now become an icon of Porsche performance. Even more so after being extensively featured in Steve McQueen's film, Le Mans.
It's true that Porsche took their most daring step forward with the 917, but it followed a long and progressive development of sports racing prototypes. Until the 917, Porsche and Ferdinand Piëch had made very successful sports race cars limited to the smaller classes. These included the 904 Carrera GT, 906, 908, but they were often behind the GT40 and Ferrari Prototypes which would take overall victory.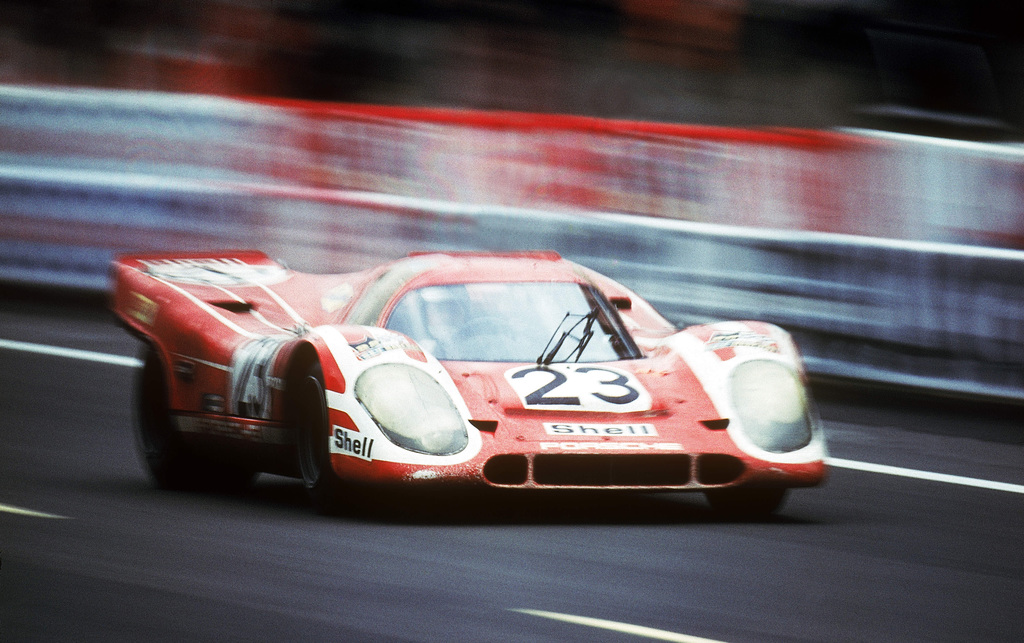 In April 1968, the CSI reduced the minimum required production for sports car homologation from 50 to 25 cars. This caught the attention of Piëch who considered a new sports prototype that could win Le Mans. The 908 fit well within the new 3.0 liter prototype class, but it was the 5-liter sports car class known as Group 4 which caught their attention. In it were the V8-powered Lola T70 and Ford GT40 MKI which were very capable of outright victories. Porsche decided the only way to win the World Sports Car Championship was to build 25 copies of a 5.0 liter prototype that would meet the minimum homologation requirements to qualify as a sports car.
After the decision was finalized by Piëch in July 1968, Porsche engineers had 10 months to create an all-new engine and produce 25 complete cars for both the factory and privateers. This risky and expensive investment eventually paid off and positioned Porsche at the top of motor sport.
Engineering
Using the 908's design as a framework, Porsche engineers took the bold task of making the most powerful and lightweight race car possible. They used a chassis structure similar to the 908's, but it used aluminum instead of steel. The spaceframe chassis weighed only 93 lbs (42 kg). To have enough room for the large engine and driver in the small chassis, the foot well and pedals extended past the front wheels.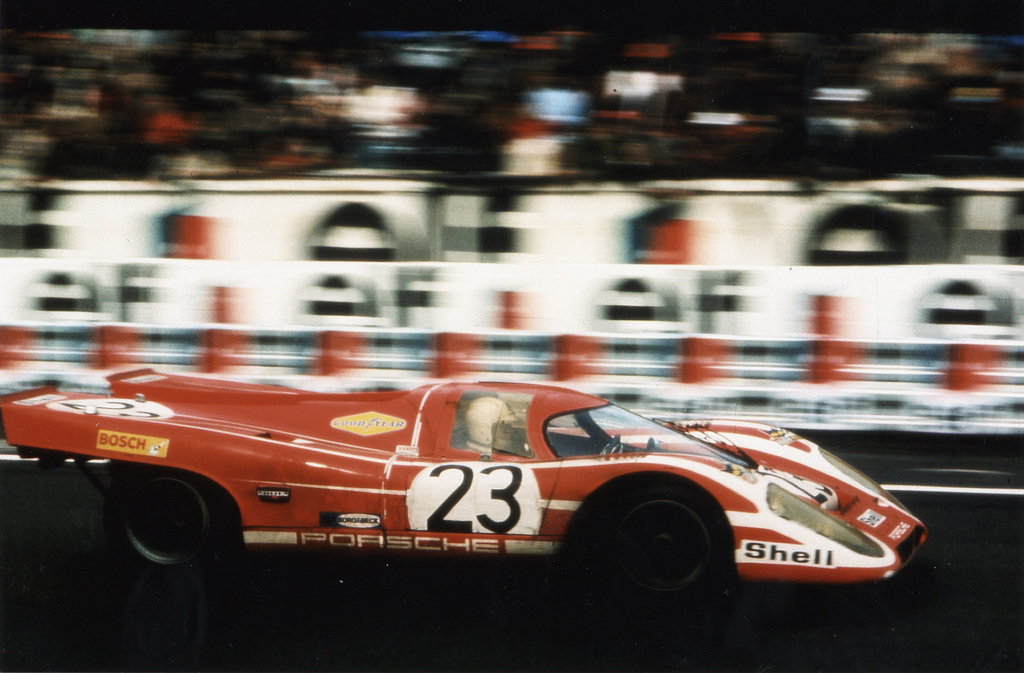 An air-cooled engine, called the type 917.910, was similar to the 908's, but had an entirely new bottom end. Instead of a boxer arrangement, the 917 used a 180º Flat-12 crankshaft which allowed opposite connecting rods to share crankshaft bearings. This made the engine more compact which was a primary concern. Timing gears were centered in the middle of the block which essentially split the engine in two. Cooling was provided by an electrically powered fan that sat in between the intake trumpets and was exposed through the bodywork.
Displacing under 4.5 liters, power was initially rated around 580 bhp. Each unit took over 160 hours to complete and was made of exotic alloys, magnesium and titanium. Access to the engine was provided by a completely removable rear body section which could be changed to high-downforce or low-drag configurations. For the brief 1969 season, a long swooping tail was used with a full size adjustable rear wing.
Racing 1969
Porsche first revealed the 917 to the press at the 1969 Geneva Motorshow. This was followed by an intense CSI homologation inspection, demanding that all the cars needed to be complete before the car could race. Remarkably, Porsche produced eight more cars in three weeks to complete the necessary 25 cars. On April 1st, 1969 the 917 was homologated just in time for Le Mans.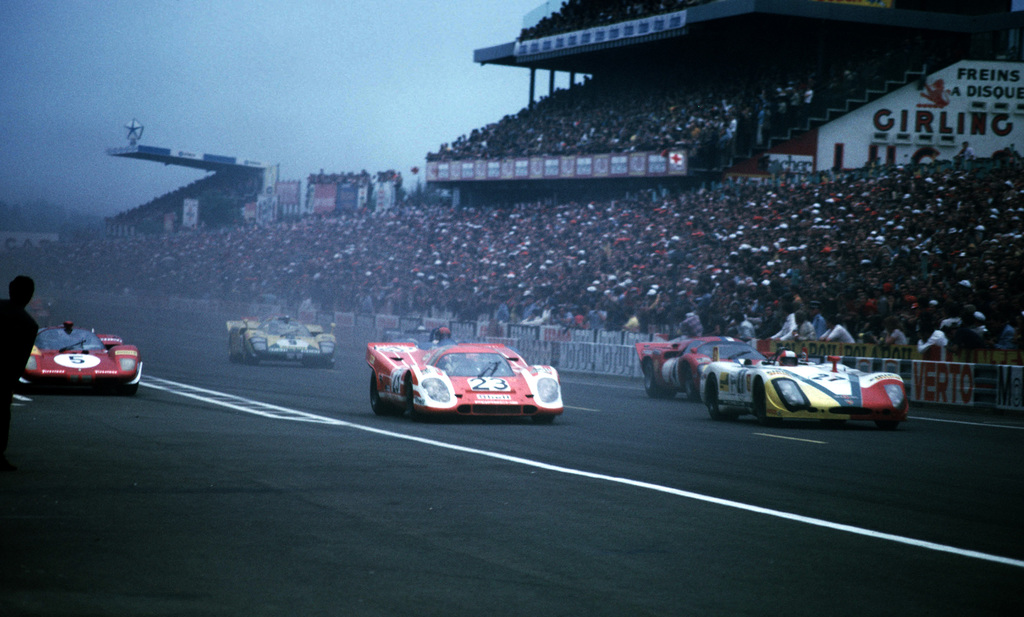 During initial tests, the 917 was found to be particularly unstable and many driver's began to have doubts about its design. Brain Redman said "it was incredibly unstable, using all the road at speed." It was thought that the engine might be too powerful for the chassis and the much less powerful 908 was preferred by the factory drivers. At the 1000km of Spa, a long tail 908 was chosen in favor over the 917.
Before the 917 hit Le Mans, it debuted at the 1969 Nürburgring 1000km and in the hands of David Piper and Frank Gardner. No factory drivers would chose the 917 and instead piloted 908 Spyders to a 1-2-3-4-5 victory. The 917 trailed in eighth place.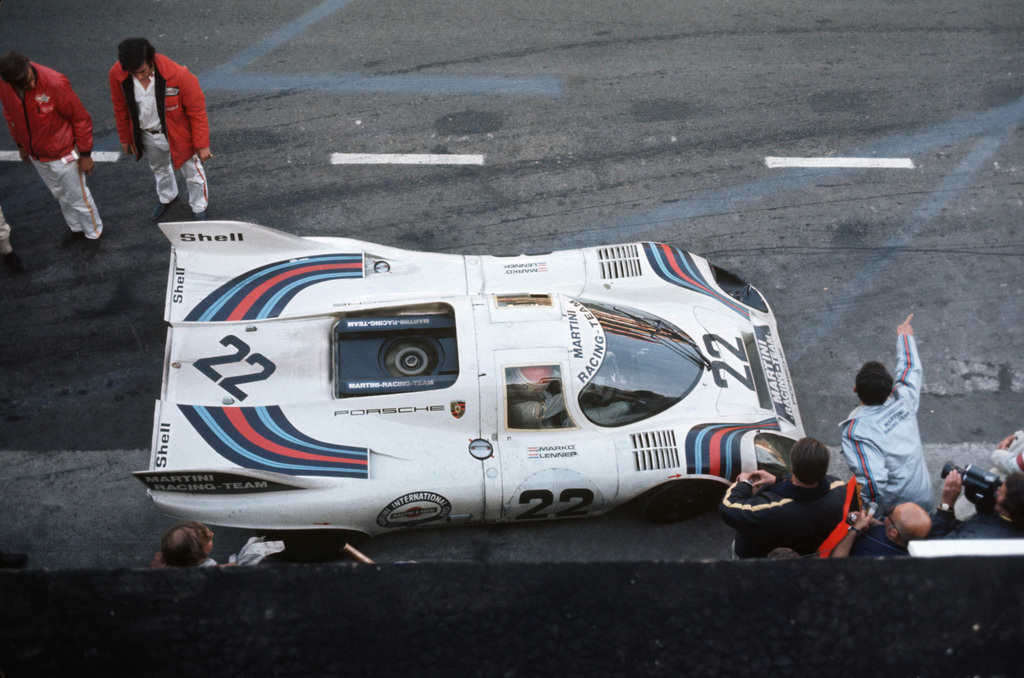 Leading up to Le Mans, many drivers were cautious about the 917, but persisted on with hopes of overall victory. 917s set the fastest lap in practice and looked to have all the right ingredients to win. Three cars were entered in the race, two factory entries and one loaned to John Woolfe Racing. Unfortunately, John Woolfe suffered a fatal crash on the very first lap which was later attributed to his seat belt and lack of experience. During the crash, the car was ripped in half, sending its flaming and ruptured fuel tank onto a Ferrari 312P that was trailing behind. The remaining 917 team cars led for around 300 laps before both dropped out with clutch bell housing problems. Eventually, the Porsche 908 Coupe of Hans Herrmann and Gerard Larrousse placed just seconds behind the winning Ford GT40.
Racing 1970, 917K debuts
For the 1970 season, 917s were sold to Martini Racing, JWA Gulf Racing and Porsche Salzburg—all private teams that would be supported by the factory. Under the direction of John Wyer, the engineers at JWA tackled the handling problems first discovered in testing. Wyer's engineer, John Horsmann, came up with a solution to hack off the rear section of the bodywork and replace it with a new aluminum section. This greatly improved stability by increasing downforce at the expense of drag. Porsche later made revised tail sections for most of the cars and called the cars Kurzheck or 917K. Surprisingly, another low-drag version was designed by Robert Choulet . Known as the Langheck, it was specifically intended for to achieve remarkable top speeds down the Mulsane Straight.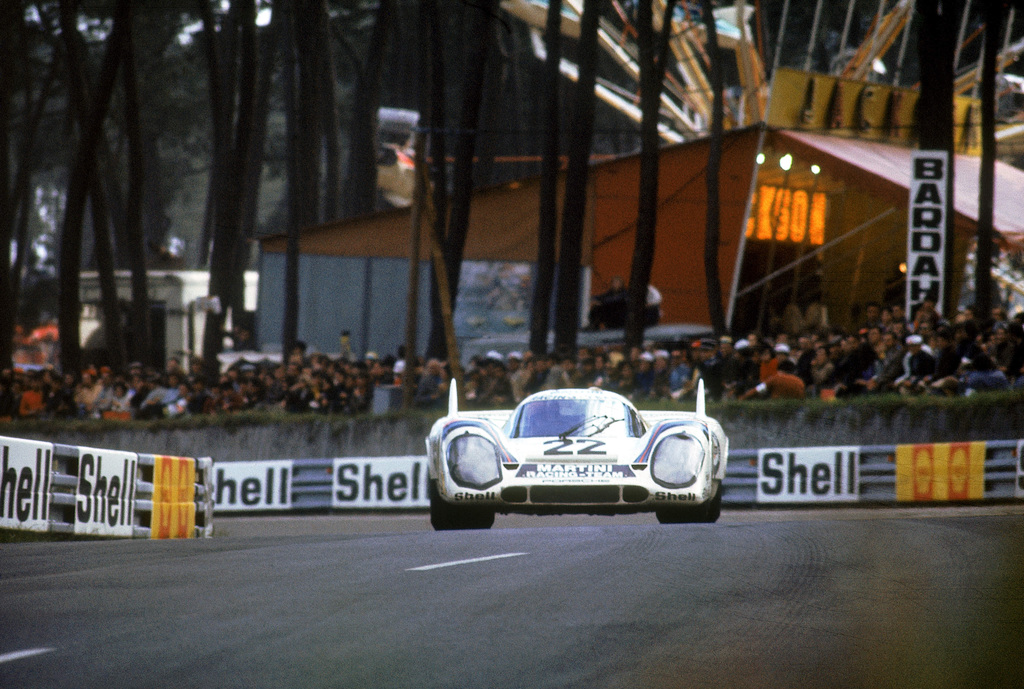 Porsche also experimented with the boring out the engine to a new 4.9 liter configuration which produced 20 additional horsepower. Later, it was found that these engines put too much strain on the gearbox.
For the 1970 season, Porsche faced Ferrari's own 512S which was underpowered and overweight by comparison. Even though Ferrari brought out eleven cars, Porsche success through quazi-works teams was practically guaranteed. Only an hour and half into the race, the Ferraris were trailing. Through heavy rain and storms two 917s finished ahead of a 3.0-liter 908. Hans Herrmann and Richard Attwood drove their Salzburg red and white 917K to Porsche's first overall victory at LeMans.
Racing 1971
For the 1971 Season, Porsche faced some new competition including Roger Penske's 600 bhp 512S and the Alfa Romeo T33/3. To prepare, Porsche revised both the short and long versions of the 917. Both had slight body changes that included vertical fins on the K and LH was changed to reach speeds up to 248 mph. Porsche also prepared the famous 917/20 'Pink Pig of Zuffenhausen'.
One of the most radical developments for 1971 was a single magnesium frame that was fitted to chassis 053 and raced by JWA/Martini. Painted white, this car placed first overall at Le Mans. It was driven by Helmut Marko and Gijs van Lennep to set an overall distance record.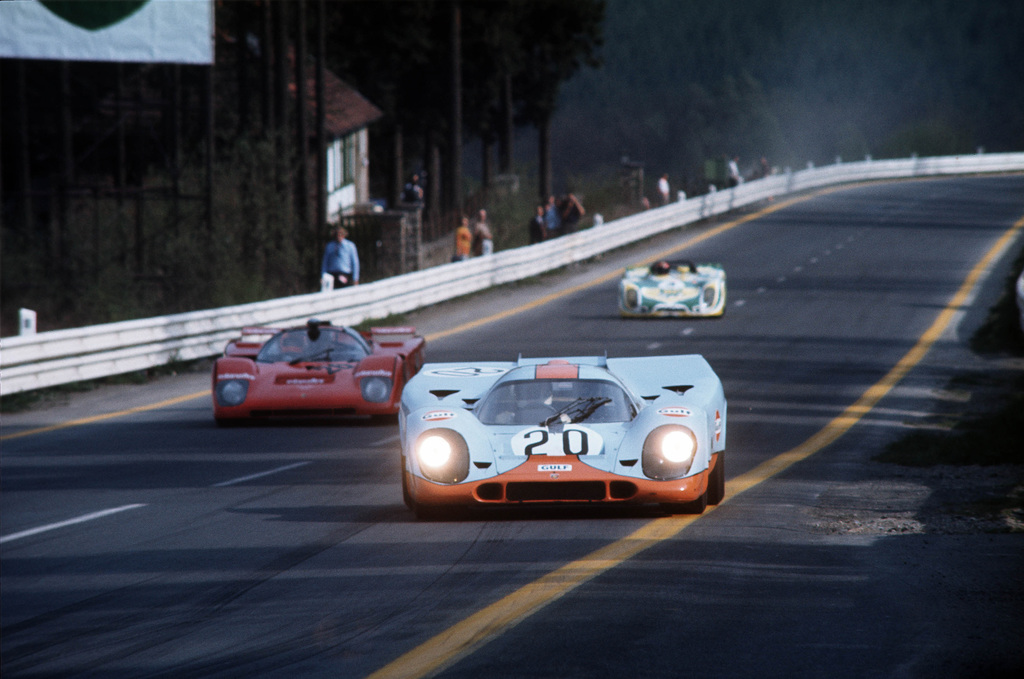 Beyond 1971
After winning LeMans twice and accomplishing their goals, Porsche had become a power in sports car racing over a three year period. The CSI abandoned Group 4 leaving the 917s to contest other series. Later versions of the 917 were prepared for CanAm and featured turbocharged engines that could produce in excess of 1100 bhp.
Sources & Further Reading
1. Ludvigsen, Karl.Excellence Was Expected. Princeton Publishing Inc. Princeton, 1977.
2. Hinsdale, Peter.The Fabulous Porsche 917. Haessner Publishing, 1976.
3. Bamsey, Ian.Porsche 917 Kurz. Langheck. Spyder. Foulis & Co ltd, 1987.
4. Morgan, Peter.Porsche 917: The Winning Formula. Haynes, 1999.
Story by Richard Owen
In Detail
| | |
| --- | --- |
| | |
| type | Series Production Car |
| production years | 1970 – 1971 |
| released at | 1969 Geneva Motorshow |
| built at | German |
| body stylist | Gerhard Schroeder |
| engineers | Helmut Flegl, Paul Hensler |
| production | 12 |
| engine | Air Cooled 912.10 180 Flat-12 w/Dry Sump Lubrication |
| position | Stressed Mid Longitudinal |
| aspiration | Natural |
| ignition | Twin Spark, Dual 12V Distributors |
| block material | RZ5 Magesiumn Alloy w/Chromal Cylinders |
| valvetrain | Gear Driven DOHC, 2 Valves per Cyl |
| fuel feed | Indirect, Mechanical Bosch Fuel Injection |
| displacement | 4494 cc / 274.25 in³ |
| bore | 85 mm / 3.35 in |
| stroke | 66 mm / 2.60 in |
| compression | 10.5:1 |
| engine designer | Hans Mezger |
| power | 426.5 kw / 572 bhp @ 8400 rpm |
| specific output | 127.28 bhp per litre |
| bhp/weight | 715.0 bhp per tonne |
| torque | 509.8 nm / 376 ft lbs @ 6800 rpm |
| body / frame | Polyester & Fiberglass Panels over Tubular Aluminum Alloy Frame |
| driven wheels | RWD w/LSD |
| wheel type | Cast Magnesium |
| front tires | 4.75/11.30-15 Dunlop |
| rear tires | 6.00/13.50-15 Dunlop |
| front brakes | Internally Vented Discs w/Dual-Circuit Calipers w/4-Piston Aluminum Calipers |
| rear brakes | Internally Vented Discs w/Dual-Circuit Calipers w/4-Piston Aluminum Calipers |
| front wheels | F 38.10 x 22.86 cm / 15 x 12 in |
| rear wheels | R 38.10 x 30.48 cm / 15 x 12 in |
| steering | Rack & Pinion |
| f suspension | A-Arms & Control Arms w/Coil Springs, Bilstein Shocks |
| r suspension | Control Arms w/Coil Springs, Bilstein Shocks |
| curb weight | 800 kg / 1764.00 lbs |
| wheelbase | 2300 mm / 90.55 in |
| front track | 1564 mm / 61.6 in |
| rear track | 1584 mm / 62.4 in |
| length | 4140 mm / 163.0 in |
| width | 1975 mm / 77.8 in |
| height | 920 mm / 36.22 in |
| transmission | 5-Speed Manual |
| tran clutch | 3-Disc Dry Clutch |
| top speed | ~320 kph / 198.72 mph |
| fuel capacity | 120 litres or 31.68 gal. |
| race victories | 1OA Le Mans 1970, 1OA Le Mans 1971 |
Porsche 917 Videos