1971 Porsche 917 16-Cylinder Prototype
Not resting on the 917's success in endurance racing, Porsche upgraded the 917/10 to compete in the McLaren-dominated CanAm series. They debuted the team in 1971, but the car was down on power compared to the might of the V8-powered competition. One potential solution was tired in this unique 16-Cylinder Prototype.
The Group 7 class in CanAm was virtually unlimited with regard to regulation, so Porsche was free to try many different avenues to source extra power. Two main themes were explored: the first was to go into uncharted territory and turbocharge engines with an exhaust-driven turbine. Eventually this was the chosen route, but it didn't reach fruition until a larger 16-cylinder engine was tried.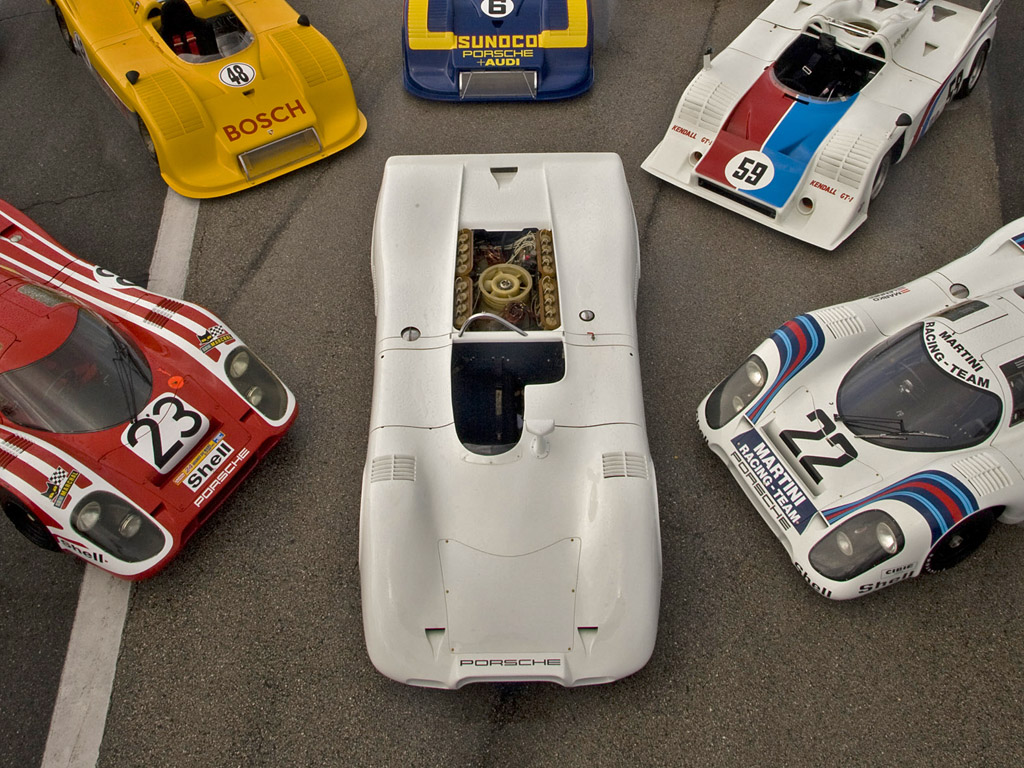 917-027 acted as a test mule and was fitted with the first 16-Cylinder engine. Under Ferdinand Piech's watch, Hans Mezger developed the engine which was not given its own type number.
His design was based of the 912's 12 cylinder, with centrally driven camshafts and two additional cylinders at each end. The design was scalable like the type 912 and could be used with a displacement ranging from 6.0 to 7.2 liters. At 706 lbs, the largest 7.2 liter could produce 880 bhp @ 8300 rpm and was the most powerful normally aspirated engine produced by Porsche.
The 16 had canted inlet valves which made the trumpets sit on a distinctive slant. This allowed the necessary room for the larger Bosch fuel injection system which used two 908 pumps placed end-to-end.
Only four complete engines were made, although parts for up to ten might have been made. Porsche was serious about winning with the old 917 platform and drafted up a complete car with a working flat-16 engine. Enough horsepower was made available, but that wasn't enough to match the scalability of the turbocharged cars.
Mark Donohue tested that car at the Weissach track and said it was a real monster. He got the impression that it could be turbocharged up to 2000 bhp.
The decision to go with turbo charging was the right move. Five-liter flat-12s produced up to 950 bhp and helped George Follmer win the 1972 championship. Later versions of the turbocharged Porsches were the most powerful cars ever raced.
Only a sole 16-cylinder prototype remains and it's currently retained by the Porsche Museum. Only one other complete 16 cylinder engine is retained by the factory.
In Detail
| | |
| --- | --- |
| submitted by | Richard Owen |
| type | Series Production Car |
| engine | Prototype Flat-16 |
| position | Mid Longitudinal |
| aspiration | Natural |
| valvetrain | DOHC 2 Valves per Cyl |
| fuel feed | Bosch Fuel injection |
| displacement | 6700 cc / 408.9 in³ |
| bore | 86.8 mm / 3.42 in |
| stroke | 70.4 mm / 2.77 in |
| compression | 10.5:1 |
| power | 626.4 kw / 840 bhp @ 8300 rpm |
| specific output | 125.37 bhp per litre |
| redline | 8500 |
| body / frame | Body over Tubular Frame |
| front brakes | Vented Discs |
| rear brakes | Vented Discs |
| steering | Rack & Pinion |
| f suspension | Wishbones |
| r suspension | Wishbones |