1977→1979 Porsche 935
From 1977 into the 1980s, Porsche 935s were the popular choice in Group 5, GTP, and GTX racing both in Europe and North America. Later versions were made by Kremer, Joest, Gaaco and Fabcar left little room for any challenge to Porsche dominance. The culmination of these efforts resulted in a first overall at the 1979 24 Hours of Le Mans.
The 935 was initially offered as version of their 935 for private racing teams that raced alongside the technically superior Martini-sponsored factory cars. These were based of the 1976 the Porsche Carrera RSR 2.1 Turbo which contested the 24 Hours of Le Mans in 1974 provided a basis for the 935.
Due to the more relaxed Group 5 regulations, engineer Norbert Singer could drastically alter the outer-bodywork of the standard 930 unitary steel monocoque. This allowed for much larger fender flares and a huge rear wing. Half way through the 1976 season, Porsche relocated the front headlights to the Flachbau or flatnose design.
The design retained the 930 Turbo bodyshell which was stiffened by an aluminum roll cage. The attached front and rear sections were made from fiber-glass and 5-inch wheel arches were fitted covering 15-inch tires in the rear. Plexiglass windows and other lightweight construction meant that the car was produced 90 kg underweight which was offset by ballast.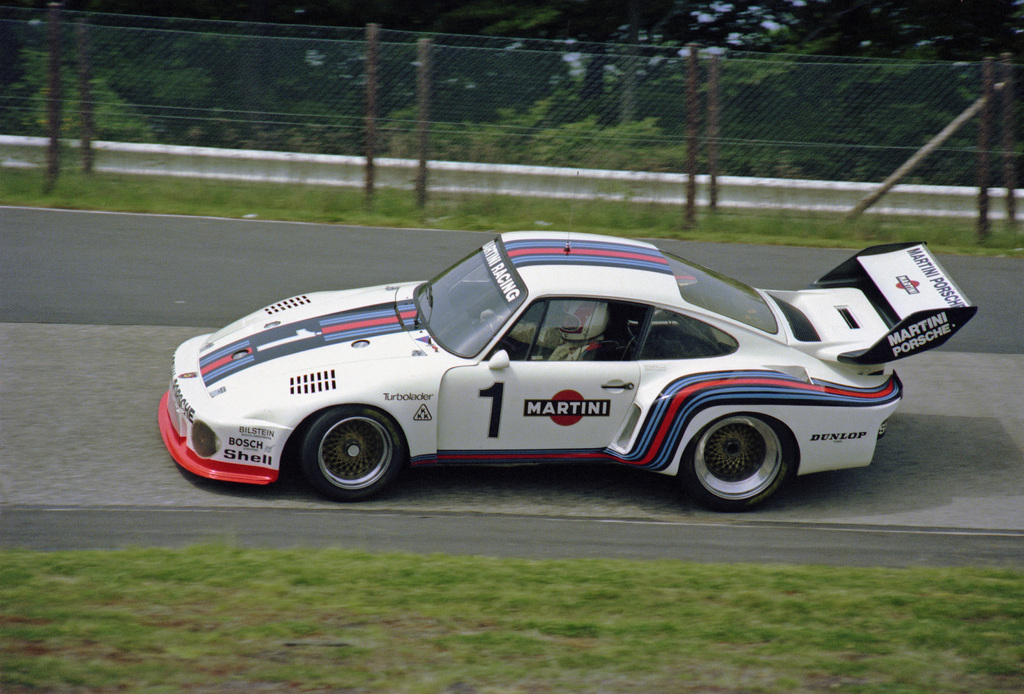 Using the 1.4 equivalency factor given to turbocharged engines, Porsche could assemble a 2.9-liter engine that fit well within the 4-litre restriction. To offset the smaller displacement, a huge KKK turbocharger was fitted which helped the 2808cc flat-6 produce close to 600 bhp. This number varied depending on the boost which ranged from 1.35 and 1.55 bar.
The engine used dual-ignition, a 908-style fuel pump, plunger-type fuel injection and spraybar lubrication. Consumption was rated at 4.38 mpg.1 A knob on the dashboard controlled the boost which could vary the power from a reliable 550 bhp to 650 bhp in sprint mode. Some private teams opted for the larger 2994cc engine which raised power to 630 bhp but they were forced to carry 122 extra lbs of ballast.
The suspension and wheels were also drastically upgraded including coil springs, adjustable anti-roll bars, and larger ventilated discs. Naturally, the car was completely stripped and Porsche managed to reduce weight to 900 kg. With ballast the car could then meet the required 970 kg formula.
Porsche offered the car again in 1978 with the twin-turbocharged specification and running boards as on the factory team cars. That year IMSA champion was Peter Gregg driving the Brumos Racing 935. The World Championship of Makes was secured by the 935 after winning 7 rounds. The German Nation Championship was also contested by 12 separate 935s of which the Gelo-entered cars were fastest.
Sources & Further Reading.
1. Starkey, John. 930 to 935 The Turbo Porsches. Gryfon Publishers: 1998.
Story by Supercars.net
In Detail
| | |
| --- | --- |
| | |
| type | Racing Car |
| production years | 1977 – 1979 |
| built at | Germany |
| engineers | Norbert Singer |
| engine | Type 930/72 Boxer-6 |
| position | Rear, Longitudinal |
| aspiration | KKK Turbocharger |
| block material | Aluminum |
| valvetrain | SOHC, 2 Valves perCyl |
| fuel feed | Bosch Mechanical Fuel Injection |
| displacement | 2856 cc / 174.28 in³ |
| bore | 92.8 mm / 3.7 in |
| stroke | 70.4 mm / 2.8 in |
| compression | 6.5:1 |
| power | 417.6 kw / 560 bhp @ 8000 rpm |
| specific output | 196.08 bhp per litre |
| bhp/weight | 622.22 bhp per tonne |
| torque | 587.1 nm / 433 ft lbs @ 5400 rpm |
| body / frame | Unitary Steel Monocoque w/Fiberglas Panels |
| driven wheels | RWD |
| front brakes | Ventilated Discs w/4-Piston Calipers |
| rear brakes | Ventilated Discs w/4-Piston Calipers |
| front wheels | F 40.6 x 26.7 cm / 16 x 10.5 in |
| rear wheels | R 48.3 x 38.1 cm / 19 x 15 in |
| steering | Rack & Pinion |
| f suspension | MacPherson Struts w/Bilstein Dampers, Adjustable Anti-Roll Bar |
| r suspension | Double Wishbones w/Bilstein Dampers, Adjustable Anti-Roll Bar |
| curb weight | 900 kg / 1985 lbs |
| weight distro | 40 % / 60 % |
| wheelbase | 2271 mm / 89.4 in |
| front track | 1501 mm / 59.1 in |
| rear track | 1557 mm / 61.3 in |
| length | 4681 mm / 184.3 in |
| width | 1971 mm / 77.6 in |
| transmission | 4-Speed Manual |
| key drivers | Jackie Ickx, Jochen Mass |