1977 Jaguar E-Type 'Ole 19'
Touted as the most winning Jaguar of all time and the the final chapter in E-Type racing, 'Ole 19' was converted into a racecar in the mid-1970s. Built by Lou Fidanza's Gran Turismo Jaguar (GTJ), it was successfully campaigned as a champ car in SCCA racing.
Lou Fidanza was a car dealer from Ohio, USA that raced 'Ole 19' with the minimum of support from his small team against very well funded factory teams in SCCA-sanctioned races. All the modifications and testing were handed by the Gran Turismo Jaguar team.
See all classic Jaguar cars and more Jaguar E-type articles
Well past the standard E-Types competition career, driver Freddy Baker piloted 'Ole 19' to victory at the C-Production national final at Road America in 1980. Called the 1980 Champion Spark Plug Road Racing Classic (CSPRRC), it was the premier event on the SCCA calendar. This victory was particularly notable as Baker beat a sea of factory prepared Datsuns and Triumph TR8s and became Driver of the Year for 1980.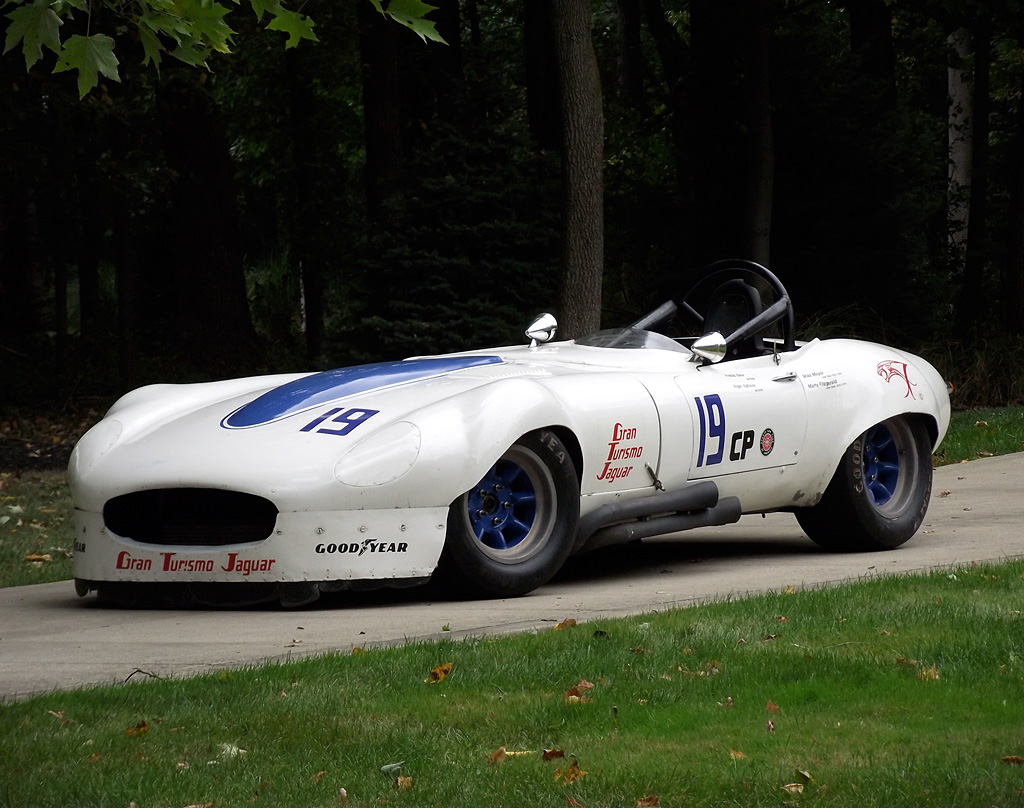 The 1980 season was a particularly hard blow for Paul Newman who lost his championship to the Jaguar and commented on Freddy Baker's car: "as long as his engine lived, we didn't have a chance." This meant Newman settled for second despite $250,000 USD spent on developing his Datsun 280ZX which had consistently won in previous years.
Owner Lou Fidanza said"the E-Type Jaguar was the best sports car ever designed and constructed in major quantities, including the best late stuff from Germany and Japan. It took us until 1980 to prove it."3
'Ole 19' continued to be successful right up until 1982 and won at Mid-Ohio GT1 race in front of 11 Corvettes, 10 Datsuns and 9 Porsches. At the time the car was 16 years old and had been racing for eight.1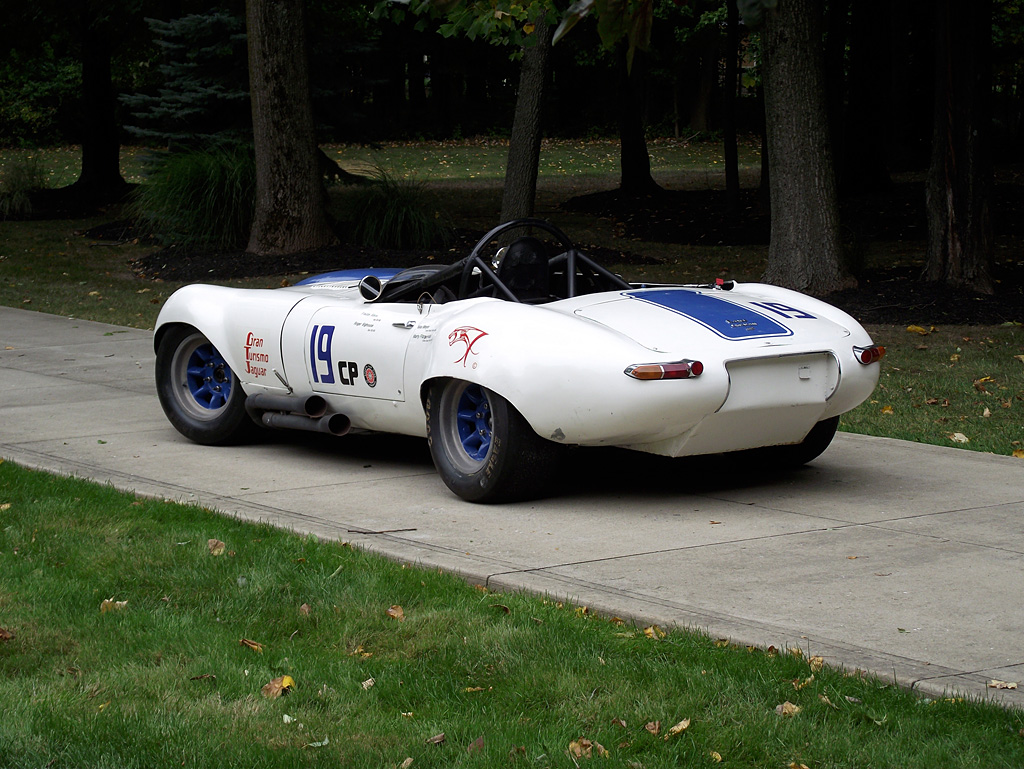 Praise for the car's preparation was universal and all the Jaguar clubs and racing magazines of the period picked up on the David vs Goliath story of the 'Ole 19' beating the factory Datsuns and other American heavy metal.
Chassis 1E12841 started life in 1966 as a standard 4.2 Jaguar E-Type Roadster. Before the 1977 season it was radically modified to suit modern racing and was homologated using Series II dimensions to get the larger brakes and air opening on the hood.
According to the C Production regulations, it had ventilated disc brakes, a sleek aerodynamic body, twin side exhausts, the trusty 4.2 overhead cam Jaguar engine and a massive chrome moly steel roll cage which added considerable rigidity to the chassis. SCCA racing allowed much larger tires, a fibreglass hood, wider track and rear sway bar which much improved the car's handling.
See all classic Jaguar cars and more Jaguar E-type articles
The engine was heavily modified to achieve 8000 rpm by means of a heavier balancing damper, lightweight flyweel and a triple-disc racing clutch. With stronger valves, a new cam, MSD ignition the car started out with around 325 bhp in 1978 and was closer to 350 in 1980.
Initially raced by Roger Bighouse it won eight C Production races in its first two years. The car continued to be successful right up to 1983 when the sanctioning body imposed a 200 lb ballast on 'Ole 19' and the E-Type's racing history effectively came to an end.1
Sources & Further Reading.
1. Porter, Philip. Jaguar E-Type The Definitive History. Foulis: 1989.
2. Whyte , Andrew. Jaguar Sports Racing & Works Competition Cars From 1954 :1988.
3. Skilleter, Paul. "Unbeatable E-Type" The Jaguar Driver's Yearbook 1980-81.
In Detail
| | |
| --- | --- |
| type | Series Production Car |
| built at | Eastlake, Ohio, USA |
| production | 1 |
| engine | Inline-6 w/Dry Sump Lubrication |
| position | Front, Longitudinal |
| aspiration | Natural |
| ignition | MSD |
| block material | Cast Iron w/Aluminum Cylinder Head |
| valvetrain | Chain-Driven DOHC, 2 Valves per Cyl |
| fuel feed | Triple SU Carburetors Carburetors |
| displacement | 4235 cc / 258.4 in³ |
| bore | 92 mm / 3.62 in |
| stroke | 106 mm / 4.17 in |
| compression | 12.5:1 |
| power | 255.8 kw / 343 bhp @ 8000 rpm |
| specific output | 80.99 bhp per litre |
| bhp/weight | 323.28 bhp per tonne |
| body / frame | Unitary Steel Monocoque w/Fiberglas Hood, Aluminum Rear Fenders |
| driven wheels | RWD |
| wheel type | Magnesium Minilite |
| front tires | Goodyear Bluestreak |
| rear tires | Goodyear Bluestreak |
| front brakes | Inner-Ventilated Discs w/Series II Calipers |
| f brake size | 31.75 x -1.0 mm / 1.2 x -1.0 in |
| rear brakes | Inner-Ventilated Discs w/Series II Calipers |
| r brake size | 28.94 x -1.0 mm / 1.1 x -1.0 in |
| front wheels | F 38.1 x 19.1 cm / 15 x 7.5 in |
| rear wheels | R 38.1 x 27.9 cm / 15 x 11 in |
| steering | Rack & Pinion w/Optional Assist |
| f suspension | Wishbones w/Koni Shock Absorbers |
| r suspension | Half Shafts w/Adjustable Koni Shock Absorbers |
| curb weight | 1061 kg / 2337 lbs |
| transmission | 5-Speed Manual by Doug Nash |
| tran clutch | Tripple Disc Borg & Beck |
| final drive | 3.77:1 |
| top speed | ~289.62 kph / 180 mph |
| fuel capacity | 68.13 litres or 18 gal. |