1982 Lancia 037 Stradale
The 037 Stradale was made to homologate its rally version into the radical Group B WRC class. Thus, it featured all the hallmarks of a no-compromise race car, but with regard to passenger car regulations.
Development of the 037 was trusted to Abarth who had the challenge of following the mighty Lancia Stratos. The new car was similar to an earlier design called the Beta Monte Carlo with its central tub and large steel space frames fore and aft. Despite Audi's success in four-wheel-drive, Abarth opted out and instead relied on a single rear ZF differential.
Almost every aspect of the 037 was business with large Brembo Brakes, double wishbone suspension, two 35-litre tanks, ZF five-speed gearbox, an Abarth-supercharged engine and easy access for repairs. Although only offering 205 bhp (152 kW) in road trim, the car had a low weight, and took full advantage of the available power.
Pininfarina created the striking body and helped develop its overall shape and aerodynamics. Executed in fibre-glass reinforced by Kevlar, the light body contributed to an overall weight of 2579 lbs (1169 kgs).
With this low weight, and not losing as much power as on a 4WD system, the 037 could reach 60 mph in just 5.8 seconds! One can only imagine how fast the competition version would go with its 440 lb (200 kgs) weight reduction and additional 80 bhp (60 kW).
Compared to the competition machines, the Stradale was slightly detuned with a lower compression ratio and featured a spartan, but complete interior with minimal soundproofing and cloth bucket seats.
Only 207 copies of the Stradale were built, and after homologation was granted many were converted to full-on competition cars. All the Stradales were painted in Red and some came with a matte black rear wing, while others came with no wing at all to increase rearward visibility.
See 1982 Lancia 037 Stradale Gallery
See our awesome Lancia 037 Group B Video and Lancia Rally – Stratos vs 037
In Detail
| | |
| --- | --- |
| production | 207 |
| engine | Inline-4 w/Dry Sump Lubrication |
| position | Mid Longitudinal |
| aspiration | Abarth Supercharger |
| valvetrain | DOHC 4 Valves / Cyl |
| fuel feed | Weber 40 DCN VH 15/250 Twin-Choke Carburettor |
| displacement | 1995 cc / 121.7 in³ |
| bore | 84 mm / 3.31 in |
| stroke | 90 mm / 3.54 in |
| compression | 7.5:1 |
| power | 152.9 kw / 205 bhp @ 7000 rpm |
| specific output | 95.79 bhp per litre |
| bhp/weight | 175.21 bhp per tonne |
| body / frame | Fibre-Glass reinforced by Kevlar over Aluminum Tub |
| driven wheels | RWD w/ZF Self-Locking Differential |
| wheel type | Speedline Light Alloy |
| front tires | Pirelli P7 Corsa |
| rear tires | Pirelli P7 Corsa |
| front brakes | Brembo Discs |
| f brake size | mm / in |
| rear brakes | Brembo Discs |
| r brake size | mm / in |
| front wheels | F 40.6 x 20.3 cm / 16.0 x 8.0 in |
| rear wheels | R 40.6 x 22.9 cm / 16.0 x 9.0 in |
| f suspension | Double Wishbones w/Twin Bilstein Shock Absorbers |
| r suspension | Double Wishbones w/Bilstein Shock Absorbers |
| curb weight | 1170 kg / 2579 lbs |
| wheelbase | 2445 mm / 96.3 in |
| front track | 1508 mm / 59.4 in |
| rear track | 1490 mm / 58.7 in |
| length | 3915 mm / 154.1 in |
| width | 1850 mm / 72.8 in |
| height | 1245 mm / 49.0 in |
| transmission | ZF 5-Speed Manual |
| gear ratios | 2.417:1, 1.611:1, 1.136:1, 0.846:1, 0.704:1, :1 |
| final drive | 5.25:1 |
| top speed | ~225.3 kph / 140 mph |
| 0 – 60 mph | ~5.8 seconds |
Auction Sales History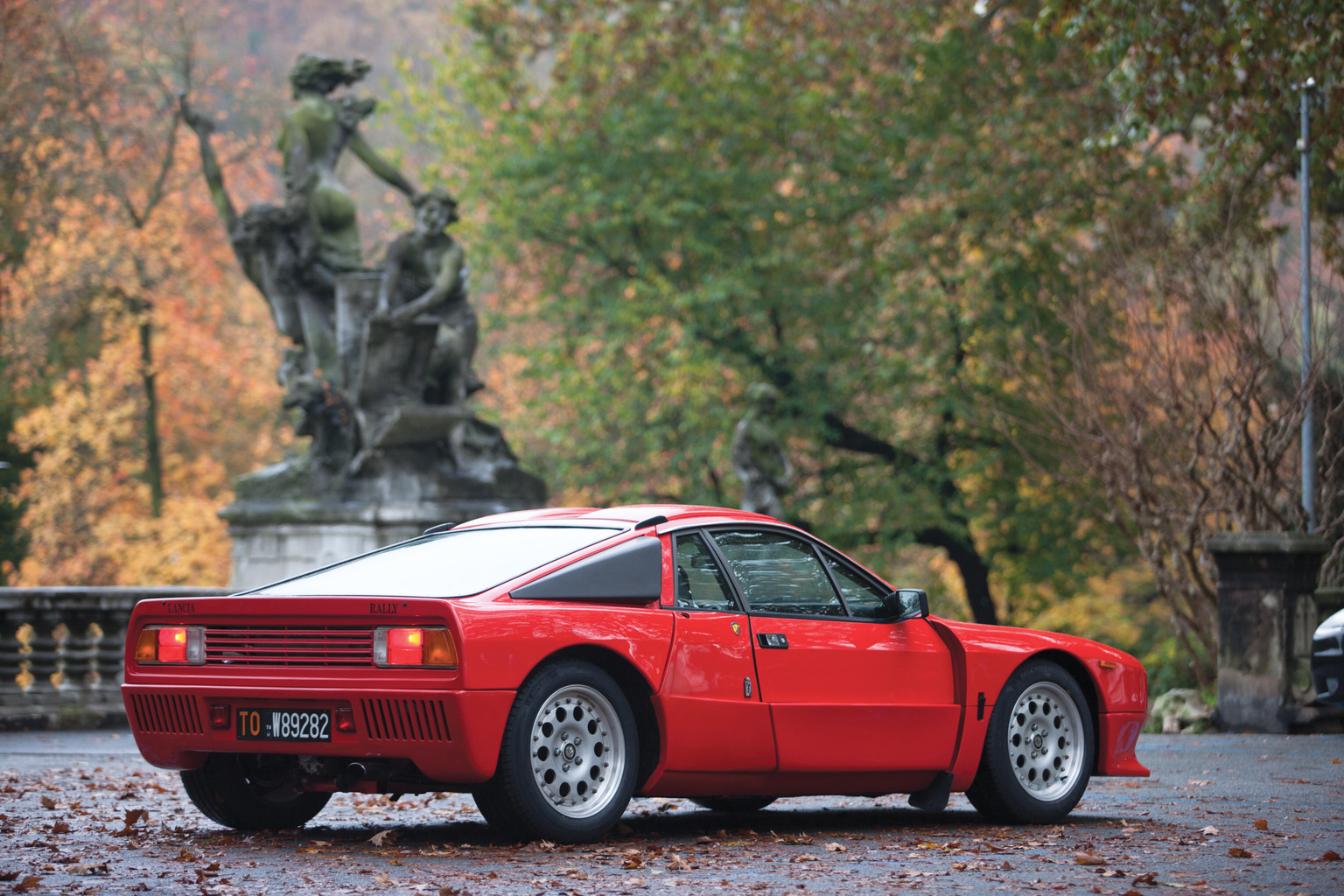 1982 Lancia 037 Stradale *ZLA151AR0*00000045* – sold for €336,000 Single owner from new; showing less than 14,000 kilometres. Unmodified, factory-original condition. Featured extensively in 037, Ultimo Mito. Accompanied by an original set of books, warranty card, and service book. Retains its original tool set, spare wheel, and jack. Auction Source: 2015 Paris by RM Auctions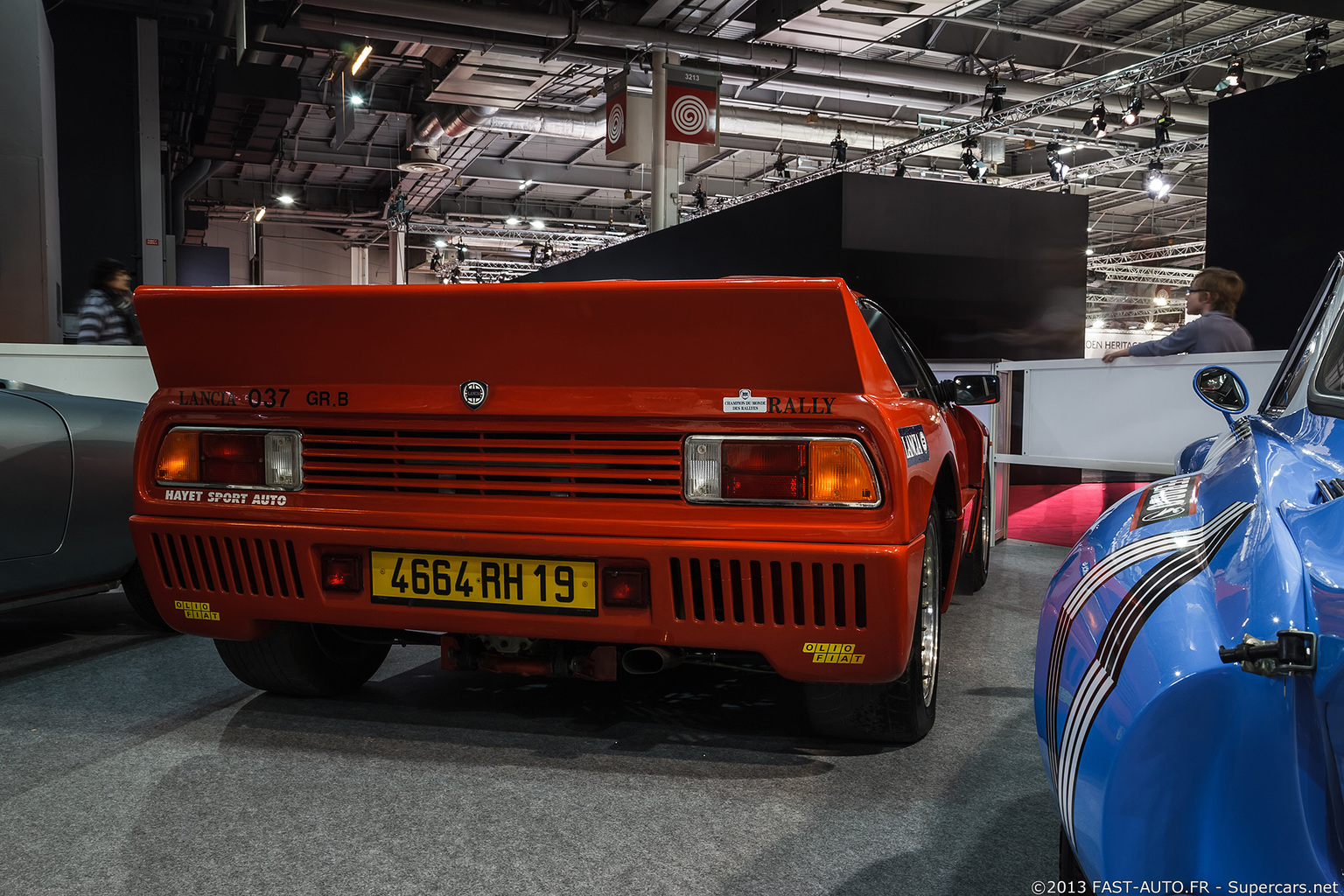 1982 LANCIA 037 ZLA151AR000000033 – sold for €176,321 This car was the 33rd built of the 200 needed for homologation in Group B (in reality, 222 were built). As a copy of the old title shows, it was registered by the Etablissements Chardonnet (Lancia importers for France) with the number 9641 HH 93. It can be seen with this registration next to the 037 of JC Andruet in a 1984 copy of Dossier Auto, a book about the Lancia Rally published by EPA. According to Jean Boussignac, this car was used for reconnaissance and was also the reserve car assigned to Jean-Claude Andruet. It is very likely that it was used for publicity as a demonstration car for the Chardonnet team. Auction Source: Artcurial Motorcars à 2013 Rétromobile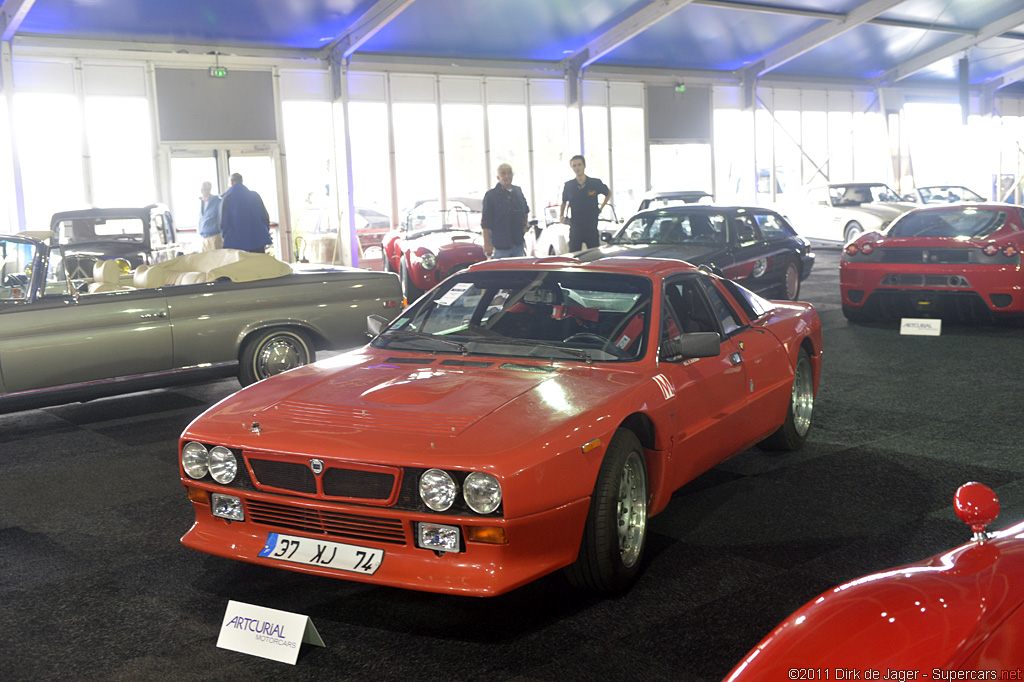 1983 LANCIA 037 RALLY ZLA151AR000000111 – sold for €109,605 This Lancia joined Madame Sacchi's collection ten years ago, and, delivered new in Paris, it has had just three owners from new. Mme Sacchi had black fabric bucket seats fitted to provide more comfort and support in rallies, and generously gave the original seats to a friend. This Lancia has been maintained in Geneva by RS Tuning and CPL Sport in l'Ain. It is generally in good condition and the odometer reads 34,500 km, which is believed to have gone round the clock once.
This rare, high-performance Lancia, with outstanding road-holding qualities, is the ideal car for rallying, particularly on mountainous routes where it can display its agility to the full. The 037 Rally is a model whose value has continued to rise year on year. There is still time to seize this opportunity. Auction Source: 2012 Sport & GTs au Mans Classic by Artcurial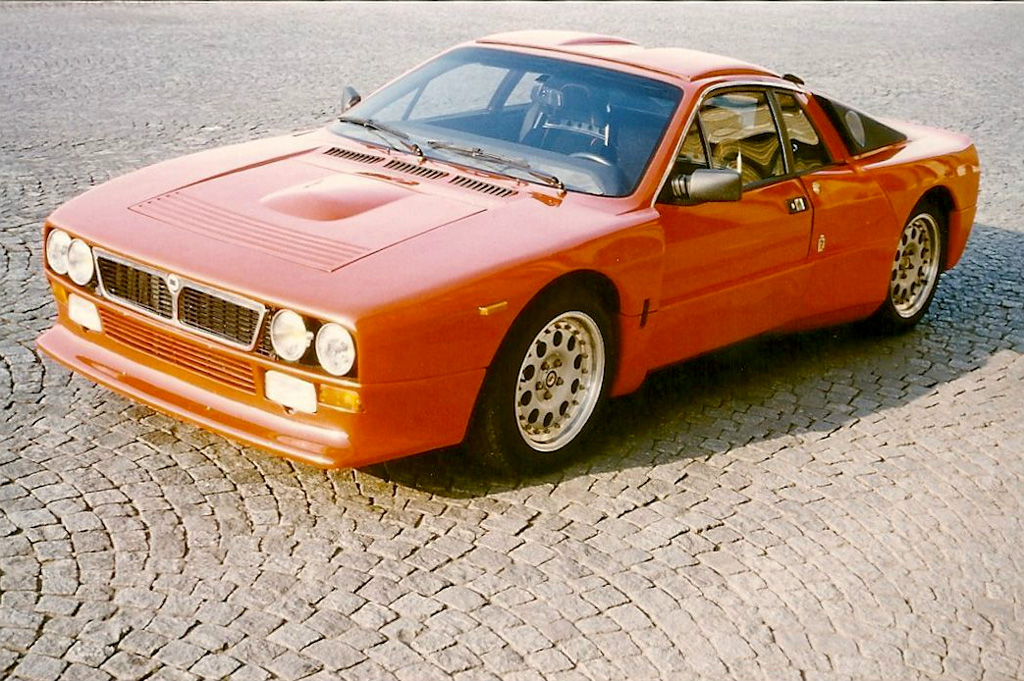 1984 Lancia Rallye 037 ZLA151AR000000089 – sold for €196,574 Presented in red with black interior, black carpets and bucket seats in black velours with red piping, this is one of the rare 037 Stradales. It was bought by an enthusiast not long after it left the factory in 1985, and used very little. He sold it in May 1990 to the current owner with less than 3,000 km on the clock. Unusually, the current owner has two 037s in his collection, the one we are offering, which he has carefully preserved, and a second that he drives. Today, the odometer reads 11,010 km, which according to the owner is the distance covered from new.
This is confirmed by the excellent original condition of the car. The Campagnolo wheels are almost unmarked, and the dashboard and seats are excellent. An amusing detail : this is the car used by Microsoft in 2003 to make the 037 example for the video game Forza Motorsport, as confirmed by correspondance in the file, and on the game which credits the chassis number. The car has hardly been driven over the last two years, since the owner moved abroad. Before the sale, it will, as a precaution, be checked over and put back on the road by a specialist (Hervé coachbuilders in Allauch). The brake pads, belts and fluids will be changed.
This is a unique opportunity to buy a very rare car, a road-going example of a much-dreamed about group B car, that has been carefully used and maintained and is presented in fantastic condition. It comes with its Lancia tool kit which appears to be complete, and its French title. Auction Source: 2012 Artcurial Motorcars à Rétromobile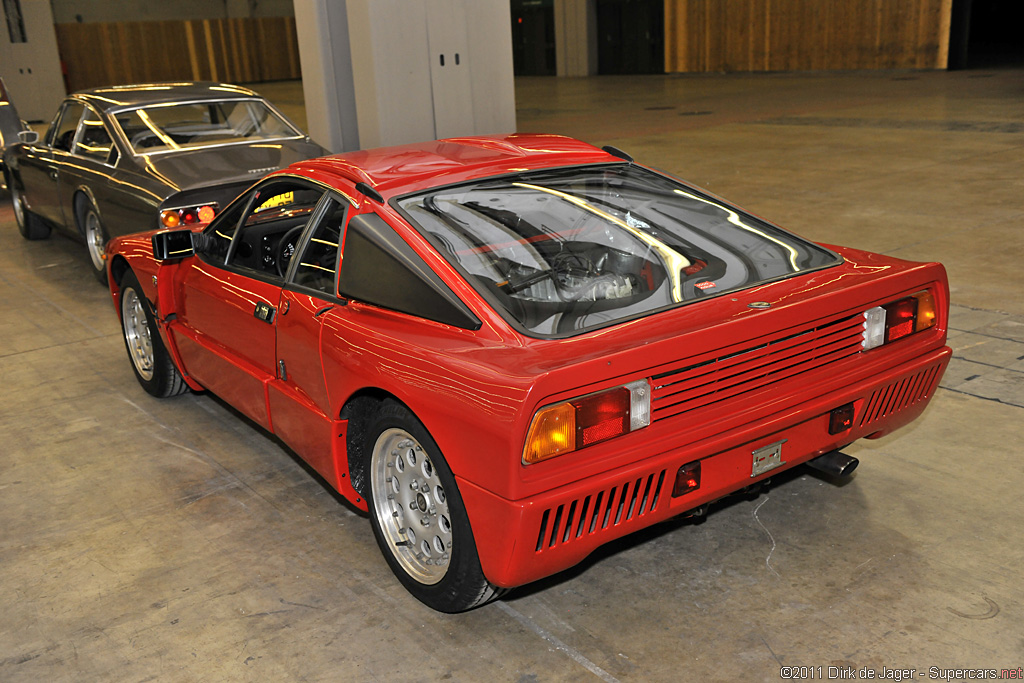 1983 Lancia 037 162000052 – sold for €221,573 Red with black interior, black carpeting and bucket seats covered in black textile and piping in the colour of the body, the car exhibited is one of the rare 037s in circulation in Switzerland. Belonging to the same owner for approximately 23 years, a large Swiss rally car collector, the car was restored more than 5 years ago when it had more than 40,000 kilometres on the clock.
The body and the interior were redone in Switzerland whereas the engine was reworked by the Volta specialist in Italy. This is a unique opportunity to purchase one of these rare models of these Group B cars that are officially recognised for the road and which have had us dreaming so much, in very good presentation and working condition.
Comes with its Swiss vehicle registration document. The import duties and taxes have to be settled by the buyer in the country of destination. Auction Source: 2011 Salon Rétromobile Aucion by Artcurial