1982 Porsche 956
To correspond with Group C racing first introduced by the FIA, Porsche designed the 956. Their program, led experienced project manager Norbert Singer, placed strong emphasis on winning the 1982 Le Mans. That year, Porsche made a clean sweep; first second and third was theirs. The lack of any real competition in 1982 practically handed them the championship, but due to their tremendous team, and the newly developed Weissach facility, Porsche turned the 956 into a customer prototype that would rule motorsport for a decade.
956 Engineering
The 956 was meant to replace the all dominant Porsche 935 and 936. When designing the prototype, Porsche decided to use the flat-6 which had proven itself, powering the 936 to victory at Le Mans. Around this engine Porsche focused on building a car that was above all, aerodynamically efficient, and to do that ground effects were employed. To balance the downforce created ground effects, a venturi in between the front wheels complemented the large downforce created by the rear wing and much larger rear venturi.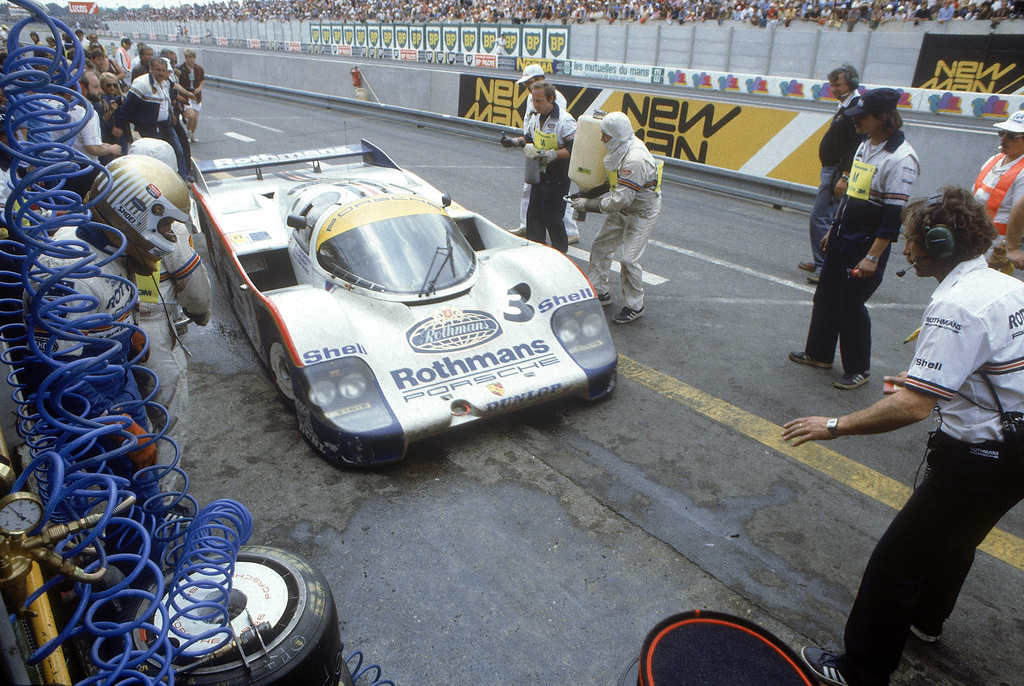 Specific attention was made to ensure the rest of the car was rigid enough to maintain its aerodynamic devices. For the first time, Porsche formed a monocoque which was a departure from the previous tube chassis designs. The 956 used a sheet aluminum tub surrounded by a load bearing composite body. This construction method formed Porsche's most rigid chassis, and would meet the saftey requirements byu the FIA which stated that the gas tank had to be surrounded by a rigid crash structure.
Another major consideration for the Porsche team, was fuel consumption restrictions enacted by the FIA. They allowed for maxium tank size of 100 liters and 25 possible refuelings. The idea was to develop more fuel efficient engines, with technical innovations that could filter down to road cars. This concept appealed to Porsche very much and they were one of the first to use electronic engine management to lower fuel consumption.
To tackle the FIA's fuel restrictions, Porsche decided to rely on turbocharging which offered superior power output that could be adjusted to control fuel consumption by means of a wastegate. This meant that at any given time, the fuel consumption could be adjusted, with corresponding power outputs from 580 bhp @ 17psi boost to 620 bhp at 14psi boost. Typically, drivers would lower the wategate level after they had run on maximum boost to gain top positions in the race.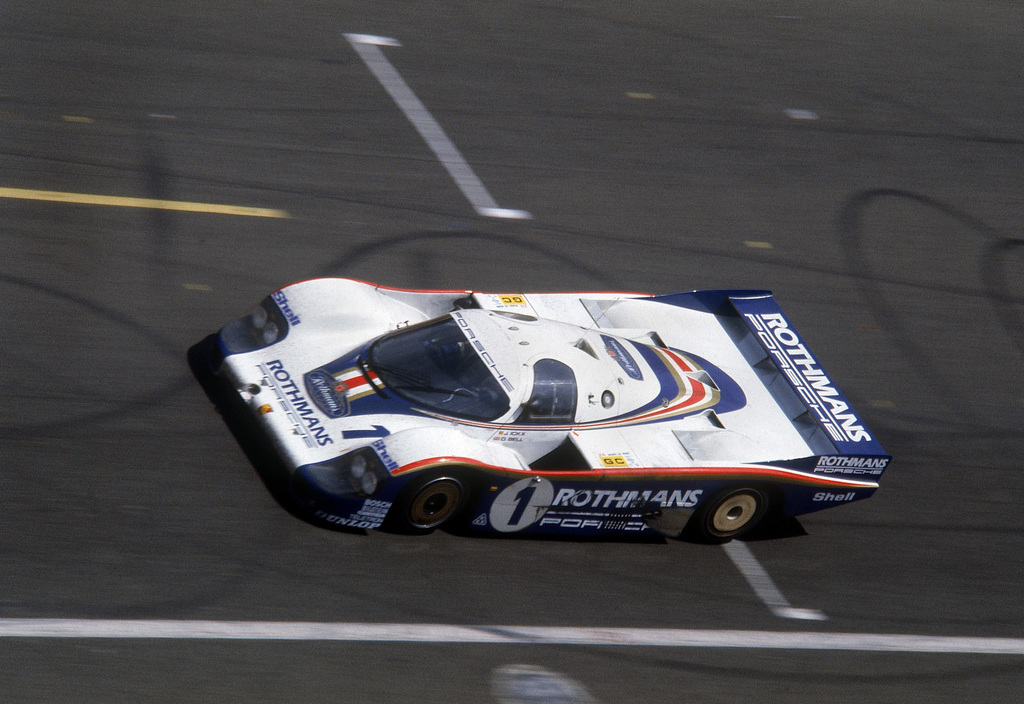 The Privateer Effort
Porsche 956s dominated the 1982 and 1983 seasons, and afterwards evolved into into a well-developed customer car. As Porsche was the only company selling prototype race cars, they were the car to buy and teams such as Joest, Kremer, John Fitzpatrick, Richard Lloyd, Brum Motorsports and Nova Engineering did just that. By 1983, the customer cars included Bosch Motronic electronic engine control, a tire tire pressure warning system with thin-walled Speedline wheels, lighter aluminum tubs, refined areodyamics and a dog-clutch transmission. These advances made the proven 956 lighter, faster and more fuel efficient.
From 1983 till 1991, Porsche continued to develop and support the 956 which evolved into the IMSA long wheel base 962. This evolution proved to be a complementary, because the FIA introduced regulations similar to the IMSA, benefitting Porsche and their customers who were ready with prepared machines. After a production run of 150 cars, Porsche proved that they could not only could not only build sucessful race cars, but they could make money selling them to customers aswell.
From 1983 forward, Porsche domination lasted nearly ten years During this period, Porsche won Le Mans every year up until 1988, won the IMSA GTP from 1985 to 1987 and the World Sportcar Championship from 1982 to 1986. These victories were highlighted by the win at the 1983 Le Mans where Porsche cars took nine out of the top ten positions! So in a 10 year span, this car took 132 prototype victories which made it the most successful prototype racecar in motor sport.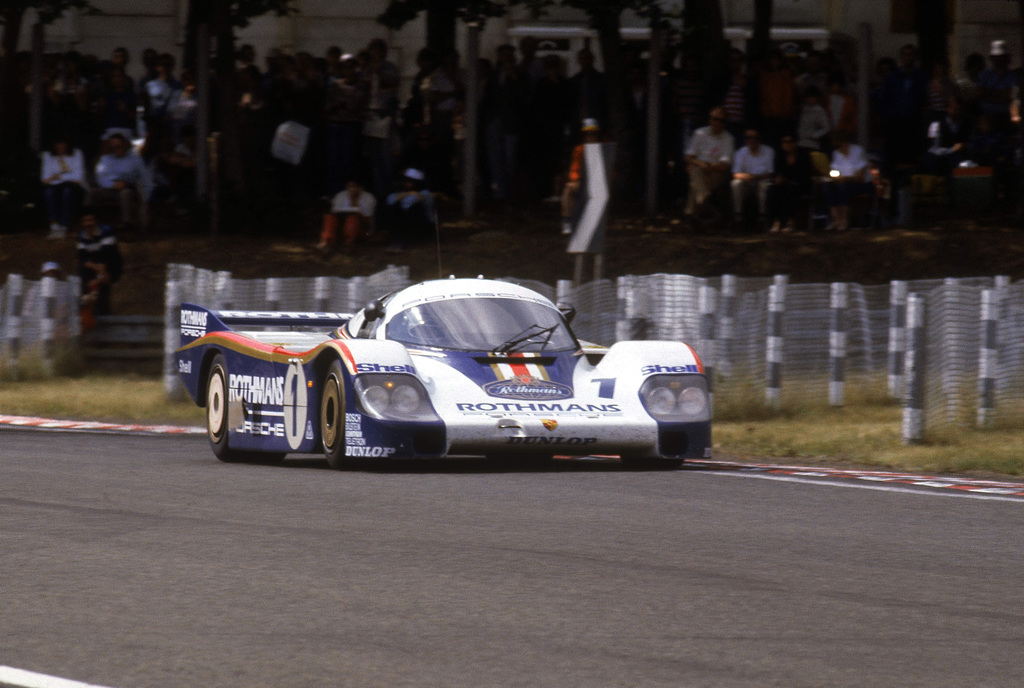 Important Chassis & Sales
Chassis number 956 004 started its life on June 12th, 1982, as a Rothmans-sponsored works car at the factory in Zuffenhausen. Its first race was at the 24 hours of Le Mans June 19th/20th 1982 with Al Holbert, Hurley Haywood, and Jürgen Barth at the wheel, finishing in third position overall behind the two other 'Works' Porsche 956 002 and 003. During the 1983 and 1984 seasons chassis 956 004 acted as the Works spare car, when not being raced.The car was fully restored with original Porsche parts from 1991 to 1992 back to the Le Mans 'Langheck' specification by former Works team members based in Weissach. During this process the engine, gearbox and the full electrical and electronic systems had been restored as well as the brakes, the steering mechanism, the suspension and bodywork.
Paris – On Saturday 12 February 2005, Christie's International Motor Cars Department will stage a sale within the confines of Retromobile. Highlighting the sale is 956 chassis number 004, in distinctive Rothmans livery (estimate: €800,000-1,200,000). This is one of only ten Works models ever built by Porsche.
1982 Porsche 956 Images
In Detail
| | |
| --- | --- |
| submitted by | Richard Owen |
| price $ | $256 000 USD |
| engine | Water Cooled Flat-6 |
| position | Mid Longitudinal |
| aspiration | Twin KKK K26-3060G Turbos w/Hybrid Water & Air Intercoolers |
| valvetrain | 4 Valves / Cyl |
| fuel feed | Bosch-Kugelfischer Mechanical Injection |
| displacement | 2649 cc / 161.7 in³ |
| bore | 92 mm / 3.62 in |
| stroke | 66 mm / 2.6 in |
| compression | 7.5:1 |
| power | 462.3 kw / 620 bhp @ 8200 rpm |
| specific output | 234.05 bhp per litre |
| bhp/weight | 756.1 bhp per tonne |
| torque | 599.27 nm / 442 ft lbs @ 5000 rpm |
| redline | 8560 |
| body / frame | Carbon Fiber reinforced Kevlar |
| front brakes | Internally Vented Dual Circuit Discs w/Twin Calipers |
| f brake size | mm / in |
| rear brakes | Internally Vented Dual Circuit Discs w/Twin Calipers |
| r brake size | mm / in |
| curb weight | 820 kg / 1808 lbs |
| wheelbase | 2650 mm / 104.3 in |
| length | 4800 mm / 189.0 in |
| width | 2000 mm / 78.7 in |
| transmission | 5-Speed Manual |
| gear ratios | :1 |
| top speed | ~350 kph / 217.5 mph |
Auction Sales History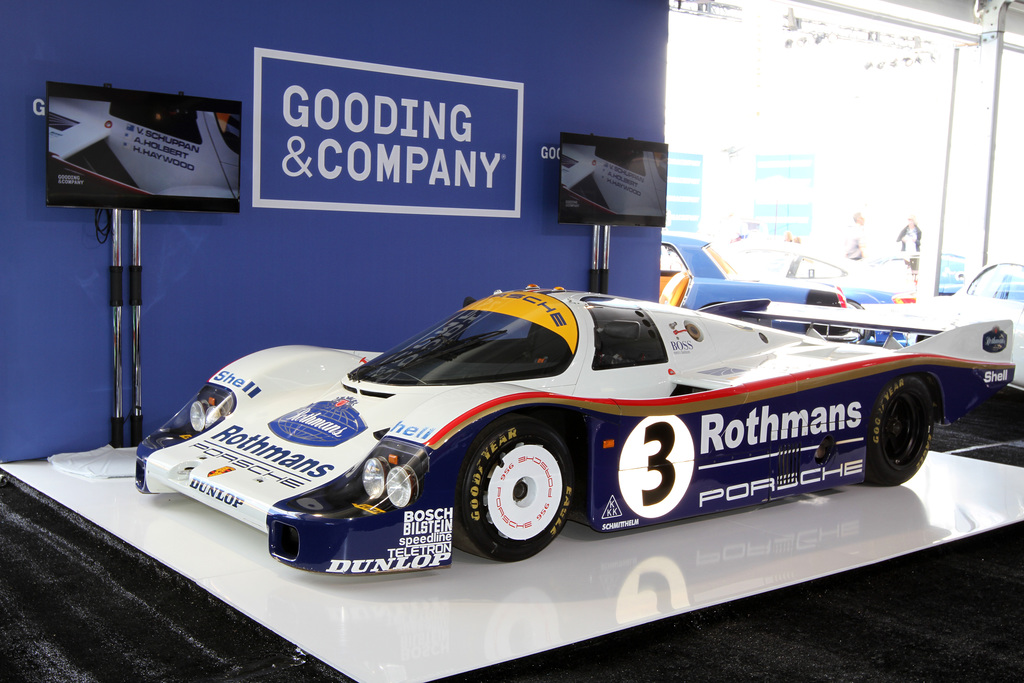 1982 Porsche 956-003 – sold for $10,120,000 Winner of the 1983 24 Hours of Le Mans. The Third of Only 10 Works Porsche 956s Built. Five Overall Wins. Raced by Ickx, Bell, Schuppan, Holbert, and Haywood. Comprehensive bare-tub restoration overseen by the highly regarded Jim Groom. Auction Source: The Pebble Beach Auctions 2015 by Gooding and Company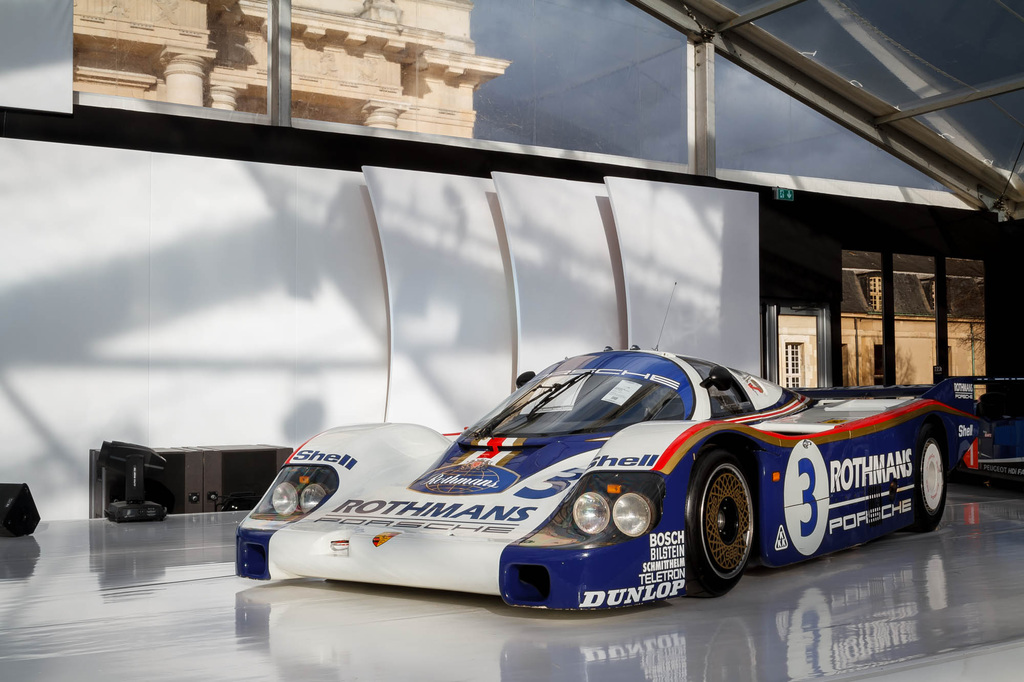 1982 Porsche 956-004 – sold for €2,352,000
Placed 3rd overall in the iconic Porsche 1-2-3 finish at the 1982 24 Hours of Le Mans. One of 10 factory-team examples from 1982. Raced by numerous important Porsche drivers, including Derek Bell and Jürgen Barth. Foundation of the 956 saga; a well-documented Porsche legend. 
Auction Source:
2014 Paris by RM Auctions