Ferrari Testarossa
Made famous for its role in Miami Vice and Sega's Out Run, the Testarossa was Ferraris leading supercar in the mid-eighties. Its distinctive side strakes and ultra-wide rear track inspired many other supercar designs and they became a symbol of 1980's retrograde culture.
Compared to the 512i BB it effectively replaced, the Testarossa was a larger car that accommodated mid-mounted radiators. This helped reduce cockpit heat and also had the effect of making the car much wider at the rear. It also provided more space in the front trunk.
The Testarossa was powered by a 4.9-liter version of Ferrari's Boxer-12 which was effectively a 180º V12. Producing 390 bhp, 0–60 miles per hour was typically clocked at 5.2 seconds.
As released at the 1984 Paris Motor Show, the Testarossa was a world car which required little modification for importation to America. It was produced with very few changes up until 1991 when it was updated to the 512TR.
Early cars can be distinguished by their sole driver's side mirror which is mounted higher on the A-pillar.
Specs & Performance
| | |
| --- | --- |
| submitted by | Richard Owen |
| type | Series Production Car |
| production years | 1984 – 1991 |
| released at | 1984 Paris Motor Show |
| built at | Maranello, Italy |
| production | 7177 |
| price $ | $ 181,000 |
| price £/td> | £62,666 |
| predecessor | 1992 Ferrari 512 TR |
| engine | Flat 12 |
| valvetrain | DOHC 4 Valves / Cyl |
| displacement | 4943 cc / 301.6 in³ |
| bore | 82 mm / 3.23 in |
| stroke | 78 mm / 3.07 in |
| compression | 9.2:1 |
| power | 290.8 kw / 390 bhp @ 6300 rpm |
| specific output | 78.9 bhp per litre |
| bhp/weight | 258.96 bhp per tonne |
| torque | 480.0 nm / 354.0 ft lbs @ 4500 rpm |
| redline | 6800 |
| body / frame | Steel & Aluminium Panels |
| driven wheels | Mid Engine / RWD |
| front tires | TRX 240/45 VR 415 Michelin |
| rear tires | TRX 280/45 VR 415 Michelin |
| front brakes | Vented Discs w/Vacuum Assist |
| rear brakes | Vented Discs w/Vacuum Assist |
| front wheels | F 40.6 x 20.3 cm / 16.0 x 8.0 in |
| rear wheels | R 40.6 x 25.4 cm / 16.0 x 10.0 in |
| steering | Rack & Pinion |
| curb weight | 1506 kg / -1.0 lbs |
| wheelbase | 2550 mm / 100.4 in |
| front track | 1518 mm / 59.8 in |
| rear track | 1660 mm / 65.4 in |
| length | 4485 mm / 176.6 in |
| width | 1976 mm / 77.8 in |
| height | 1130 mm / 44.5 in |
| transmission | 5-Speed Manual |
| gear ratios | 3.139:1, 2.104:1, 1.526:1, 1.167:1, 0.875:1 |
| final drive | 3.210:1 |
| top speed | ~290 kph / 180.2 mph |
| 0 – 60 mph | ~5.2 seconds |
| 0 – 100 mph | ~12.2 seconds |
| 0 – 1/4 mile | ~12.0 seconds |
Auction Sales History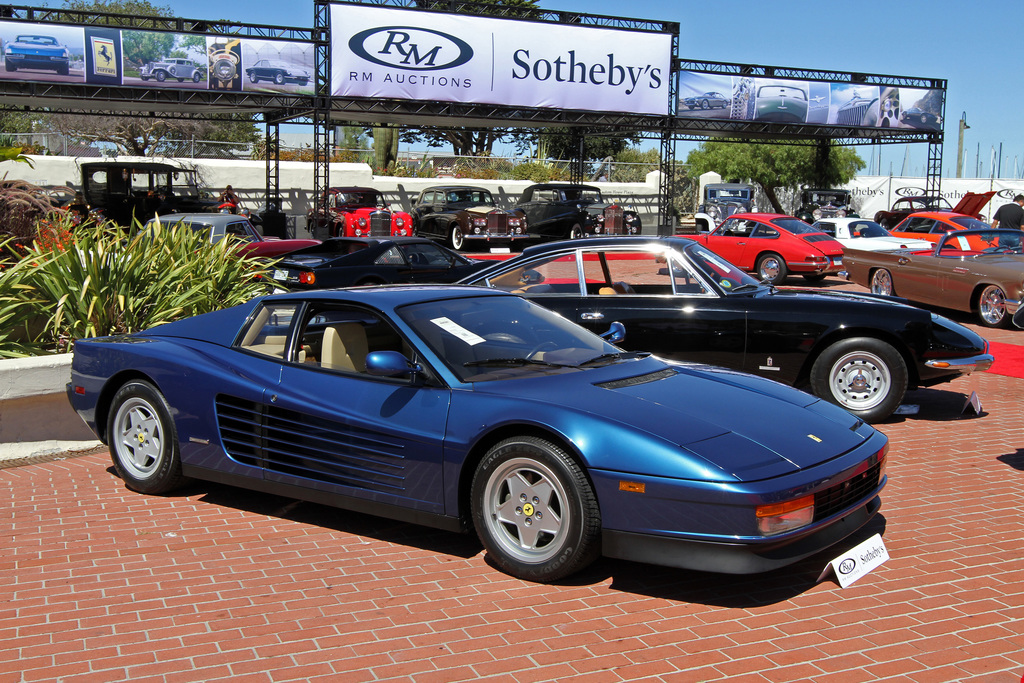 1989 Ferrari Testarossa ZFFSG17A8K0082752 – sold for $220,000 The car offered here is finished in its original and rare color combination of Blue Chiaro Metallic over Cream leather and shows just over 2,025 original miles. It is believed to have been originally delivered through Ferrari of Houston, and it remained with its original owner in the Houston area until recently. The car is accompanied by books, tools, and a clean CARFAX report. Auction Source: RM Sotheby's Monterey 2015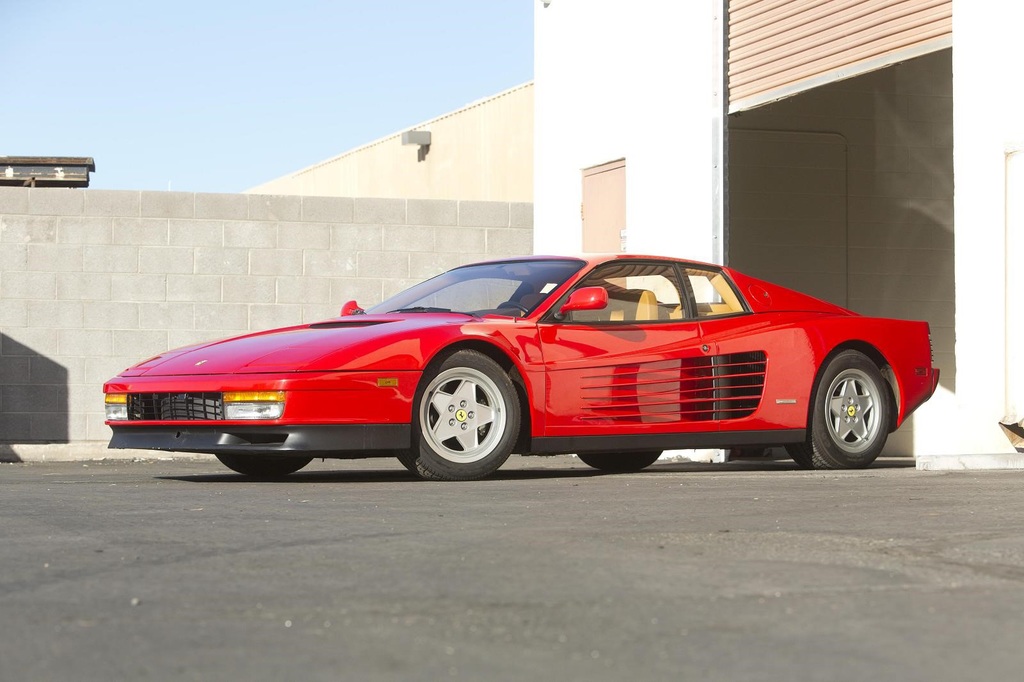 1990 Ferrari Testarossa ZFFSG17A8L0083742 – sold for $250,800 Just 171 miles and one owner from new. Offered from long-term California single ownership. One of the lowest-mileage Testarossas in existence. Wonderful un-touched condition inside and out. An utterly original example of Ferrari's 1980's flagship supercar. Auction Source: The Scottsdale Auction 2015 by Bonhams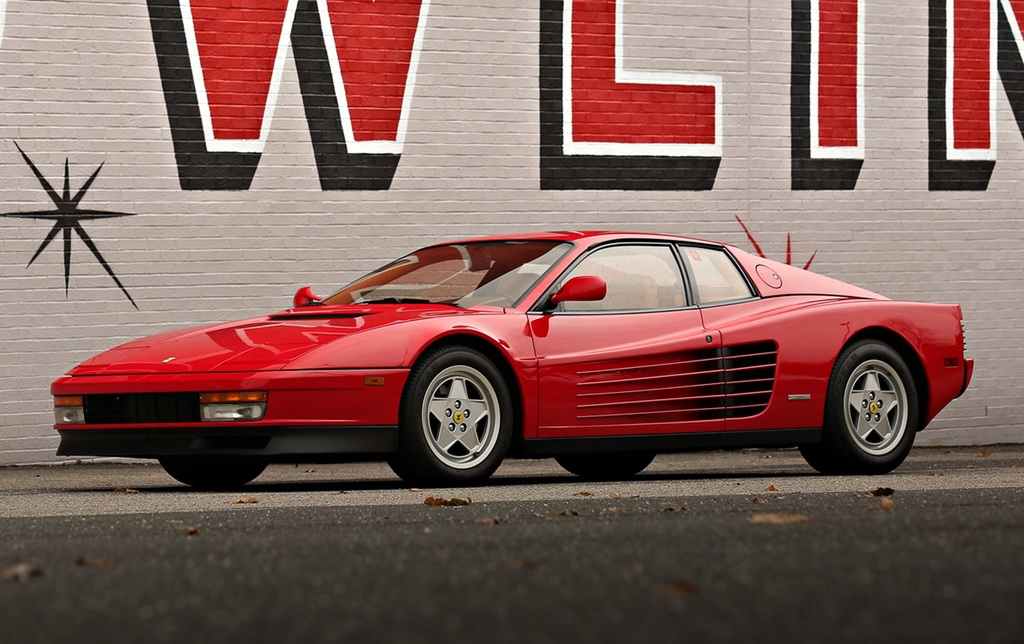 1991 Ferrari Testarossa ZFFSG17A7M0086827 – sold for $154,000 Long-Term Single Ownership. Accompanied by Document File Recently Received Major "Engine-Out" Service. Just 8,000 Miles from New. A Very Well-Presented Example. Auction Source: The Scottsdale Auctions 2015 by Gooding & Company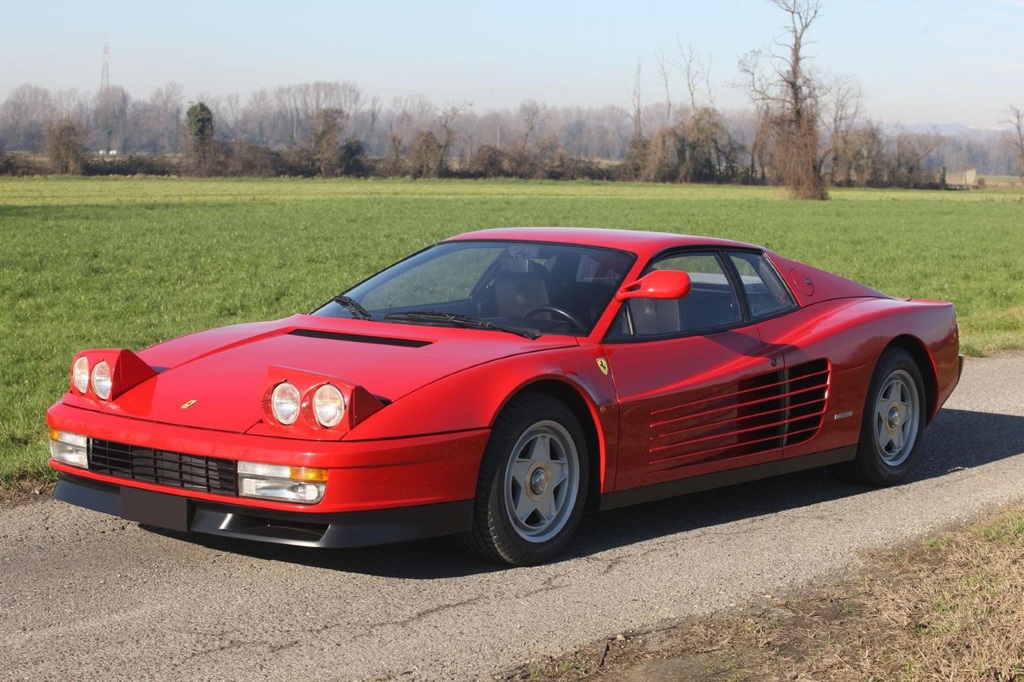 1986 Ferrari Testarossa ZFFTA17B00000-643-71 – sold for €196,680 The car on offer, purchased new in Genoa, has covered only 41,000 km and has never had an accident. Its first owner kept the car until 1998, the second until 2005. The car, whose body and the leather interior was recently under work, has also been the subject of a mechanical service: the timing belts, the water pump and the clutch have been changed. The gearbox, a critical element of these cars, works perfectly well. Auction Source: Rétromobile 2015 by Artcurial Motorcars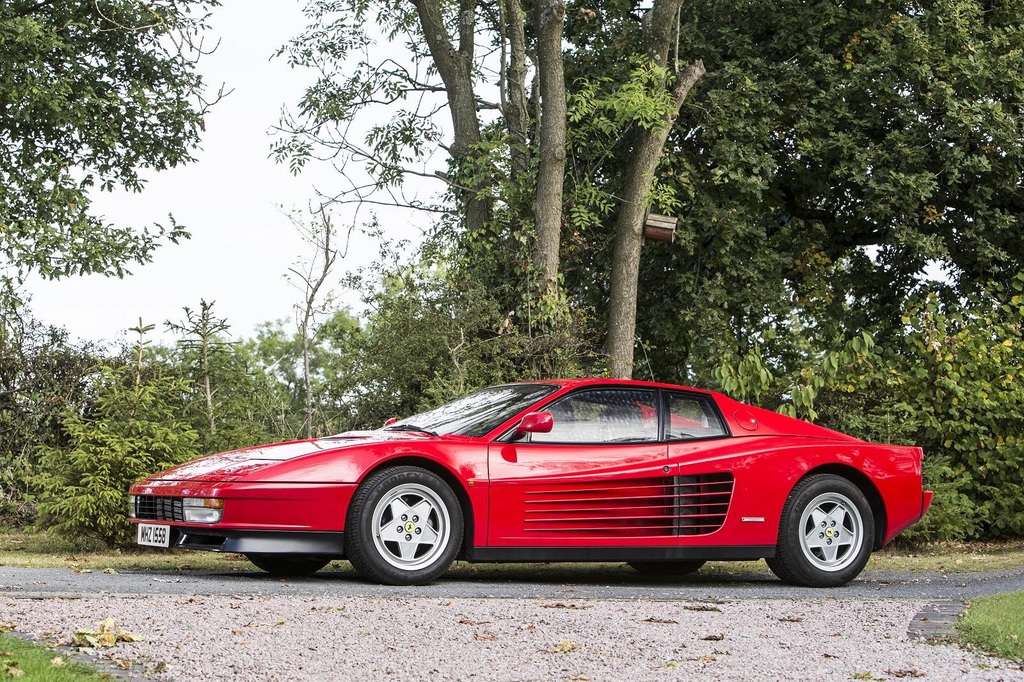 1989 Ferrari Testarossa ZFFAA17B000079926 – sold for €109,250. Completed in 1988, the left-hand drive Testarossa offered here came to the UK the following year, being registered in that country on 1st November 1989. The car had enjoyed two (company) owners in the UK and covered a mere 7,000-or-so kilometres from new when it was offered for sale at Bonhams' Paris auction in February 2011. Purchased there by the vendor, it has covered a further 7,000 kilometres since acquisition, the current odometer reading being 14,070.
The car is finished in Rosso Corsa with somewhat unusual black leather interior, and is described by the enthusiast vendor as in generally excellent condition, and one of the best examples currently available. We are advised that servicing has been kept up to date, including cam belt changes, as evidenced by sundry related invoices on file. Noteworthy features include a set of unused fitted luggage, and a special sound system incorporating large Clarion loudspeakers. This little used example of the legendary Italian supercar is offered with the aforementioned service bills; three expired and one current UK MoT certificates; and old/current UK V5/V5C registration documents. A welcome addition to any motor car collection, examples of this quality will only become more difficult to acquire. Auction Source: 2015 Les Grandes Marques du Monde au Grand Palais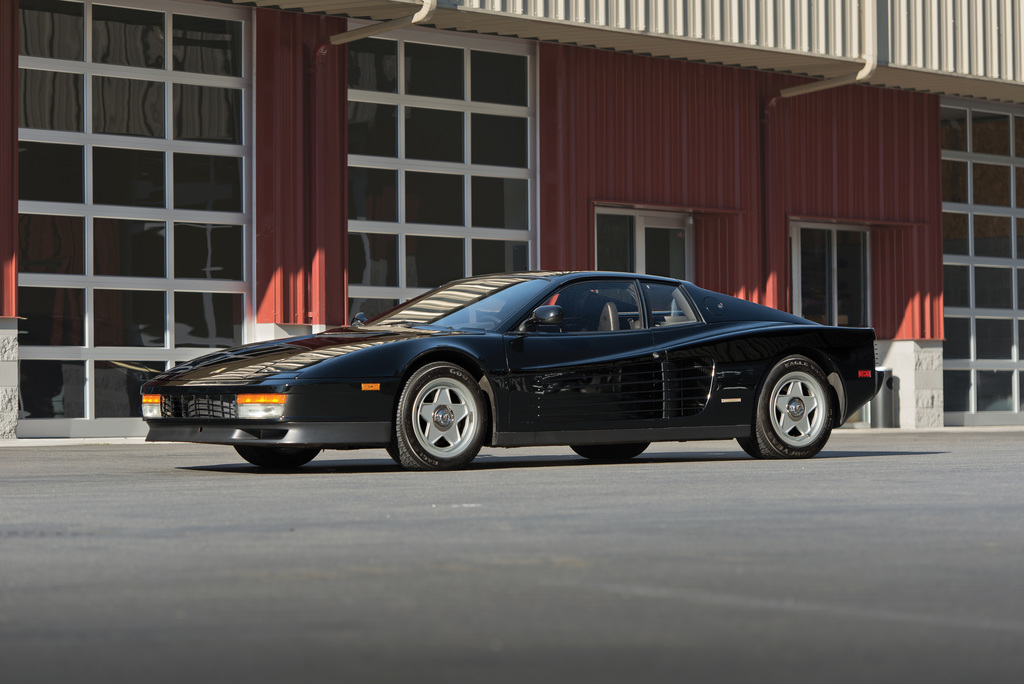 1989 Ferrari Testarossa ZFFAA17B000079401 – sold for €168,000 One private Milanese owner from new. Showing 2,861 kilometres from new; complete with books and tools. Freshly serviced by official Ferrari dealer Rossocorsa. Submitted for Ferrari Classiche certification. Auction Source: 2015 Paris by RM Auctions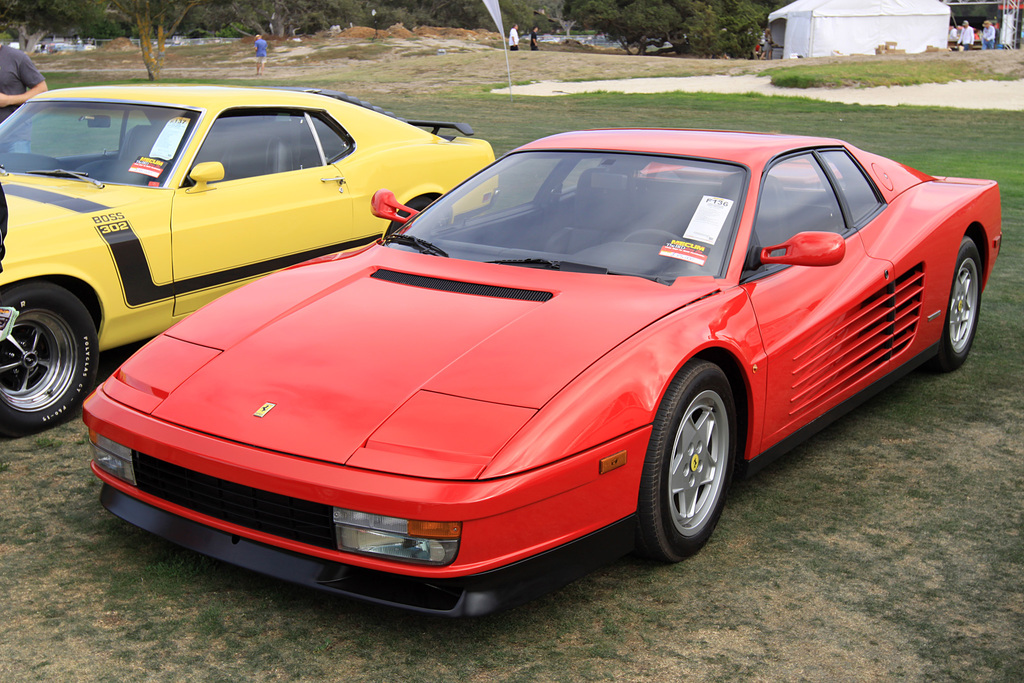 1988 Ferrari Testarossa ZFFSG17A4J0075456 – sold for $159,500 Only 5,949 miles from new. Recent annual service. Exceptionally well preserved following single ownership for almost two decades. Includes its original window sticker, owner's manuals, tool kit, two sets of keys, and six-piece Schedoni luggage set. Auction Source: Arizona 2015 by RM Auctions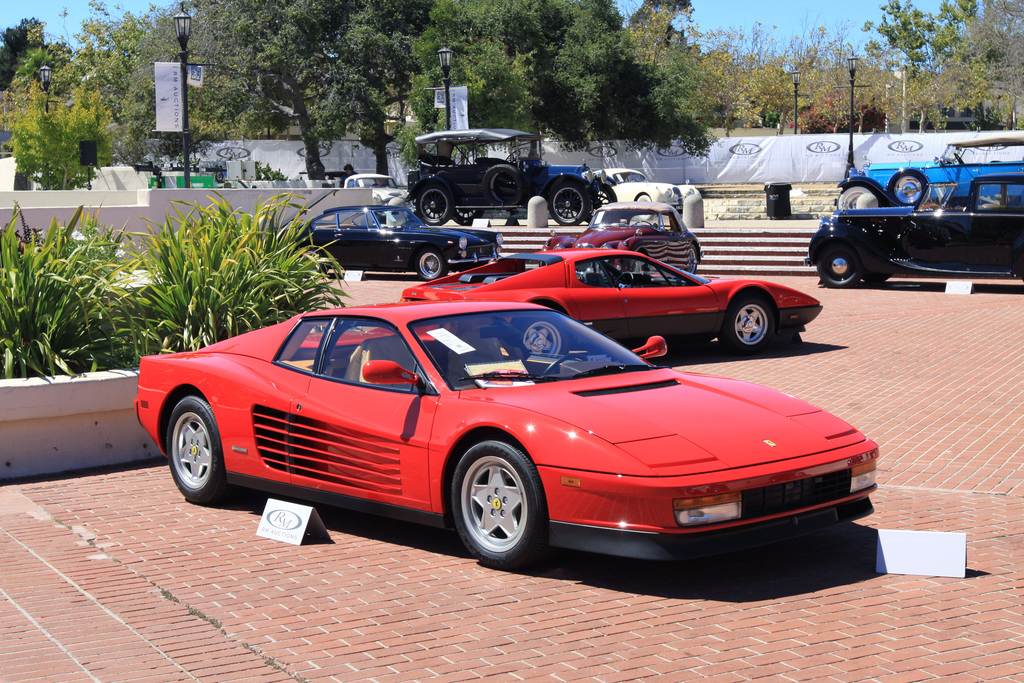 1989 Ferrari Testarossa ZFFAA17T0K0079649 – sold for $70,000. European-spec 1989 Testarossa. Middle East market car from the factory. 15,650 original kilometers. Part of a Michigan collection since 2005. Mid-mounted 4.9L flat V-12 engine. Bosch K-Jetrontic fuel injection. 5-speed manual gearbox. Air conditioning. European headlights. Added 3rd brake light and rear bumper. 5 lug wheels with Goodyear tires. Aluminum and zincrox body. 1 of approximately 1126 produced in 1989. Total production from 1984-1991 was 7,177. Auction Source: Monterey 2014 by Mecum Auctions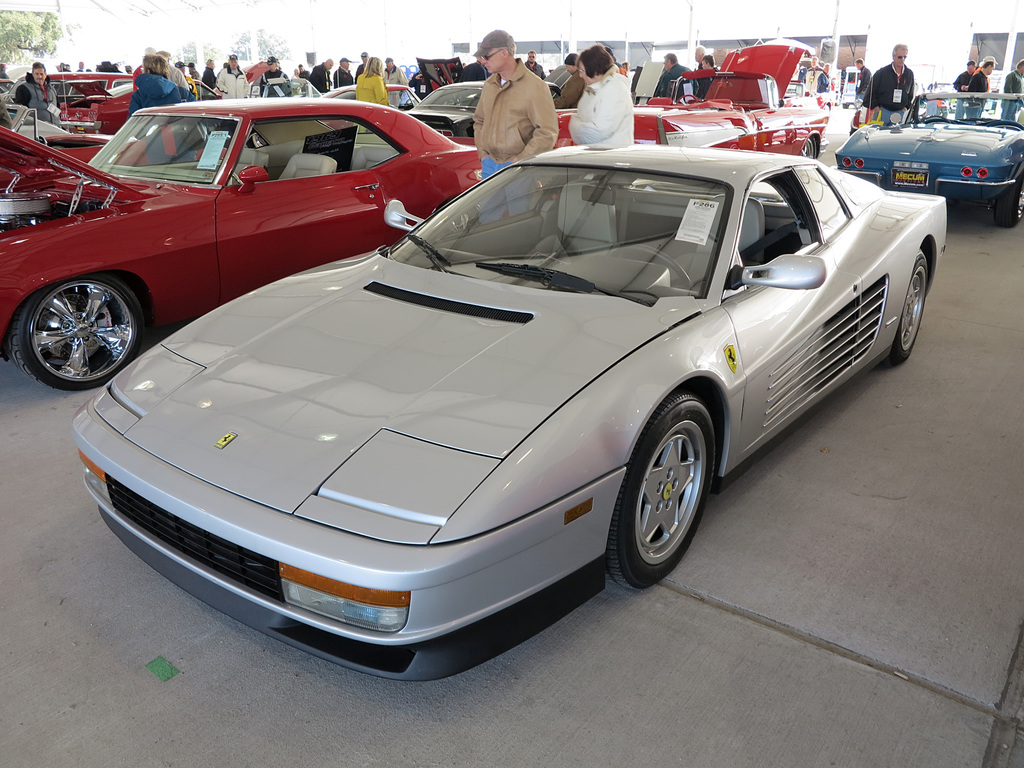 1989 Ferrari Testarossa ZFFSG17A7K0082581 – sold for $242,000 Presented in as-new condition; less than 95 original miles. Includes books, tools, and luggage in original packaging. Dramatic Pininfarina styling; classic Rosso Corsa over tan leather. Auction Source: 2014 Monterey by RM Auctions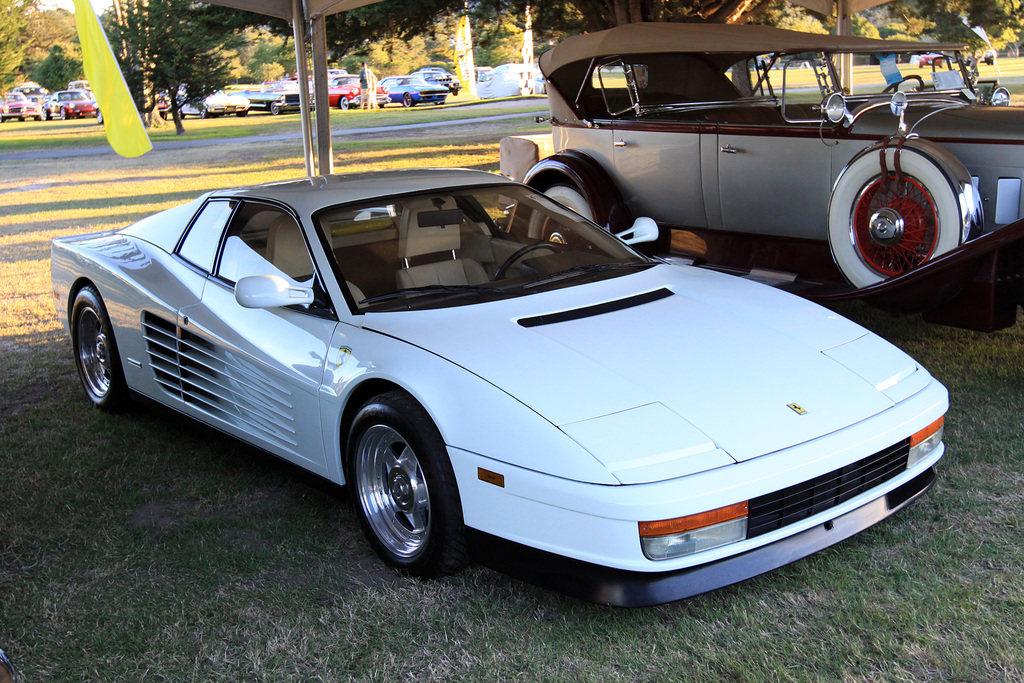 1989 Ferrari Testarossa – did not sell for $50,000. Don Johnson's personal 1989 Ferrari Testarossa. 4.9L 12 cylinder engine. 5-speed transmission. Don Johnson's original Florida title. Clean CarFax history report. Rare color combination of Silver paint with Gray interior. 15,300 original miles. Original factory tool kit and accessories. Timing belts and major service done at 15,210 miles, as well as clutch master cylinder and brake master cylinder replaced. Clutch assembly replaced at 13,600 miles. Service and maintenance records included. Car was special built for Don Johnson and gifted to him by Mr. Ferrari in 1989 as a thank you for his work in the hit show Miami Vice. Sold to a collector in Scottsdale, AZ in 2003 and then sold to another collector in Maryland in 2005 where it has resided since. 100% stock with no modifications. Auction Source: Kissimmee 2014, #WhereTheCarsAre by Mecum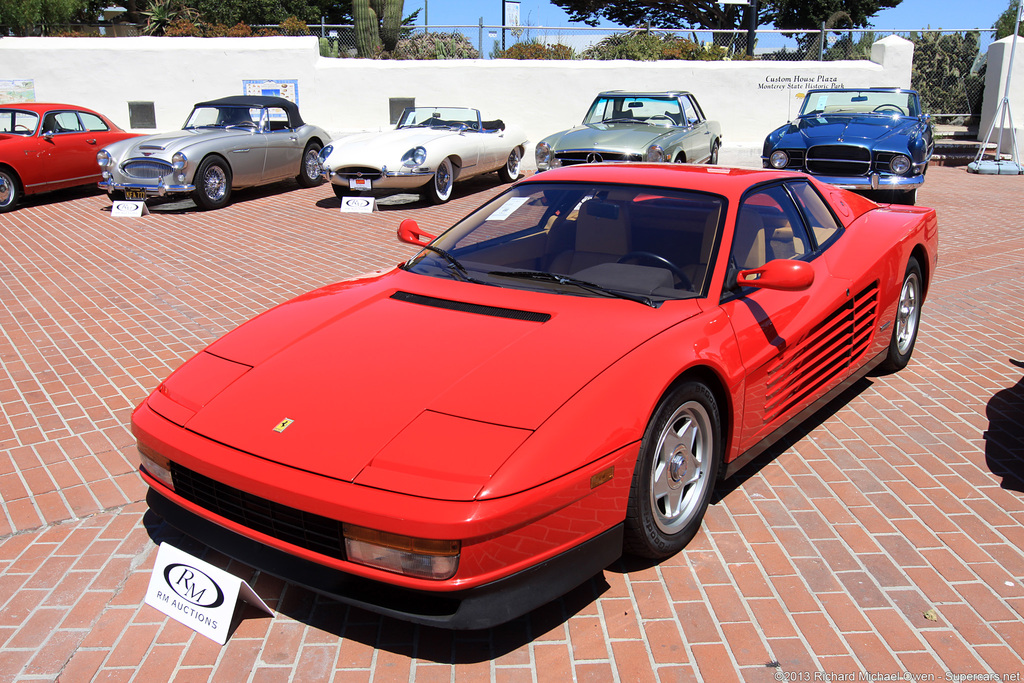 1988 Ferrari Testarossa – sold for $50,000 Peter and Cheryl are the original owners. Original car. 27,200 miles. Rare color combination.. White with Cream and Coffee interior. Mid mounted 4.9L flat 12 cylinder engine. 4 valves per cylinder. 5-speed manual gearbox. 8,177 produced between 1984-1991. Auction Source: The Daytime Auction in Monterey by Mecum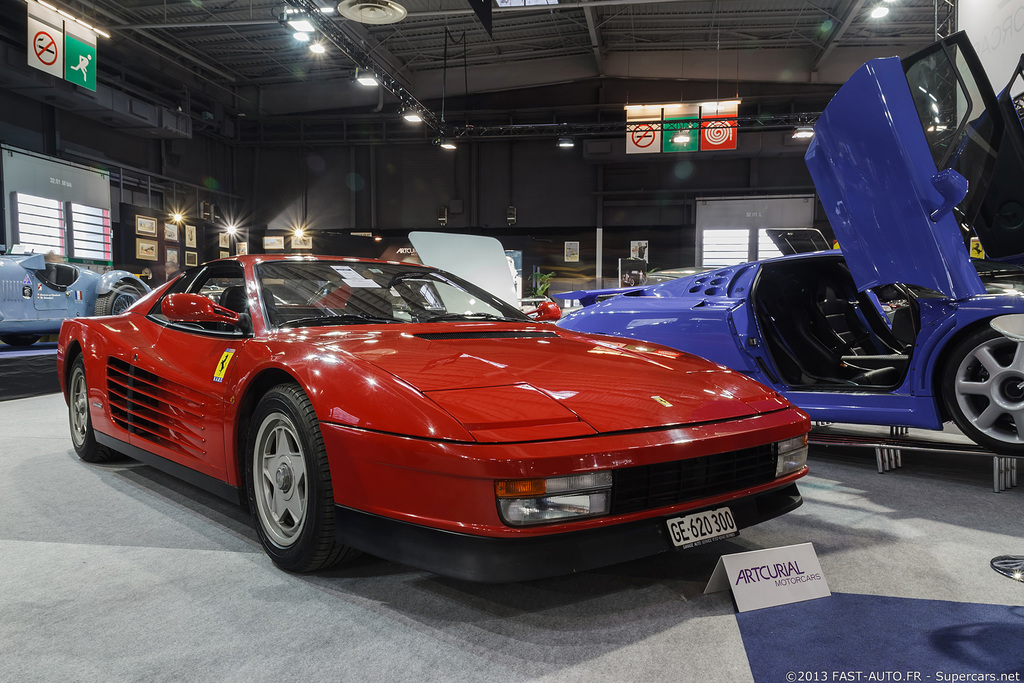 1987 Ferrari Testarossa ZFFSG17A4H0071823 – sold for $110,000 Offered from the Estate of William H. Tilley. The most iconic Ferrari of the 1980s. Less than 10,000 miles from new. Documented, including a set of books and tools. Auction Source: 2013 Monterey Auction by RM Auctions
1990 Ferrari Testarossa ZFFAA17B000084485 – sold for €42,889. The example on offer was sold new by the respected dealer from Clermont-Ferrand, Auvergne Moteurs (Philippe Gardette), in March 1990. It was at the same establishment that the current owner bought the car some seven years later, where he continued to have it maintained. The service book and the comprehensive file of invoices totalling €23,720 confirms that it has been looked after regularly, and has also benefitted from having an improved differential and clutch fitted at 11,000km.
Recently the gearbox was refurbished by Accel Moteurs, the Ferrari specialists in Pau, and the belts were changed during a major service. The car has always been well looked after, which is clear from various details : the spare wheel (space-saving) is present, as is the tool kit and the owner's manual is still in its original leather case…Today the odometer reads 106,683 km. Here is an excellent opportunity to acquire a Testarossa, which, as the invoices reveal, has been maintained to a high standard. Auction Source: Artcurial Motorcars à 2013 Rétromobile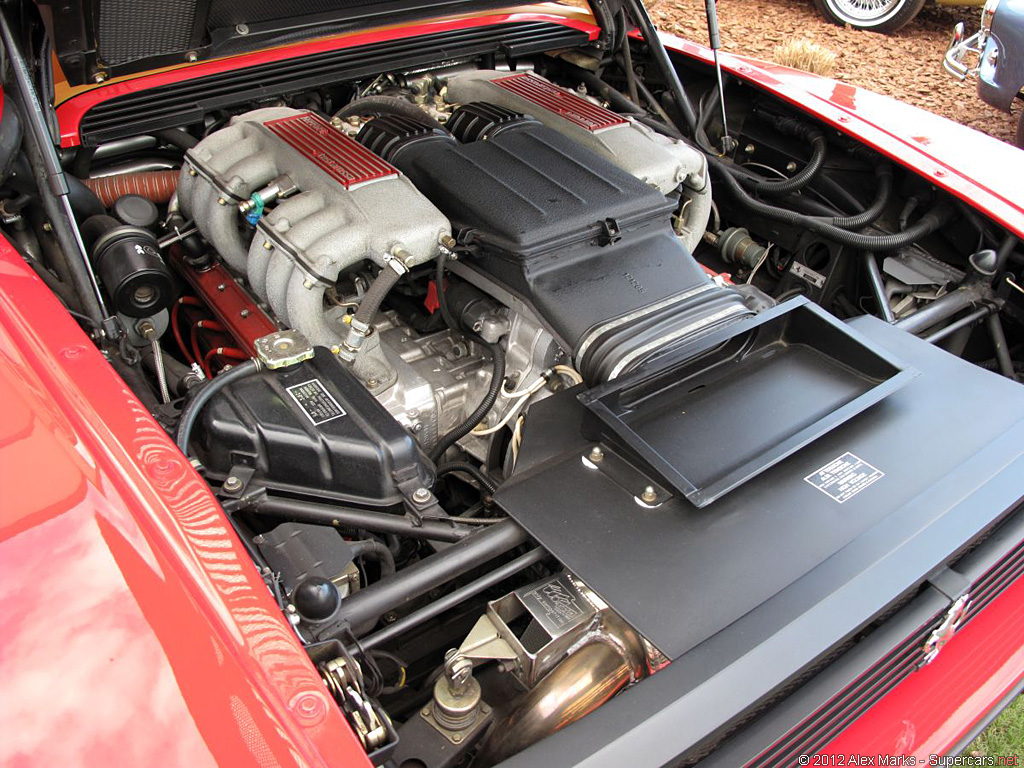 129-Mile 1989 Ferrari Testarossa ZFFSG17A5K0080179 – sold for $264,000 Perfectly preserved; a time capsule example with 129 miles from new. Includes books, tools, and original window sticker. Major service completed in June 2012. Possibly the lowest mileage example in existence. Single owner from new. Auction Source: Monterey 2012 by RM Auctions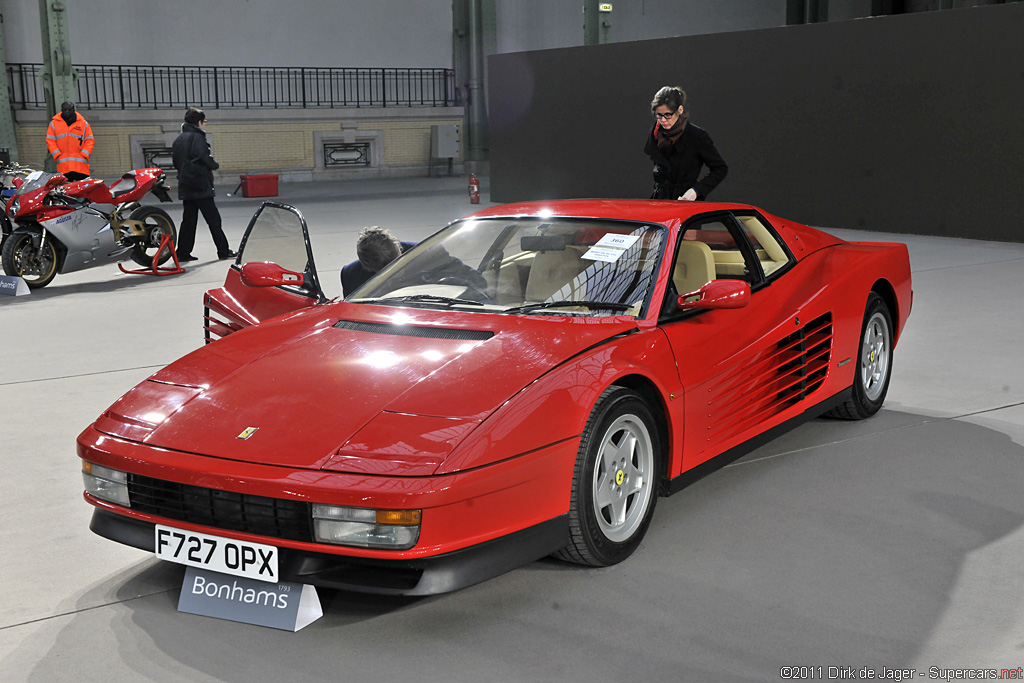 1991 Ferrari Testarossa – sold for $77,000. The car on offer is handsomely finished in Rosso Corsa with a tan leather interior and shows only 21,949 miles. It comes with all its books and tools, and 200 miles ago it had the important five-year, 30,000-mile, belt-replacement service performed by marque expert Gary Bobileff Motor Co., who documented his work. This Testarossa is fitted with a Tubi stainless steel exhaust and is very nicely presented. It is an iconic sports car, perpetually desirable and with recent work carried out by a respected specialist. Auction Source: Amelia Island 2012 by RM Auctions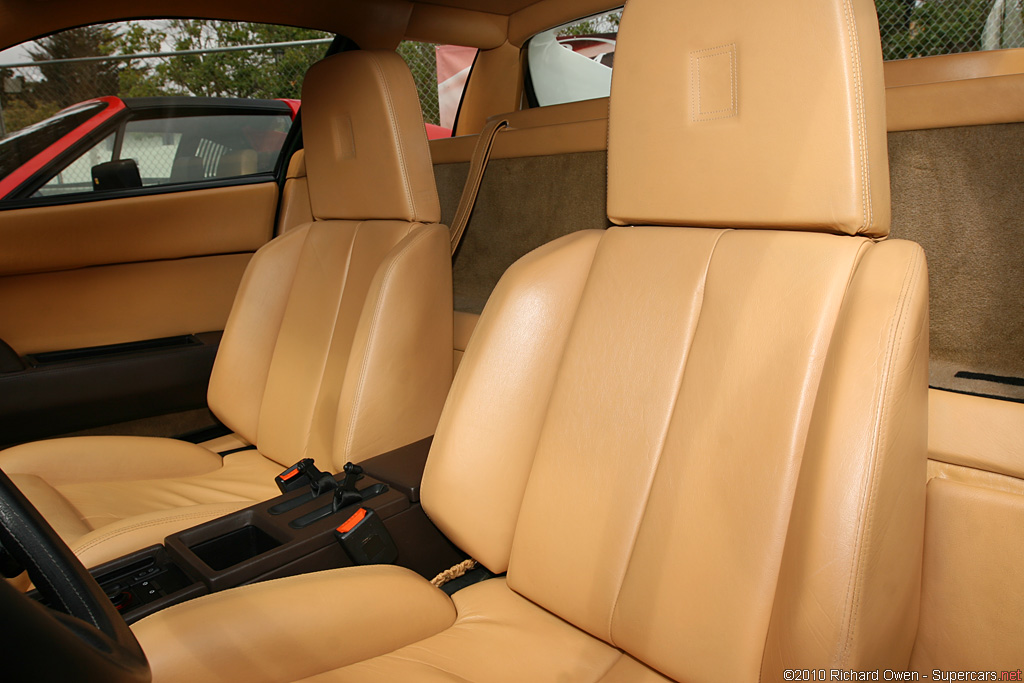 1988 Ferrari Testarossa – sold for €50,600. The car on offer here was registered in 1988 and was purchased by the current owner the following year at a Monaco auction, it has been with him ever since. The mileage at the time of acquisition was modest and it hasn't advanced much in the last two decades standing at 7,000 from new. Naturally it is presented in Rosso Corsa paint scheme, but more unusually has black leather trim, the condition of which reflects its mileage. For a UK based purchaser, it has the additional benefit of wearing a private registration 'CD 1219'. Auction Source: 2011 Automobiles d'exception au Grand Palais by Bonhams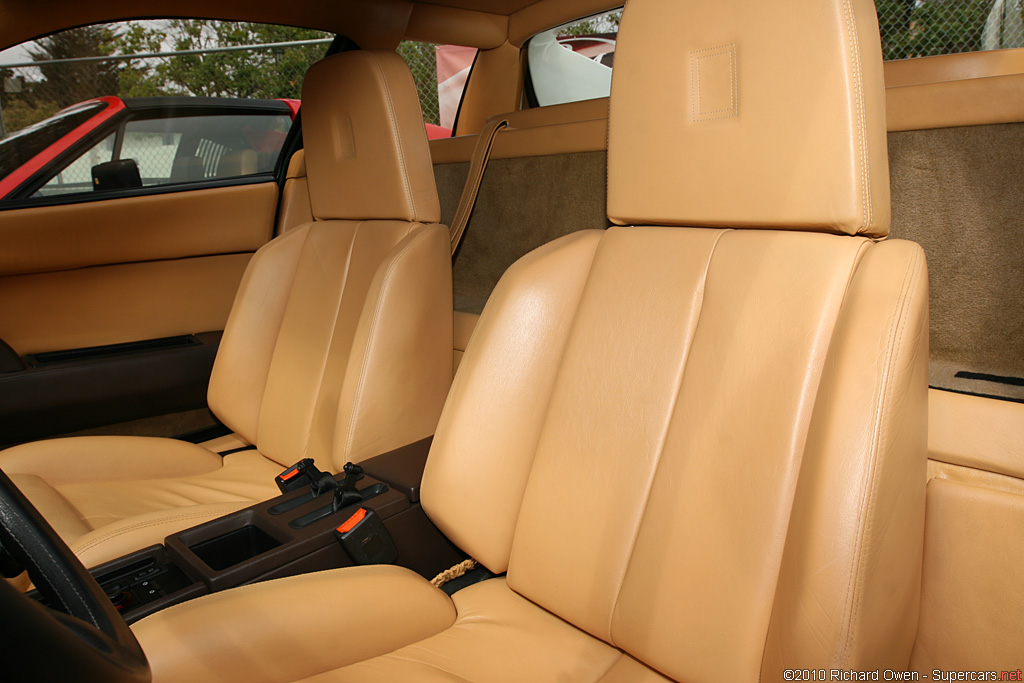 1989 Ferrari Testarossa – sold for $57,750. The classic white on tan 1989 Ferrari Testarossa offered here undoubtedly channels its Hollywood predecessor. Showing just under 15,000 original miles, this Testarossa is reported to be in showroom condition. Believed to be a three-owner car, the Testarossa was sold new in New York but spent most of its life in the western U.S. in Texas and California.