1984 Audi Sport Quattro
Audi's Quattro became a huge part of world rally history when it introduced four-wheel-drive as a competent and necessary element of World Rally cars. The S1 was one of the most extreme of these and this Sport Quattro was the homologated road-going version of it. These cars became the holy grail for Audi enthusiasts and only around 200 were made to satisfy requirements.
The Sport Quattro benefited from the Quattros that contested the Group B category of rally racing from 1982 to 1984. With upcoming four wheel drive threats from Peugeot and Ford, the Sport was created to keep Audi at the top of their game.
One major difference between the Sport Quattro and the regular production version was a wheelbase reduction of 12.4 inches (320 mm) to just 86.8 inches (2204 mm). With a huge chunk missing from the middle of the car, the profile almost resembled a hatch back, but this smaller size greatly improved handling and reduced weight.
Furthermore, the Quattro was full of technologies such as ABS, four-wheel drive and self-locking differentials which were way ahead of their time in 1984.
Most of the Quattro Sport's outward changes were the work of Audi stylist Peter Birtwhistle. His design included larger grills and additional intakes on the hood and bumper to help increase air flow to the radiator and oil cooler mounted behind them. Huge wheel flairs covered 15×9 Ronal wheels.
The displacement of engine was dropped slightly from 2144cc to 2133cc so that Audi could satisfy the 3-liter rallying class with a 1.4 times multiplication factor. The enigne had 300 bhp on tap thanks to a turbocharged version of the double overhead cam, 20-valve, cross-flow, five cylinder engine that used an alloy block to save 51 lbs. This was the first Audi engine to use four valves per cylinder and a crossflow head, which helped it reach 143 bhp per liter!
Brakes were upgraded with four-piston calipers that clamped inner vented discs and ABS was included as standard but could be disengaged.
Because of the huge reduction of wheelbase, the rear passenger space suffered the most. There was absolutely no legroom and the rear bench was halved in size. In the front, new Recaro seats were used and an updated dashboard had to be the envy of every other regular Quattro owner.
With 4WD, high gearing and a low weight, the Sport Quattro could hit 0-100 kph in 4.8 seconds, which is an incredible figure still to this day. By comparison the S1 Rally version had 530 bhp and was probably the fastest way to get from point A to point B in 1986.
In Detail
| | |
| --- | --- |
| submitted by | Richard Owen |
| type | Series Production Car |
| released at | 1983 Frankfurt Motor Show |
| built at | Germany |
| engine | Turbocharged, Alloy, Inline-5 |
| position | Front Longitudinal |
| aspiration | KKK-K26 oil cooled Turbocharger w/Langerrer & Reich Intercooler |
| valvetrain | DOHC 4 Valves per Cylinder |
| fuel feed | Bosch LH-Jetronic Injection |
| displacement | 2133 cc / 130.2 in³ |
| bore | 79.3 mm / 3.12 in |
| stroke | 86.4 mm / 3.4 in |
| compression | 8.0:1 |
| power | 228.2 kw / 306.0 bhp @ 6700 rpm |
| specific output | 143.46 bhp per litre |
| bhp/weight | 235.75 bhp per tonne |
| torque | 350 nm / 258.1 ft lbs @ 3700 rpm |
| body / frame | Steel / Kevlar |
| driven wheels | Quattro Permanent 4WD |
| wheel type | Ronal |
| front tires | 235/45VR15 |
| rear tires | 235/45VR15 |
| front brakes | Inner Vented & Sloted Discs w/4-Piston Calipers |
| rear brakes | Inner Vented & Sloted Discs w/4-Piston Calipers |
| front wheels | F 38.1 x 22.9 cm / 15.0 x 9.0 in |
| rear wheels | R 38.1 x 22.9 cm / 15.0 x 9.0 in |
| curb weight | 1298 kg / 2862 lbs |
| wheelbase | 2204 mm / 86.8 in |
| front track | 1516 mm / 59.7 in |
| rear track | 1492 mm / 58.7 in |
| length | 4164 mm / 163.9 in |
| width | 1803 mm / 71.0 in |
| height | 1345 mm / 53.0 in |
| transmission | 5-Speed Manual |
| final drive | 3.875:1 |
| top speed | ~250.0 kph / 155.3 mph |
| 0 – 60 mph | ~4.8 seconds |
Auction Sales History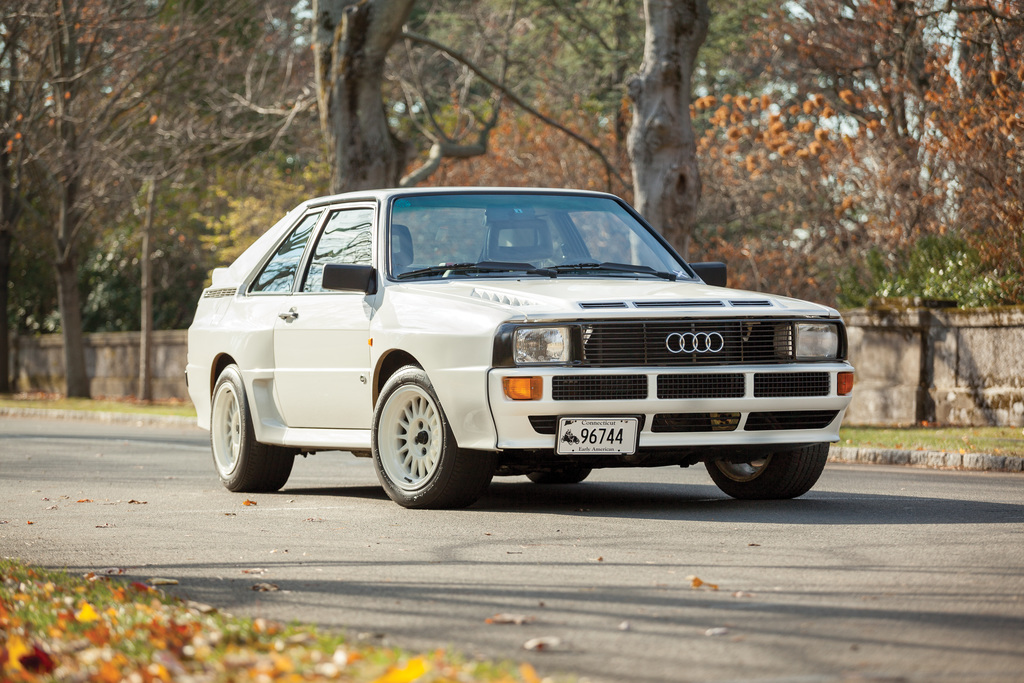 1984 Audi Sport Quattro WAUZZZ85ZEA905147 – sold for $401,500 Name-changing, all-wheel-drive rally machine. One of only 214 built for Group B homologation. Loaded with advanced technology and performance engineering. All original; believed two owners and 8,300 kilometers from new Perhaps the finest example extant.
Auction Source: Arizona 2015 by RM Auctions