1986 Ford RS200 Evolution
For years, many people were baffled when they opened up the Guinness Book of Records and discovered that the world's fastest accelerating car was a none other than a Ford – and a curiously small, almost goofy looking one which looked like nothing made on American soil.
That's because the RS200 was a homologation special produced by Ford of Great Britain. It was specifically designed as Ford's first four wheel drive contender for the radical Group B class rally racing, but a minimum number of road-certified examples had to be made to meet homologation requirements.
Since the best in the business came out to help Ford, including chief engineer John Wheeler and Tony Southgate, the RS200 Evolution represented the absolute pinnacle of modern racing development. What these blokes did was take bits from the old RS1700T breed of rally cars, mount a modified version the Ford/Cosworth engine in the middle of a lightweight aluminum chassis, clothe it with a simple white gel coat body designed by Ghia and then apply the four wheel drive formula which Audi successfully introduced into the series.
See Full 1986 Ford RS200 Evolution Image Gallery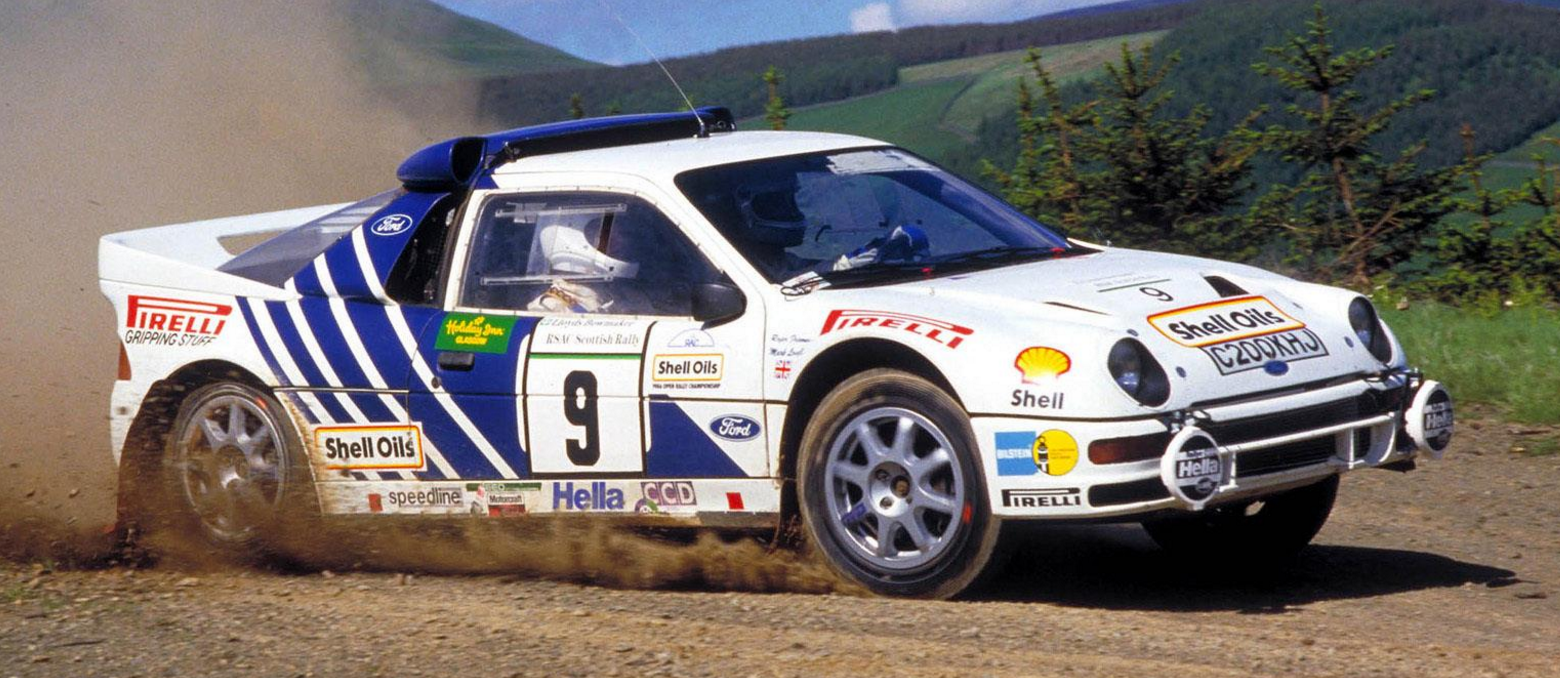 While over 200 standard RS200s were made, only 24 Evolution models were produced to stay ahead of the competition. These included a special BTD-E 2.1 liter engine equipped with a massive turbo to the effect of 420 bhp. Each was easily identified by the much larger air scoop that houses the large air/air intercooler. Depending on boost, the engine could produce a wide range of power, and at maximum boost (1.6 bar, 23psi) it offered a remarkable 580 bhp at 8000 rpm. When combining the extremely lightweight chassis, a low polar moment of inertia and massive amount of turbo-lag, power delivery on the limit was particularly hard to manage.
However, the resulting four wheel drive monster was 'the fastest accelerating car in the world', and as driven by Stig Blomqvist, a RS200 Evo achieved the 0-62mph (100kph) Guinness world record time of 3.07 seconds, a figure that stood for twelve years!
Other smaller details distinguished the EVO version such as a solid mounted suspension. Like the regular version it also borrow parts from the Sierra including the front windscreen, mirrors, doorhandles and some instrumentation.
Unfortunately, Group B was cancelled after Henri Toivonen and his co-driver Sergio Crestos died at the 1986 Tour de Course and this meant the Evolution along with its competitors that were deemed 'too fast to race'. However, Ford was able to save face and continue on with the regular 1.8 liter versions, contesting the European Rally Championship and winning a few victories from 1986 to 1990.
1986 Ford RS200 Evolution Gallery
See Full 1986 Ford RS200 Evolution Image Gallery
Ford RS200 Evo Video
In Detail
| | |
| --- | --- |
| built at | Detroit, Michigan, USA |
| production | 24 |
| engine | Ford/Cosworth BDT-E Inline-4 |
| position | Mid Longitudinal |
| aspiration | Garrett Turbocharger |
| valvetrain | DOHC, 4 Valves per CYL |
| fuel feed | Bosch Electronic Injection |
| displacement | 2137 cc / 130.4 in³ |
| bore | 90 mm / 3.54 in |
| stroke | 84 mm / 3.31 in |
| compression | 7.2:1 |
| power | 432.5 kw / 580 bhp @ 8000 rpm |
| specific output | 271.41 bhp per litre |
| bhp/weight | 491.53 bhp per tonne |
| torque | 542.33 nm / 400 ft lbs @ 5500 rpm |
| redline | 9000 |
| body / frame | Plastic/Fiberglass Body over Sheet Aluminum Chassis w/Front & Rear Steel Subframes |
| driven wheels | 4WD w/Triple Ferguson Viscous Coupling LSDs |
| front tires | F 225/50VR-16 |
| rear tires | R 225/50VR-16 |
| front brakes | Vented Discs AP Discs |
| f brake size | x 284 mm / x 11.2 in |
| rear brakes | Vented Discs AP Discs |
| r brake size | x 284 mm / x 11.2 in |
| front wheels | F 40.6 x 20.3 cm / 16.0 x 8.0 in |
| rear wheels | R 40.6 x 20.3 cm / 16.0 x 8.0 in |
| steering | Rack & Pinion |
| f suspension | Double Wishbones w/Double Concentric Coil-Damper Units, Blade-Type Adjustable Anti-Roll Bar |
| r suspension | Double Wishbones w/Double Concentric Coil-Damper Units, Blade-Type Adjustable Anti-Roll Bar |
| curb weight | 1180 kg / 2601 lbs |
| wheelbase | 2530 mm / 99.6 in |
| front track | 1501 mm / 59.1 in |
| rear track | 1496 mm / 58.9 in |
| length | 3998 mm / 157.4 in |
| width | 1763 mm / 69.4 in |
| height | 1321 mm / 52.0 in |
| transmission | 5-Speed Endean Manual |
| gear ratios | 2.692:1, 1.824:1, 1.318:1, 1.043:1, 0.786:1, :1 |
| 0 – 60 mph | ~3.07 seconds |
| designers | John Wheeler, Tony Southgate |
Auction Sales History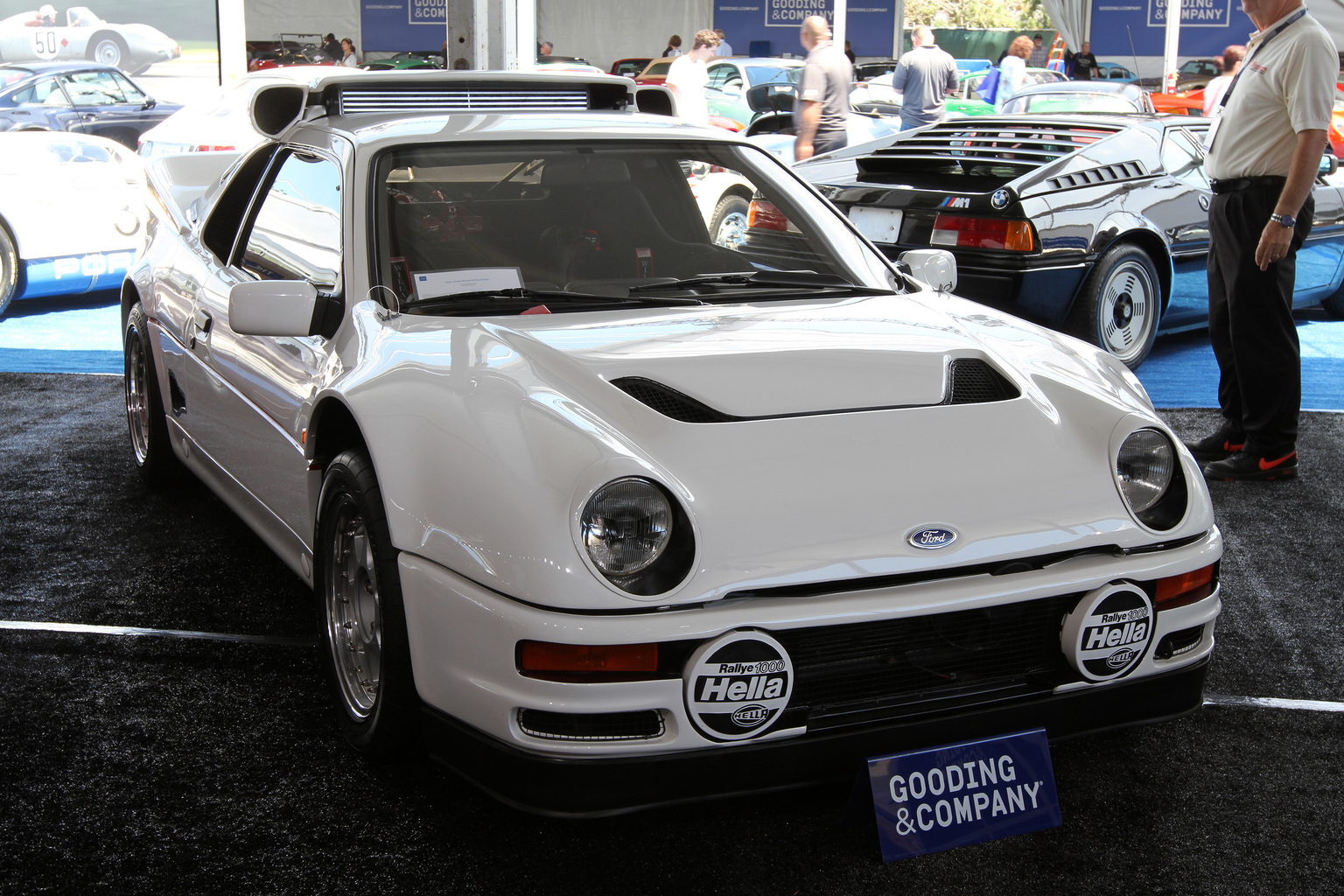 1986 Ford RS200 Evolution 106 – sold for $539,000 Quite Possibly the Finest of the 24 RS200 Evolutions Built. Specially Ordered with Numerous Factory Competition Features. Engine Developed by Brian Hart Limited and East Coast Racing. Outstanding Restoration Performed by Marque Experts Including RM Motorsports. Offered with Extraordinary History File, Spare Components, and More. Auction Source: The Pebble Beach Auctions 2015 by Gooding and Company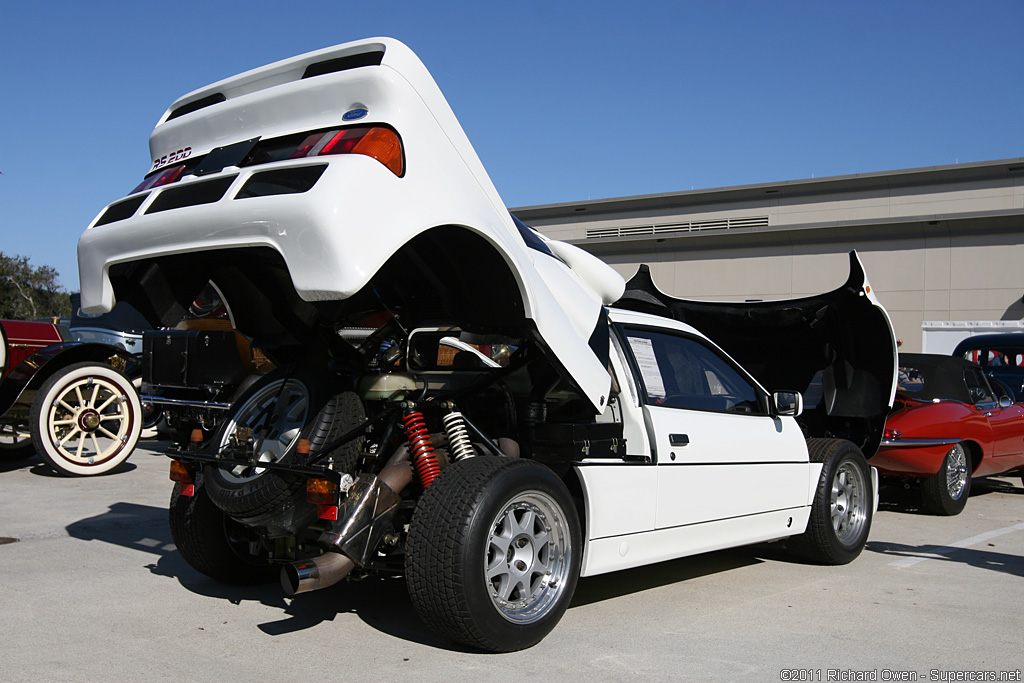 1986 Ford RS200 Evolution 00087 – sold for $159,500 This particular white RS200 is in very good condition with only 5,557 kms showing. Some minor stone pitting on the front end is the only sign of wear. The one thing separating this RS200 from a Group B rally car is the interior, which has been comfortably trimmed by Tickford. The interior has been fitted with grey carpeting, door inserts, red Sparco seats and a matching red leather XR3i steering wheel. Bidder beware – zero-to-sixty sprints in three seconds are not for the faint of heart! Auction Source: 2011 Amelia Island Auction by RM Auctions