Porsche 959
Perfect traction was Porsche's goal when they designed the 959. The PSK 4-wheel drive system was the technological highlight of the 959. PSK, which did add weight to the car, could vary the ratio of torque to the front & rear wheels. The default setting for the system was 40% front and 60% rear. Under acceleration the PSK adjusts to ratio to 80% torque to the rear wheels. During slippery conditions the ratio was 50:50.
The 959 had an adjustable ride height system which had 3 different settings. The height was easily changed via a knob on the dashboard. Above 50mph the ride height automatically adjusted to the lowest setting.
The Porsche 959 remains one of the most interesting supercars ever built. In years past, they were an extra-rare sight in the U.S., as only about 50 or so of the 329 (or 337—production numbers vary) models built made it here to the U.S., under show-and-display waivers. However, since the majority of 959s are now more than 25 years old, importation of cars like this 1988 example has been open, which is good news for American car collectors and enthusiasts.
See full Porsche 959 Gallery
See full Porsche 959 Gallery
Porsche 959 Video
In Detail
| | |
| --- | --- |
| price $ | $225 000 USD |
| engine | Twin-Turbo Flat 6 |
| valvetrain | DOHC 4 Valves / Cyl |
| displacement | 2849 cc / 173.9 in³ |
| bore | 95.0 mm / 3.74 in |
| stroke | 67.0 mm / 2.64 in |
| compression | 8.3:1 |
| power | 335.6 kw / 450.0 bhp @ 6500 rpm |
| specific output | 157.95 bhp per litre |
| bhp/weight | bhp per tonne |
| torque | 500.3 nm / 369.0 ft lbs @ 5500 rpm |
| body / frame | Fibreglass Reainforced Kevlar, Ployurethance Plastic & Aluminum |
| driven wheels | Rear Engine / PSK 4WD |
| front tires | 235/45VR-17 |
| rear tires | 255/40VR-17 |
| front brakes | Vented Discs w/ABS |
| f brake size | x 322 mm / x 12.7 in |
| rear brakes | Vented Discs w/ABS |
| r brake size | x 308 mm / x 12.1 in |
| front wheels | F 43.2 x 20.3 cm / 17.0 x 8.0 in |
| rear wheels | R 43.2 x 22.9 cm / 17.0 x 9.0 in |
| steering | Rack & Pinion |
| curb weight | 1450 kg / 3197 lbs |
| wheelbase | 2271 mm / 89.4 in |
| front track | 1504 mm / 59.2 in |
| rear track | 1549 mm / 61.0 in |
| length | 4260 mm / 167.7 in |
| width | 1839 mm / 72.4 in |
| height | 1280 mm / 50.4 in |
| transmission | 6-Speed Manual |
| gear ratios | :1 |
| top speed | ~313.8 kph / 195.0 mph |
| 0 – 60 mph | ~4.1 seconds |
| 0 – 100 mph | ~9.6 seconds |
| 0 – 1/4 mile | ~12.5 seconds |
| drag | .32 Cd |
See full Porsche 959 Gallery
Auction Sales History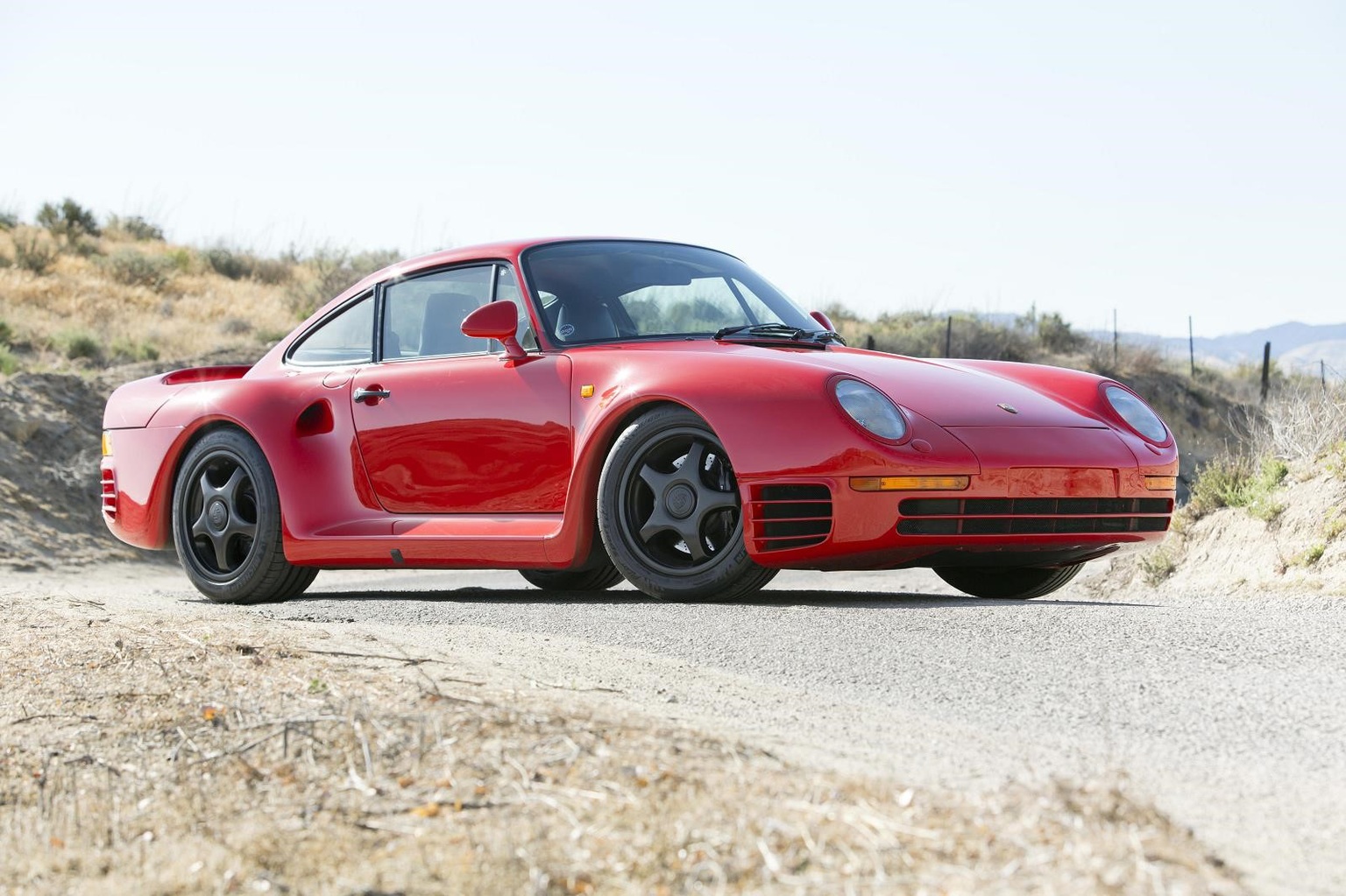 1987 Porsche 959 Komfort WPOZZZ95ZHS900125 – sold for $1,457,500 From the collection of Tony Hart. The 125th of 225 examples built, this stunning 959 Komfort was completed December 18, 1987, and sold to well-known Japanese enthusiast Yoshiho Matsuda, joining his impressive Porsche Museum in Hakone. Converted by Canepa Design in Scotts Valley, California for lengthy and comprehensive modernization costing some $180,000 that now delivers now delivers 576hp at 6100 rpm.
Auction Source: 2015 Quail Lodge Auction by Bonhams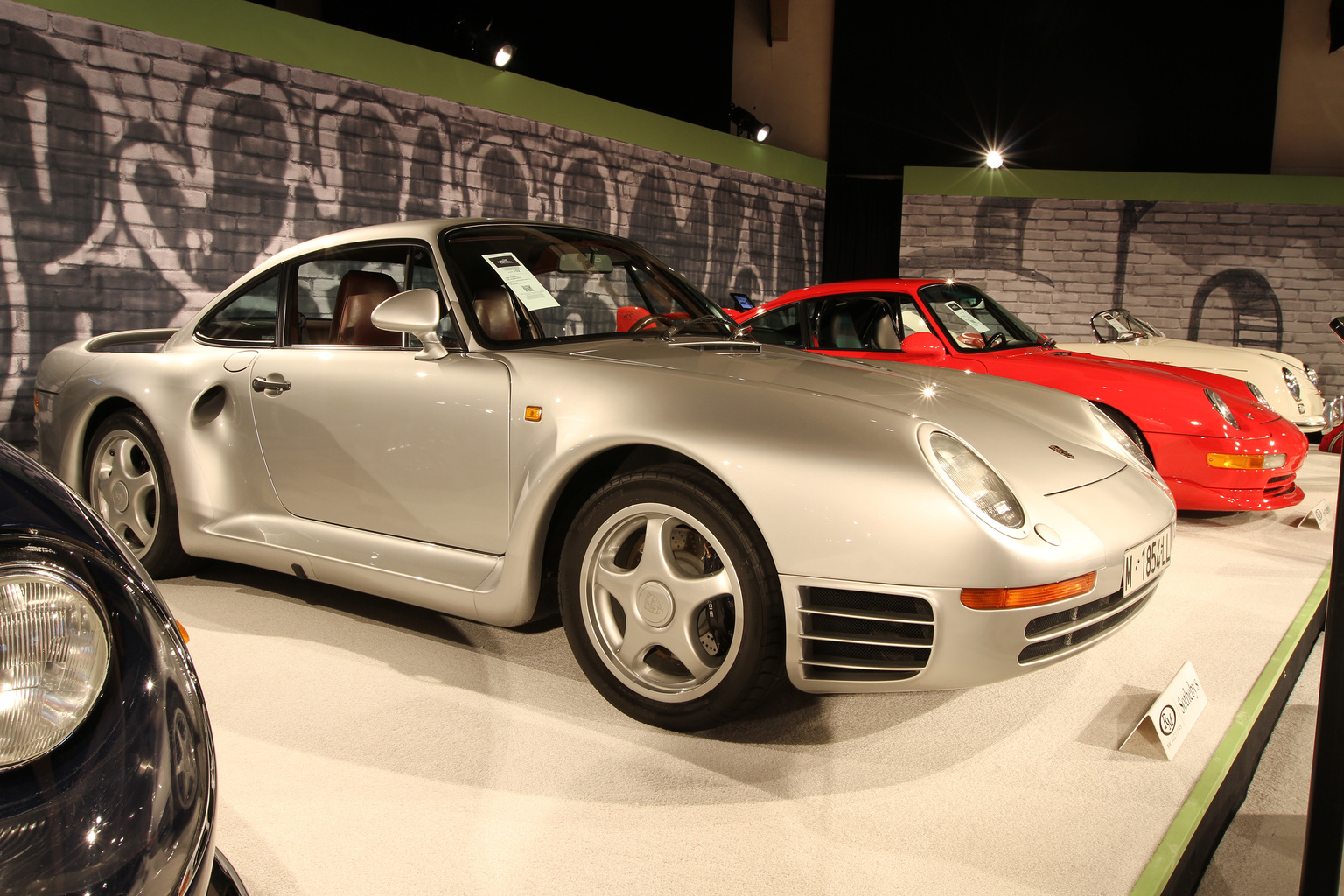 1988 Porsche 959 'Komfort' WP0ZZZ95ZJS900154 – sold for $1,210,000 Originally delivered to Spain in 1988. Imported by Autosport Designs Inc in 2011 to America. Engine-out service, which totaled to nearly $40,000. Retains its original books, tools, first aid kit, jack, air compressor, and extra keys, as well as its Porsche Certificate of Authenticity. Auction Source: RM Sotheby's Monterey 2015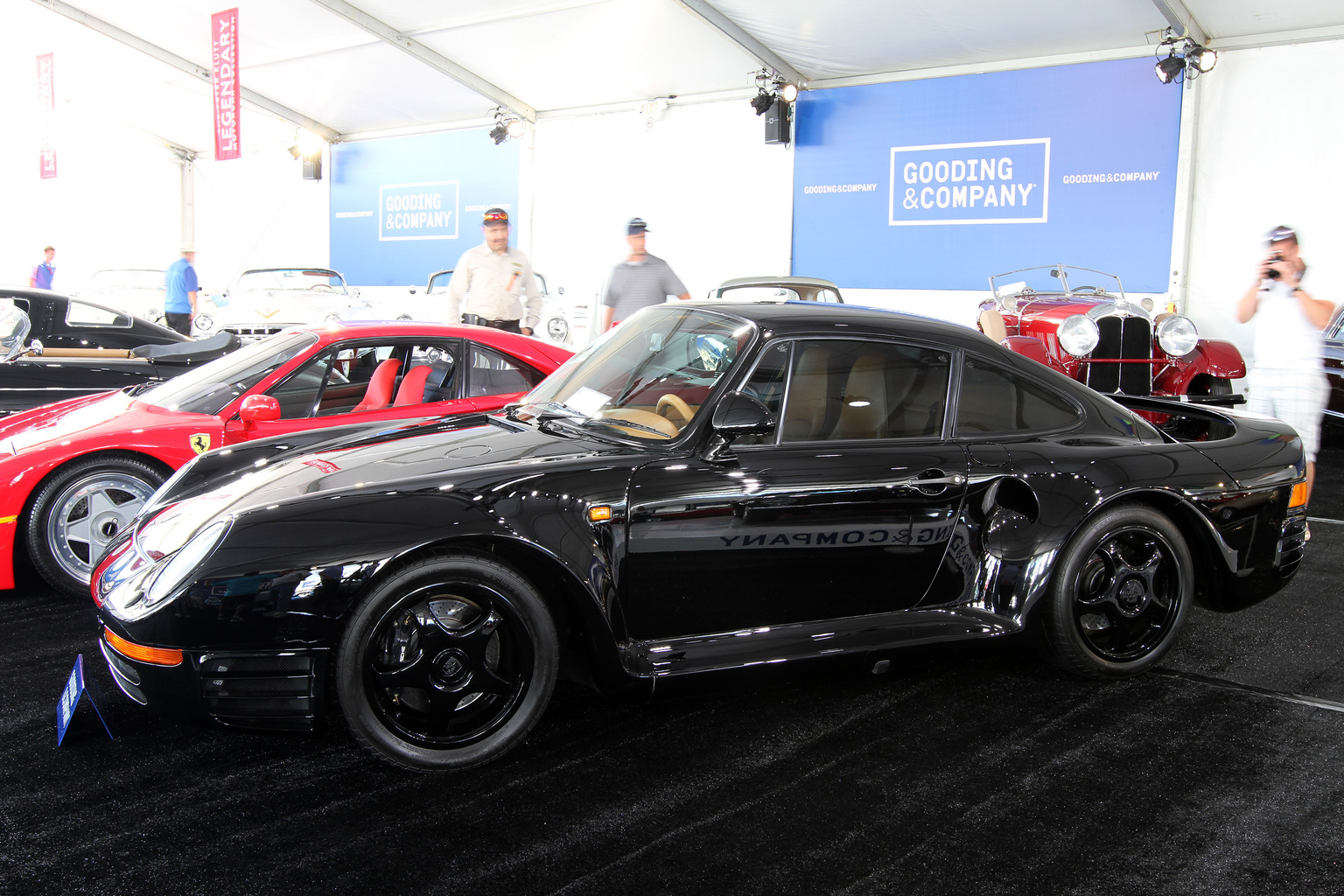 1988 Porsche 959 Komfort WP0ZZZ95ZJS900203 – sold for $1,732,500 Ordered from Porsche Exclusive by Dr. Friedrich Christian Flick with factory options electric height adjustment, heated seats left and right, and an alarm system. Exclusive Options included CDR-210 radio system and a special steering wheel emblazoned with the Porsche crest. Porsche Exclusive finished every available surface, including all vents, switches, and trays, in the custom-ordered leather, complemented by black carpets and stitching. driven approximately 32,000 km and was regularly maintained by the Porsche factory, Porsche Zentrum München, Pichler GFG AG. Presented with original keys, tool kit, and handbooks, complete with the custom-made leather owner's folio embossed with Dr. Flick's name. Auction Source: The Pebble Beach Auctions 2015 by Gooding and Company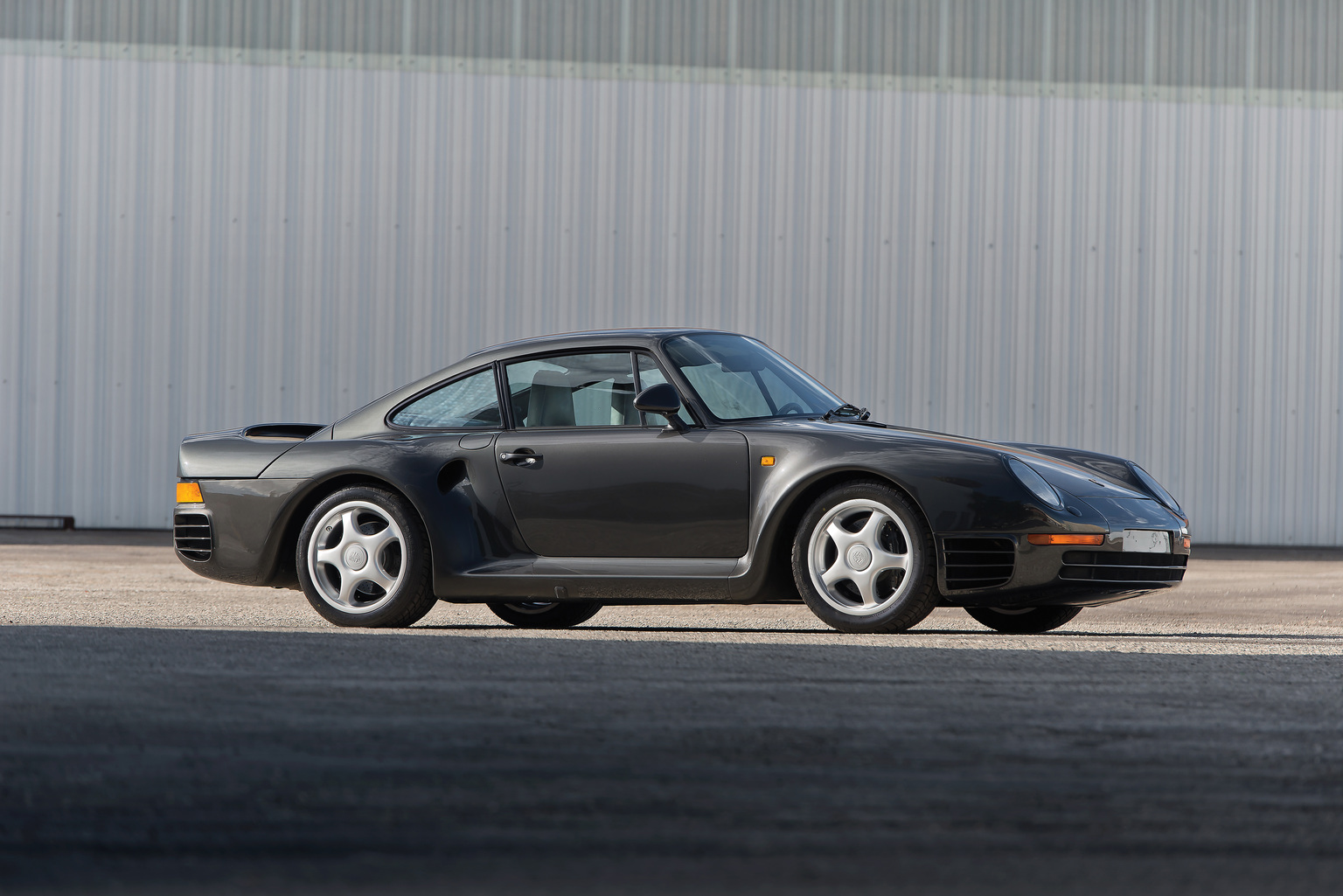 1988 Porsche 959 'Komfort' WP0ZZZ95ZHS900149 – sold for $1,045,000 Recently serviced, with just 21,000 kilometers and three owners from new. Incredibly well preserved and maintained in rare and desirable Graphite Grey. The most technologically advanced car of its era. Auction Source: Arizona 2015 by RM Auctions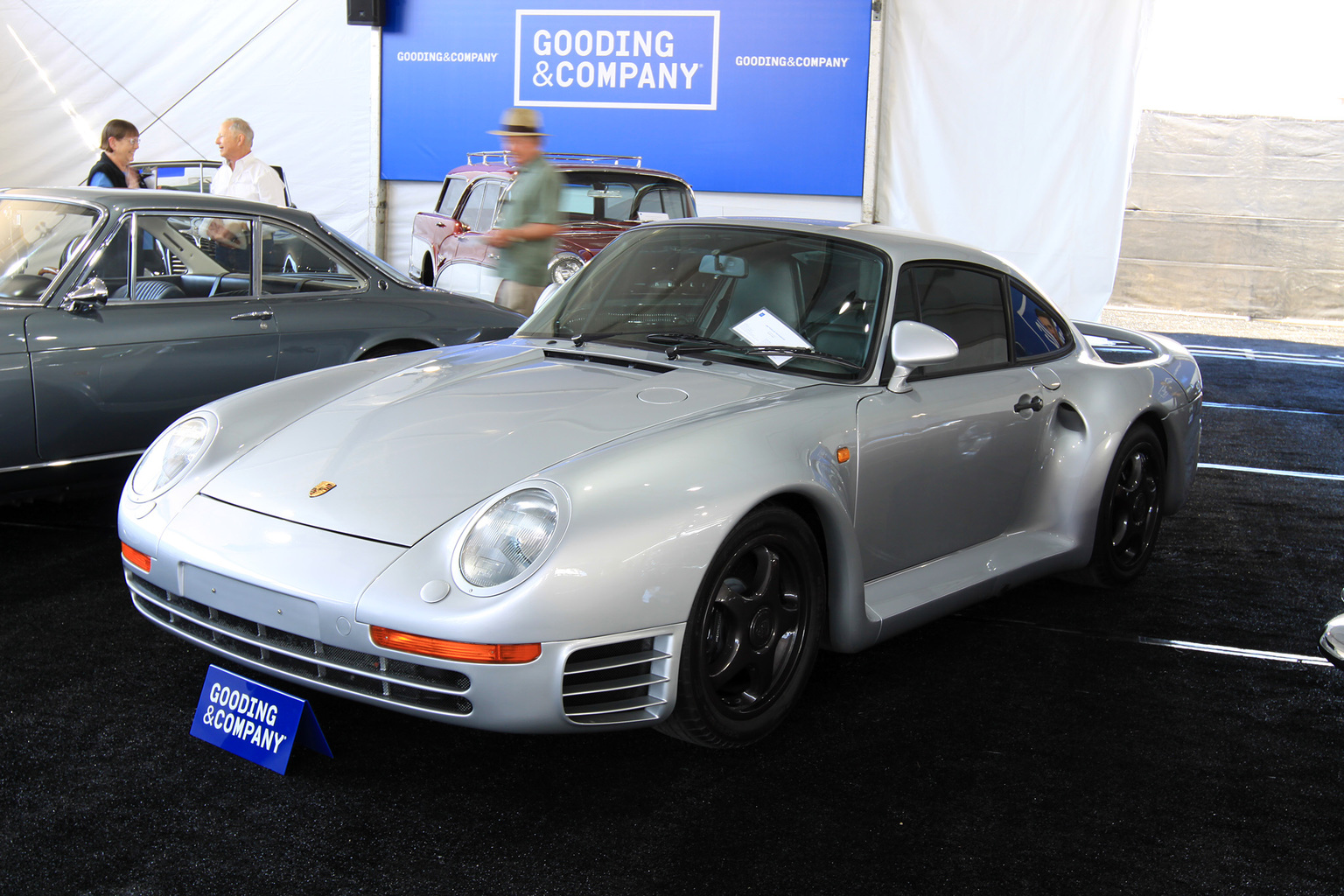 1988 Porsche 959 Komfort WP0ZZZ95ZJS900072 – sold for $1,485,000 One of Only 242 Komfort Models Built. Defnitive 959 Livery and Specifcation. Just Three Owners and 8,800 KM from New. Recently Serviced and Maintained by Porsche Specialists. Exceptionally Original Example Accompanied by Keys, Books, Tools, and Records. Auction Source: 2014 Pebble Beach Auctions by Gooding & Company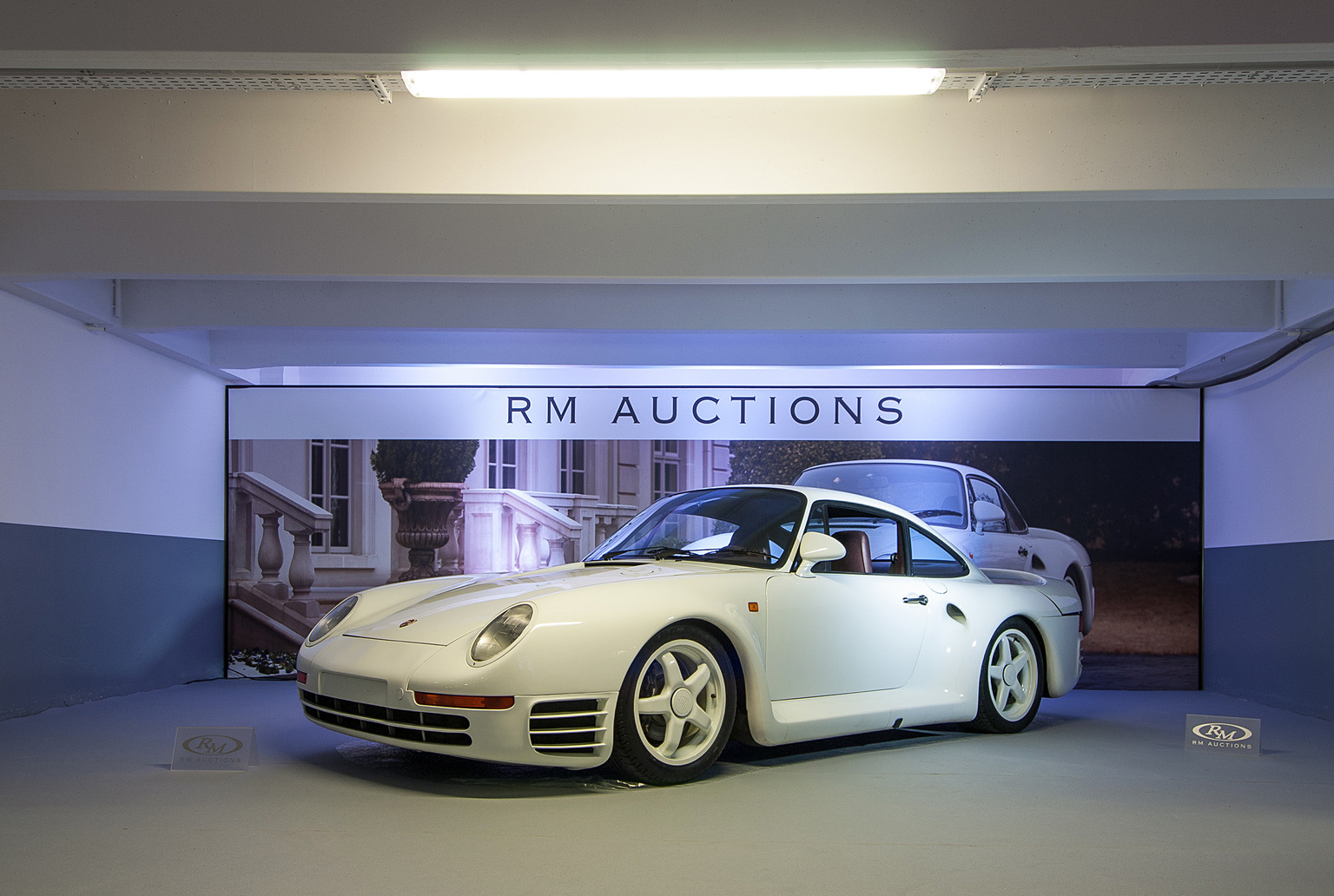 1985 Porsche 959 Prototype WPOZZZ93ZFS010067 – sold for €476,000 One of approximately 10 surviving Type 959 prototypes. Fitted with its original Denloc alloy wheels and Dunlop tyres. One of the most important Porsches; a technological tour de force. Auction Source: 2014 Monaco by RM Auctions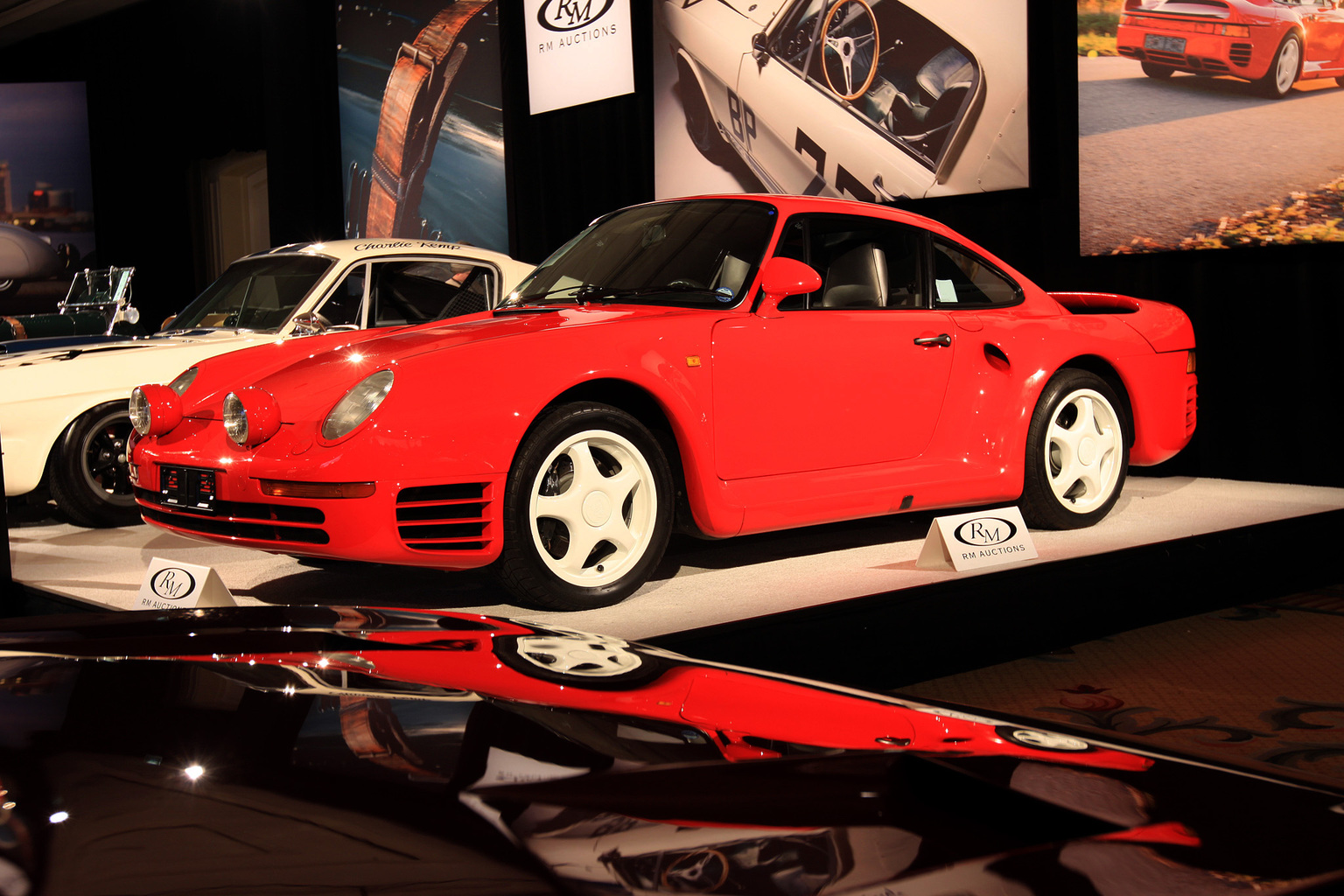 1986 Porsche 959 'Vorserie' WPOZZZ93ZFS010063 – sold for $687,500 One of 21 pre-production examples. Factory demonstrator until 1989. Complete factory rebuild to production Komfort specification. Documented and always serviced by Porsche. Only two private owners from new. The fastest and most technologically advanced road car of its time. Auction Source: Amelia Island 2014 by RM Auctions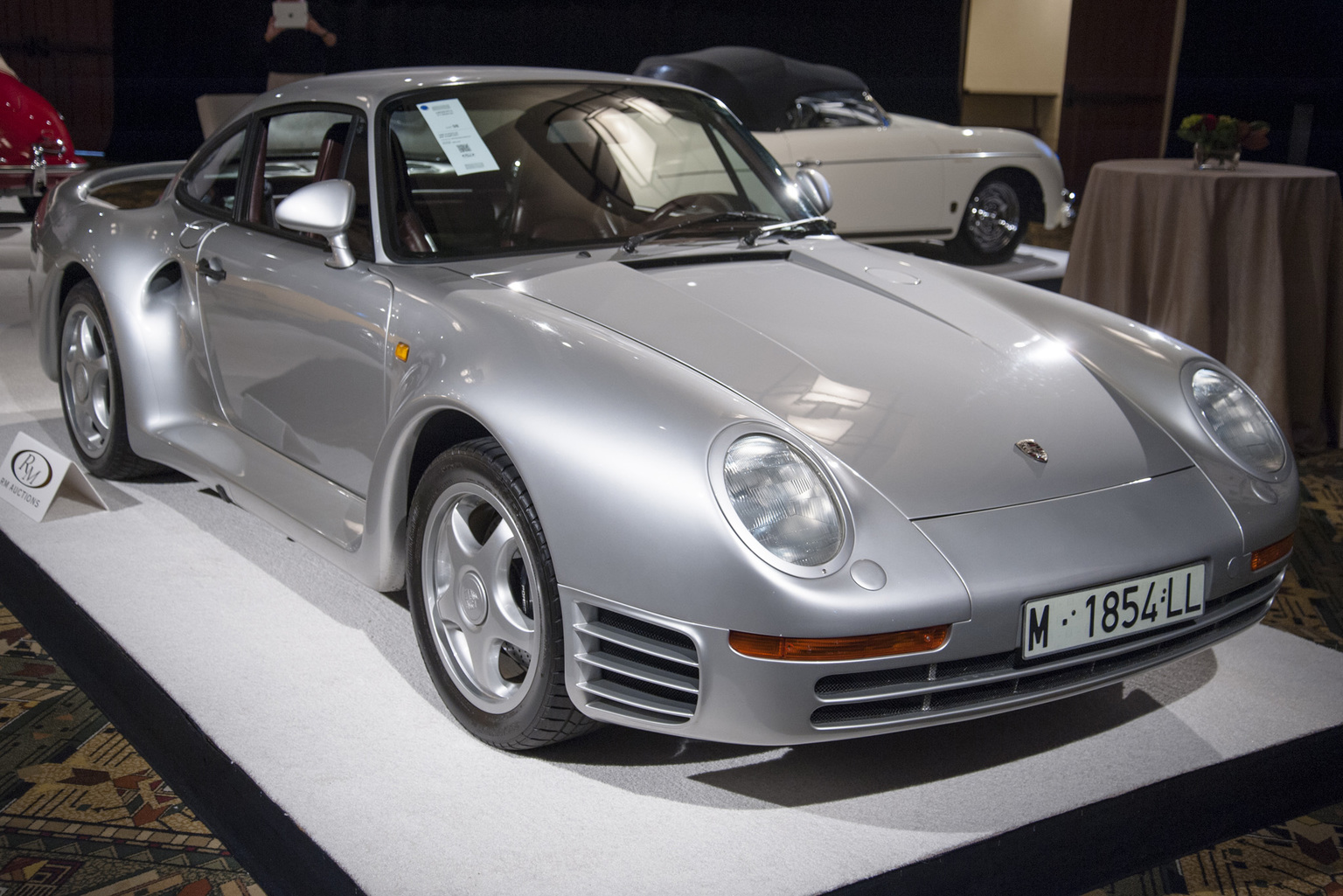 1988 Porsche 959 'Komfort' WP0ZZZ95ZJS900154 – sold for $759,000 Porsche's revolutionary technological tour de force. Extremely rare in the United States. Known history, superbly maintained, with full accessories. Accompanied by its Porsche Certificate of Authenticity. Auction Source: 2014 Arizona by RM Auctions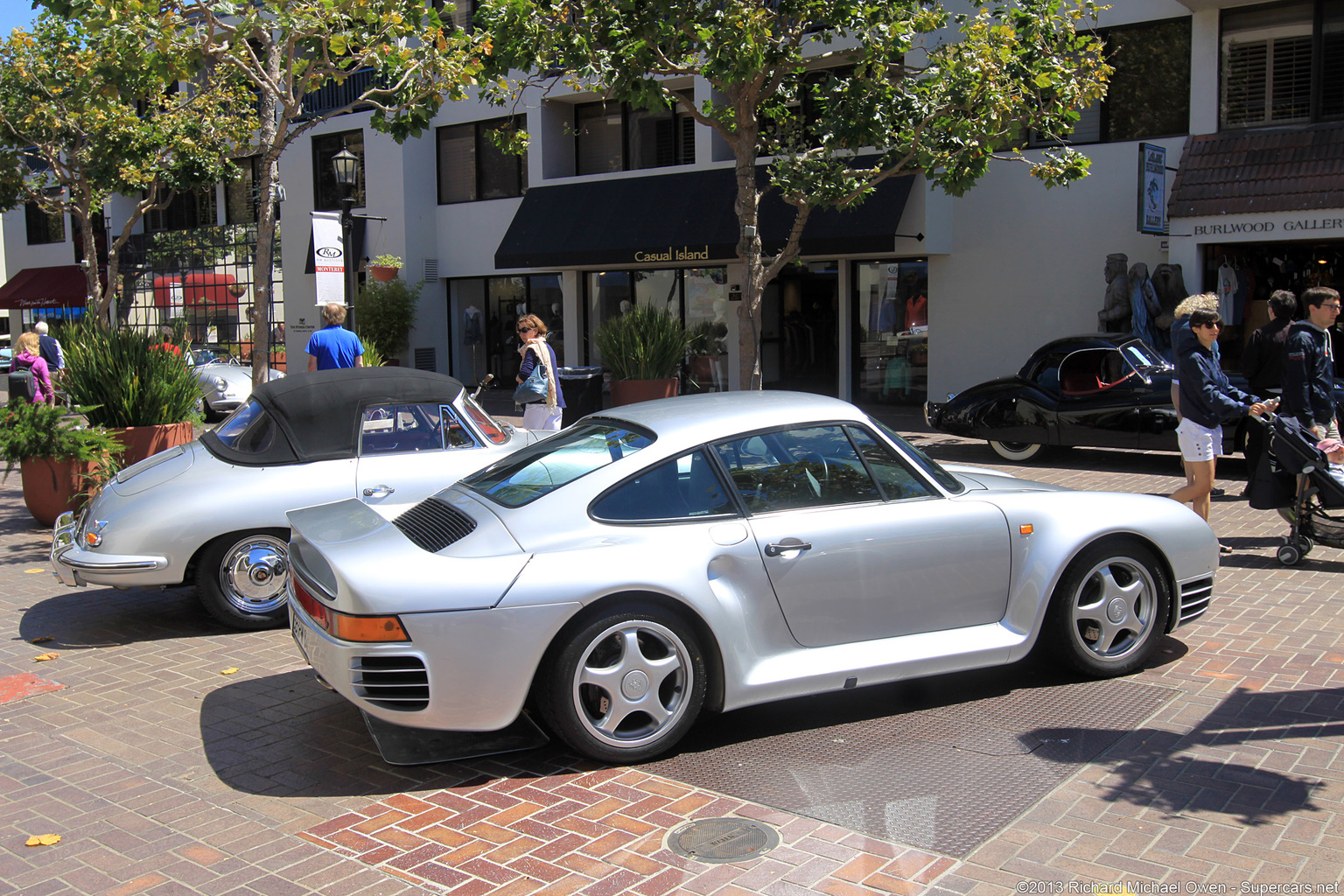 1985 Porsche 959 'Vorserie' WPOZZZ93ZFS010072 – sold for $737,000 Pre-production 959 'Vorserie,' used by Porsche executives. Two owners and 5,000 kilometers from new. Authenticated by the factory. Documented service history, books, and tools. One of the most important 959s available for sale. Auction Source: 2013 Monterey Auction by RM Auctions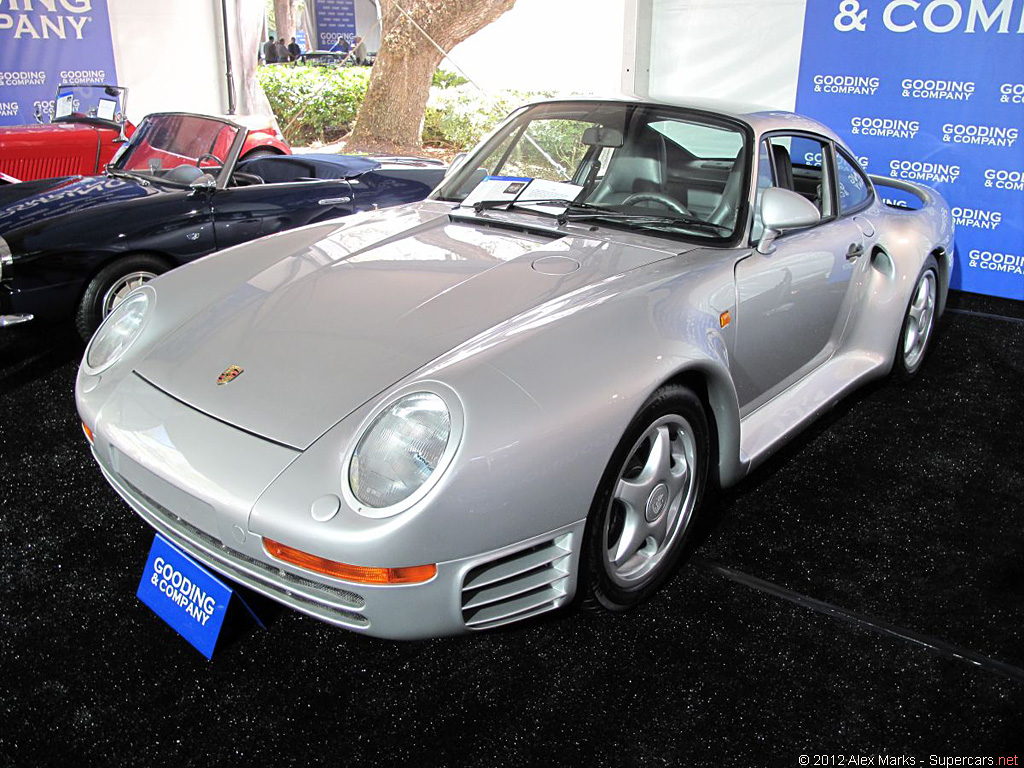 1988 Porsche/Canepa 959 WPOZZZ95ZJS900153 – sold for $495,000 Of most importance, this particular 959 has benefitted from a Canepa Design Phase II upgrade making it a street-legal automobile with significantly increased performance. The Phase II engine system included elimination of the factory-sequential turbo system and installation of an all-new, twin-turbo system, including new Garrett "Disco Potato" ball- bearing turbos, redesigned waste gates with TiAL diaphragms and titanium heat shields. Camshaft timing was optimized, in addition to blueprinting all intake and exhaust-valve springs. The 959 carries an upgraded fuel system, a modern engine management system with ADL, F1-technology engine-wiring harnesses, a high-output ignition system and various other components. Auction Source: The Amelia Island Auction 2012 by Gooding & Company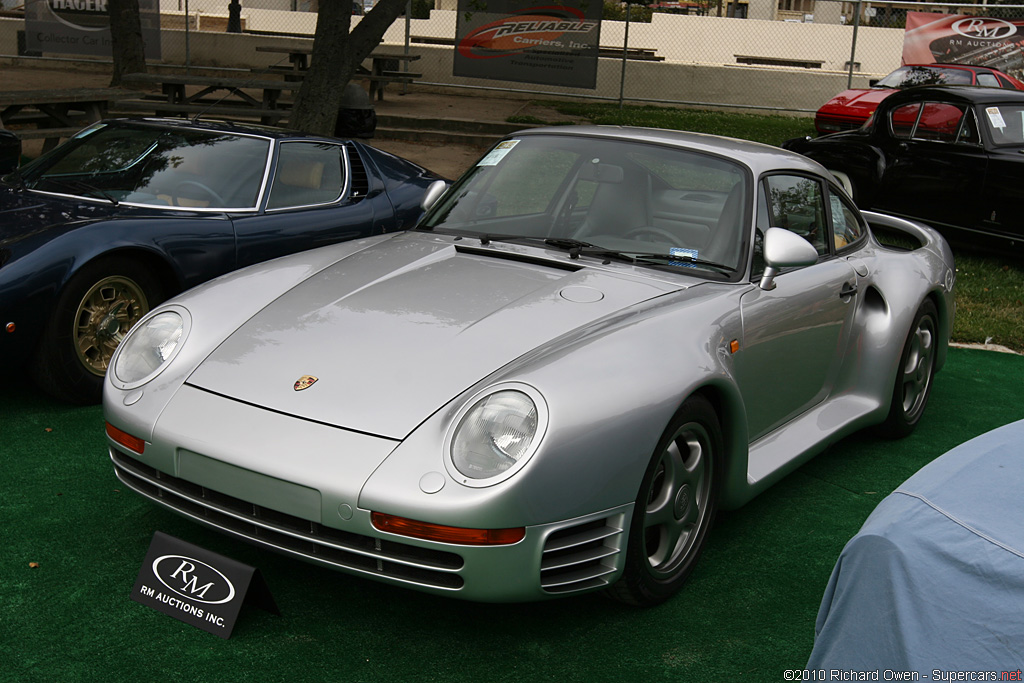 1988 Canepa Design 959 Komfort WP0ZZZ95ZJS900225 – sold for $412,500 Reengineered to Canepa Design Specifications. 640 bhp with a top speed of 222 mph. Finished in silver with a tri-tone grey interior, this Porsche 959 "Komfort" is one of these Canepa designed cars. Having been driven only 1,900 miles since the full reengineering by Canepa Design, it is reportedly in excellent running and driving condition and is absolutely incredible to drive. Exceptionally well maintained over the years, this 959 remains in outstanding cosmetic and mechanical condition and represents an extremely rare opportunity to acquire one of the most sought-after "original" supercars with upgrades from Canepa Design. Auction Source: RM Auctions' 2010 Sports & Classics of Monterey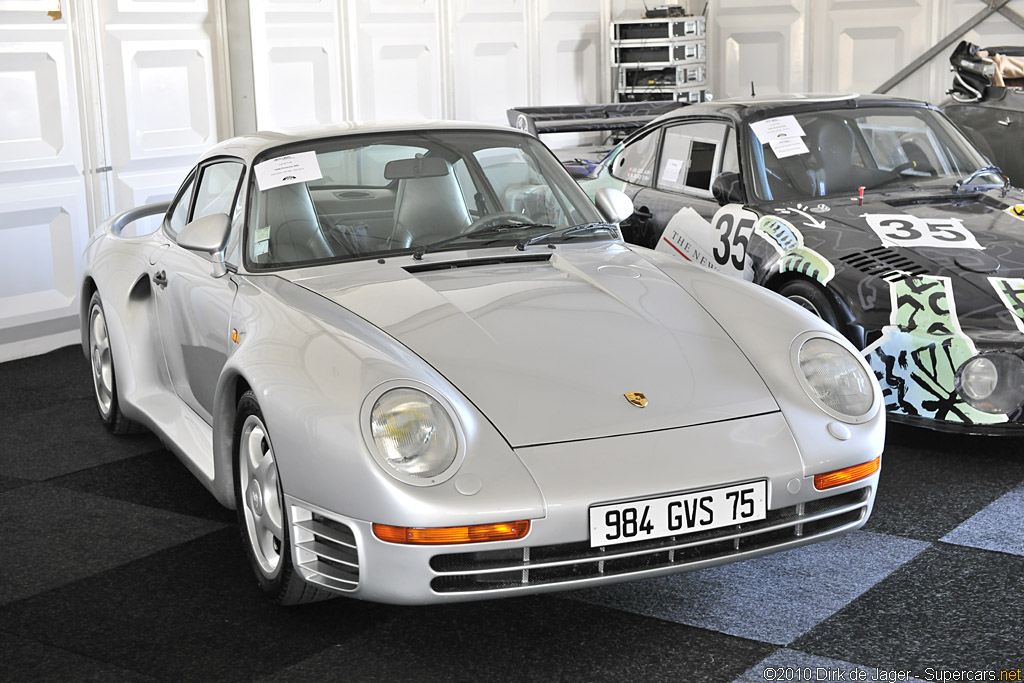 3,800 mile 1988 Porsche 959 WPOZZZ95ZH8900064 – sold for €230,651 Bernard Tapie bought this supercar from dealer Pierre Landereau in Paris on 29 April 1988, and kept it until 1998, when it was bought back by Pierre Landereau and sold at auction by Hervé Poulain. Its current owner had the car fully serviced by Porsche in Cergy-Pontoise, with maintenance carried out by Sonauto. The car has covered 3,810 miles since leaving the factory. Auction Source: 2010 Artcurial Sport & GTs au Mans Classic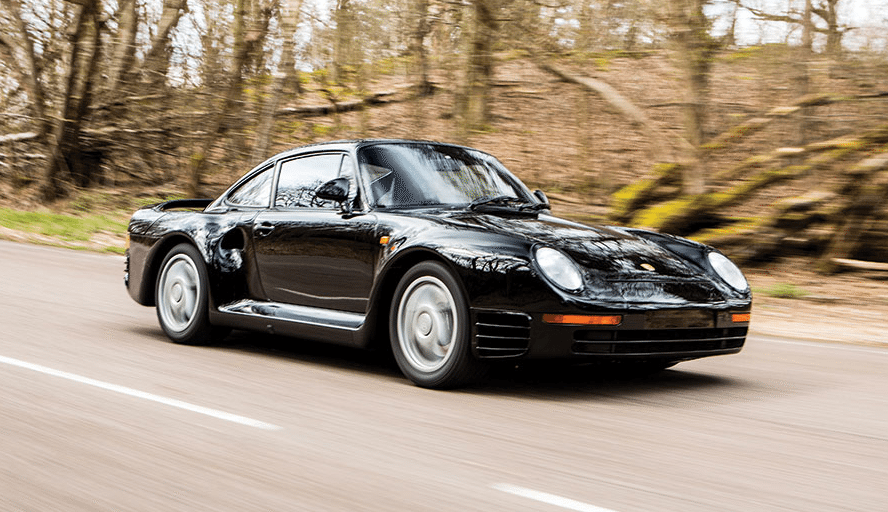 1988 Porsche 959 'Komfort' Stage II – Sold for €896,000. Nearly 30 years after the 959's introduction, it still remains a benchmark in automotive history and its performance remains competitive, even against today's incredible crop of sports cars. When considering its incredibly low original mileage, as-delivered colour combination of Black over black, and Stage-2 specification, this example is without a doubt one of the most compelling 959s to come to market in recent year. 585 bhp, 2,849 cc rear-mounted, air- and liquid-cooled, horizontally opposed six-cylinder engine with twin two-stage turbochargers and Bosch electronic fuel injection, six-speed manual transmission, all-wheel drive, independent front and rear double-wishbone suspension with electronically adjustable ride height and shock-absorber control, and four-wheel hydraulic ventilated disc brakes. Delivered new to Germany on 28 October 1988, this particular 959 was one of just three examples originally delivered new in Black and is believed to be the only example with a matching Black exterior and interior. Auction Source: 2016 RM Sotheby's Monaco Auction