1990 Porsche 911 Carrera Cup
In 1990 Porsche devised a racing series for the 964 Carrera 2 known as the 1990 Pirelli Carrera Cup Competition and later series such as the Trophie Series and the 1993 Supercup.
These cars were completely stripped out for series racing by fitted with aluminum shut panels and a roll-bar system.
They were fitted with the M64/03 with a bespoke aluminum intake and a G50/10 gearbox, but almost every system in the car was updated for race preparation. Many of these developments were pushed onto the limited Carrera RS in 1992.
In 1990 and 1991 Porsche made a total of 172 Carrera Cup cars. These were updated to M0001 specification in 1992 with a two-year production of 127 cars bringing the four year total to 299 Carrera Cup cars.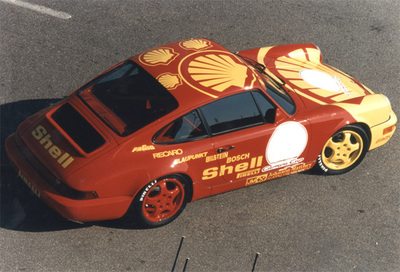 In Detail
| | |
| --- | --- |
| | |
| type | Racing Car |
| built at | Germany |
| engine | Flat-6 |
| displacement | 3600 cc / 219.7 in³ |