1992 Bugatti EB110 SS
The original Bugatti EB110 debuted on September 15th, 1991 – the date of company founder Ettore Bugatti's 110th birthday. But it wasn't until almost a year later that Bugatti unleashed the full potential of the EB 110's quad-turbocharged 3.5-liter V12. The 603-horsepower (449-kilowatt) EB110 Super Sport (or, SS) showed face for the first time at the 1992 Geneva Motor Show.
Visually, not much changed over the standard EB110. The SS model didn't lose the conventional 110's Marcello Gandini-designed flat and broad characteristics, especially on the front fascia, but gained some additional aerodynamic cues. Most of the upgrades were underhood; the same 3.5-liter V12, now with a reprogrammed ECU, bigger injectors, and a free-flowing exhaust system, produced more than 60 horsepower more than the stand EB 110 (541 hp).
The Supersport was also lighter, too, shedding 330 pounds (150 kilograms) over the 110 GT. This lighter weight and more powerful engine meant it could hit a 216 mph top speed.
From a standstill, the EB110 SS could sprint to 62 miles per hour (100 kilometers per hour) in 3.2 seconds. Flat out, it would continue on to a top speed of 221 mph (355 kmh). The McLaren F1, with its 231 mph (372 km/h) top speed, was technically faster, but the EB 110 SS remained in the top speed record conversation. And it received some much-needed celebrity backing later in life.
In 1992 Michael Schumacher purchased a yellow EB 110 Super Sport and it became one of the most famous cars. An EB110 SS was raced at the at the 1996 24 Hours of Daytona.
Pictures & Gallery
See full 1992 Bugatti EB110 SS Gallery here
Specs & Performance
| | |
| --- | --- |
| | |
| type | Series Production Car |
| production years | 1992 – 1995 |
| built at | Campogalliano, Italy |
| body stylist | Marcello Gandini |
| coachbuilder | Aerospatiale France |
| production | 31 |
| price $ | $ 380 000 |
| engine | 60 Degree V12 |
| position | Mid Longitudinal |
| aspiration | 4 IHI Turbos |
| valvetrain | DOHC 5 Valves / Cyl |
| fuel feed | Bugatti Multipoint Electronic Injection |
| displacement | 3498 cc / 213.5 in³ |
| bore | 81.0 mm / 3.19 in |
| stroke | 56.6 mm / 2.23 in |
| compression | 7.5:1 |
| power | 484.7 kw / 650.0 bhp @ 8000 rpm |
| specific output | 185.82 bhp per litre |
| bhp/weight | 458.39 bhp per tonne |
| torque | 646.73 nm / 477 ft lbs @ 4200 rpm |
| body / frame | Aluminium Body over Carbon Fibre Tub Chassis w/Integrated Roll Cage |
| driven wheels | 4WD |
| wheel type | BBS 7-Spoke, Center Lock Alloys |
| front tires | 245/40ZR-18 Michelin Pilot SX |
| rear tires | 325/30ZR-18 Michelin Pilot SX |
| front brakes | Drilled & Vented Discs w/Servo Assist, ABS, Brembo Calipers |
| rear brakes | Drilled & Vented Discs w/Servo Assist, ABS, Brembo Calipers |
| steering | Rack & Pinion |
| f suspension | Double Wishbones w/Pull-Road Actuated Spring/Damper Units |
| r suspension | Double Wishbones w/Double Coil Springs, Damper Units |
| curb weight | 1418 kg / 3126 lbs |
| wheelbase | 2550 mm / 100.4 in |
| front track | 1550 mm / 61.0 in |
| rear track | 1618 mm / 63.7 in |
| length | 4400 mm / 173.2 in |
| width | 1940 mm / 76.4 in |
| height | 1125 mm / 44.3 in |
| transmission | 6-Speed Manual |
| final drive | 3.18:1 |
| top speed | ~349.2 kph / 217.0 mph |
| 0 – 60 mph | ~3.35 seconds |
Auction Sales History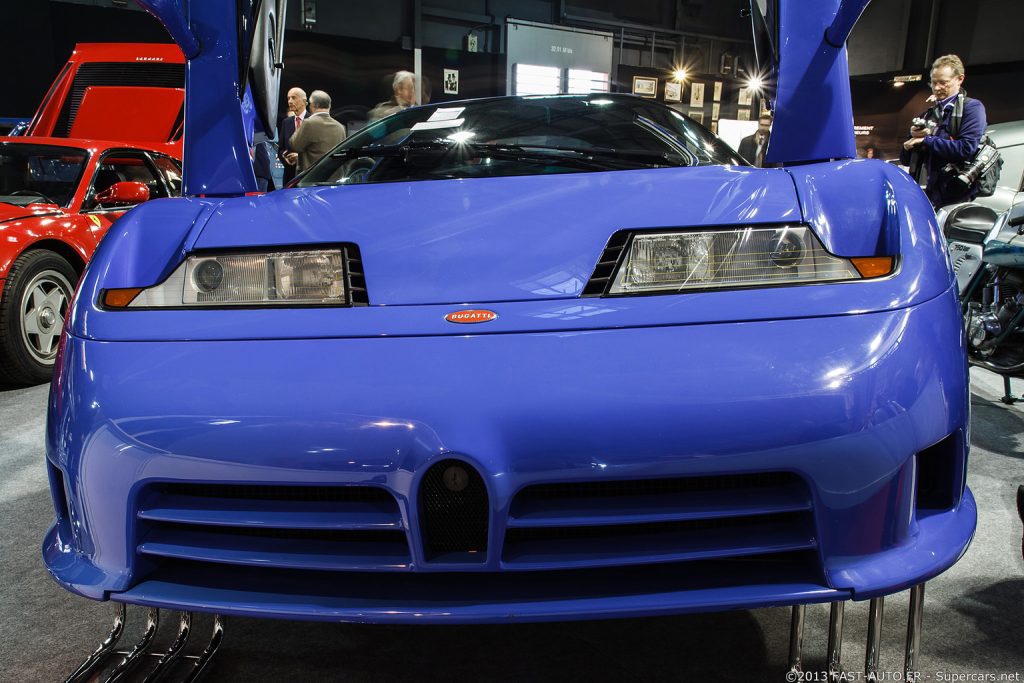 1995 Bugatti EB110 SS ZA9CBO2U5RCD39025 – sold for €448,890 A great car and an excellent opportunity: in fact, to this day, this car has never been registered and has covered barely 14,000km since it was made. The purchaser of this EB 110 will be the first 'official' owner of the car. Since the collapse of the company, the car has been maintained in an extremely thorough way at the Zagato workshops, where the offices of Romano Artioli is located. As Artioli is creating a brand new car, but in a different. Auction Source: Artcurial Motorcars à 2013 Rétromobile