1992 Ford Falcon GT
To commemorate the 25th Anniversary of the first XR GT in 1967, Ford revived the GT with the help of performance partner Tickford Vehicle Engineering. The 265 cars (15 were sent to New Zealand) were snapped up within days of the announcement. They are now recognized as an important chapter in the GT story and played a key role in keeping the legend alive.
Because this new GT went beyond the Fairmont Ghia in interior appointments with lashings of leather and woodgrain, it was as much a luxury grand tourer as a purpose-built performance model and was therefore a worthy tribute to the very first XR GT. It certainly looked the part with the large air scoop flanked by twin extractor scoops on the bonnet, all of which were functional, the smooth air dam below the mesh grille, extra lights, the sensuous 5-spoke alloys and the sculptured rear spoiler.
Like all GTs, it had a jaw-dropping presence with its factory-styled integrated body additions, trend-setting grey body highlights and choice of only three colours, Black Pearl, Cobalt Blue and Cardinal Red. Tickford may have helped with engineering and assembly but it still wore the Ford blue oval and in all respects was a true GT.
It marked many firsts including the first GT with ABS brakes, rack and pinion steering, Watts linkage rear axle, 4 speed auto or 5 speed manual, front and rear spoilers, Momo leather-wrapped steering wheel and the first with body details significantly different from the standard Falcon. The face of performance cars had changed radically since 1976 and the EBII GT had to fast forward the GT legend by 16 years in one model.
Although engine capacity had shrunk from the XB GT's Cleveland 5.76-litres to 4.94, the EBII GT marked a return to the original and ultimately more efficient Windsor V8, an engine that powers today's V8 Supercars, restoring a direct link between the road and track cars.
The EBII GT delivered power and torque figures remarkably close to the XB GT after you factor in the XB's gross figures which are up to 25% higher than today's net figures. Fords net figures for the similar 5.8 XC Cobra place the EBII GT well ahead on horsepower and only slightly behind on torque as expected from a performance engine supplied by Watson Engineering in the US. Tickford attention to total performance and dynamics delivered a real driver's car with its special engine, aerodynamics, premium tyres and suspension. Performance was remarkably good considering the appointments and the EBII's heavier and stiffer safety structure.
Ford and Tickford would later repackage the EBII GT mechanicals in a special version of the ED XR8 and create the highly sought-after and award-winning XR8 Sprint, reviving an evocative early Falcon performance nameplate.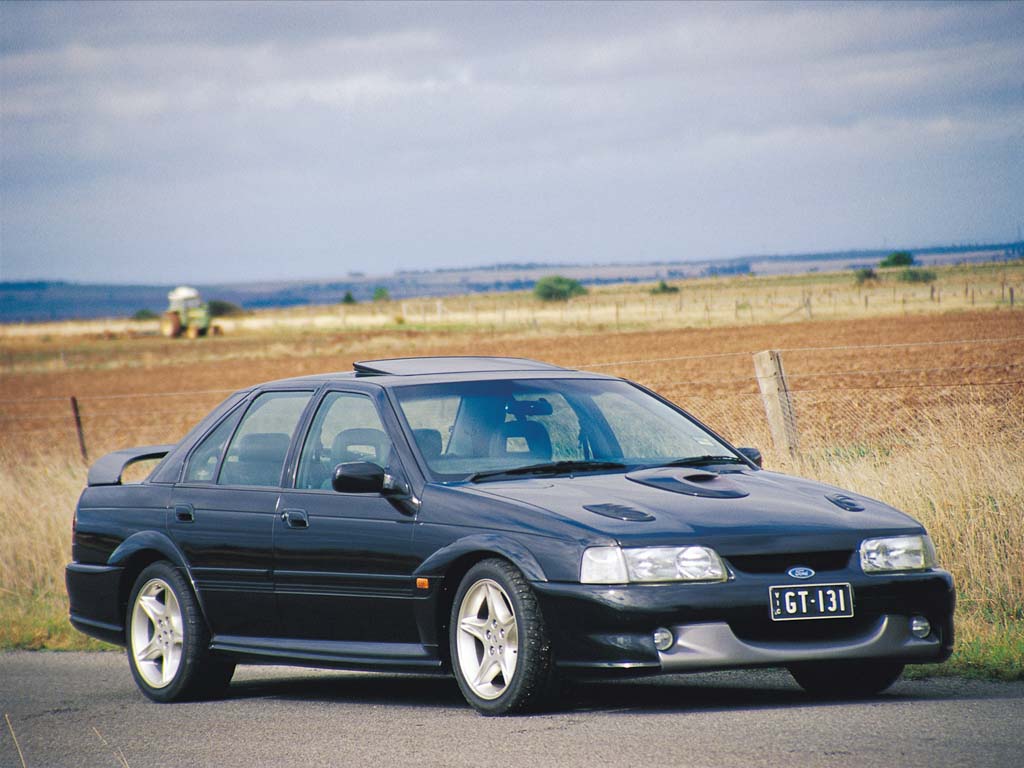 In Detail
| | |
| --- | --- |
| submitted by | Richard Owen |
| production | 265 |
| engine | Windsor V8 w/GT-40 big-valve crossflow heads |
| position | Front Longitudinal |
| valvetrain | OHV |
| fuel feed | Electronic Multi-Point Fuel Injection |
| displacement | 4942 cc / 301.6 in³ |
| bore | 101.6 mm / 4.0 in |
| stroke | 76.2 mm / 3.0 in |
| compression | 9.00:1 |
| power | 200 kw / 268.2 bhp @ 5250 rpm |
| specific output | 54.27 bhp per litre |
| torque | 420 nm / 309.8 ft lbs @ 4000 rpm |
| driven wheels | RWD |
| front tires | 245/40ZR17 Pirelli P-Zero |
| rear tires | 245/40ZR17 Pirelli P-Zero |
| front brakes | Vented Discs w/ABS, Servo Assist |
| f brake size | x 287 mm / x 11.3 in |
| rear brakes | Vented Discs w/ABS, Servo Assist |
| r brake size | x 287 mm / x 11.3 in |
| front wheels | F 43.2 x 21.6 cm / 17 x 8.5 in |
| rear wheels | R 43.2 x 21.6 cm / 17 x 8.5 in |
| f suspension | Wishbones w/Coil Spring over Strut-Type Dampers, 27mm Roll Bar |
| r suspension | Live Axle w/Upper & Lower Longituidnal Arms, Transeverse Watts Linkage, Variable-Rate Coil Springs,22mm Anti-Roll Bar |
| wheelbase | 2794 mm / 110.0 in |
| length | 125908 mm / 4957 in |
| width | 47574 mm / 1873 in |
| height | 35077 mm / 1381 in |
| transmission | BTR T5 5-Speed Manual or BTR95LE 4-Speed Auto |
| gear ratios | 3.35:1, 1.99:1, 1.33:1, 1.00:1, 0.72:1, :1 |
| final drive | 3.27:1 |
| top speed | ~255 kph / 158.4 mph |
| 0 – 100 mph | ~7.2 seconds |