Ferrari F50
Ever since the FIA refused to homologate the 250 LM in 1964, Ferrari have focused their motor sport efforts on Formula One. After the sixties, this transition largely contrasted Ferrari's factory race cars from their road cars. To bridge this engineering gap, Ferrari have offered limited production road cars which both reflect Formula One technology and pay for Formula One efforts. The Ferrari F50 is one such car.
288 GTO to F40 to F50
The first special-series Ferrari road car was the 288 GTO. It was released twenty two years after the 250 GTO which was one of the last great dual purpose road and race cars. Like the original, the 288 GTO was homologated for racing. This time Group B rally was the target and five distinct GTOs were prepared. Unfortunately, the Group B series ended in 1987 without a 288 GTO ever seeing action.
Following the 288 GTO, a second limited production road car was built. Motivated by the 288 GTO Evolution, the F40 was released to celebrate Ferrari's fortieth anniversary. The car was packed with racing technology including twin IHI turbochargers, a Kevlar reinforced steel space frame and composite body panels. Following its race car tradition, few creature comforts were offered in the F40. There was no radio, carpets, power windows or door panels.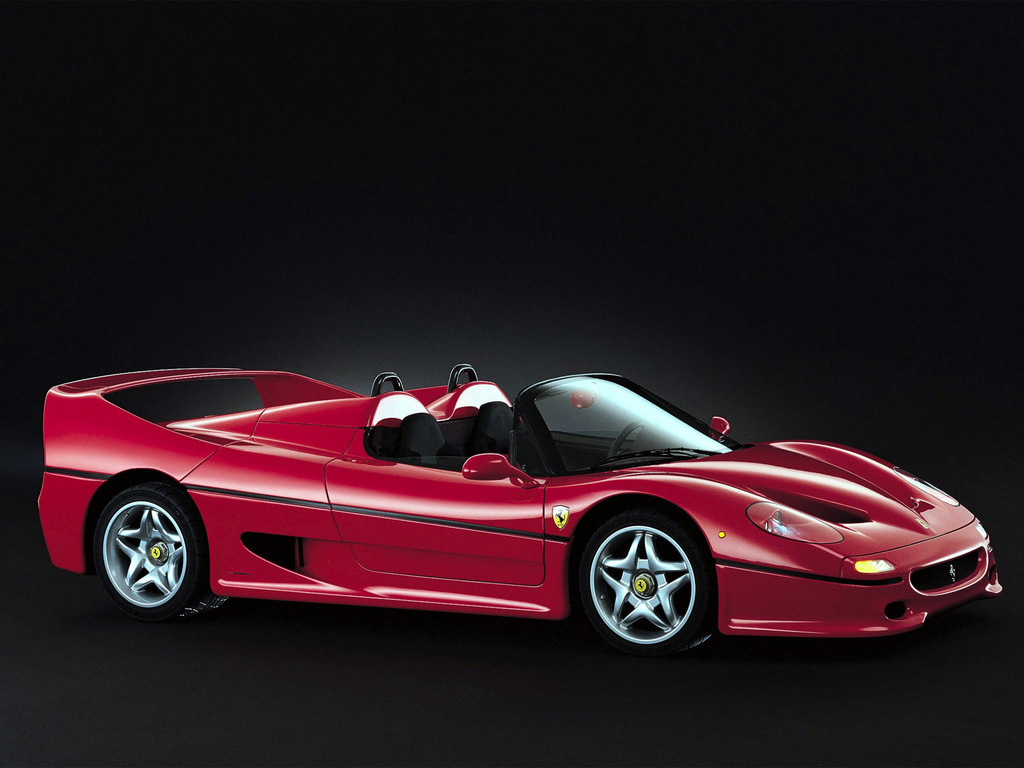 As released by Enzo Ferrari, the F40 was the fastest road-going car in 1987. Its performance figures from zero to sixty and top speed remained hard to beat even ten years after production. In fact, with such blistering performance the F40's dominance over the supercar market was total. Initially only 279 cars were to be built, but with such a high demand over 1300 examples were sold.
For Ferrari's fiftieth anniversary, another limited production supercar was planned. Following the release of a car like the F40 was no easy task and the F50 had to impress. Adopting Formula One technology would be a major selling point for the F50. As such, Ferrari made no compromises to comfort when designing the car.
Chassis
Providing a basis for the F50 is a carbon fiber tub incorporating the interior and rubber compound fuel tank. Attachment points for both the engine/transmission unit and front suspension are provided by aluminum inserts. Behind the rear bulkhead, the engine and transmission unit provide structural support for the car removing the need for a sub frame. As such, the rear suspension connects directly engine and gear box unit.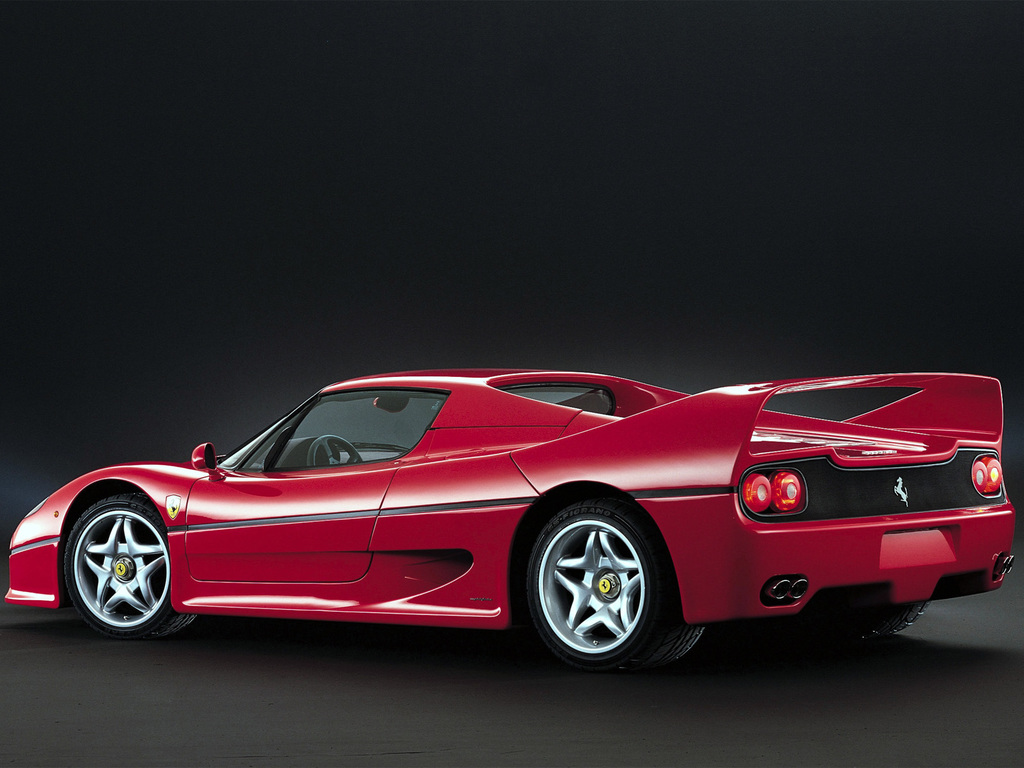 The F50 is suspended via double wishbones with inboard damping and springing. Damping is an area in which the suspension excels, especially for the technology available during the era. Electronic damper units continually modify the level of damping to suit the many dynamic states of the F50. An electronic control unit (ECU) manages damping rates in real time, monitoring lateral acceleration, longitudinal acceleration and steering angles to select the optimum degree of damping. Such a system reduces body roll and stabilizes the aerodynamics around the car. Electronic damping systems, like the one found of the F50 are currently being employed on regular production Ferraris including the 575M.
Direct links in the F50's suspension system yield precise wheel movement. This means the F50 has no rubber elements in the entirety of the system. These linkages offer a firm and accurate ride, and do not compromise to driver comfort.
For braking, the F50 uses Brembro vented discs with four-piston aluminum calipers. Reinforcing the serious nature of this car, the brakes do not have an anti-lock system and are unassisted.
Engine
Both the 288 GTO and Ferrari F40 feature turbocharged V8s. The F50 is unlike these cars as it uses a engine motivated by the 1994 Ferrari 412T Formula One car. It features a narrow angle V12 which is similar to the one in the 1994 412T. The F50's version has an increased capacity of 4.7 liters to offer increased torque and driveability.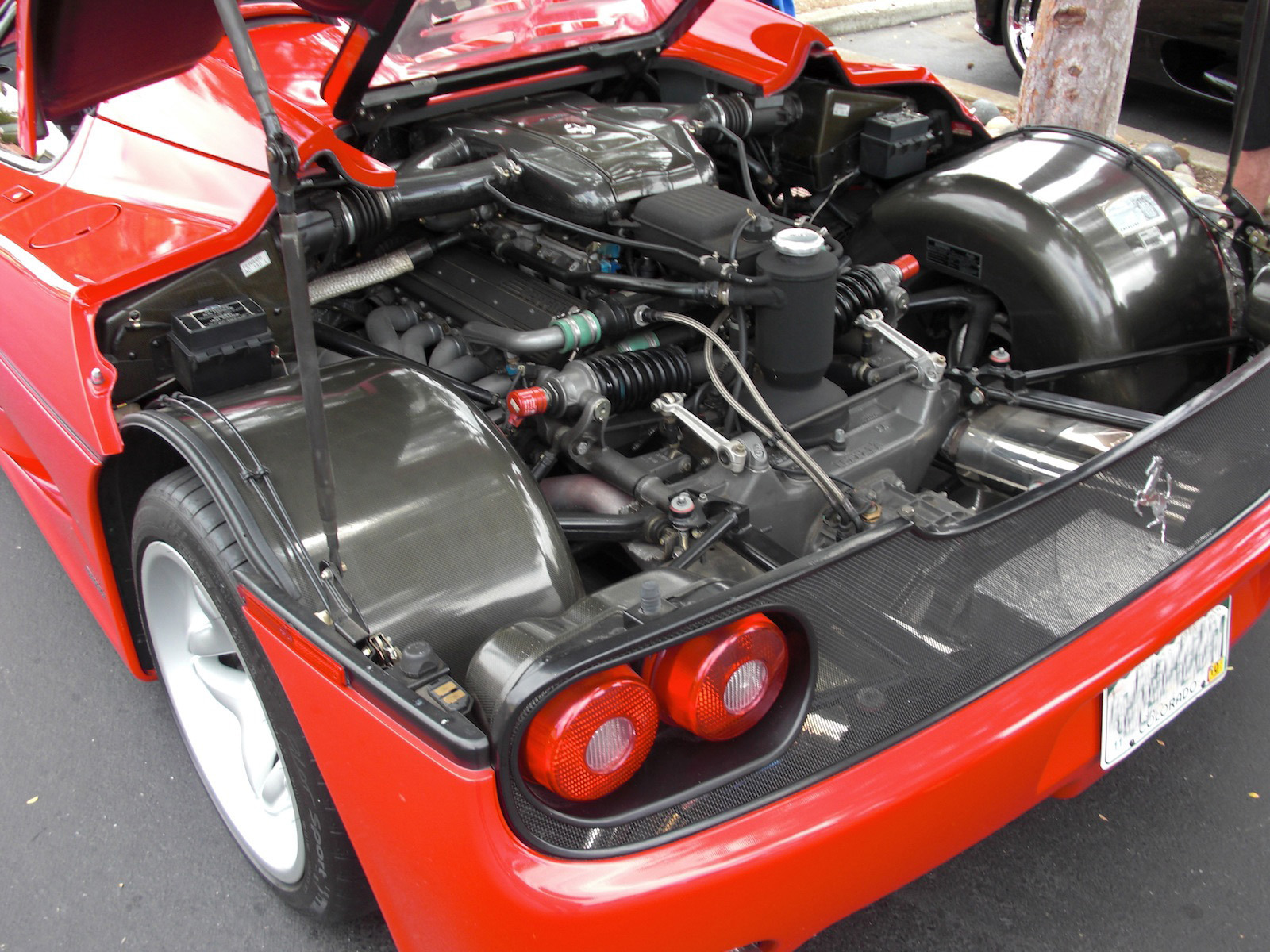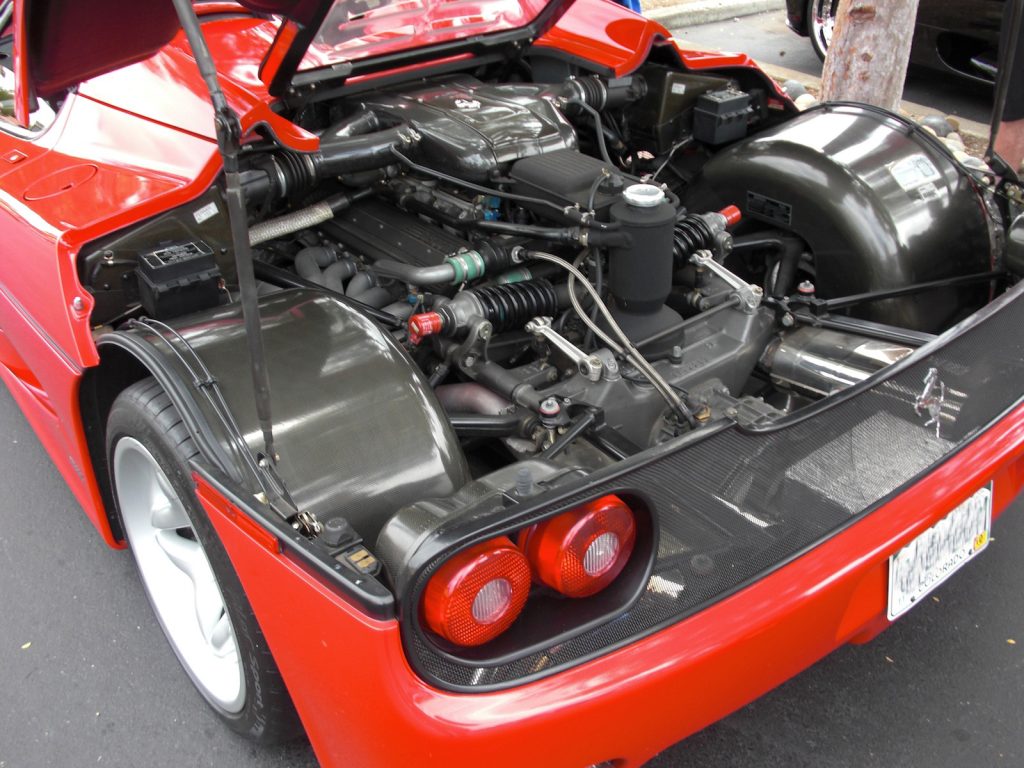 The block itself is made from cast iron, with aluminum cylinder heads. Just behind the engine is a magnesium oil unit and longitudinal gear box. The oil unit provides the links to the suspension and is an integral part of the engine's dry sump system.
Inside the combustion chamber resides five valves, three for intake and two for exhaust. The idea being that smaller valves allow a higher flutter speed. In the F50's case, the valves can cope at speeds up to 10 000 rpm.
Body
While Pininfarina is responsible for the F50 styling, the wind tunnel largely shapes both the roadster and coupe version of the F50. The body is made completely of composites, specifically carbon fiber, kevlar and Nomex honeycomb. To remind the owner of was lurks under the red, yellow or black paint, the carbon fiber weave is visible in the texture of the body.
Conclusion
Many people have looked upon the F50 project as somewhat of a failure. I can see where they are coming from; the F50 didn't receive a race program and never set any precedents in performance. It is this attitude that is usually held by people how have yet to experience the F50 in person, on track or, better yet, behind the wheel. While in static performance figures the F50 even loses to its younger F40 brother, it is the dynamic driving, and especially handling where this Ferrari excels.
Specs & Performance
| | |
| --- | --- |
| submitted by | Richard Owen |
| type | Series Production Car |
| production years | 1995 – 1997 |
| built at | Maranello, Italy |
| production | 349 |
| price $ | $ 480,000 |
| engine | 65° V12 w/Dry Sump Lubrication and Alloy Heads |
| position | Mid -Longituinal |
| aspiration | Natural |
| block material | Cast Iron |
| valvetrain | DOHC, 5 Valves per Cyl w/Varible Intake Manifold |
| fuel feed | Bosch Fuel Injection w/Varibale Intake Manifold |
| displacement | 4700 cc / 286.8 in³ |
| bore | 85.0 mm / 3.35 in |
| stroke | 69.0 mm / 2.72 in |
| compression | 11.3:1 |
| power | 382.6 kw / 513.1 bhp @ 8500 rpm |
| specific output | 109.17 bhp per litre |
| bhp/weight | 388.71 bhp per tonne |
| torque | 470.47 nm / 347 ft lbs @ 6500 rpm |
| redline | 8500 |
| body / frame | Carbon Fiber Body over Caborbon Fibre Tub Chassis |
| driven wheels | RWD |
| wheel type | Speedline Magnesium Alloy |
| front tires | P245/35ZR-18 Goodyear Eagle F1 GS Fiorano |
| rear tires | P335/30ZR-18 Goodyear Eagle F1 GS Fiorano |
| front brakes | Unassisted Cast Iron Brembro Discs w/4-Piston Calipers |
| rear brakes | Unassisted Cast Iron Brembro Discs w/4-Piston Calipers |
| front wheels | F 45.7 x 21.6 cm / 18.0 x 8.5 in |
| rear wheels | R 45.7 x 33.0 cm / 18.0 x 13.0 in |
| steering | TRW Rack & Pinion w/Power Assist |
| f suspension | Double Wishbones w/Inboard Bilstein Springs and Electonic Damper Units |
| r suspension | Double Wishbones w/Inboard Bilstein Springs and Electonic Damper Units |
| curb weight | 1320 kg / 2910 lbs |
| wheelbase | 2580 mm / 101.6 in |
| front track | 1620 mm / 63.8 in |
| rear track | 1602 mm / 63.1 in |
| length | 4480 mm / 176.4 in |
| width | 1986 mm / 78.2 in |
| height | 1120 mm / 44.1 in |
| transmission | Longitudinal 6-Speed Manual |
| tran clutch | Twin Dry Plate |
| gear ratios | 2.933:1, 2.157:1, 1.68:1, 1.360:1, 1.107:1, 0.903:1 |
| final drive | 3.70:1 |
| top speed | ~325.1 kph / 202.0 mph |
| 0 – 60 mph | ~3.7 seconds |
| 0 – 100 mph | ~8.2 seconds |
| 0 – 1/4 mile | ~12.1 seconds |
| drag | 0.372 Cd |
| city fuel econ epa | 28.00 L/100 km or 8.4 mpg-us |
| hwy fuel econ epa | 16.68 L/100 km or 14.1 mpg-us |
| fuel capacity | 104.84 litres or 27.7 gal. |
Ferrari F50 Video
Watch awesome Ferrari videos here
Ferrari F50 Image Gallery
Auction Sales History
1995 Ferrari F50 ZFFTG46AXS0104063 – sold for $1,980,000 The 59th of 349 F50s produced; one of only 55 U.S.-production examples. Purchased new by 250 GTO owner Greg Whitten. Only 5,800 miles from new. Recent full service by Ferrari of Central Florida. The last six-speed manual Ferrari supercar; a surefire future classic. The only open-top Ferrari supercar. Auction Source: RM Sotheby's Monterey 2015
1996 Ferrari F50 ZFFTA46B000106570 – sold for €1,232,000 The 215th of 349 examples produced. Recent service by Ch. Pozzi; presented in stunning condition. Complete with books, tools, and luggage. Ferrari's iconic 50th anniversary supercar. Auction Source: Villa Erba 2015 by RM Sothebys
1997 Ferrari F50 ZFFTA46B000106865 – sold for €907,200 Single ownership and 8,900 kilometres from new. Ferrari's iconic 50th anniversary supercar; one of 349 produced. Ferrari Classiche certified. Complete with all factory books and a hardtop and soft-top. Auction Source: 2014 Monaco by RM Auctions
1995 Ferrari F50 ZFFTG46A9S0104121 – sold for $1,650,000 Only 230 actual miles. As-new condition throughout. Complete with full factory tool set and garment bag. Ferrari Classiche certification pending. Auction Source: 2014 Arizona by RM Auctions
1995 Ferrari F50 ZFFTA46B000099999 – sold for $1,677,500 The original show car used to introduce the F50 at Geneva in 1995. The last Ferrari with a five-digit chassis number. Used for F50 promotional materials. Delivered new to legendary Ferrari dealer Jacques Swaters. Carefully maintained, with less than 1,100 miles. Auction Source: 2013 Monterey Auction by RM Auctions
1997 Ferrari F50 ZFFTA46B000106910 – sold for €560,000. Chassis 106910 is an exceptional example of one of Ferrari's most breath-taking modern hypercars, claiming ownership by just two dedicated caretakers, as well as minimal use and optimal documentation. Believed to be the 283rd example of 349 built, this well-maintained F50 was sold new to Luigi Francesco Annovazzi, of Milan, Italy. The car was only sporadically used over the following six years, displaying 9,300 kilometres when sold to the consignor in September 2003.
Chassis 106910 currently displays approximately 12,000 kilometres, and it has been recently serviced in preparation for its offering here. The car is accompanied by desirable Ferrari Classiche certification that further bolsters its status as a factory-authenticated, matching-numbers example. Additionally, it also includes the original books and tools, as well as both soft and hard tops with their respective bag and protective case. Auction Source: 2013 Villa d'Erba Auction by RM
1995 Ferrari F50 ZFFTG46A9S0103289 – sold for $1,375,000 A Groundbreaking Ferrari Supercar. The 10th of Only 349 Examples Built. US-Specification F50 Delivered New to California. Two-Owner Car with Less than 500 Miles from New. Featured in the May 2010 Issue of Forza Magazine. Untouched, As-Delivered Condition. Complete with Hardtop, Books, Tool Kit, and Luggage. Auction Source: The 2013 Amelia Island Auction by Gooding & Company
1995 Ferrari F50 ZFFTG46AXS0104192 – sold for $1,375,000 A Groundbreaking Ferrari Supercar. The 71st of Only 349 Examples Built. Rare and Desirable US-Specilcation F50. Less than 700 Miles and Just Two Registered Owners from New. Highly Original and Preserved in Delivery Specification. Offered with Important Accessories and Recent Service Records. A Rare Opportunity for the Discerning Ferrari Collector. Auction Source: The 2013 Scottsdale Auctions by Gooding & Company
1995 Ferrari F50 – sold for $660,000 Show-Car-Derived Pininfarina Styling. One of Only 349 Examples Produced. Well-Documented History. Complete with Factory-Delivered Hardtop. Approximately 7,700 Miles from New. Offered with Recent Service Records. Ferrari's Original Formula One Car for the Road Auction Source: 2011 Amelia Island Auction by Gooding & Company
1995 Ferrari F50 ZFFTG46A5S0103922 – sold for $814,000 One of Only 349 Examples Produced. Owned by Benny Caiola from New. Just over 5,000 Original Miles. Consistent Maintenance and Care. Exceptional Condition Inside and Out. Complete with Factory-Delivered Accessories.Ferrari's Original Formula 1 Car for the Road Auction Source: 2011 Scottsdale Auction by Gooding & Company
1995 Ferrari F50 Show Car 99999 – sold for $742,500. The Ferrari show car used to introduce the F50 to the world. Last Ferrari with five-digit chassis number. Sold new to Ferrari dealer Jacques Swaters of Belgium. Carefully maintained, with less than 900 miles.
Under the current owner, the F50 was federalized by G & K in Irvine, California, carefully maintained and sparingly driven. Today, the odometer shows fewer than 900 miles. It recently received a full mechanical inspection, the fuel bladder was replaced, and new tires were installed. As offered today, the car is virtually perfect, fully serviced and complete with a dossier of documents including Ferrari Classiche certification.
The condition of this F50 will satisfy the most demanding collector of high performance automobiles and ensures that it will be able to provide all the remarkable performance for which enthusiasts everywhere revere these exceedingly rare supercars. A "halo car" in the purest sense, it offers a driving experience unlike any other – at once nimble, exhilarating and unapologetically aggressive. Auction Source: 2011 Automobiles of Arizona by RM Auctions
1996 Ferrari F50 105193 – did not sell for €450,000. The F50 on offer, chassis 105193 was delivered on July 12, 1996 to HRH Prince Saud Bin Fahad Bin Abdulaziz Al-Saud to his residence in Paris, France. Build number 148 of 349, HRH retained the car until 2002 at which point the car was sold to the U.K. where it was then registered.
Finished in red with a black and red interior, this F50 has accumulated relatively low mileage from new. While the odometer currently reads 993 miles, it is known that a Ferrari dealer replaced the speedometer three years ago, when it was showing 2,724 kilometres, to comply with UK rules and regulations. With a recent full service by official Ferrari dealer Joe Macari, the Formula 1 and IMSA series 333 SP-based V-12 is ready to provide 105193's next owner with an extraordinary driving experience quite unlike that of virtually any other road-going sports car. Auction Source: 2008 Leggenda e Passione