1995 Porsche 911 Carrera RS 3.8
Model: 993 Carrera RS 3.8
Engine: 3,746cc, air-cooled horizontally flat six
Power: 300.0 bhp @ 6,500 rpm
Torque: 261.83 lb/ft @ 5400 rpm
Weight: 1270 kg (2799.87 lbs)
0-60 mph: 4.7 sec (est)
Top Speed: 172.1 mph
The Carrera RS 3.8 is the ultimate lightweight special edition 911 variant of the 993 Carrera generation. It featured a naturally aspirated 3.8 liter engine with 300 hp and 262 lb/ft of torque. On the outside, it has aggressive looks, that easily distinguishable rear wing, small front flaps and 3-piece 18-inch wheels. The Carrera RS was produced in model year 1995 and 1996.
Related posts: 993 Carrera RS 3.8 Clubsport / 993 Porsche Research
A True Homologation Model
The 993 generation gave us some great Porsches. You had the 993 Turbo which was a straight line weapon and executive torque monster. Then there was the 993 GT2, a real beast of a car (in a good way) that should have come with warning stickers taped all over it. But, it is the RS 3.8 that is the ultimate 993 car for us, the perfect air cooled Porsche. The 993 RS is a simply sublime driver's cars and one of the most engaging cars ever made.
While all 911s are truly brilliant cars, the Carrera Cup based Type 993 Carrera RS is one of those very best. As it was based on the Carrera Cup competition car, it was specifically conceived as a homologation special to qualify the RSR 3.8 for BPR GT3 and GT4 racing. That is why the 993 RS 3.8 was street legal in European and many other countries, but was not exported to the US.
Special Engine & Mechanical Package
The RS 3.8's awesome M64/20 engine was a fitting farewell for the naturally-aspirated, air-cooled flat-six. It is a 3,746 cc air-cooled horizontally opposed six-cylinder with Variocam and Motronic engine management. The engine is coupled to a six-speed manual transmission.
The standard Carrera's engine received a bore enlargement to 102mm, helping the 3.8 achieve its 3,746cc capacity, up from the standard 993 Carrera 3.6 liter capacity. Internally, forged pistons of a reduced height and a relocated wrist-pin helped to keep piston weight below the standard engine and reduced the rotating mass within the engine which helped the M64/20 engine rev much freer.
Better breathing came from increased intake and exhaust valves in addition to Porsche's 'Variocam' system. Variocam varies the timing of the intake valves by adjusting the tension on the timing chain connecting the intake and exhaust camshafts. The M64/20 flat six also got dual oil coolers and lightened rocker arms, amongst a host of other upgrades.
The result was that the Carrera RS 3.8 had a cracking overall engine. Power came in at 300 bhp at 6,500 rpm and torque of 262 lb/ft at 5,400 rpm. With the additional low-end torque provided by the increased displacement, Porsche created a motor that had more low end grunt and still relished in revving to a very healthy (and fun) 7,100 rpm redline.
Mechanically, the suspension was upgraded with a front strut brace, ball-joint front damper mounts, and adjustable anti-roll bars, with five positions for the 24-millimeter front bar and three positions for the 21-millimeter rear piece. The center of gravity was lowered thanks to a reduction, 30mm front and 40mm rear, of the suspension's ride height. This suspension offered supreme control, not just in handling but also setup. Those 5-way adjustable front anti-roll bars and struts really allowed the driver to dial everything in precisely to their liking.
The Carrera RS also received a limited-slip differential, the same anti-lock braking system as the 993 Turbo, and ABS traction control. There is also a strong but light transverse front suspension brace in the front trunk area, bolted to special cast-alloy brackets, as well as a trunk-mounted ignition-kill switch.
Larger (12.7 in. in diameter in front and 11.8 in) ventilated and cross-drilled disc brakes with 4 piston brakes both decreased un-sprung mass while increasing stopping power especially on track. Stopping was also aided by ABS. Large tires wrapped around three-piece Speedline wheels all around ensured a maximum footprint on the tarmac. The wheels were standard 9- and 11-inch wide by 18-inch diameter with 235/40 and 285/35 tires.
Stiffer, & With Less Weight
The Carrera RS 3.8 was based off the Carrera Cup car, which itself was basically a very heavily modified Carrera 2 bodyshell. "Heavily modified" means it was seam-welded, stiffened and track-prepped. The much stiffer chassis also had rolled wheel arches and aerodynamic enhancements that make the RS 3.8 stand out. The beautiful split-rim alloy three-piece Speedline wheels were added too.
The Porsche team went to extreme lengths to make the Carrera RS as light as possible. The engineers were able to get the weight down to 2800 lbs, a saving of over 220 lbs. Porsche did this by being obsessed with taking weight out of the platform. They deleted virtually everything that was unnecessary, including central locking, audio system speakers, power-adjustable seats, electric windows and mirrors, air bags, rear defroster, and even the headliner! And Porsche didn't stop there. The Carrera RS even featured thinner window glass, an aluminum front boot lid and doors, lighter Recaro seats, and lightweight interior door panels with traditional fabric pulls. Sound proofing was reduced to a minimum and Porsche even removed the headlight washers to save weight too.
Driving One
While the 964 Carrera RS that debuted several years earlier is seen as uncompromisingly hardcore, the 1995 RS 3.8 benefitted from all the work that had been done producing the 993 platform and is a the sweeter ride as a result. Driving a 993 RS it is clear how those changes managed to improve stability, ride quality, and reduced the tendency for the car to oversteer off-throttle.
This is easily one of the best 911s to drive irrespective of era. Sure it isn't as potent as today's 911s, but it is still genuinely quick, with more than enough power for any reasonable usage. 3
300bhp in a car that weighs just 2800 lbs is an intoxicating combination especially with that extra torque from the M64/20 power unit. While torque was up (and definitely appreciated), this flat-six thrives on revs. With the throttle response being fabulously instantaneous I just can't think of why you would ever need more power in car (and I am being dead serious).
The balance between power, steering and chassis is near perfect. The steering is beautifully weighted and the feel and directness of the steering leave today's electronically assisted systems for dead (it is just way better). You can feel everything happening beneath you and the steering wheel wiggles in your hands and immerses you, letting you know that you are calling the shots.
Buyers Guide
Only 55 993 RS 3.8s were constructed, just enough to satisfy the FIA minimum. Of the 55 units made, 52 were left-hand drive and 3 had right-hand steering. Given how few of them exist, this is less of a buyers guide section and more a commiseration section for those of us who don't already own one and aren't billionaires.
Today these 993 Carrera RS 3.8s are some of the most prized collector cars on the planet and they are going for seven figures. As the last in a historic line of air-cooled RS models, this 993 really did have the weight of the 911 world resting on its shoulders. But that it exceeds all expectations goes a long way to explaining why it's so sought after today.
The sad part of course is that one of the best drivers cars ever made is most likely sitting tucked away in a collection and not being used. Sigh.
Specs & Performance
Straight line performance doesn't seem fast by today's standards, but we can tell you that the 993 RS 3.8 is a true performance car no matter what you are used to. 0 to 60 mph is over in just 4.7 seconds (it feels way faster), with 0-100 mph taking 11.2 seconds. Top speed is 172 mph.
| | |
| --- | --- |
| Model | Porsche 911 Carrera RS 3.8 (993) |
| Model Years | 1995 and 1996 |
| Type | Series Production Car |
| Engine | Air Cooled Flat 6 |
| Displacement | 3746 cc / 228.6 in³ |
| Compression Ratio | 11.3:1 |
| Kerb Weight | 1270 kg / 2799.87 lbs. |
| Power | 223.7 kw / 300.0 bhp @ 6,500 rpm |
| Specific Output | 80.09 bhp per litre |
| Torque | 355 Nm / 261.83 lb/ft @ 5400 rpm |
| Driven Wheels | Rear Engine / RWD |
| Cylinder Bore | 102 mm / 4.02 in. |
| Piston Stroke | 76.4 mm / 3.01 in. |
| Number of valves per cylinder | 2 |
| Fuel System | Multi-point injection |
| Valvetrain | SOHC |
| Transmission | Manual transmission, 6 gears |
| Front suspension | McPherson |
| Rear suspension | Multi-link independent |
| Front brakes | Ventilated discs, 322 mm |
| Rear brakes | Ventilated discs, 322 mm |
| ABS | Yes |
| Steering type | Steering rack, with Hydraulic Steering |
| Tires | 225/40 ZR18; 295/35 ZR18 |
| Body / frame | Unitary Steel Monocoque |
| Length | 4245 mm / 167.13 in. |
| Width | 1735 mm / 68.31 in. |
| Height | 1270 mm / 50 in. |
| Wheelbase | 2284 mm / 89.92 in. |
| Front track | 1413 mm / 55.63 in. |
| Rear (Back) track | 1452 mm/ 57.17 in. |
| Ride height | 90 mm / 3.54 in. |
| Top Speed | ~277 kph / 172.1 mph |
| 0 – 60 mph | ~4.7 seconds |
| 0 – 100 mph | ~11.2 seconds |
| 0 – 1/4 mile | ~13.2 seconds |
Videos
In this first video our favorite Doug DeMuro test drives and reviews the "forbidden 993". In the second video the guys from Autoethica spend a Sunday morning with this incredible Porsche 993 Carrera RS.
Pictures
We have only included a few pictures of the 993 Carrera RS 3.8 here, but don't fret because we have more pictures in our full 993 Carrera RS 3.8 picture gallery.
Auction Sales History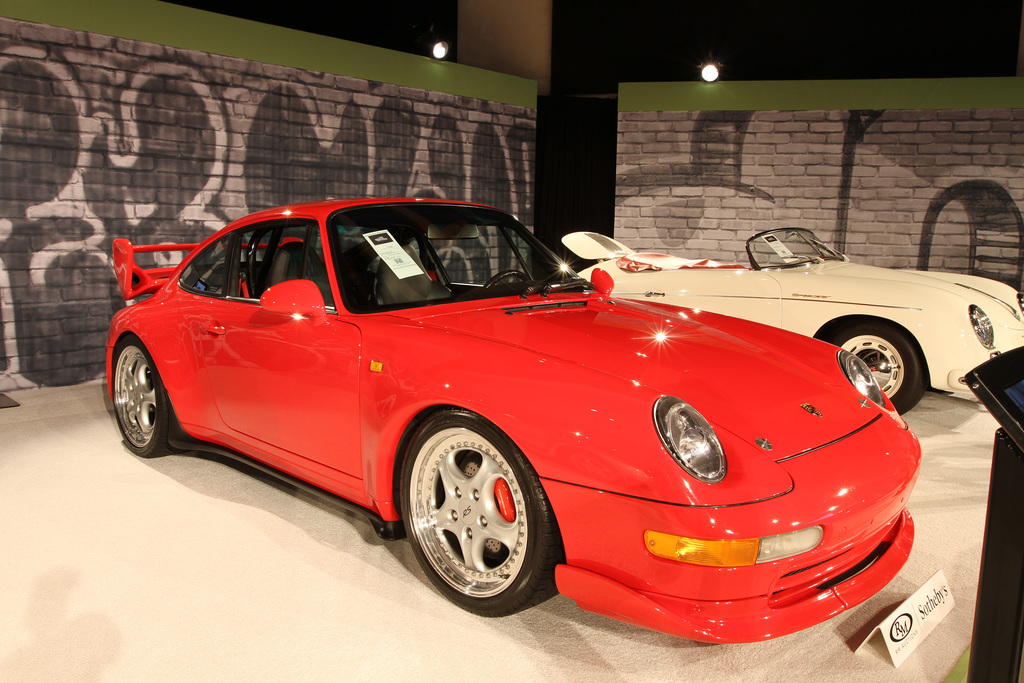 1996 Porsche 911 Carrera RS 3.8 WP0ZZZ99ZTS390503 – sold for $550,000 Delivered new to Germany in Guards Red over a black leather interior fitted with optional electric windows, air conditioning, and front airbags. Imported to the United States and federalized by G&K Automotive Services in Santa Ana, California, in 2003. Recent repaint. 42,000 miles.
Auction Source: RM Sotheby's Monterey 2015