1999 Bugatti 18/3 Chiron
18/3 Chiron was the first of several Bugatti concepts that led to the eventual design of the 16/4 supercar almost ten years later. Like the 16/4, this concept features a complex engine, specifically the W18 that was from the EB 118 and EB 218 which came before it. The car was named in honor of Louis Chiron, a famous Bugatti driver who won the 1927 Grand Prix of France in a Type 35.
Fabrizio Giugiaro of Italdesign was responsible for the design with input from Hartmut Warkuss from the VW design center in Wolfsburg. In creating a logical successor to the EB110, they had the unique opportunity to style Bugatti's flagship model. Important design elements de the return of the horse shoe classic radiator, inset front lights, converging front hood and an exposed intake plenum. All of these elements would eventually be integrated into the final production model.
Subtle details of the Chiron included eight spokes wheels wrapped in 20 inch tires that were similar to the cast aluminum wheels first found on Louis Chiron's Type 35B. Lighting on both ends of the car was cutting edge, with triple Xenon headlights and stretched turn signals.
Airflow management was a large consideration in the design. The small shoehorn radiator couldn't provide enough air for the massive 6-liter engine so a large aperture was needed below it. Much of this air was extracted though vents located forward of the front wheels. A smaller system was used on the side of the car for the rear brakes. Eventually it was these cooling systems that delayed production of the final version.
Aerodynamics were another key consideration in the design. Like the Diablo, the Chiron had a rear bumper with integrated diffuser. At high speeds a retractable rear wing was deployed much like the EB110 supercar.
Inside the car was stripped out, but covered in Blu Pacifico and Sabbia leather. Aluminum accents were used as well as a removable watch on the passenger side.
Since all Italdesign cars were built as fully working models, it should be no surprise that they utilized Lamborghini running gear. Specifically they sourced the viscous traction 4WD chassis from the Diablo VT. In 2000 VW completely revamped the body and chassis of the car with the Bugatti 18/4 Veyron prototype.
Bugatti 18/3 Chiron Pictures & Gallery
See full 1999 Bugatti 18/3 Chiron Gallery here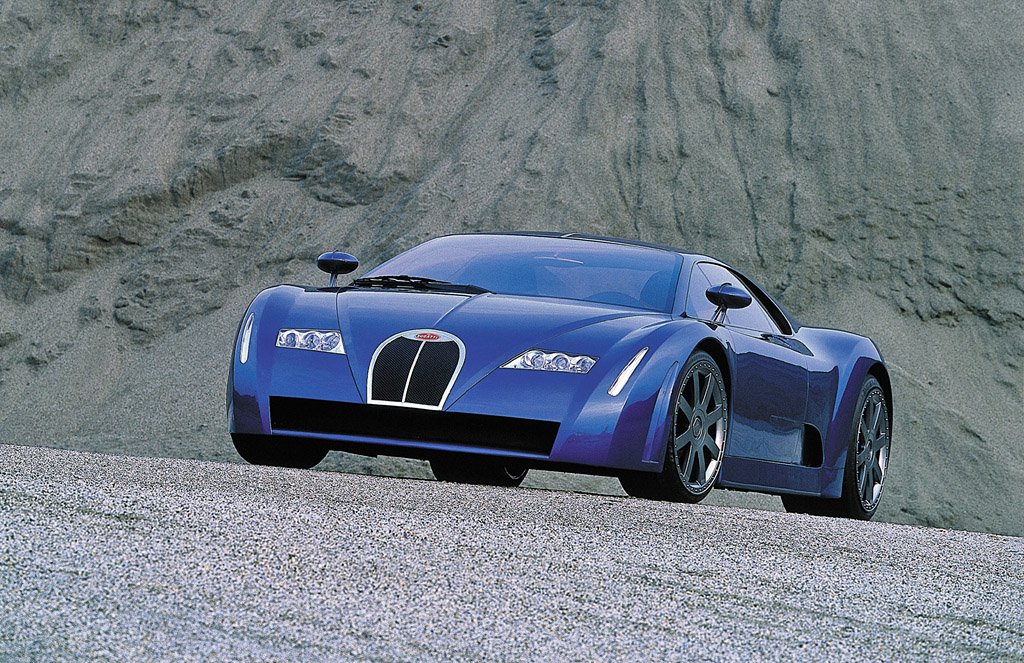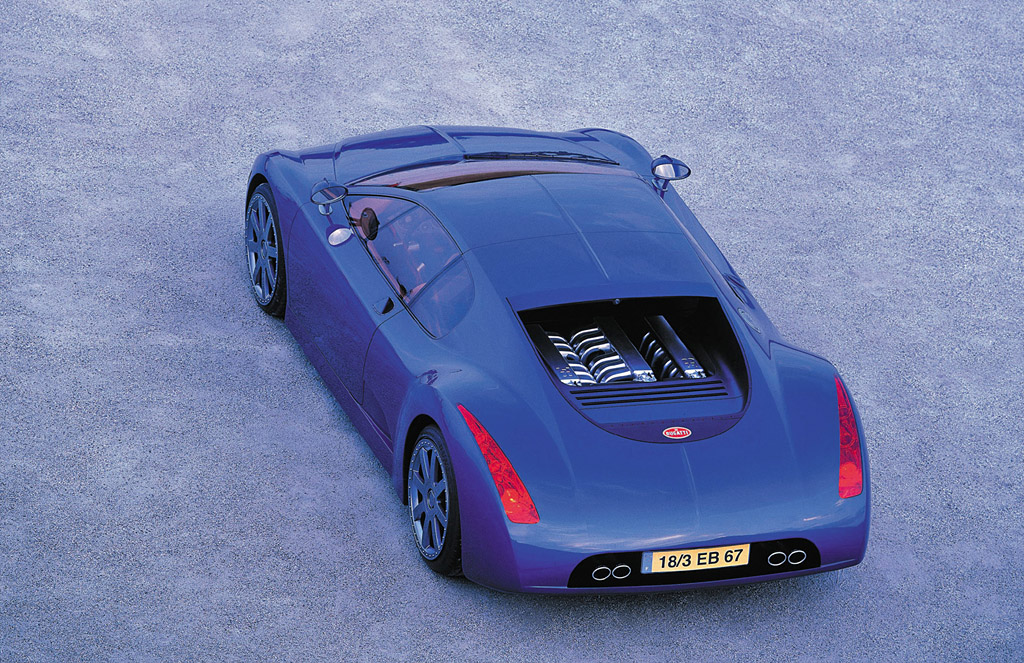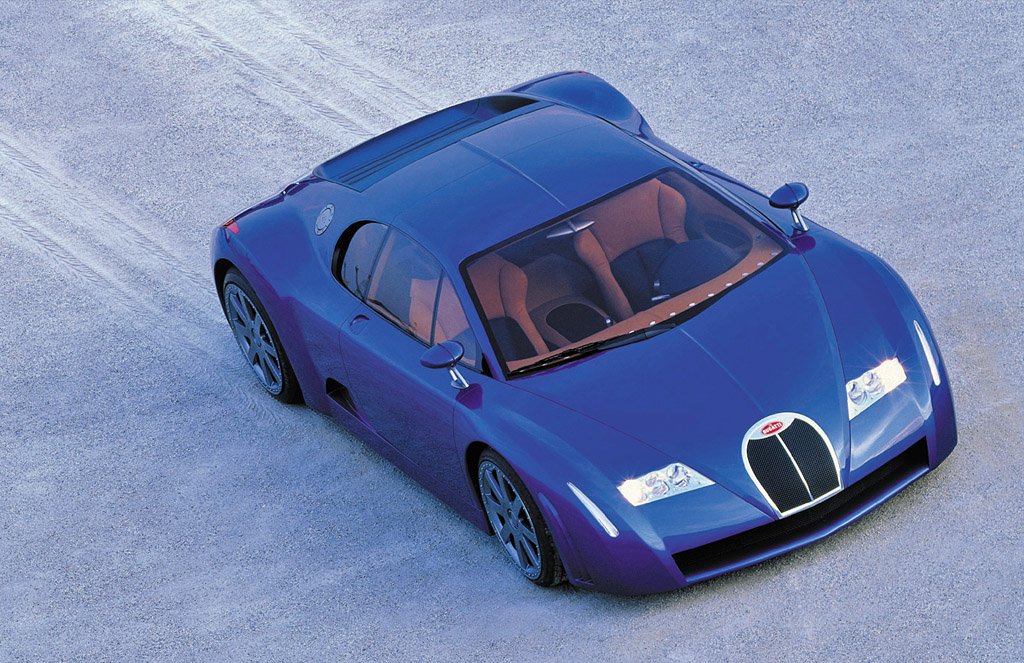 Specs & Performance
| | |
| --- | --- |
| | |
| type | Concept / Prototype Car |
| released at | 1999 Frankfurt Motor Show |
| body stylist | Fabrizio Giugiaro, Hartmut Warkuss |
| coachbuilder | Italdesign |
| production | 1 |
| engine | W18 |
| position | Mid, Longitudinal |
| displacement | 6250 cc / 381.4 in³ |
| bore | 76.5 mm / 3.01 in |
| stroke | 75.6 mm / 2.98 in |
| compression | 11.5:1 |
| power | 413.9 kw / 555.0 bhp @ 6800 rpm |
| specific output | 88.8 bhp per litre |
| torque | 650.0 nm / 479.4 ft lbs @ 4000 rpm |
| body / frame | Cabron Fiber Body over Lamborghini Diablo VT Chassis |
| driven wheels | 4WD |
| wheel type | Eight Spoke |
| front tires | F 265/30R-20 |
| rear tires | R 335/30R-20 |
| wheelbase | 2650 mm / 104.3 in |
| length | 4420 mm / 174.0 in |
| width | 1994 mm / 78.5 in |
| height | 1150 mm / 45.3 in |
| transmission | 5-Speed Manual |
| top speed | ~300 kph / 186.4 mph |