2000 Ford Mustang Cobra R
Officially introduced in 1964, the Mustang quickly became an American icon. Since it's inception, many groups including Ford's SVT, SVO and BOSS teams have all released high performance derivatives of this road-going machine. Even the great Carol Shelby saw the potential in this mass-produced vechicle, taking his GT350 to the track in the sixities.
Following a ten year absence of Ford-produced performance Mustangs, SVT was created to revive the heritage of the BOSS and Shebly Mustangs. In 2000, production was stopped on the SVT Cobra, and the car was replaced with the Cobra R. This car was a limited edition supercar of which only 300 would be built.
Together with John Coletti, SVT modified the Cobra into the mighty Cobra R. Showing off its performance nature, the Mustang R, lacks a rear seat, with no radio, airconditioning or extranneous instrumentation. Outwards, a Steeda-like bodykit is affixed. It includes an agressive front dam with brake cooling and a huge rear wing to keep the rear-end in check.
As for mechanics, SVT crammed the large Triton V8 into the Cobra R for its increased displacement. This engine offered an extra liter of displacement over the standard 4.6-liter Cobra unit. SVT then used Carrillo connecting rods, flatter pistons and more agreesive cams to increase performance. Finishing off the system, the engine was connected to a Bassanni X-Pipe leading to a free-flow Borla exhaust.
The suspension was also upgraded using Bilstein shock aborbers, firmer bushings, Eibach springs and 26mm anti-roll bars.
In creating the Cobra R, Collani and SVT created the best 'tuner-Mustang' for the customer. Various components from specialized companies were brought together by a SVT to ensure a reliable package with performance to boot. At only $20 000 dollars above the Mustang GT, the Cobra R was an affordable, limited edition product that will be sought after for years to come.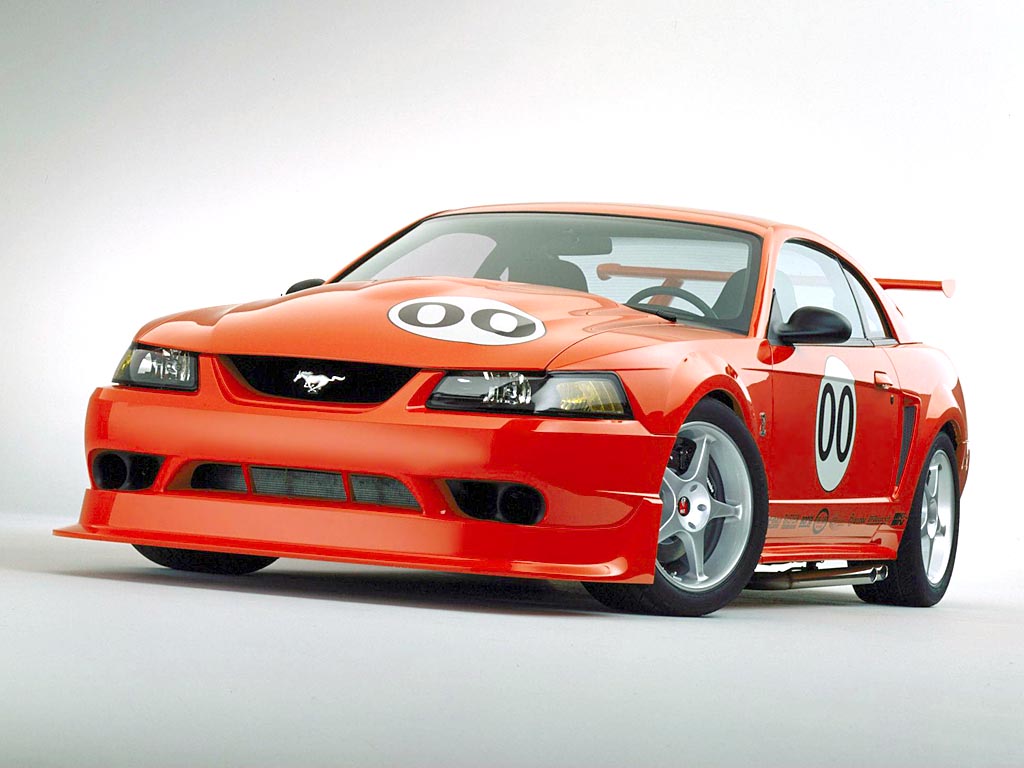 In Detail
| | |
| --- | --- |
| submitted by | Richard Owen |
| type | Series Production Car |
| built at | Detroit, Michigan, USA |
| production | 300 |
| price $ | $ 54,000 |
| engine | Triton V8 |
| position | Front Longitudinal |
| aspiration | Natural |
| block material | Cas Iro |
| valvetrain | Chain Driven DOHC, 4 Valves per Cyl |
| fuel feed | Electronic Injection |
| displacement | 5408 cc / 330 in³ |
| bore | 90.2 mm / 3.55 in |
| stroke | 105.8 mm / 4.17 in |
| compression | 9.60:1 |
| power | 287.1 kw / 385.0 bhp @ 5700 rpm |
| specific output | 71.19 bhp per litre |
| bhp/weight | 235.76 bhp per tonne |
| torque | 521.99 nm / 385 ft lbs @ 4500 rpm |
| redline | 6600 |
| body / frame | Unit Steel |
| driven wheels | RWD w/Gerodisc Ford Limited-Slip Differential |
| wheel type | Forged Aluminum |
| front tires | 265/40ZR18 B.F.Goodrich g-Force KD |
| rear tires | 265/40ZR18 B.F.Goodrich g-Force KD |
| front brakes | Brembro Vented Discs w/Vacuum Assist, ABS, 4-Pot Calipers |
| rear brakes | Brembro Vented Discs w/Vacuum Assist, ABS, 4-Pot Calipers |
| front wheels | F 45.7 x 24.1 cm / 18.0 x 9.5 in |
| rear wheels | R 45.7 x 24.1 cm / 18.0 x 9.5 in |
| steering | Rack & Pinion w/Power Assist |
| f suspension | MacPherson Struts w/Lower Control Arms, Bilstein Shocks, Eibach Coil Springs, 26mm Anti-Roll Bar |
| r suspension | Double Wishbones w/Lower Control Arms, Bilstein Shocks, Eibach Springs, 26mm Anti-Roll Bar |
| curb weight | 1633 kg / 3600 lbs |
| wheelbase | 2573 mm / 101.3 in |
| front track | 1518 mm / 59.8 in |
| rear track | 1518 mm / 59.8 in |
| length | 4661 mm / 183.5 in |
| width | 1857 mm / 73.1 in |
| height | 1326 mm / 52.2 in |
| transmission | Tremec T56 6-Speed Manual |
| gear ratios | 2.97:1, 2.07:1, 1.43:1, 1.00:1, 0.80:1, 0.62:1 |
| final drive | 3.55:1 |
| top speed | ~281.6 kph / 175.0 mph |
| 0 – 60 mph | ~4.6 seconds |
| 0 – 100 mph | ~11.0 seconds |
| 0 – 1/4 mile | ~13 seconds |
Auction Sales History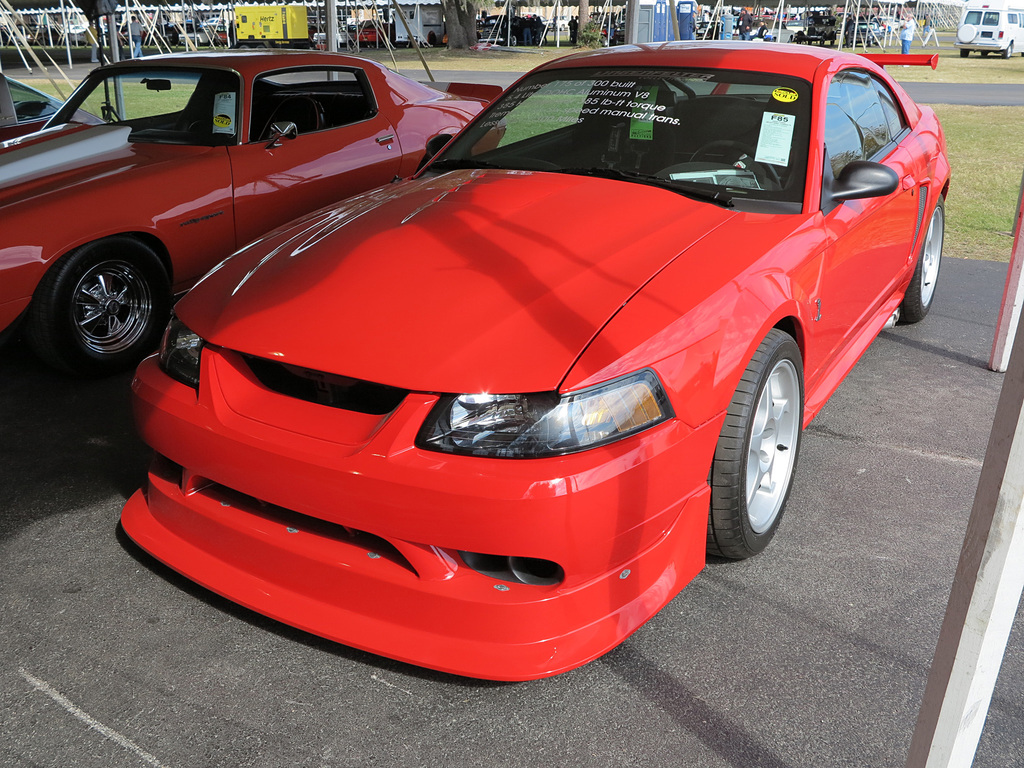 2000 Ford Mustang Cobra R – sold for $38,000. From the Lingenfelter Collection. Appears to be #175 of 300 built. 5.4 liter 385 HP DOHC aluminum V-8 engine with 385 ft/lbs of torque. Tremec T56 6-speed transmission. B&M Ripper shifter. Less than 2,200 documented miles. Engine oil cooler. Bassani X-pipe. Independent rear suspension with unique Cobra R bushings. Eibach Cobra R coil springs. Dual power steering coolers. ReCaro sport bucket seats. Cast aluminum Cobra R wheels. Borla side exhaust. Brembo four piston front calipers. Low lift front splitter, high downforce rear wing. Original owner's manual and Cobra R supplement. Clean CarFax. Auction Source: Kissimmee 2014, #WhereTheCarsAre by Mecum