2001 Lincoln Mk 9 Coupe
The Lincoln's Mark VIII went out of production at the end of 1998 (the "Continental" name having been diverted to a premium mid-size sedan back in 1982). The enthusiast community was confused: would this mark the end of the long-running Mark-series of specialty coupes? For three years, ambiguity reigned, until the April 2001 New York International Auto Show. There, suddenly, was a concept of what Lincoln envisioned for the future: the MK9.
Prominently in the Mark Lincoln idiom, the MK9 is visually more of Thunderbird proportions, though on a wheelbase more than a foot longer. The roof is low (the car stands just 56 inches high), and the silhouette of the greenhouse is very smooth. The side expanse is broken up with a brushed aluminum door hinge, which accents a side air exhaust from the engine compartment. The tail echoes themes from the 1961-67 four-door Continentals.
The interior is striking, a combination of Dark Cherry Red and Marlboro Red leathers with accents of polished metal. Dark Cherry saddle leather is used on the floor and white leather in the headliner. The front seats, which are cantilevered off the center console to improve passenger foot room, are inspired by the Eames Lounge Chair, a mid-20th Century American classic, which was designed for comfort.
There are visual connections between exterior and interior, such as the body-colored seat shells and the horizontal chrome finishers. The symmetrical dashboard is clean and simple. The etched glass instruments are crafted with jewel-like quality and illuminated indirectly.
In Detail
| | |
| --- | --- |
| submitted by | Richard Owen |
| type | Concept / Prototype Car |
| production | 1 |
| front tires | P275/45/R22 |
| rear tires | P295/40/R22 |
| front wheels | F 55.9 x 22.9 cm / 22 x 9 in |
| rear wheels | R 55.9 x 25.4 cm / 22 x 10 in |
| wheelbase | 3095 mm / 121.9 in |
| length | 5260 mm / 207.1 in |
| width | 1950 mm / 76.8 in |
| height | 1423 mm / 56.0 in |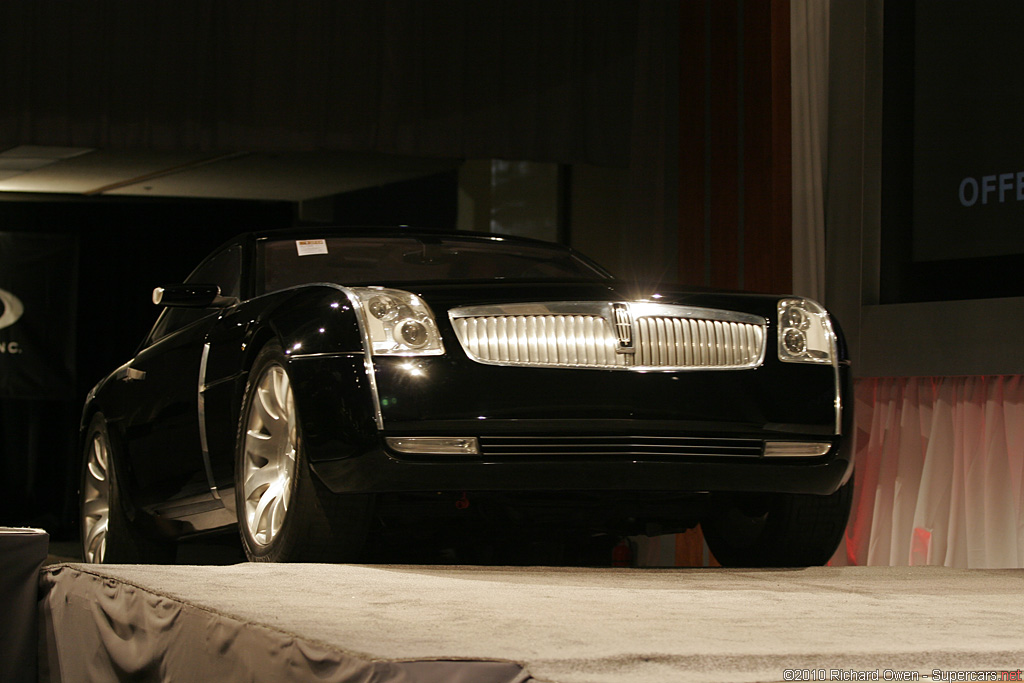 2001 Lincoln MK9 Concept – sold for $101,750. The Lincoln's Mark VIII went out of production at the end of 1998 (the "Continental" name having been diverted to a premium mid-size sedan back in 1982). The enthusiast community was confused: would this mark the end of the long-running Mark-series of specialty coupes? For three years, ambiguity reigned, until the April 2001 New York International Auto Show. There, suddenly, was a concept of what Lincoln envisioned for the future: the MK9. This vehicle runs and drives but is not DOT or EPA certified. It cannot be registered for highway use in the United States and is offered on bill of sale only. Auction Source: RM Auctions' 2010 Sports & Classics of Monterey