2002 Ferrari 360 GT
For customers itching to take the 360 to the Track, Ferrari has developed 360 GT to compete in FIA and ACO events.
Pre-Production 360GT
The history of the 360 GT begins with Team JMB Giesse who created a modified challenge car to race in the 2000 FIA N-GT Championship. After a short season by JMB, Ferrari then decided to test an official 360 GT for the 2001 season. Since this time, 360 GTs have been extensively raced at ACO and FIA events.
2001 was somewhat of a test year for Ferrari to see if the 360 GT would be a viable solution to the Porsche GT3. By March of that year, Ferrari delivered the first 360 GT, #118775, to Michelotto. They updated the aerodynamics package before it was sold to Team JMB Giesse for the 2001 season. It was this car, in green and red livery, that raced every round of the 2001 FIA Championship.
During the 2001 FIA season, Team JMB Giesse raced a against close competition. The first 360 international GT victory was attained during the second round of the series, where JMB took a class win. This sparked a series of wins which would put JMB Giesse near the top of N-GT. At the final round in Estoril, both JMB and RWS Motorsport, with a Porsche GT3, were in contingency for the championship. With three cars, JMB blitzed Estoril to secure the championship .
Production 360GT
After JMB's championship win, Ferrari was then provided with the motivation to move forward with 360 GT production. In February of 2002, Ferrari announced they would sell 360 GTs through their Corse Clienti Department.
The 2002 Ferrari 360 GT is very much like the cars that JMB raced in 2001. Again, Michelotto is responsible for the body developments which hold Pininfarina's original lines. Bodywork revisions include a NACA duct on front lid for interior cooling, wider front and rear fenders, a larger, more developed rear wing and a new front valance which can support the optional driving lights.
As for mechanics, Ferrari has considered every component. The engine features, high-lift camshafts, lighter pistons, reshaped combustion chambers and re-mapped mototronics. Even with two 30.8mm air restrictors, the engine produces 430HP. This is a remarkable figure given that air restrictors stop about half of the air reaching throttle bodies.
The suspension remains similar to the production 360, having harder springs, shocks and an adjustable anti-roll bar.
Like every racecar the 360 GT is stripped of its interior luxuries with all non-essential components removed. The gauges are replaced with a digital display and a full roll cage is installed. In total, Ferrari engineers shed 600lbs off the production 360, which makes it 400 lbs lighter than the Challenge car.
360GT on the Track
The introduction of the 360 GT came with Ferrari of Washington, who have campaigned one of the first GTs arriving through official threads. It was chassis #005M, number 33, which they raced in the 2002 Rolex Grand-Am Championship. At the first series race, the 24 hours of Daytona, Ferrari of Washington placed 14th in class behind a slew of Porsche GT3s.
Since Daytona, Ferrari of Washington have proven the 360GT as a world-class, endurance race car. The team has taken first in class in five of the ten scheduled Grand-Am races. This secured the overall class win for Ferrari of Washington over Perspective Racing's Mosler MT900 and the Racers Group Porsche GT3 RS.
While the Grand-Am series was underway, Team JMB were also campaigning their 360 GTs in the 2002 FIA GT Championship. The season ended on October 20th with team JMB unable to secure the 2002 class championship.
Conclusion
Currently, a scheduled production run of thirty 360 GTs will be made by Ferrari. They will be sold through the dealer network named Corse Clienti. These new GTs will offer a good chance for Ferrari victory in 2003 at the FIA and Grand-Am Championships.
Already, the 360 has achieved greater success in international GT racing than any other production Ferrari in the last ten years. Ferrari's move to sell a competent 360 means more GT competition will arise out of Maranello. Finally, this is an exciting era for Ferrari GT racing.
Gallery & Photos
Specs & Performance
| | |
| --- | --- |
| submitted by | Richard Owen |
| type | Racing Car |
| built at | Maranello, Italy |
| engine | Type F131, 90 Degree, All Aluminum V8 |
| position | Mid Longitudinal |
| aspiration | Natural |
| valvetrain | DOHC, 5 Valves per Cyl w/Variable Inlet Geometry |
| displacement | 3586 cc / 218.8 in³ |
| bore | 85 mm / 3.35 in |
| stroke | 79 mm / 3.11 in |
| power | 320.7 kw / 430 bhp @ 8500 rpm |
| specific output | 119.91 bhp per litre |
| bhp/weight | 387.04 bhp per tonne |
| torque | 406.75 nm / 300.0 ft lbs @ 5000 rpm |
| body / frame | Composite Panels over Aluminum Monocoque w/FIA Steel Roll Cage, Lexan Windows |
| driven wheels | RWD |
| front brakes | Brebro Discs w/6-Pot Calipers |
| rear brakes | Brebro Discs w/4-Pot Calipers |
| front wheels | F 457.2 x 254.0 cm / 180.0 x 100.0 in |
| rear wheels | R 457.2 x 279.4 cm / 180.0 x 110.0 in |
| steering | Rack & Pinion |
| f suspension | Double Wishbones w/Helicodial Springs, Adjustable Shock Absorbers, Adjustable Anti-Roll Bar |
| r suspension | Double Wishbones w/Helicodial Springs, Adjustable Shock Absorbers, Adjustable Anti-Roll Bar |
| curb weight | 1111 kg / 2449 lbs |
| wheelbase | 2600 mm / 102.4 in |
| front track | 1737 mm / 68.4 in |
| rear track | 1618 mm / 63.7 in |
| length | 4478 mm / 176.3 in |
| width | 1923 mm / 75.7 in |
| height | 1214 mm / 47.8 in |
| transmission | F131 6-Speed Manual w/Paddle Shifting |
| top speed | ~289.7 kph / 180.0 mph |
Auction & Sales History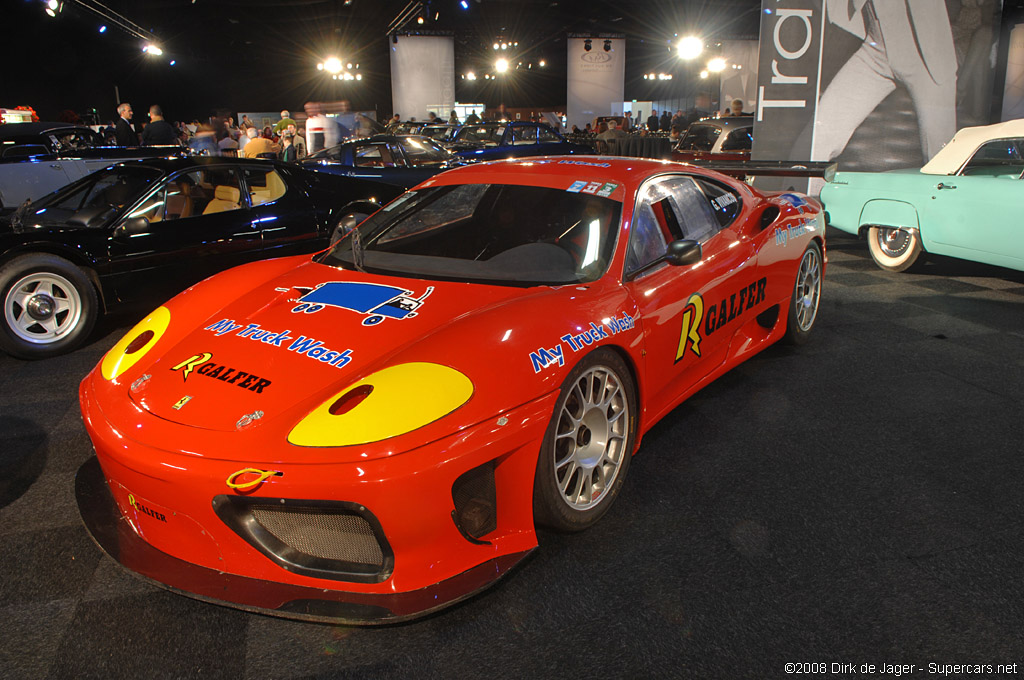 2000 Ferrari 360 N-GT Modena – Chassis 012293 was modified by Michelotto to N-GT specification for competition in the GT championship, and was campaigned by former Spanish GT champion Gines Vivancos of Darro Motor Racing during the 2001 and 2002 season as well as several races in the 2003 season. The car's racing career ended in 2004 when it was entered in the Spanish round of the FIA GT Championship, with Gines Vivancos again at the wheel. The Ferrari 360 N-GT presented here is Chassis No. 004 of just 20 examples modified by Michelotto in late 2001 for the 2002 season.
Finished in Rosso Corsa, this particular car is believed to have an accident-free record on the track and benefits from a fully race-outfitted interior, including a full roll cage, racing seat, and harness. The car is presented in its Darro Motor Racing livery, although this could easily be altered to reflect a change in future sponsorship. Auction Source: 2008 RM Automobiles of London