Honda NSX-R Guide
The Honda NSX – or Acura NSX as it is branded in North America – is a car synonymous with Japanese supercar legacy. When the NSX was first introduced to the world in 1990, it sent shockwaves throughout the automotive dimension, pioneering an unprecedented amalgamation of characteristics and engineering principles.
This first iteration of the NSX had a 15-year run starting with model year 1991 (NA1), with production ending in 2005 after having undergone several minor changes in between, and a major refresh in 2002 (NA2).
Not only was the first Honda NSX undeniably exotic through its appearance, mid-engined layout and performance figures (for the time, at least), it was also purposed with the same amount of thoughtfulness the rest of the Japanese automaker's product line had received. Ultimately, the NSX was both an affordable and more reliable version of supposed industry equivalents.
At a time when the words 'supercar' and 'reliability' couldn't be spoken in the same sentence, the formula Honda used to create the NSX resulted in a vehicle that was truly unique for its time – it had all of the desirable characteristics of a supercar, but was packaged with the same reliability, build quality and sensibility of a Honda Accord.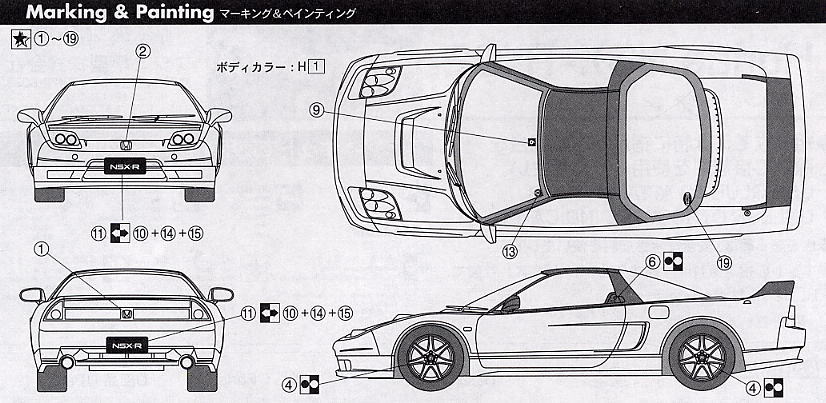 The best way to introduce the 2002 Honda NSX-R, would be to tell the story of how it came to be.
Shaping the Future
In many respects, the NSX became the blueprint from which even the most renowned supercar makers would template their own designs, with Gordon Murray – the principal creator of the McLaren F1 – openly crediting the Honda NSX for being the reference point he used to build what would become, one of the world's most iconic supercars.
Suffice to say, the NSX earned the respect of industry competitors and automotive enthusiasts alike, with its influence remaining apparent even in the supercars of today. After a prolonged sabbatical, Honda released the second generation of the NSX in 2016. Like the original NSX, it set out on a similar mission to ruffle, if not redefine, the automotive landscape.
Although the newest version was certainly more technologically advanced than its predecessor and had all the attributes to be well regarded in today's ultra-competitive and crowded supercar space, it was ultimately not well received especially when compared to its debut appearance.
Perhaps this is because the rest of the major players had caught up, or even surpassed Honda at the game they had created, therefore diluting the new iteration's overall impact in today's terms.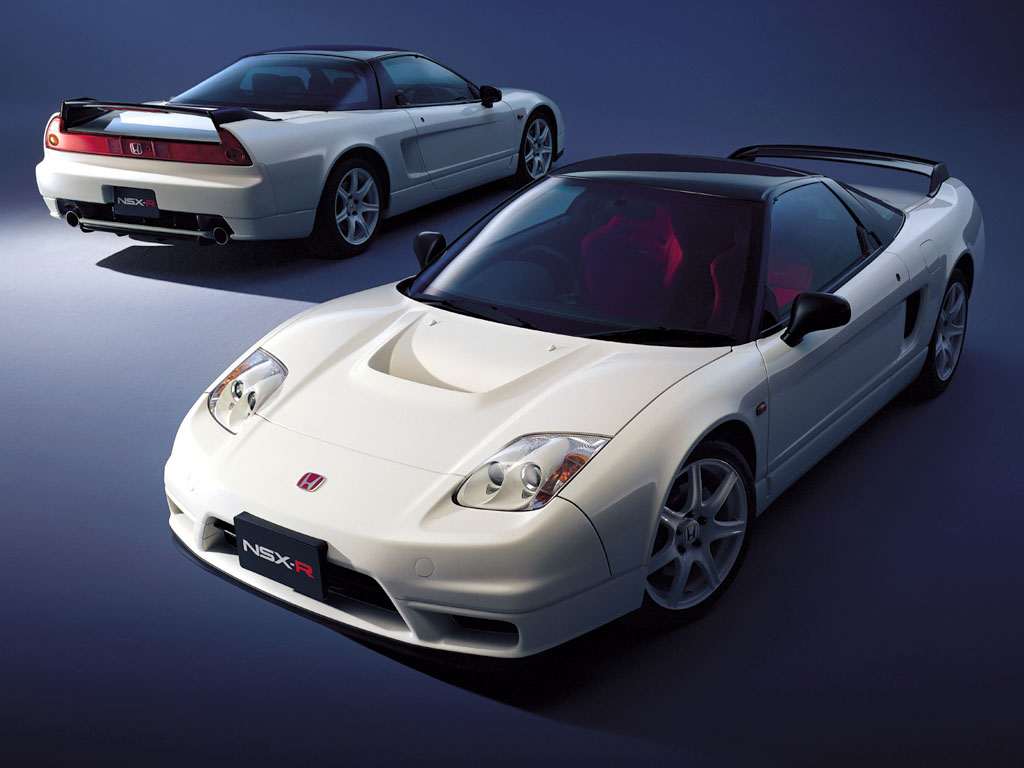 2002 Honda NSX-R
Shortly after the facelift in 2002, Honda released a Type-R version of the NA2 NSX which was exclusive for MY2002 and for the Japanese market only – just like it did for the NA1 NSX in 1992. By this time, the Type-R moniker had become the official signature of ultimate Honda roadcar performance, and the 2002 Honda NSX Type-R (officially abbreviated to NSX-R on this occasion), certainly lived up to its badge.
Chief Engineer and Honda Legend, Shigeru Uehara set out with his team to create the most complete version of the NSX the world would see.
While the main focus was on weight reduction, an abundance of mechanical and chassis refinements were also made to the NSX coupe on which it was based, in order to produce a roadcar that could challenge the best and the brightest of supercars of the era, despite being built on a platform that had already completed over 10 years of service.
And that, it did.
Engine & Performance
Specifications:
Engine Type & Size: 3.2L Naturally Aspirated V6
Horsepower: 290 hp @ 7,300 rpm
Torque: 224 lb-ft @ 5,300 rpm
O-60 mph: 4.7 seconds
Since the 2002 Honda NSX-R was based on the NA2 coupe, it was the beneficiary of an enhanced version of the 3.2L DOHC V6 employed in the aforementioned. Also piggybacking on the refresh was the use of a 6-speed manual transmission, as opposed to the 5-speed that was mated to the NA1 version's 3.0L unit. In typical Honda fashion, the manual gearbox in the NSX-R is about as good as it ever gets with three pedals.
Honda – along with all Japanese automakers at the time – were still hamstrung by an informal, but honorably self-enforced gentlemen's agreement which limited the horsepower of production cars.
This meant that the NSX-R's output was slightly exceeding the boundaries of the rules where no car could produce would have higher than 280-horsepower, apparently in the name of safety. Nevertheless, Honda would find a way to enhance engine performance through means which would avoid infractions – at least on paper, which is all that mattered to regulators.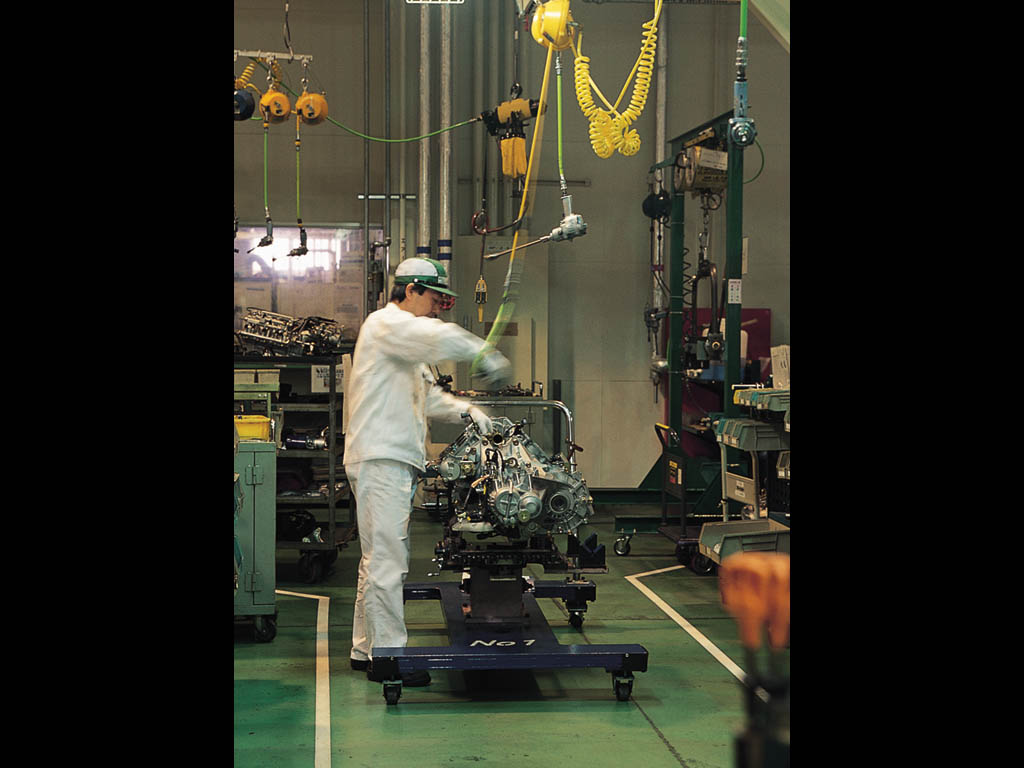 For starters, each NSX-R engine was hand-assembled by specially appointed technicians who used special instrumentation and techniques normally reserved for building race car engines. This meant that all rotating components such as the pistons, rods, and crankshaft were precision weighed and matched in order to achieve extremely small weight differential tolerances.
The full rotating assembly was balanced to a level of accuracy which was ten times that of the regular NSX engine. While not technically increasing power output, this process resulted in significantly better throttle response and a more free-reving and ultimately, a better performing engine. This has led many to speculate that the 2002 Honda NSX-R's rated 290-horsepower @ 7,300 rpm and 224 lb-ft of torque @ 5,300 rpm, is likely understated in order to satisfy the agreement.
Improved throttle response will typically create the impression of increased power, so Uehara also had the accelerator pedal modified to be much more sensitive to driver inputs, most notably at the beginning of the pedal's now shorter stroke.
As a result of all of these changes – along with chassis and handling improvements – the 2002 Honda NSX-R was able to outperform many of the day's modern supercars, despite being in the 10th year of the same design and often having up to a 3-figure horsepower handicap.
Chassis & Handling
The 2002 Honda NSX-R would reap the benefits of weight reduction and enhanced rigidity over the regular NSX coupe. This was primarily achieved through the generous use of carbon fiber to replace most of the larger aluminum exterior panels, which included the front hood and rear spoiler.
Carbon fiber was not reserved only for the car's body, as Recaro carbon-kevlar racing seats replaced the standard leather seats, while lighter and stronger forged versions of the 17" wheels were installed.
The most notable difference between the NSX-R and all of the other trims would be the former's removal of power steering. Not only did this contribute to the car's overall weight reduction of around 220 pounds, but it made for a completely transformed driving experience compared to the latter.
Admittedly, thanks to the addition of firmer suspension setup, this requires extra effort to drive the car at low speeds or on harsh surfaces while traveling at the posted city speed limits.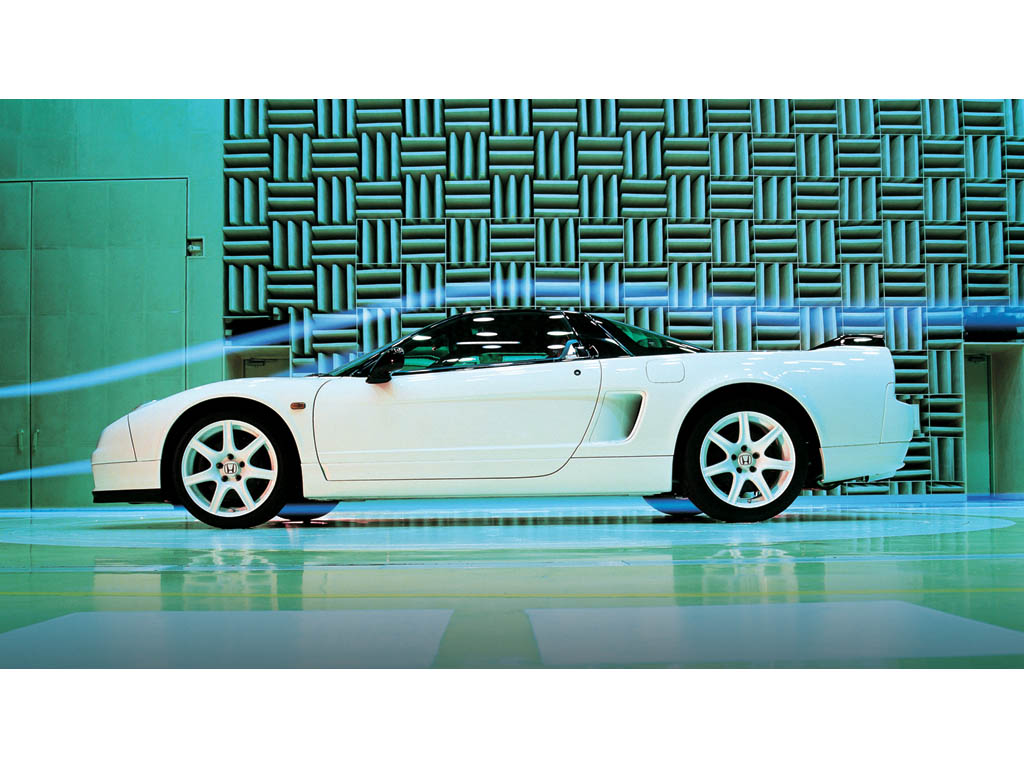 Where, when and how this could be considered an improvement over the regular NSX, is where things really matter. Once at speeds of over 80 km/h – and certainly while driving through road courses with long, winding and sweeping corners – the absence of power steering really starts to make a lot of sense.
The steering wheel becomes perfectly weighted and the driver's connection to the road translates to an untethered, unadulterated driving experience – one which has not likely been duplicated to such a degree by any road-legal production car since.
During such spirited driving excursions, the aerodynamics also become noticeable and the feedback the driver receives from the NSX-R provides a sensation of absolute control and a purest connection to the tarmac which can only be described as clairvoyant – the car allows you to feel everything that was, is, and could be happening as you drive it, particularly at the limit.
Design, Styling & Interior
To the untrained eye, the 2002 Honda NSX-R wouldn't be overly distinguishable from the regular NA2, or even from the 1992 NSX Type-R NA1. It should be clear by now that the NSX-R is the summation of intricately considered details, so this should come as no surprise. Compared to the previous iteration, its larger 17" wheels, fixed headlights and hood scoop would be the only sure giveaways.
Much like the car it is based on, the NSX-R has excellent visibility from inside the cockpit and is ergonomically efficient with an ideal seating position and thoughtfully placed instrumentation, buttons, knobs, and switches.
As is traditional Honda demeanor, there is nothing particularly fancy or outstanding inside, but everything comes together as it needs to. Honda even decided to leave a surprising amount of amenities in the car, with e Bose stereo, air-conditioning and electric windows remaining intact.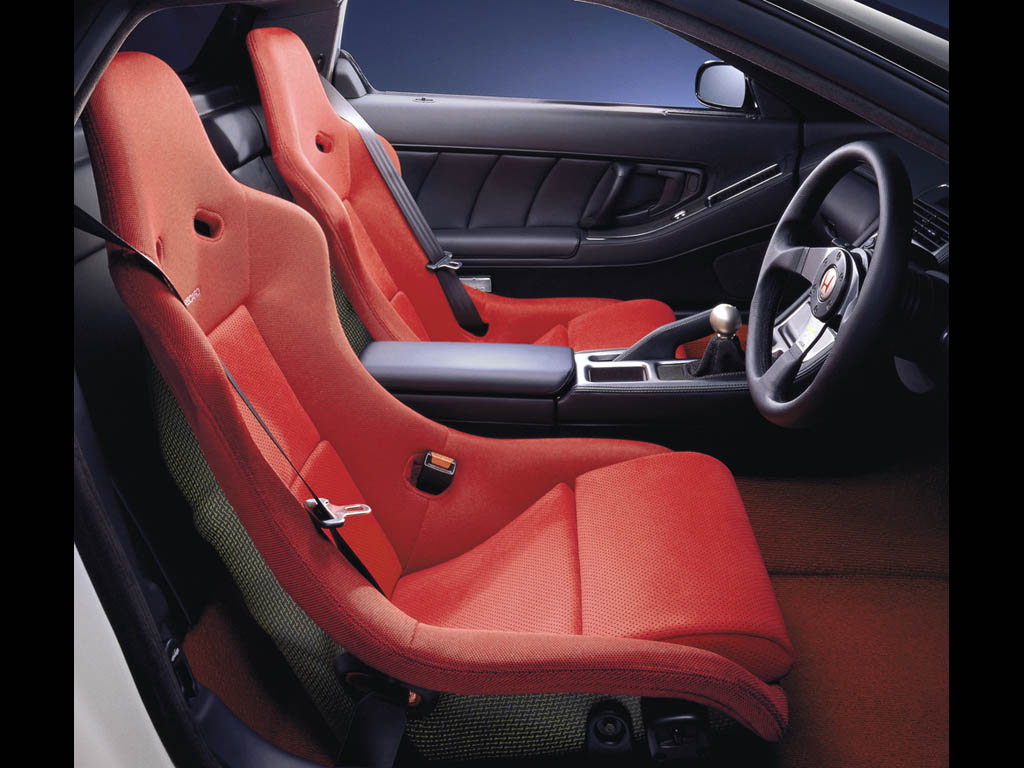 Actually, that might not be entirely true, as you begin to notice the red Recaro racing buckets you're now seated in after years of relishing the moment you'd get near one of these legendary cars. They're bolstered such that they remain comfortable, but are also clearly designed to prevent you from sliding around in your seat during those huge cornering Gs.
Thanks in large part to the Honda NSX, red Recaros have achieved a cult status of their own, and are extremely popular amongst a wide range of automotive enthusiasts.
Pricing
Not much is known about what the price of the 2002 Honda NSX-R was when brand new, or even an official number on how many were made. But there are a lot of other things that we do know, or that can be said with confidence.
The first is that it would have cost quite a bit more than the $89,000 USD equivalent it would take to get a regular NSX of the same year. The second is that the prices of all of the NA1 and NA2 NSXs are only going up – and the NSX Type-R and NSX-R will certainly be no exception to that trend.
Coincidentally, earlier in 2019, a 1992 NSX Type-R and 2002 NSX-R went up for auction in Japan. With the auction house claiming that only 140 examples of the NSX-R were made, this pristine example of an incredibly rare and sought after car is estimated to command anywhere between $345,000 – $436,000 USD.
That should rule out all but the most dedicated and financially endowed collectors, of which there should be a sufficient number to meet any supply/demand requirements, even at those prices.
Performance & Specifications Summary
Model & Pricing Info
| | |
| --- | --- |
| Make | Honda |
| Model | NSX-R |
| Generation | NA2 |
| Car type | Coupe |
| Category | Limited Series Production Car |
| Built At | Tochigi, Japan |
| Introduced | 2002 |
| Base Price (USD) | $150,000 (est.) |
| Units built | 140 (est.) |
Chassis, Suspension & Powertrain
| | |
| --- | --- |
| Curb Weight | 1,270 kg (2,800 lbs) |
| Layout | Mid-engine, Rear-wheel Drive |
| Body / Frame | Aluminum monocoque, carbon fiber elements |
| Suspension (F) | Independent double wishbone suspension with forged control arms |
| Suspension (R) | Independent double wishbone suspension with forged control arms |
| Steering | Rack and Pinion |
| Brakes | Carbon Ceramic Discs 16.1" front, 15.3" rear), Brembo Brake Calipers (6-piston front; 4-piston rear) |
| Tires | 215/40/17 Bridgestone Potenza R070 (front and rear) |
| Transmission | 6-Speed Manual |
Engine, Output & Performance
| | |
| --- | --- |
| Engine | V6 |
| Displacement (Litres) | 3.2L |
| Position | Mid-engined, Longitudinal |
| Aspiration | Naturally Aspirated |
| Power (hp) | 290hp @ 7,300 rpm |
| Power (hp) / litre | 90.7 hp / litre |
| Power (hp) / weight | 0.23 hp / kg |
| Torque | 224 lb-ft @ 5,300 rpm |
| 0-60 mph time | 4.7 seconds |
Gallery & Videos
Image Gallery
Just by looking at the car, it becomes readily apparent how influential – and now, timeless – the first-generation NSX has become. The NSX-R was the pinnacle of this very special car, which created a movement, and can claim huge credit in how the supercar landscape has evolved to its present state.
In my opinion, the 2002 Honda NSX-R remains a true testament to the purist's rendition of the original 'everyday supercar'. During a time when nostalgia is running rampant, and there is a propensity to be charmed by the simpler things in life in this rapidly changing world, this car remains a beacon in the preservation and revisiting of a beautiful and storied past.
Video Gallery
I would like to start off by saying how jealous I am of Torque GT, for having the privilege of driving an NA1 and NA2 NSX Type-R / NSX-R back to back. With a thoughtful tribute to the late Aryton Senna and his role as a technical consultant during the development of the NSX, they adequately cover all the bases when it comes to the technical and historical details about how each of the cars came to be.
Part of my childhood – and a huge influence in my love for cars – was the show Best MOTORing. There was nothing better than watching 'Dori-Dori' Keiichi Tsuchiya – the original Drift King – beat the crap out of cars on the race track and provide his opinion on said car, often while driving it. Tsuchiya loved the NSX-R so much that he has one as personal car, which is about the highest compliment an automobile can receive.
Jethro Bovington from DriveTribe provides some mesmerizing, in-depth video commentary which compares to the NSX-R to the new, second-generation NSX. Anglesey Circuit in the UK provides both the backdrop and proving grounds for this assessment. If you want to find out why he would rather have a Honda NSX-R over a Ferrari F40, you should watch this video.
Final Verdict
5/5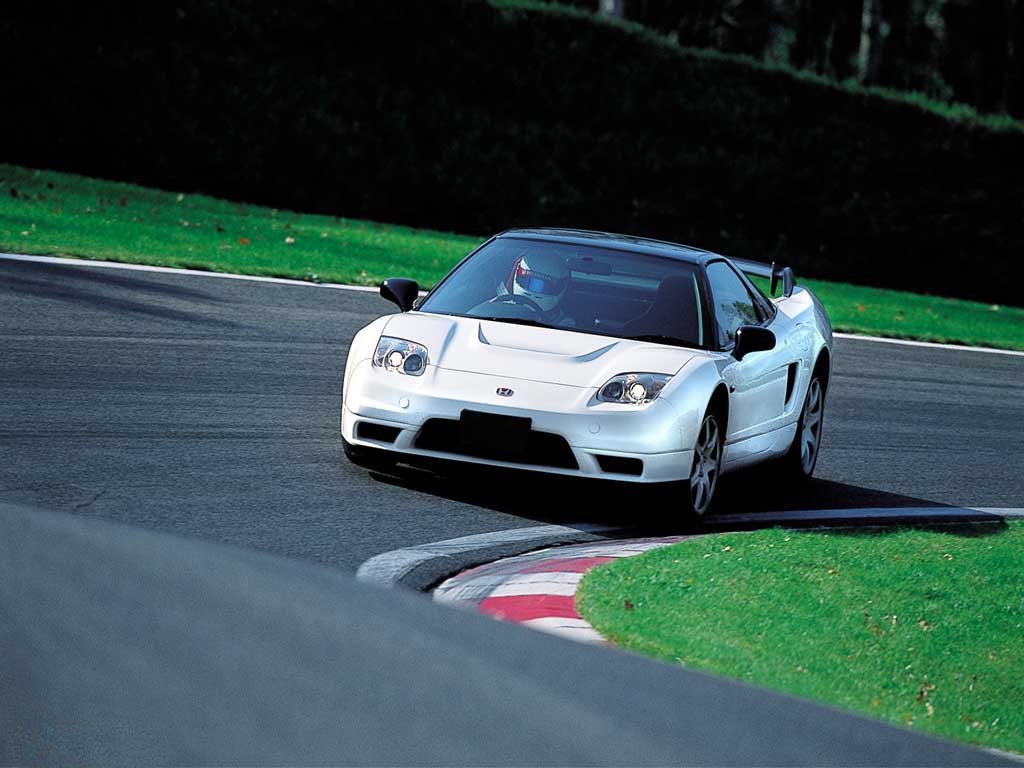 By the turn of the millennium, the 2002 Honda NSX-R was likely the only version of the NSX still able to keep up with the rapidly shifting curve of supercar performance – if only just barely, according to on-paper technical specifications, anyway.
Afterall, the NSX-R – driven by legendary Japanese race driver Motoharu Kurosawa – lapped the Nürburgring in 7 minutes 56 seconds; a time equal to what a brand new Ferrari 360 Challenge Stradale could manage. The NSX-R accomplished this despite a 100-horsepower differential in favour of the prancing horse. In 2002, and perhaps even more so today, the NSX-R is still a very proper representative of exotic car royalty.
This is even more so apparent when looked at in a puristic context, as we see automotive manufacturers competing more for technological superiority – in a 'numbers mean everything' game – rather than the less stats-oriented-approach that seems to garner its fandom more through charisma and emotion.
This is especially interesting after seeing as how the new second-generation NSX – despite its superior technological augmentations – has failed to seduce modern automotive opinion and we're instead seeing first-generation NSXs skyrocket in value.
It is quite funny how that works; that even in today's world of sub 3-second 0-60 times, hybrid engines, insane nurburgring lap times, etc. that the nostalgic allure of more fundamental engineering principles cannot sway even the some of the more methodical of automotive enthusiasts.
I can understand why this is the case, as to achieve the performance stats of today, most modern cars are literally bogged down by electronics. The NSX-R weighed only 2,800 pounds and the idea of a production car without power steering seems so ancient.
When positively describing the characteristics of a car these days, the word 'balanced' is probably one that gets thrown around too freely. In my opinion, the NSX-R was the car that truly pioneered and properly defined what that word means when used in this context.
Today, the NSX-R is undoubtedly not the car you would use to compete on the racetrack with any modern performance vehicles. What it is, however, is one of the last bastions of the purest and most privileged driving experiences we could aspire to have as drivers and automotive enthusiasts.