2003 Ford FR100 Panel Concept
Nov. 4, 2003 – At today's Specialty Equipment Market Association (SEMA) show, Ford Racing Performance Parts (FRPP) took the wraps off three in-house hot rod projects powered the company's all-new 5.0-liter Cammer V-8 crate engine – which will be available from a FRPP dealer or warehouse distributor beginning by year's end.
FR100 Panel Truck
The FRPP team wanted to show just how powerful a new Cammer crate engine can be with its 1953 Ford F-100 Panel Truck project, unveiled at this year's Specialty Equipment Market Association (SEMA) show. A logical successor to last year's spectacular FR100 pickups, which were based on a pair of vintage 1953 F-Series trucks, the hot-rodded '53 Panel Truck being showcased this time around carries a mission similar to the custom FR100s before it.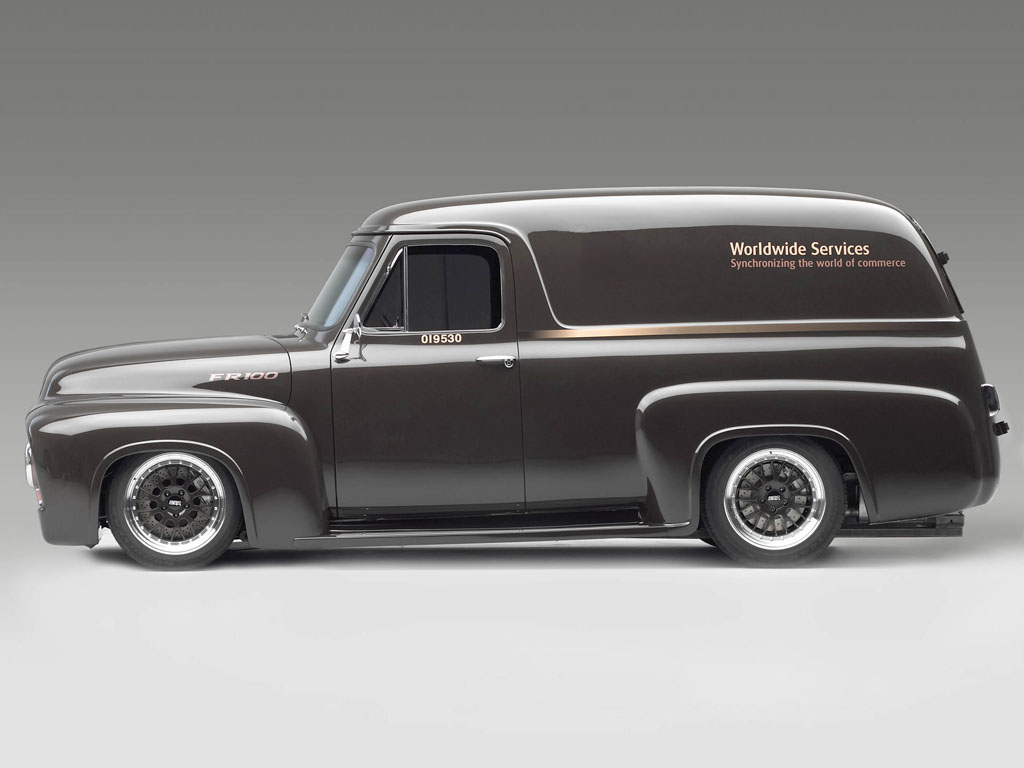 'We returned to using a vintage Ford truck as a test-bed because it's both eye-catching and something any enthusiast can relate to,' said Dan Davis, director Ford Racing Technology (FRT). 'Many of our performance parts customers build hot-rod trucks, so we felt that building up another cool '53 to package a modified version of our new 5.0-liter 'Cammer' crate engine was the perfect project to demonstrate the use of modern V-8 performance and technology.'
This time around, Ford Racing's engineering staff had the game-plan experience of building the FR100 show trucks, so many of those lessons learned could be applied to help transform the Panel truck into a fully streetable, high-performance custom. Because the F-100s front frame rail spacing was similar to the current Mustang, the independent, unequal-length-control-arm front suspension system from the FR500 Mustang project was grafted in after McLaren fabricated a new tube chassis. Then, a modified SVT Cobra Independent Rear Suspension (IRS) replaced the original F-100 solid rear axle.
To demonstrate the versatility of the new 5.0 'Cammer', this crate engine's naturally aspirated intake system was replaced with a prototype supercharger setup, complete with SVT's Eaton Gen IV Roots-type blower and a top-mounted intercooler. While the project team had not been able to dyno-test this breathed-upon Cammer before its SEMA debut, power output is expected to reach 600 horsepower and 500 ft.-lbs. of torque. FRPP is planning to offer a Supercharged version of the 5.0-liter Cammer crate engine sometime in 2005.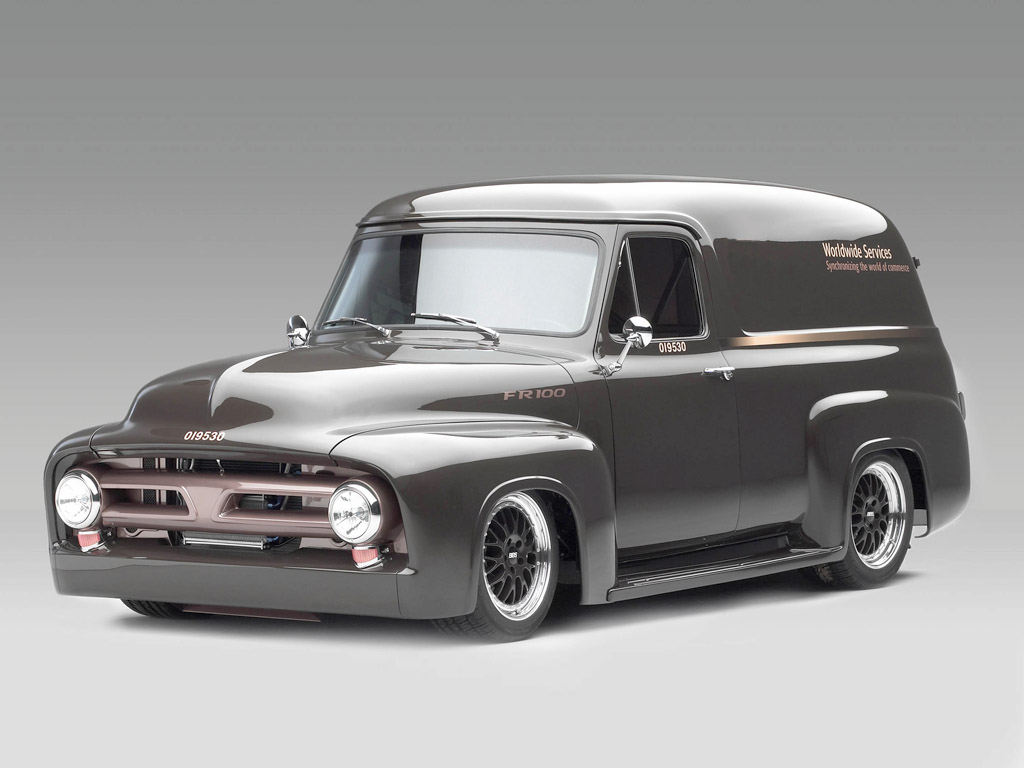 Outside, extensive bodywork was undertaken fitting of a show vehicle, and the well-finessed sheet metal was eventually sprayed with PPG-supplied Brown Tinted Clearcoat. Dennis Carpenter of Ford Reproductions supplied the running boards, door handles and hinges, window mechanicals, parking lamps, taillamps, and all the bright trim and bezels.
Special touches were incorporated inside the truck as well, including a brand-new prototype dash panel with retro-style Ford Racing Masterpiece gauges, Ford Racing tach driver, a Mustang tilt column, Kugel Komponents' 90° Swing Pedal Brake Assembly, and an F-100 Gen II SureFit air-conditioning system from Vintage Air.
Completing the special Cammer crate engine powertrain are custom headers and a true dual-exhaust system, a Tremec T56 6-speed manual transmission with a prototype Ford Racing shifter, Centerforce clutch and a custom driveshaft. A Brembo Cobra disc brake package was fitted at each corner to stop the 18-inch BBS wheels and Goodyear Eagle F1 Supercar tires.
Exterior
-Ford Racing-modified Dennis Carpenter Ford Reproductions Running Boards -Dennis Carpenter Ford Reproductions Bright Trim and Bezels -Dennis Carpenter Ford Reproductions Parking Lamps, Tail Lamps, Door Handles, Window Mechanicals, Hinges -PPG UPS Brown with Tinted Clearcoat
Interior
-Ford Racing Masterpiece Gauges -Ford Racing Prototype Gauge Panel -Ford Racing Tach Driver -Vintage Air F100 Gen II Sure Fit A/C System -Kugel Komponents 90° Swing Pedal Brake Assembly
Story by Ford Motor Corporation, edited by Supercars.net
In Detail
| | |
| --- | --- |
| submitted by | Richard Owen |
| engine | Aluminum Cammer V8 w/Eaton Gen IV Roots-type supercharger |
| aspiration | Eaton Gen IV Roots-type supercharger |
| valvetrain | DOHC 4 Valves per Cyl |
| displacement | 5000 cc / 305.1 in³ |
| power | 447.4 kw / 600 bhp |
| specific output | 120.0 bhp per litre |
| torque | 677.91 nm / 500 ft lbs |
| front tires | Goodyear Eagle F1 Supercar P265/40 |
| rear tires | Goodyear Eagle F1 Supercar P315/40 ZR18 |
| front brakes | Brembro Discs |
| f brake size | mm / in |
| rear brakes | Brembro Discs |
| r brake size | mm / in |
| front wheels | F 45.7 x 25.4 cm / 18.0 x 10 in |
| rear wheels | R 45.7 x 25.4 cm / 18 x 10 in |
| f suspension | FR500 Front Suspension |
| r suspension | Cobra based Rear Suspension |
| transmission | Tremec six-speed HD |
| gear ratios | :1 |
| final drive | 4.10:1 |