2003 Ford Mustang Mach 1
38 years after the original Mustang was introduced in New York, the Mustang Mach 1 is shaking back to the street – complete with the signature shaker hood scoop.
The Mach 1 is expected to deliver more than 300 horsepower from its modular 4.6-liter, 4-valve, DOHC V-8 engine when it goes on sale at the end of this year. Ford, which builds approximately 160,000 Mustangs each year, will build 6,500 Mustang Mach 1 special editions.
Perhaps the most visually arresting design cue on the Mach 1 is the shaker scoop. But in keeping with performance Mustang heritage, the scoop is not only for appearance, but functional. The ram-air scoop channels fresh air directly to the intake runners increasing the breathing and optimizing intake turbulence for improved power and torque.
Mach 1's suspension matches its power with crisp road manners. The vehicle is lowered one-half of an inch compared to the GT and uses a firmer suspension for better-balanced ride and improved handling characteristics.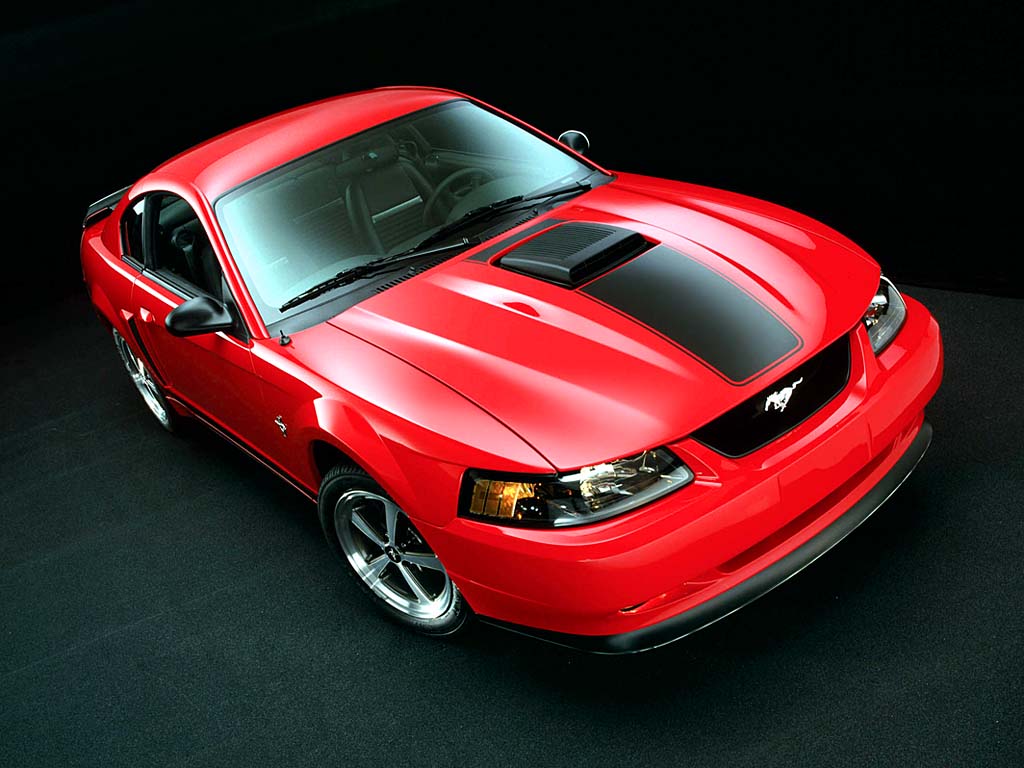 Engine and Transmission Modifications: -The functional Shaker is modeled after the original 1969 Shaker. The Shaker is mounted to the intake manifold and directs fresh air to the air filter tray assembly -The dual 57mm throttle body feeds air through a cast aluminum intake manifold and into a set of new high flow four valve cylinder head -The new cylinder heads house a 5.4L 4-valve intake cam and a high performance exhaust cam. This cam combination greatly enhances torque at lower engine speeds. -A new set of exhaust manifolds are port matched to the new cylinder heads -The mufflers are tuned to create a unique sound and the tips are chromed setting the Mach 1 apart from other steeds in the stable -The Mach 1 axle has been upgraded with a high torque differential that is coupled to a set of 3.55:1 final drive gears.
In Detail
| | |
| --- | --- |
| submitted by | Richard Owen |
| built at | Detroit, Michigan, USA |
| engine | MOD V8 |
| position | Front Longitudinal |
| valvetrain | DOHC |
| displacement | 4605 cc / 281.0 in³ |
| bore | 90.2 mm / 3.55 in |
| stroke | 90 mm / 3.54 in |
| compression | 10.1:1 |
| power | 223.7 kw / 300.0 bhp @ 6000 rpm |
| specific output | 65.15 bhp per litre |
| bhp/weight | bhp per tonne |
| torque | 406.75 nm / 300.0 ft lbs @ 4250 rpm |
| body / frame | Unit Steel |
| driven wheels | RWD |
| front tires | Goodyear 245/45ZR17 Eagle ZR45 |
| rear tires | Goodyear 245/45ZR17 Eagle ZR45 |
| front brakes | Brembo Vented Discs w/2-Pot Calipers, |
| f brake size | x 330 mm / x 13.0 in |
| rear brakes | Brembo Vented Discs w/Single-Pot Calipers, |
| r brake size | x 296 mm / x 11.7 in |
| front wheels | F 43.2 x 20.3 cm / 17.0 x 8.0 in |
| rear wheels | R 43.2 x 20.3 cm / 17.0 x 8.0 in |
| steering | Rack & Pinion w/Power Assist |
| f suspension | MacPherson Strut w/Spring on Lower Arm, Coil, Axle Damper,26.5 A |
| r suspension | 4-Link Multi-Link w/Coil Springs on Lower Arm, Axel Damper,23mm |
| curb weight | 1572 kg / 3466 lbs |
| wheelbase | 2573 mm / 101.3 in |
| front track | 1529 mm / 60.2 in |
| rear track | 1539 mm / 60.6 in |
| length | 4653 mm / 183.2 in |
| width | 1856 mm / 73.1 in |
| height | 1329 mm / 52.3 in |
| transmission | 5-Speed Manual or 4-Speed Automatic |
| gear ratios | 3.38:1, 2.00:1, 1.32:1, 1.00:1, 0.62:1, :1 |
| final drive | 3.55:1 |