2003 Ford Mustang SVT Cobra
Beginning with the original in 1993, every generation of the SVT Mustang Cobra has elevated its standard of performance. The 2003 SVT Mustang Cobra raises the bar yet again, this time increasing power output to a level never before achieved in a production Mustang.
The addition of a Roots-type supercharger and water-to-air intercooler to the Cobra's 4.6-liter, DOHC 4-valve V-8 engine bumps output to 390 horsepower with 390 foot-pounds of torque. Additional enhancements for 2003 include exterior design alterations to the front and rear fascia, hood, rocker moldings and side scoops, as well as several changes to the interior appointments, including new multi-adjustable front seats trimmed in Nudo leather and Preferred suede.
The 2003 SVT Mustang Cobra's 4.6-liter, DOHC V-8 is equipped with an Eaton supercharger and new aluminum alloy cylinder heads that provide increased flow capabilities. The aluminum alloy 4-valve heads are new to the Cobra. They were chosen because they also provide greater flow capabilities, and help give increased low-end torque without sacrificing peak horsepower.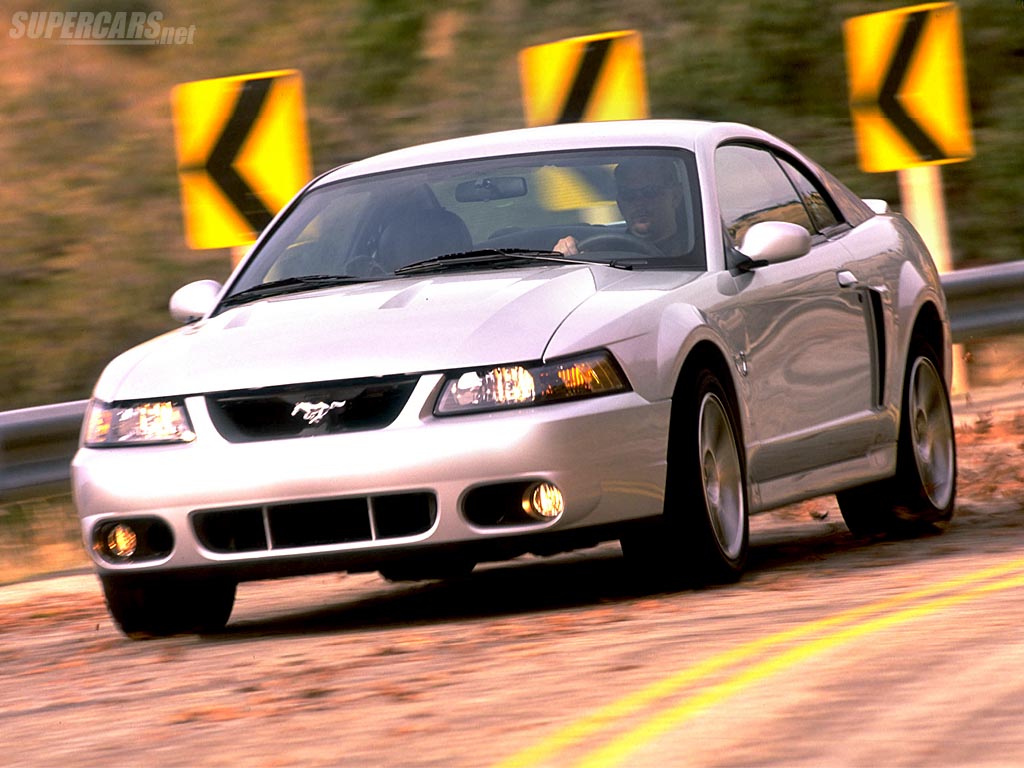 The Eaton Roots-type supercharger is the same model used on the SVT F-150 Lightning, with a cast aluminum case, machined aluminum internal rotors, and its own dedicated drive belt. The supercharger compresses intake air to a pressure of 7.5 to 8.0 pounds per square inch, and under the supercharger the compressed air passes through a water-to-air intercooler. This removes heat gained during compression to make a denser, more powerful compressed air charge.
To provide strength necessary for the substantially increased torque output, the new Cobra engine is built on a cast-iron block. This unit contains the carryover forged-steel crankshaft, which is fitted with new Manley forged H-beam connecting rods, forged pistons similar to those in the SVT F-150 Lightning, and an aluminum flywheel similar to the 2000 SVT Mustang Cobra R's.
The engine is mated to a TTC T-56 6-speed manual transmission. Behind that, an aluminum drive shaft with upgraded universal joints connects to the rear axle, which has a 3.55:1 gear ratio.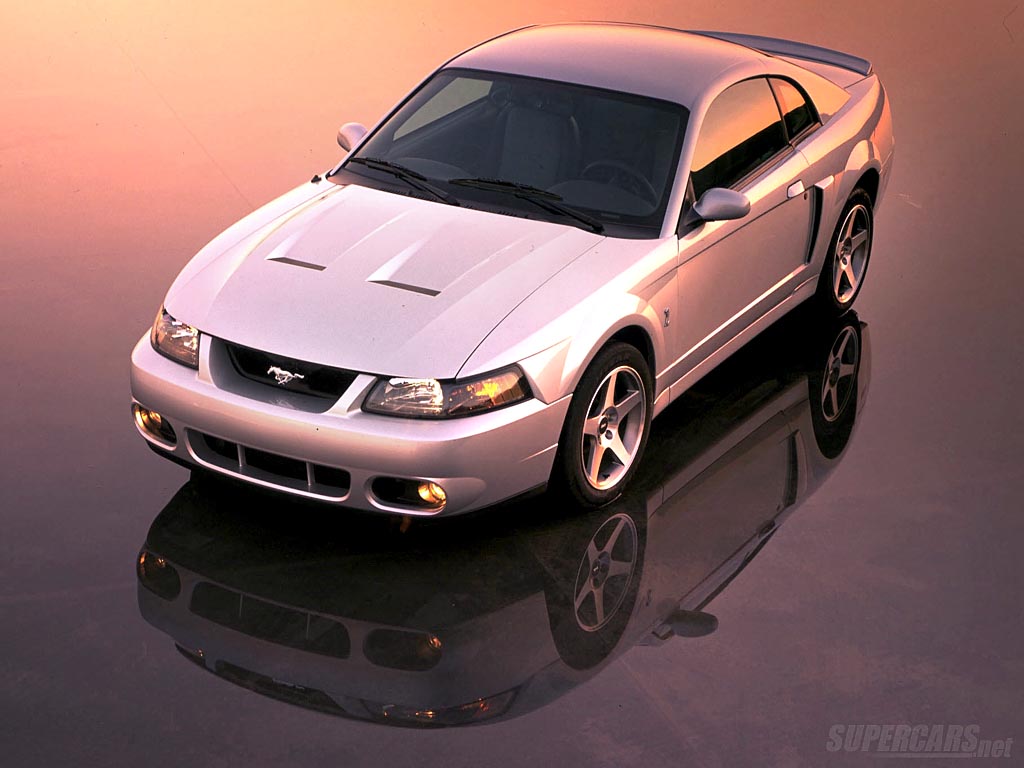 The Cobra's independent suspension system receives additional bracing necessary for increased loading due to the higher power output and larger tires. Changes include revised bushing, mount and spring rates. A new tubular cross-brace has been added, which attaches to the differential and is designed to stabilize the differential assembly under hard acceleration. Revised rear suspension geometry helps improve roll steer.
Exterior design changes distinguish the SVT Mustang Cobra from the regular production Mustang GT. The hood has been redesigned, and now has flow-through scoops that help vent hot air from the engine compartment. Both the hood and rear deck are made of lightweight composite materials.
Additional SVT Mustang Cobra standard features include a leather-wrapped steering wheel; leather boots for the shift and parking brake levers; tilt steering wheel; power windows, mirrors, door locks and trunk release; the SecuriLock passive anti-theft system; remote keyless entry; speed control; and a MACH 460 audio system with AM/FM stereo and an in-dash, six-disc CD player.
2003 Ford Mustang SVT Cobra Gallery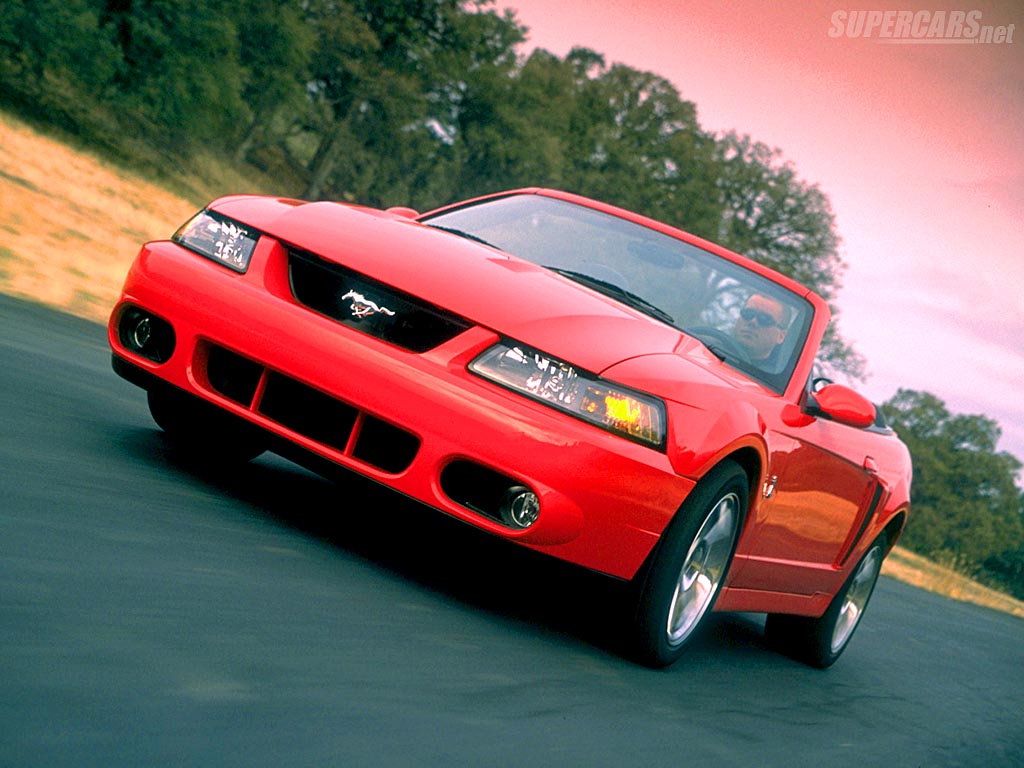 In Detail
| | |
| --- | --- |
| submitted by | Richard Owen |
| built at | Detroit, Michigan, USA |
| engine | Water Cooled, 90 Degree, Cast-Iron V8 |
| position | Front Longitudinal |
| aspiration | Eaton Roots-Type Supercharger w/Water-to-air Intercooler |
| valvetrain | Chain Driven DOHC, 4 Valves per Cyl |
| displacement | 4601 cc / 280.8 in³ |
| bore | 90.2 mm / 3.55 in |
| stroke | 90.0 mm / 3.54 in |
| compression | 8.5:1 |
| power | 290.8 kw / 390.0 bhp @ 6000 rpm |
| specific output | 84.76 bhp per litre |
| bhp/weight | bhp per tonne |
| torque | 528.77 nm / 390.0 ft lbs @ 3500 rpm |
| redline | 6500 |
| body / frame | Unit Steel |
| driven wheels | RWD |
| front tires | 275/40ZR-17 |
| rear tires | 275/40ZR-17 |
| front brakes | Brembro Vented Discs w/2-Pot Calipers, ABS |
| f brake size | x 330 mm / x 13.0 in |
| rear brakes | Brembro Vented Discs w/Single-Pot Calipers, ABS |
| r brake size | x 296 mm / x 11.7 in |
| front wheels | F 43.2 x 22.9 cm / 17.0 x 9.0 in |
| rear wheels | R 43.2 x 20.3 cm / 17.0 x 8.0 in |
| steering | Rack & Pinion w/Power Assist |
| f suspension | McPherson Struts w/Bilstein Dampers, Coil Springs, 29mm Anti-Ro |
| r suspension | Multi-Link System w/Bilstein Dampers, Coil Springs, 26mm Anti-Ro |
| curb weight | 1662 kg / 3664 lbs |
| wheelbase | 2573 mm / 101.3 in |
| front track | 1530 mm / 60.2 in |
| rear track | 1530 mm / 60.2 in |
| length | 4661 mm / 183.5 in |
| width | 1857 mm / 73.1 in |
| height | 1336 mm / 52.6 in |
| transmission | TTC T-56 6-Speed Manual w/11in Clutch |
| gear ratios | 2.66:1, 1.78:1, 1.30:1, 1.00:1, 0.80:1, 0.63:1, :1 |
| final drive | 3.55:1 |