2003 Lincoln Navicross Concept
The Lincoln Navicross concept vehicle is a breakthrough all-conditions sport sedan that shatters the accepted car, crossover and sport utility vehicle paradigms. Designed to be visually striking, dynamically engaging and uniquely practical, Navicross creates an all new, yet unnamed industry niche.
The Lincoln Navicross represents the next step in applying the Lincoln design DNA -a process that began with the Lincoln MK9 concept in 2001 and, a year later, the Lincoln Continental show car.
By developing the design DNA through concepts, Lincoln is transforming its products, first by applying their influence in new Lincoln interior designs. Beginning with new 2002 and 2003 products, Lincoln has tripled its investment in interior design. Elements of the show cars are found in today's world-class interiors of the Lincoln Aviator and Navigator.
Navicross Design
The Navicross has a strong, solid, elegant, enduring exterior design that is unmistakably Lincoln. Dramatic proportions and overall architecture convey the strong stance and poise of the Navicross. Elegantly defined wheel arches balance subtle body side surface features. Large 20-inch wheels clad with all-terrain tires fill the wheel wells, giving Navicross increased ride height and functionality.
Form and function coexist and complement each other throughout the design. While remaining all-terrain ready, the Navicross design is meant to be sensual and emotional in its surface language. Elegant and graceful upper bodylines make the Navicross look lively yet sophisticated. The pillarless center-opening doors provide exceptional ingress and egress to the interior, allowing the car to have a dramatic and sporting profile and still provide superior access. The horizontal indentation with inlay which runs through the front and rear fenders further defines the body side's strength and muscularity.
The full-length body side brightwork frames the car's proportions and enhances its dynamic stance, as well as concealing the vehicle door handles.
The Interior
Opening the doors reveals a ring frame made of high-strength composite materials, encircling the door opening to provide a visual cue to the integral strength and rigidity of the body structure. The door hinges are fully integrated into the frame, and move 90 degrees to provide maximum ease of vehicle ingress and egress. The interlocking center-opening doors provide integral side impact protection, and an integral rollover cage is designed into the vehicle supported by the door ring frame.
The interior theme is one of cleanliness and simplicity. A symmetrical instrument panel and doors are an important part of Lincolns heritage. The overall form emphasizes the strength and power of the vehicle and its all-terrain capability. Its attitude is both sporty and rugged.
Navicross will deliver a superior sensory experience. Switchgear is kept to an absolute minimum in the cockpit. Two large interactive, organic light-emitting diode (LED) reconfigurable viewing screens are featured on the instrument panel, an evolution of the Continental concept car's high-tech organic LED approach seen in 2002.
Both screens have delicate graphics and utilize jewel-like details for bezels and needles. The screen in front of the driver displays vehicle instrumentation including speedometer, tachometer and fuel level. The passenger side panel is designed to provide telematics and Internet access for such things as weather and stock exchange updates and concierge functions such as making hotel and restaurant reservations. The passenger-side panel doubles as the display for the vehicle navigation system. Functions are accessible by mouse or by voice.
Other vehicle information, including settings of the THX-certified audio system and the climate control system, is easily accessed and viewed by a third, smaller screen on the center console.
The Navicross' hard-shelled seats appear to float above the vehicle's hardwood finished floor with the aid of a lateral structure which slots into the doorsill and tunnel, giving the rear passengers increased foot space. The interior gives the impression of fantastic interior space, as well as providing innovative stowage solutions.
Powertrain
Under the hood of the Navicross concept is a supercharged 32-valve 4.2-liter aluminum V-8. The engine powers a full-time all-wheel-drive system with adaptive traction control. The 5-speed automatic transmission has a manual sequential function, so a driver can manually shift through the gears by moving the shift lever up or down. The gearbox automatically senses driving style and road conditions for optimal gear shifting and performance.
In Detail
| | |
| --- | --- |
| submitted by | Richard Owen |
| engine | V8 |
| valvetrain | 4 Valves per Cyl |
| displacement | 4200 cc / 256.3 in³ |
| body / frame | Unit Steel |
| driven wheels | 4WD w/Traction Control |
| front tires | 255/50/R20 |
| rear tires | 255/50/R20 |
| front brakes | Brembo Discs w/ABS, 4-Pot Calipers |
| f brake size | x 355 mm / x 14.0 in |
| rear brakes | Brembo Discs w/ABS, 4-Pot Calipers |
| r brake size | x 355 mm / x 14.0 in |
| front wheels | F 50.8 x 22.9 cm / 20 x 9 in |
| rear wheels | R 50.8 x 22.9 cm / 20 x 9 in |
| steering | Rack & Pinion w/Variable Assist |
| f suspension | Air Dampers |
| r suspension | Air Dampers |
| wheelbase | 2900 mm / 114.2 in |
| front track | 1634 mm / 64.3 in |
| rear track | 1653 mm / 65.1 in |
| length | 4741 mm / 186.7 in |
| width | 1862 mm / 73.3 in |
| height | 1500 mm / 59.1 in |
| transmission | 5-Speed Auto |
| gear ratios | :1 |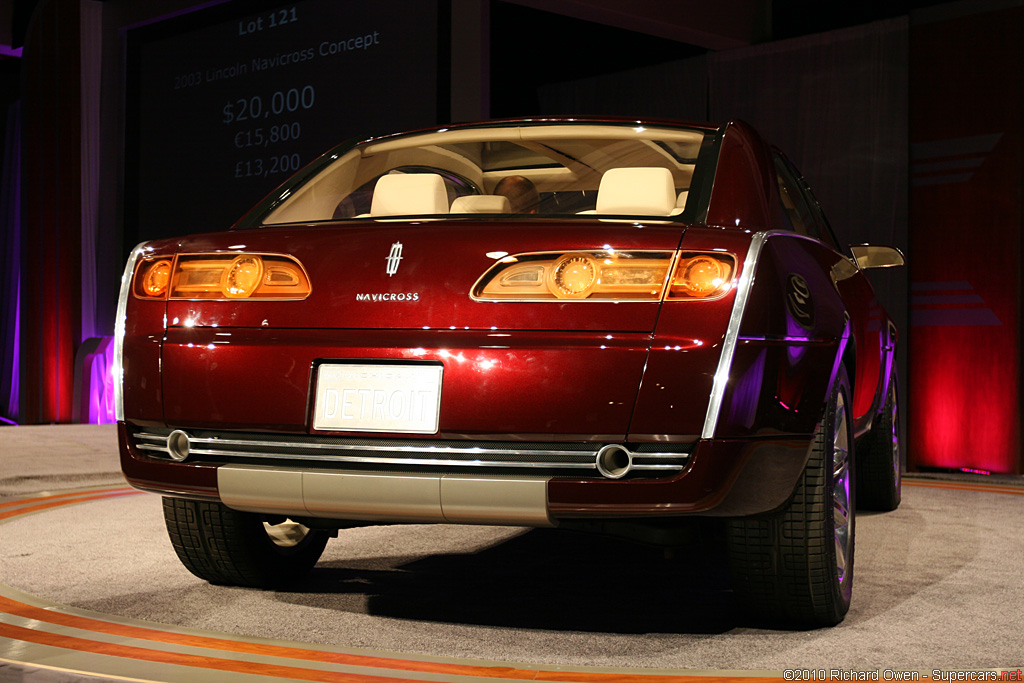 Following from the Lincoln MK9 and Continental concepts, the Navicross adapts their themes to a new niche, combining coupe, sedan and crossover sport utility vehicle attributes. Characterized by a strong stance and perfect poise, the Navicross rides on 20-inch wheels shod with all-terrain tires. Based on a modified Lincoln LS platform, it features full-time all-wheel-drive with adaptive traction control. A true sedan, it has coupe looks with center-opening pillarless doors.
Projected specifications included a supercharged 32-valve 4.2-liter aluminum V8 supplying to a full-time all-wheel-drive system with adaptive traction control through a five-speed automatic transmission with manual sequential function. Suspension is by independent air springs with adjustable ride height. Brakes are high-performance Brembo anti-lock discs, with Hill Descent Control and Electronic Brake Force Distribution.
Please note this concept car is an interior and exterior display model, without drivetrain, and is offered on a bill of sale only.