2004 Brabus SV12 Biturbo Roadster
One of the fastest sports cars in the world is the Brabus SV 12. This new super sports car is based on the Mercedes SL 600.
The SV 12 Engine
Nothing beats more horsepower. This was reason enough for the Brabus engineers to develop the SV 12 Biturbo engine with increased displacement. Installation of a custom-designed crankshaft milled from one piece, larger diameter pistons and precision-balanced piston rods increase displacement from standard 5.5 to 6.3 liters.
The turbocharged V12 is fitted with a stainless-steel high-performance exhaust system with less flow resistance and metal catalysts. Custom-programmed engine electronics ensure the flawless interaction of all components.
The Brabus engine sets new performance standards with 640 hp / 471 kW and a peak torque of 1,026 Nm at 1,750 rpm. Power is transferred to the rear wheels via a reinforced five-speed automatic transmission and a special Brabus self-locking differential.
Brabus Design
The Brabus aerodynamic package, which is available for all current SL models, creates a sporty yet elegant appearance and offers aerodynamic advantages. At high speeds the compnents help reduce lift on the front axle thus further improving directional stability. The front apron with four auxiliary headlights is designed to be bolted to the original mounting points, making an easy exchange with the production bumper.
Brabus side sills offer an additional useful and exciting feature: Pushing a button on the keyless-entry remote or pulling on the inside door handle activates four LED lights on each side which illuminate the ground on either side of the vehicle, and help prevent an unfortunate step into a hole or puddle hidden in the dark.
The design is rounded out by the rear apron with integrated diffuser. This part, which adds aerodynamic enhancement, is also designed to simply replace the production apron.
Chassis
Important for a customized asthetic, one-piece and multi-piece Monoblock light-alloy wheels can be mounted in three different designs, having 18-, 19- and 20-inch diameters. The largest possible wheels fitted to the SL are multi-piece Monoblock VI wheels in sizes 9Jx20 in front with 255/35 ZR 20 tires, and 10.5Jx20 with 305/25 ZR 20 tires at the rear.
To further increase the already impressive handling characteristics of the current SL, Brabus has developed an electronic module for the suspension, which also lowers the ride height by up to 25 millimeters.
A high-performance brake system easily handles even the most extreme braking stress. It features 375 x 36-mm vented and cross-drilled discs with 12-piston fixed calipers in front, and 355 x 28-mm discs with six-piston fixed calipers on the rear axle.
Unadulterated luxury and individuality in the interior are Brabus' specialty. The list of available exclusive interior options includes sill plates made from genuine carbon with illuminated Brabus logo, ergonomically shaped safety steering wheels with airbag, steering-wheel shifter and heated rim, a speedometer with 360-km/h scale, and an interior trim kit made from genuine carbon. To top it all off. the company upholstery shop creates exclusive interiors from a combination of Brabus Mastik and Alcantara leathers.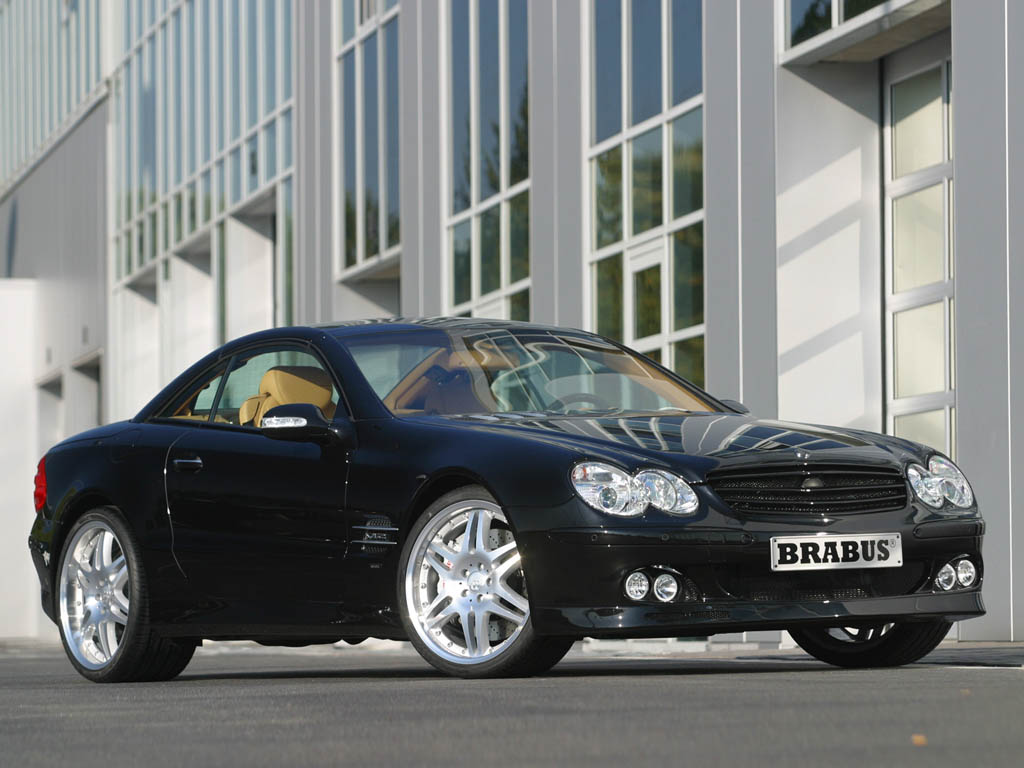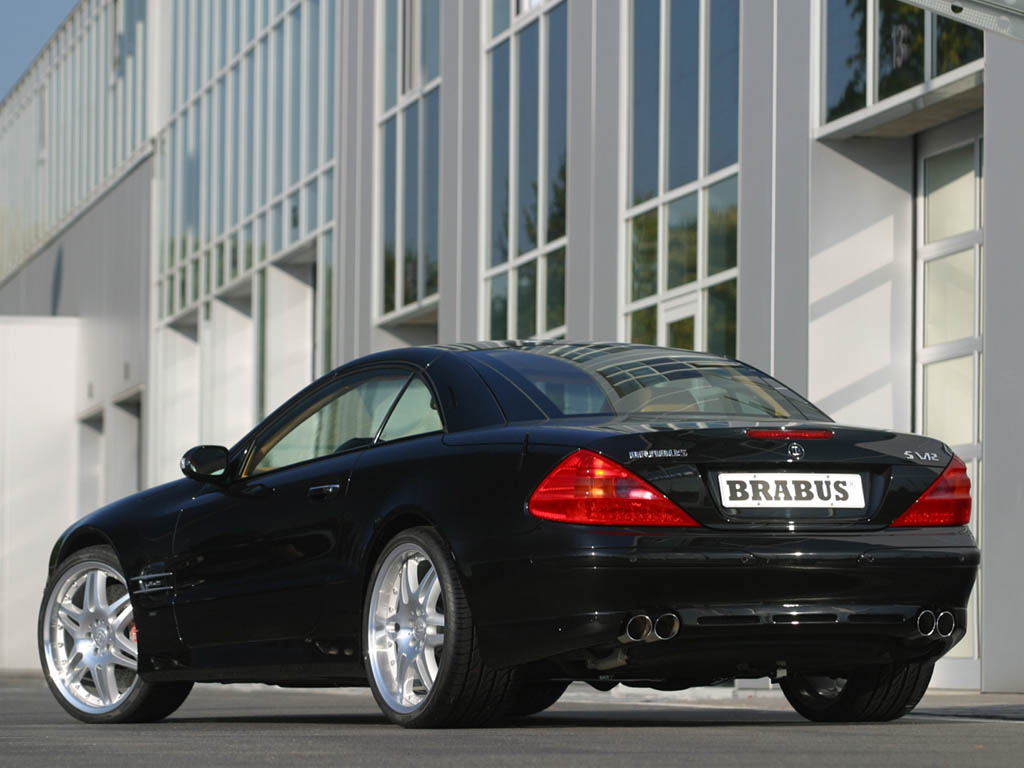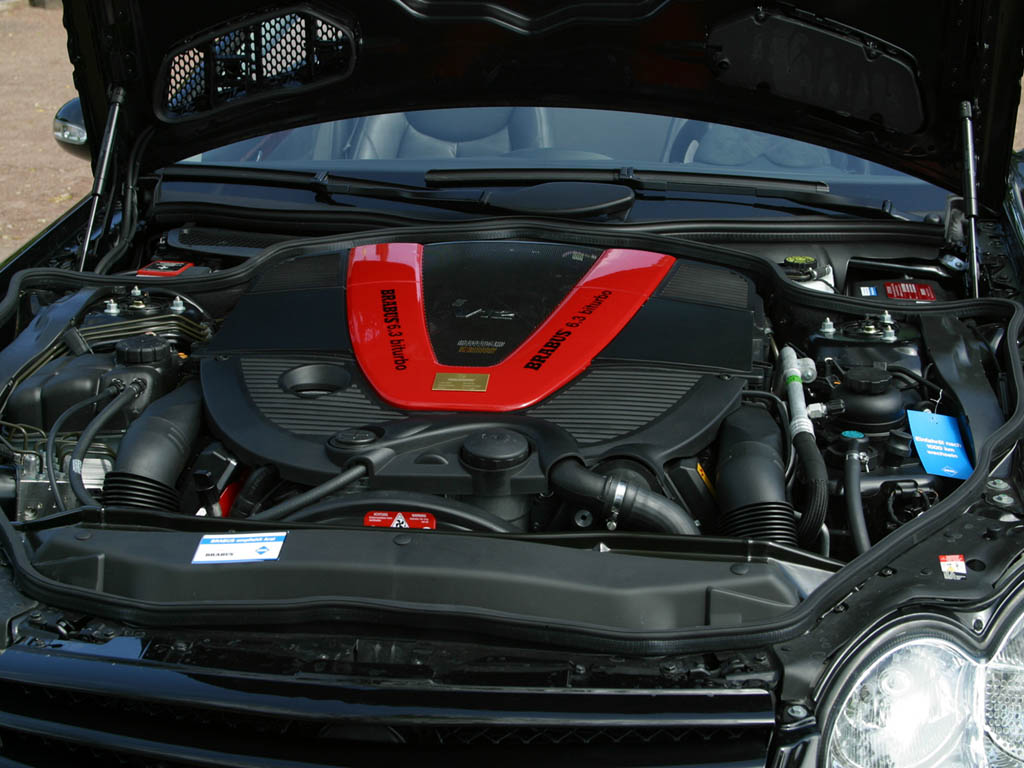 In Detail
| | |
| --- | --- |
| | |
| engine | SV 12 Twin Turbo, Twin Spark V12 |
| aspiration | Twin Turbochargers w/Intercooler |
| valvetrain | DOHC, 3 Valves per Cyl |
| displacement | 6300 cc / 384.4 in³ |
| power | 477.3 kw / 640 bhp |
| specific output | 101.59 bhp per litre |
| bhp/weight | 328.21 bhp per tonne |
| torque | 1026 nm / 756.7 ft lbs @ 1750 rpm |
| driven wheels | RWD w/Brabus self-locking differential |
| front tires | 255/35 ZR 20 |
| rear tires | 305/25 ZR 20 |
| front brakes | Cross-Drilled Disc w/12-Piston Calipers |
| f brake size | x 375 mm / x 14.8 in |
| rear brakes | Cross-Drilled Disc w/12-Piston Calipers |
| r brake size | x 355 mm / x 14.0 in |
| front wheels | F 50.8 x 22.9 cm / 20.0 x 9 in |
| rear wheels | R 50.8 x 26.7 cm / 20.0 x 10.5 in |
| steering | Rack & Pinion w/Speed Sensitiv Assist |
| f suspension | 4-Link Multi Link |
| r suspension | Multi-Link |
| curb weight | 1950 kg / 4299 lbs |
| wheelbase | 2560 mm / 100.8 in |
| front track | 1559 mm / 61.4 in |
| rear track | 1537 mm / 60.5 in |
| length | 4535 mm / 178.5 in |
| width | 1827 mm / 71.9 in |
| height | 1277 mm / 50.3 in |
| transmission | Brabus-Reinforced 5-Speed Auto w/Touchshift |
| gear ratios | 3.59:1, 2.19:1, 1.41:1, 1.00:1, 0.83:1, :1 |
| top speed | ~325 kph / 201.9 mph |
| 0 – 100 mph | ~4.2 seconds |