2004 Ford Mustang GT-R Concept
NEW YORK, April 7, 2004 – The muscular Ford Mustang GT-R rekindles the legend's road racing glory and the magic of 5.0-liter Mustangs in a stunning racing concept making its world debut today. The Mustang GT-R signals a potential future race car, while honoring four decades of performance glory just days before Mustang's 40th anniversary.
The bright Valencia Orange car, inspired by the famous Grabber Orange 1970 Mustang Boss 302 Trans-Am race cars piloted by race legends, including Parnelli Jones, is a technological showcase that reveals a number of existing or production-feasible racing parts.
Built at Saleen Special Vehicles in Troy, Mich., the car was developed by the same members of the Ford GT Dream Team who are building sub-assemblies and painting body panels for Fords first supercar.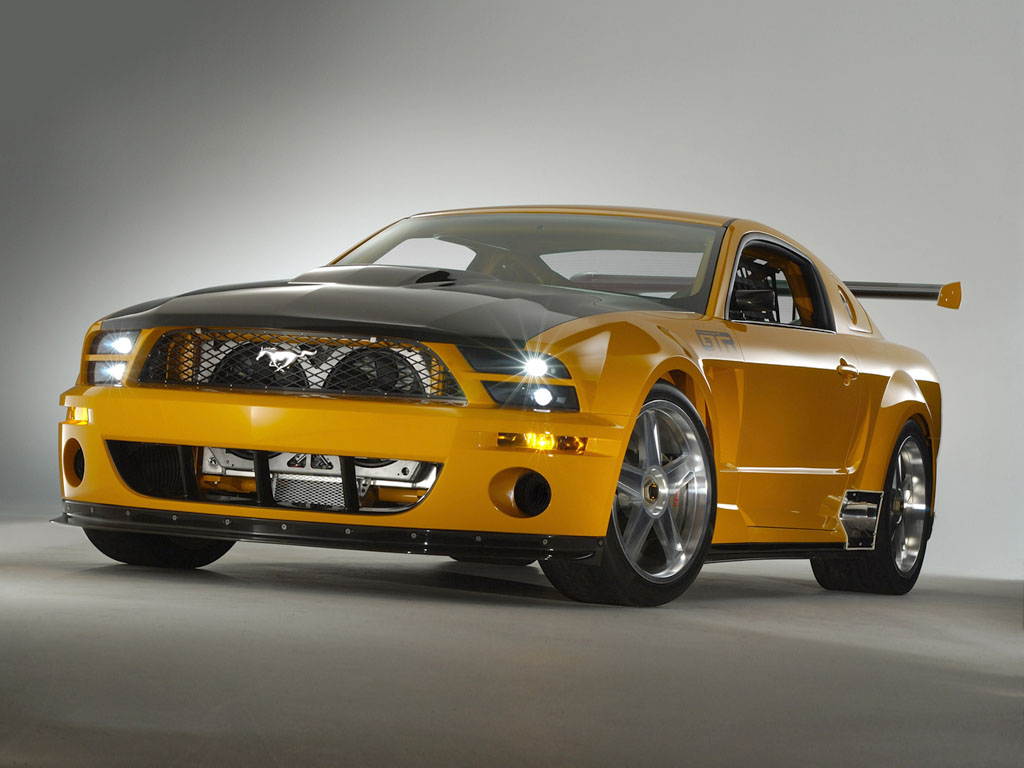 Design
Design director for Ford Performance Group, Doug Gaffka's design inspiration for the Mustang GT-R was simple: Flex the 2005 Mustang shell to wrap the engine and retain 85 percent of the production car's solid structure.
The front end is a further evolution of the Mustang GT coupe and convertible concepts that stole the 2003 North American International Auto Show and foreshadowed the design of the 2005 Mustang. The Mustang GT-R features the classic pony in the grille, surrounded by modern materials like carbon fiber as well as advanced aerodynamic treatments like ground-hugging front and side splitters.
Accentuated by huge front fender flares that accommodate the racing suspension, the sides of the Mustang GT-R have 20-inch wheels, racing slicks and substantial air scoops. The equally large rear fenders house tires that are an inch wider. Considering how quickly 18- and 19-inch tires became standard racing ware in recent years, these tires are a realistic forecast of the next evolution in racing rubber. Dual stainless steel exhaust tips — jutting out of the rear body panel just above the rocker panel on both sides in front of the tires – add an intimidating look to the rear of the car.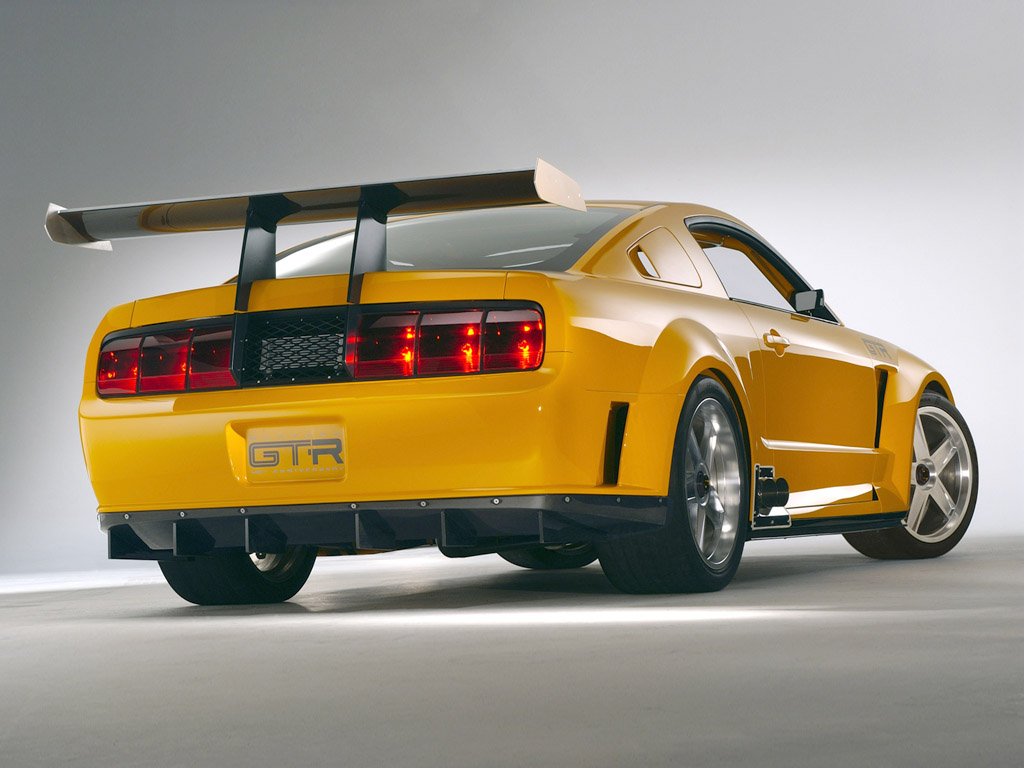 The classic Mustang rear quarter windows are blocked out to accommodate the fuel delivery dry-brake system on the drivers side. The doors are fully functional as required by many of the possible racing classes.
The rear fascia, like the front, is a further expression of the GT concept design, with a wider taillamp execution. Endurance racers will instantly recognize the differential cooler mounted with an aluminum grille screen between the taillamps.
Inside, the instrument panel preserves the dramatic styling of the 2005 Mustang in a carbon fiber application for racing. In anticipation of another trend, designers chose a Formula One-style steering wheel with most vehicle controls and gauges integrated, including the tachometer, gear selections, telemetry and warning signals. Only the oil pressure and water temperature gauges are located on the instrument panel.
5-litre
The foundation for the Mustang GT-R's race-prepared 440-horsepower engine is the new 5.0-liter Cammer crate engine from Ford Racing Performance Parts. The engine is rooted in the MOD 4.6-liter four-valve V-8 engine family. However, the motor's flanged cylinder liners help provide 94mm (instead of 90.2mm) cylinder bores, creating a full 5.0 liters of piston displacement.
And while the motor employs the SVT Mustang Cobras forged crankshaft with six-bolt mains and Manley H-Beam connecting rods for superior strength, the high-strength Ford Racing block features design reinforcements and a revised material for added strength and high-output durability. The block is specially reinforced in the crankcase web areas for high torque loads.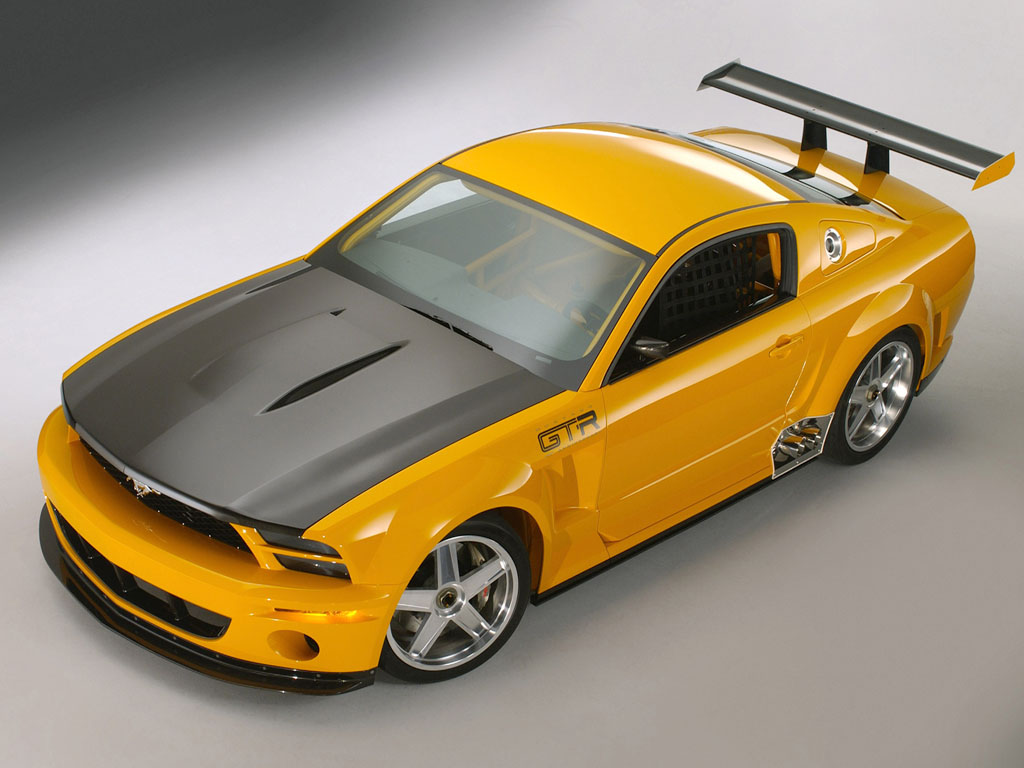 Other key differences include forged pistons, an 11.0:1 compression ratio, ported heads, higher-lift cams and beehive-shaped valve springs. The crate engine also features higher-flow fuel injectors and a magnesium, variable-geometry intake manifold.
Helping put the power to the ground is the Ford Racing-supplied TTC T-56 six-speed transmission linked to the engine through a heavy-duty clutch and flywheel assembly. Power exits the transmission through a custom metal matrix composite aluminum driveshaft into a race-specification differential with a 4.56:1 final drive ratio.
Chassis
Soon after the 2005 Mustang's world reveal in January, race engineers quickly began building on its solid foundation. The Mustang GT-R concept's chassis was fully stripped down to the body shell to receive custom reinforcement and structural improvements for driver safety on the racetrack. A roll cage was added, along with a Sparco-brand racing seat with a five-point safety harness.
The production suspension geometry is retained, but key parts were replaced to reduce weight or provide additional strength for the rigors of racing. Suspension pieces, including the K-member, are made of lightweight chrome-moly tubing. The race-proven dampers are coil-over, fully adjustable units featuring remote reservoirs. A strut tower brace increases structural rigidity.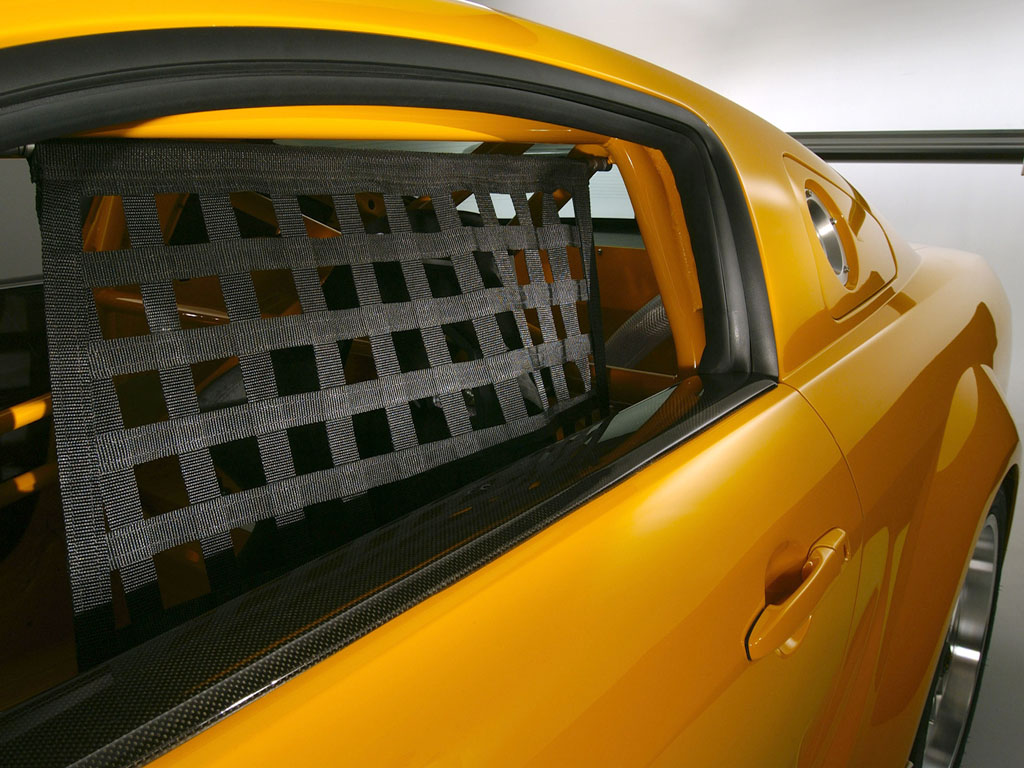 Rounding out the chassis package are huge, race-proven Brembo brakes. The front features 14.3-inch rotors with six-piston calipers; the rear has 13-inch rotors with four-piston calipers. Linking the whole package to the racetrack are 20-inch wheels and racing slicks provided by Pirelli. Tire sizes range from 275/35 in front to 305/30 in the rear.
2004 Ford Mustang GT-R Concept Gallery
In Detail
| | |
| --- | --- |
| submitted by | Richard Owen |
| engine | MOD All Aluminum V8 |
| position | Front Longitudinal |
| aspiration | Natural |
| valvetrain | DOHC, 4 Valves per Cyl |
| displacement | 4995 cc / 304.8 in³ |
| bore | 94 mm / 3.7 in |
| stroke | 90 mm / 3.54 in |
| compression | 11.0:1 |
| power | 328.1 kw / 440 bhp @ 7000 rpm |
| specific output | 88.09 bhp per litre |
| torque | 542.33 nm / 400 ft lbs @ 5500 rpm |
| redline | 7000 |
| body / frame | Unit Steel w/Lightweight RPS Body Panels, Carbon Fiber Hood |
| driven wheels | RWD w/Race-Spec Rear Differential |
| front tires | Pirelli P275/35/20 racing slicks |
| rear tires | Pirelli P315/30/20 racing slicks |
| front brakes | Discs w/Brembro 6-Piston Calipers |
| f brake size | x 363 mm / x 14.3 in |
| rear brakes | Discs w/Brembro 4-Piston Calipers |
| r brake size | x 330 mm / x 13 in |
| front wheels | F 50.8 x 25.4 cm / 20 x 10 in |
| rear wheels | R 50.8 x 27.9 cm / 20 x 11 in |
| f suspension | Strut Tower w/Chrome-Moly K-Member, Anti-Roll Bar |
| r suspension | Three-Link Solid Axle w/Adj Shock Absorbers, Panhard Rod, Anti-Roll Bar |
| transmission | Tremec T-56 6-Speed |
| gear ratios | 2.97:1, 2.07:1, 1.43:1, 1.00:1, 0.80:1, 0.62:1, :1 |
| final drive | 4.56:1 |
Auction Sales History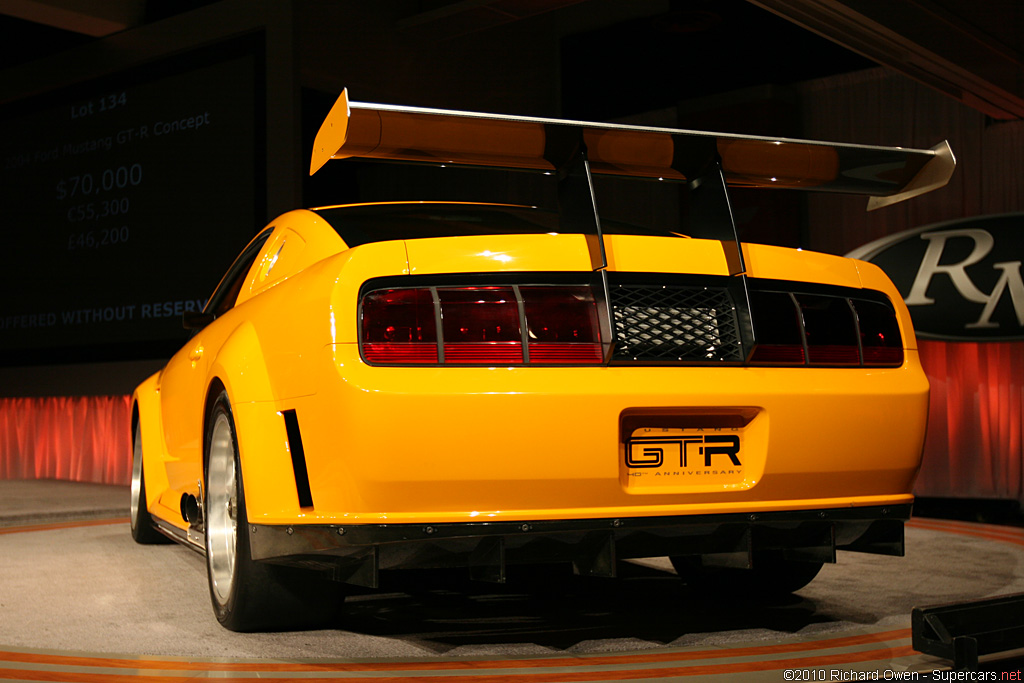 2004 Ford Mustang GT-R Concept – sold for $110,000. Tribute to 40 years of Mustang performance. 440 bhp 5-liter cammer. Race-prepared chassis. Introduced at the April 2004 New York International Auto Show, the Mustang GT-R was a tribute to 40 years of Mustang performance and a portent of race-prepared Mustangs of the future. Its bright Valencia Orange paint was inspired by the Grabber Orange hue of the 1970 Boss 302 Trans Am cars. This vehicle runs and drives but is not DOT or EPA certified. It cannot be registered for highway use in the United States and is offered on bill of sale only. Auction Source: RM Auctions' 2010 Sports & Classics of Monterey.
Story by Ford Motor Company, edited by Supercars.net