2004 Ford Supervan 3 Concept
DUNTON, Essex, 16 July, 2004 – The Essex-based Ford Heritage Vehicle Collection has been boosted with the recommissioning of Transit Supervan 3.
Originally built 20 years ago when it was known as Supervan 2, this very special Transit with the heart and lungs of a racing car will spearhead a number of activities next year when the company celebrates the 40th anniversary of the launch of the Ford Transit range.
Built on a Ford C100 race car chassis and originally powered by a mid-mounted Ford-Cosworth 650bhp 'HB' F1 engine, Supervan 3 first saw the light of day in 1995 when it was displayed at the motor show in Birmingham. For the next few years, in its unique hand-crafted seven-eighths scale fibreglass body, it was used at special events up and down the country before being 'retired' in 2001 after its appearance at the National Van Show in Brighton, where it was presented in authentic Royal Mail livery.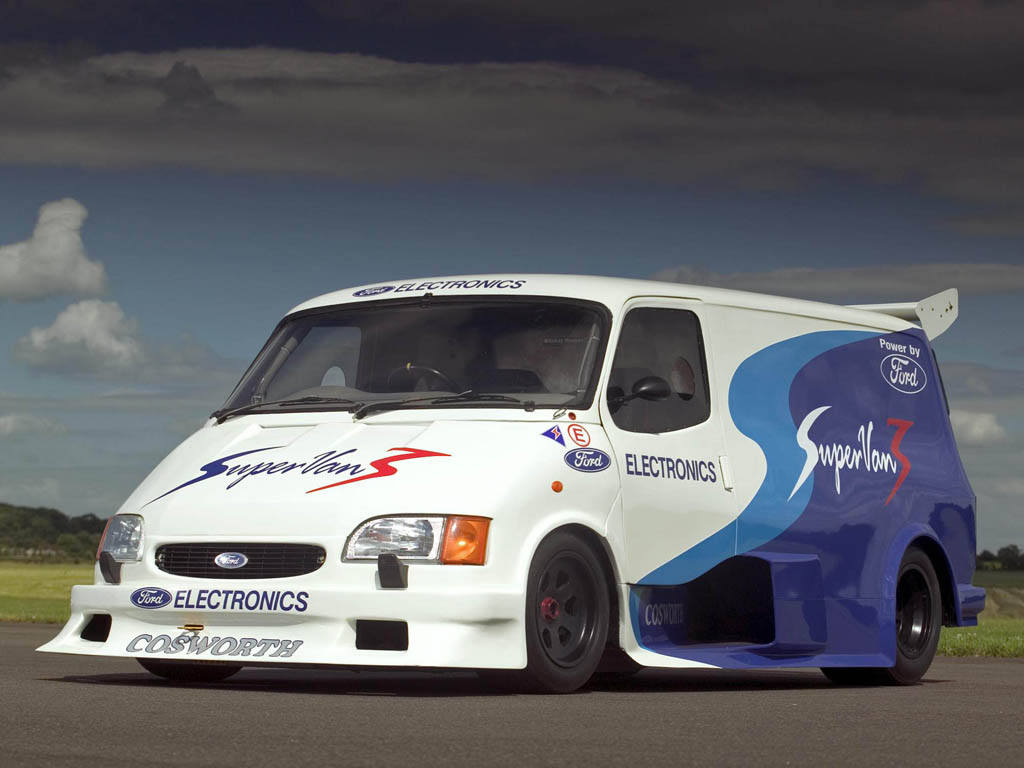 By then the F1 engine had been replaced for reasons of practicality by a Ford-Cosworth Pro Sports 3000 (V6) engine, which it retain today. Power is transmitted via a Hewland gearbox to the rear wheels.
The top speed of Supervan 3 is estimated at around 150mph with acceleration which would not disgrace many sports supercars. Aerodynamic stability at high speed is aided by a deep front splitter and large rear wing.
The recent re-commissioning work also included returning Supervan 3 to its original 1984 highly distinctive Ford Motorsport paint livery.
Supervan 3 follows in the famous wheeltracks of Supervans 1 and 2. The original Supervan was produced by Terry Drury Racing and made its debut at Brands Hatch on Easter Monday 1971. It was fitted with a 400 horsepower version of the high-performance 302 cubic inch V8 engine used in Ford's Le Mans-winning GT40 sports cars.
Supervan 2 debuted in 1984, at the Donington Truck Grand Prix, and was the work of Auto Racing Technology of Woolaston. Powered by a Ford-Cosworth DFL engine – the long-stroke version of Ford's famous DFV F1 engine. It was clocked at Silverstone doing 174mph. Ten years later and DRL Engineering of Suffolk undertook a complete re-build of Supervan 2 and, fittingly, it was decided to re-name the vehicle Supervan 3.
This latest recommissioning work was carried out by Sporting and Historic Car Engineers of Bicester in Oxfordshire.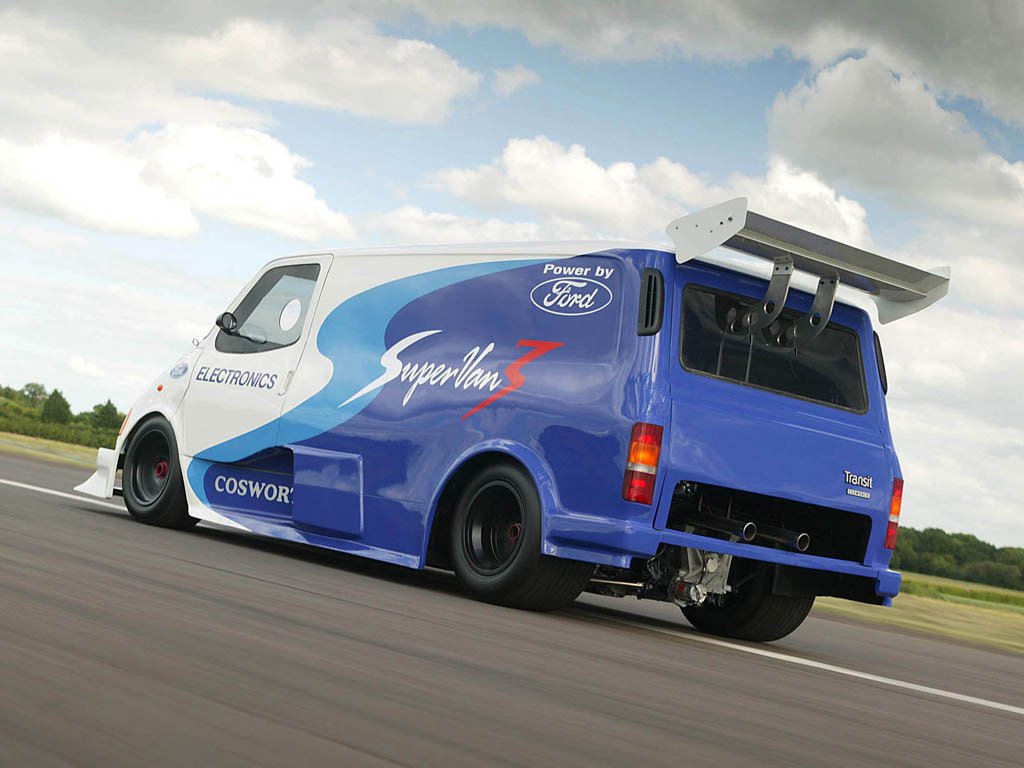 Story by Ford Motor Corporation, edited by Supercars.net
In Detail
| | |
| --- | --- |
| submitted by | Richard Owen |
| engine | Ford-Cosworth Pro Sports 3000 V6 |
| position | Mid, Logitudinal |
| displacement | 2935 cc / 179.1 in³ |
| power | 193.9 kw / 260 bhp |
| specific output | 88.59 bhp per litre |
| bhp/weight | 292.13 bhp per tonne |
| body / frame | Ford C100 race car chassis |
| front tires | Goodyear Eagle slicks/wets |
| rear tires | Goodyear Eagle slicks/wets |
| front brakes | Brembro Ventilated Carbon Discs w/4-Piston Calipers |
| f brake size | x 279 mm / x 11.0 in |
| rear brakes | Brembro Ventilated Carbon Discs w/4-Piston Calipers |
| r brake size | x 279 mm / x 11.0 in |
| front wheels | F 33.0 x 25.4 cm / 13 x 10 in |
| rear wheels | R 33.0 x 30.5 cm / 13 x 12 in |
| f suspension | Double Wishbones w/Coil-Over Dampers, Anti-Roll Bar |
| r suspension | Double Wishbones w/Coil-Over Dampers, Anti-Roll Bar |
| curb weight | 890 kg / 1962 lbs |
| wheelbase | 2790 mm / 109.8 in |
| length | 4600 mm / 181.1 in |
| width | 1880 mm / 74.0 in |
| height | 1670 mm / 65.7 in |
| transmission | 5-Speed Hewland |
| gear ratios | :1 |
| top speed | ~241.4 kph / 150.0 mph |