2005 Ford Shelby GR-1 Concept
The Shelby GR-1 concept establishes itself as one of the most contemporary and dramatic front-engine, two-seat, fastback supercars. This running prototype impresses with a 605-horsepower, 390-cubic-inch all-aluminum V-10 engine, a road-tested version of the Ford GT suspension and a stunning new polished-aluminum body.
GR-1 combines modern sculptured surfaces and a muscular fastback design into a car that could succeed the Ford GT once its production cycle concludes. All of the sophisticated mechanicals of this extraordinary coupe are wrapped in a sleek, muscular aluminum skin left bare and polished bright. The result is a forward-looking supercar with attention-grabbing Ford presence and Carroll Shelby inspiration.
Much like the original Ford GT and last year's Shelby Cobra concept vehicles, the Shelby GR-1 was intended to be a fully engineered, production-feasible road going, drivable project vehicle. Phil Martens, group vice president of product creation commented: "Our goal this time around was not to create the ultimate top-speed, high-performance sports car. Really, we intended to strike a better balance of design, capability and usability that might appeal to someone considering a Ferrari 575M Maranello."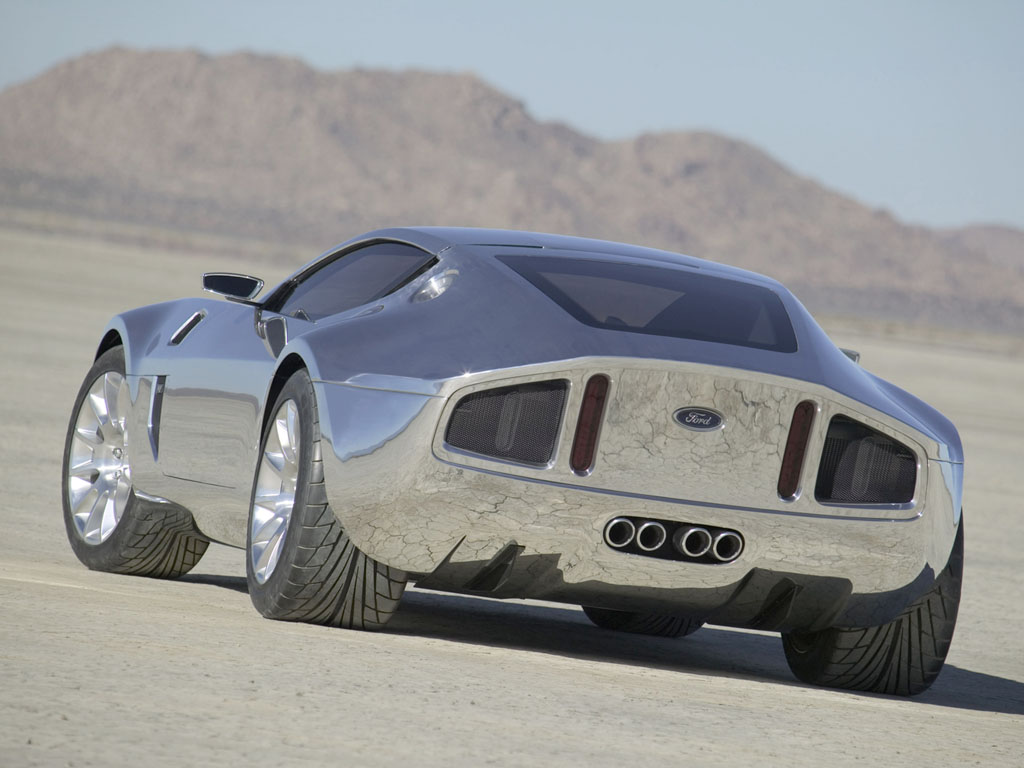 Chassis & Body
The Shelby GR-1 starts with a modified version of the aluminum chassis from the rear-engine Ford GT. Overall, the Ford Shelby GR-1 concept is more than two feet shorter than the Ford GT, with a wheelbase nearly seven inches shorter. The track width has been reduced by more than an inch. That the concept car and the GT share any parts at all is a testimony to the flexibility of the space frame design and the creativity of the chassis team.
The Ford Shelby GR-1 is an athletic design with a long hood that blends seamlessly into the teardrop-shaped cabin, a fastback roofline and falling upper fender line. The car looks as if it is in motion, even when it is standing still.
The wheel arches and compact overhangs define a striking stance while the strong shoulder line and smooth, taut surfaces express the car's athletic nature. Polished aluminum body panels further express the highly sculptured surfaces and define the proportions in a dramatic fashion.
The Shelby GR-1 concept sits on 19-inch, 12-spoke milled aluminum wheels and features Goodyear 275/40R-19 tires in the front and 345/35R-19 tires in the rear, mated with the unique Tire IQ system, which allows the driver to monitor precise tire performance.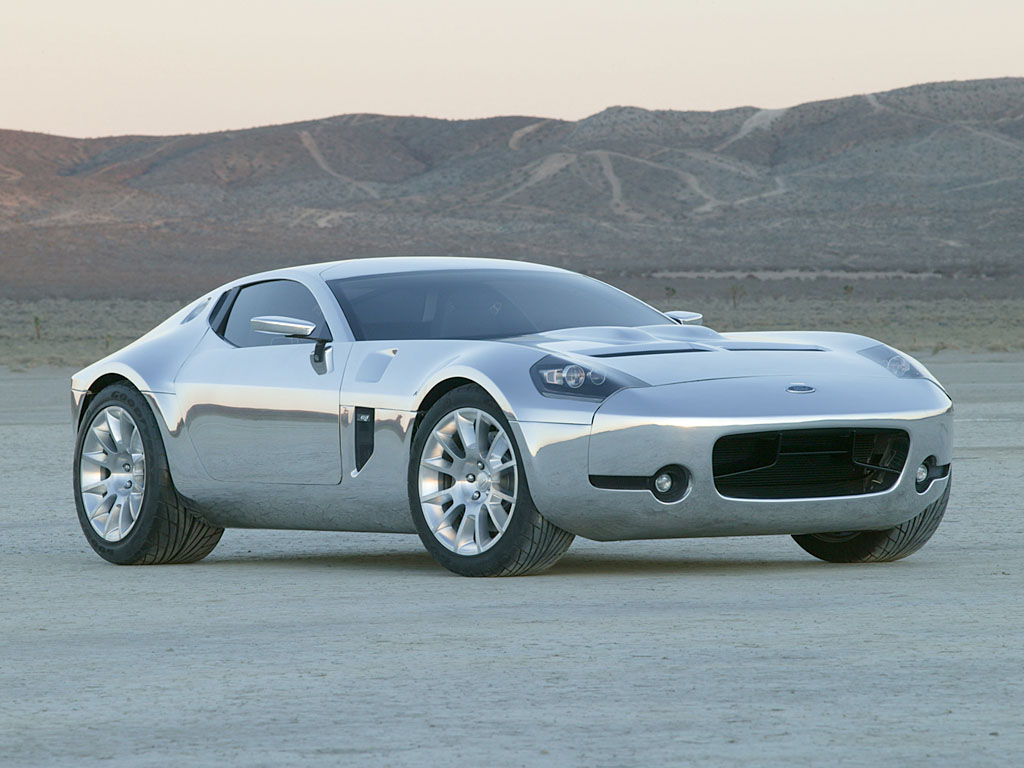 Interior
The upward glide of the butterfly doors leads into the race-inspired interior that features seats with carbon shells and fixed backs. The carbon shells are connected directly to the sill and tunnel via lightweight aluminum spaceframe attachments and can be adjusted fore and aft by way of an accessible pull ring on the seat cushions' leading edge. The seats incorporate removable Alcantara comfort inserts that are individually tailored to the occupant's' body type.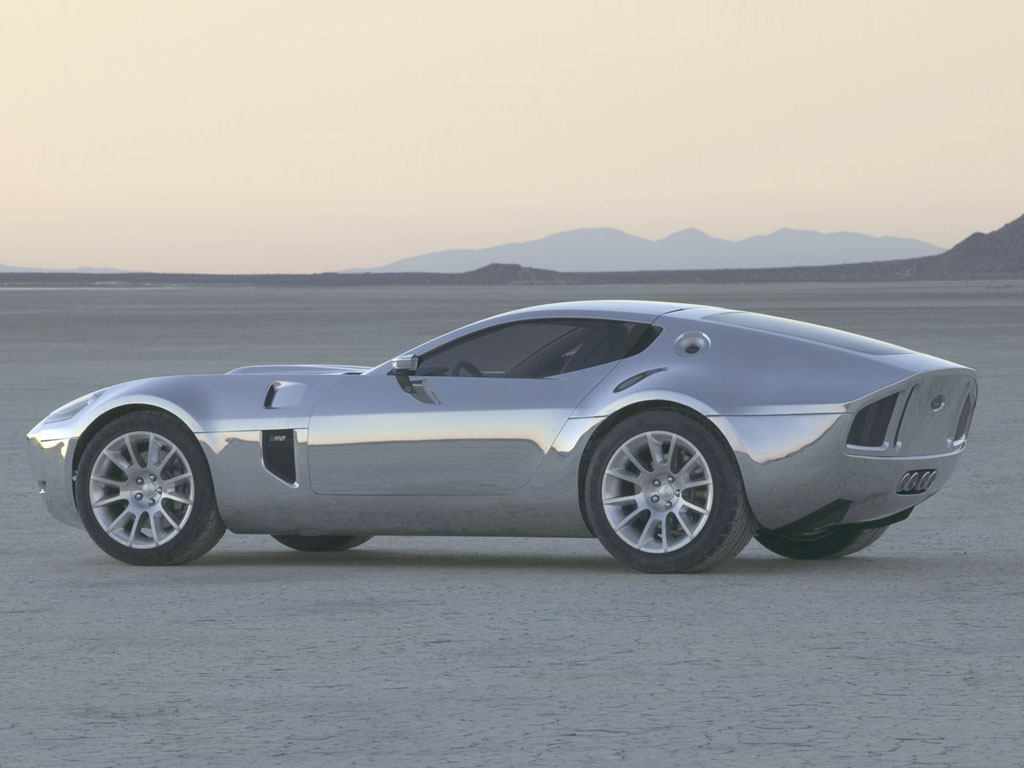 Interior cabin technology focuses on driver comfort, enjoyment and entertainment. The instrument panel sports a full complement of analog gauges, including a combination analog tachometer with floating watch-like elements and digital speedometer. The tachometer housing has integrated air registers and an additional Noise Reduction Technology output speaker.
The centrally mounted Tire IQ display is a sophisticated driver's aid designed to inform, warn and even entertain. The Tire IQ system provides the driver and passenger with an animation of vital tire temperature and pressure statistics (via sensors in the tire), along with other key vehicle dynamics such as cornering G forces (via an onboard accelerometer). It also controls the onboard stereo.
Audio input, output and recording speakers are integrated into the headrest protection wings on each seat. The speakers can provide a combination of the following:
-Noise-reducing sound waves (NRT) for improved highway cruising noise levels -Play or record (for playback) pace notes -MP3 Audio
Power & Drive Trains
Ahe heart of any supercar is its engine, and the Ford Shelby GR-1 concept is Inspired by the biggest, baddest engine of them all, the renowned 427. Ford engineers created a new aluminum-block V-10 to power last year's Ford Shelby Cobra concept. This 390 cubic inch, 6.4-liter engine, reprised for service in the Shelby GR-1 concept, is adapted from Ford's MOD engine family. It delivers the rush of raw power, with 605 horsepower and 501 foot-pounds of torque, associated with that big 1960s V-8 powerplant without the aid of supercharging or turbocharging.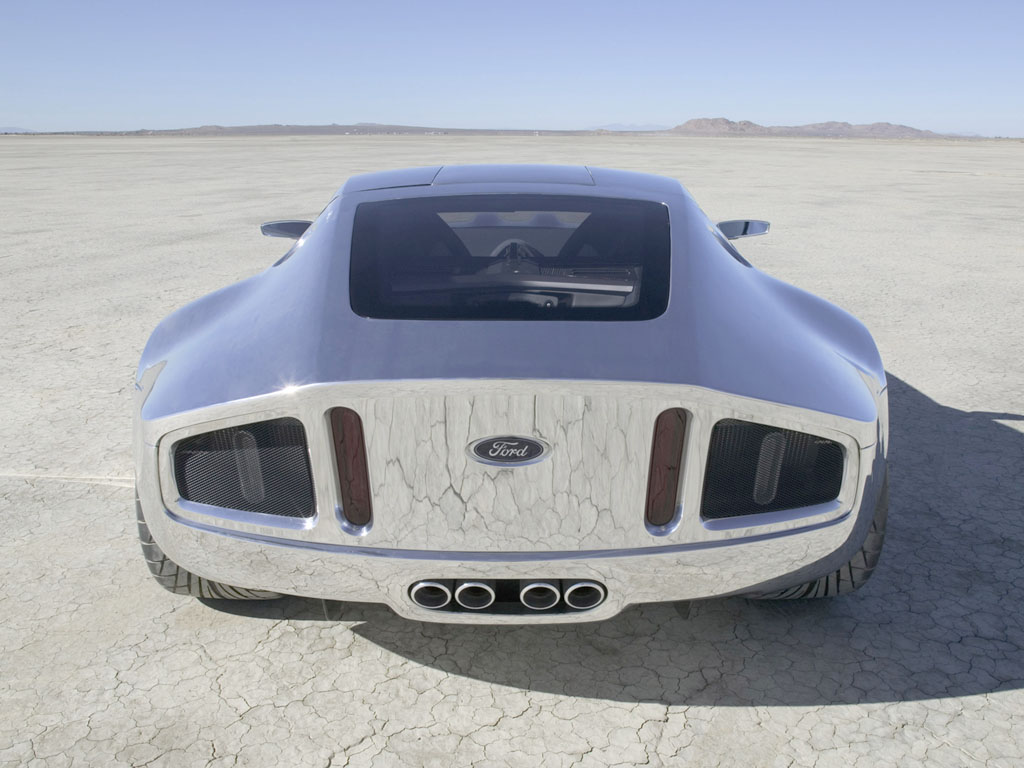 This combination of brute force and thorough engineering has created a rarity in the world of auto shows – a concept car that can actually do, rather than merely promise, 0-60 in under four seconds, and would easily exceed 200 mph if not electronically limited.
For approximately three years, the Ford powertrain team has been working on an all-aluminum V-10 targeted at ultimate, naturally aspirated performance. When they bolted this modern-day big-block into a Mustang chassis for evaluation, it only took one drive to confirm its potential.
The rear-mounted six-speed transaxle is identical to the high-performance unit in the Ford GT, with an integral limited-slip differential to drive the rear wheels. Based on the engine's 7,500-rpm redline and the wide drive ratios, this Ford Shelby GR-1 concept has a theoretical top speed of around 200 mph, although it's electronically limited – for now.
Mounting the transmission in the rear helped to more evenly distribute the vehicle's weight and increased the footwell area from 16.5 inches to 21.7 inches, resulting in almost three inches more legroom than in similar performance vehicles
2005 Ford Shelby GR-1 Concept Gallery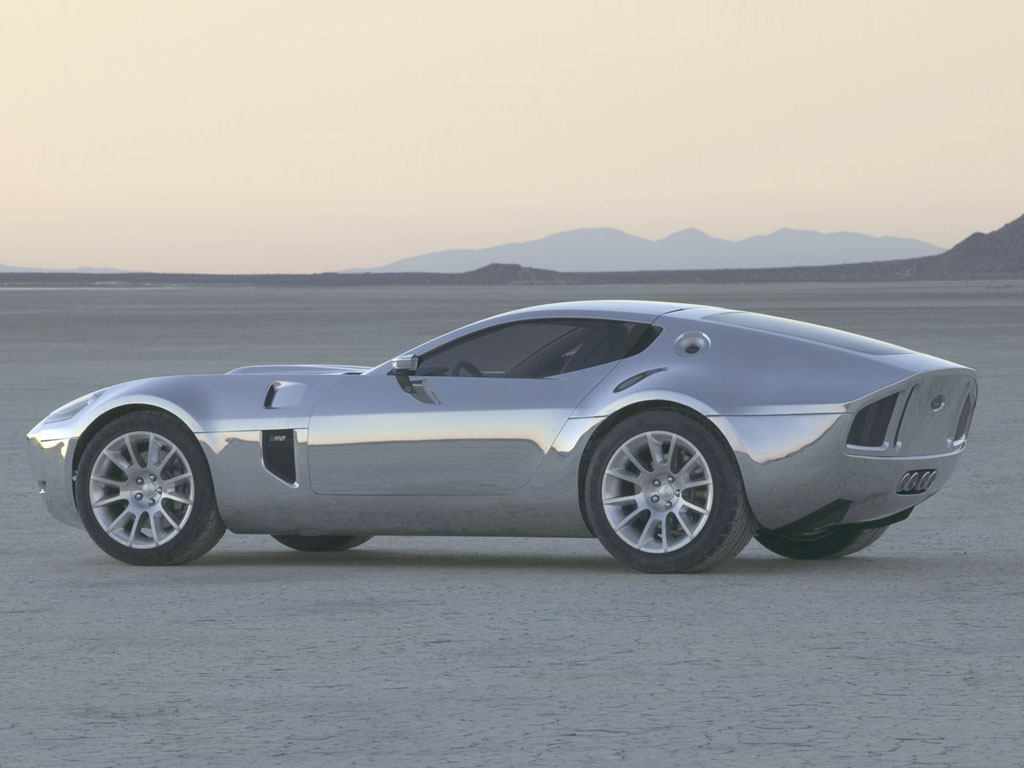 In Detail
| | |
| --- | --- |
| submitted by | Richard Owen |
| engine | V10 w/Dry Sump Lubrication |
| position | Front Longitdudinal |
| fuel feed | Port Fuel |
| power | 451.2 kw / 605 bhp @ 6750 rpm |
| bhp/weight | 342.0 bhp per tonne |
| torque | 679.26 nm / 501 ft lbs @ 5550 rpm |
| redline | 7500 |
| driven wheels | RWD w/Limited Slip Differential |
| front tires | 275/40R-19 Goodyear Tire IQ |
| rear tires | 345/35R-19 Goodyear Tire IQ |
| front brakes | Brembo Cross-Drilled & Vented Discs w/4-Piston Monoblock Ca;ipers |
| f brake size | x 356 mm / x 14 in |
| rear brakes | Brembo Cross-Drilled & Vented Discs w/4-Piston Monoblock Ca;ipers |
| r brake size | x 335 mm / x 13.2 in |
| steering | Power Rack & Pinion |
| f suspension | Unequal A-Arms w/Control Arms, Coil Springs, Monotube Dampers, Anti-Roll Bar |
| r suspension | Unequal A-Arms w/Control Arms, Coil Springs, Monotube Dampers, Anti-Roll Bar |
| curb weight | 1769 kg / 3900 lbs |
| wheelbase | 2540 mm / 100.0 in |
| front track | 1600 mm / 63 in |
| rear track | 1557 mm / 61.3 in |
| length | 4412 mm / 173.7 in |
| width | 1895 mm / 74.6 in |
| height | 1168 mm / 46 in |
| transmission | Ricardo 6-Speed Manual Transaxle |
| gear ratios | :1 |
Auction Sales History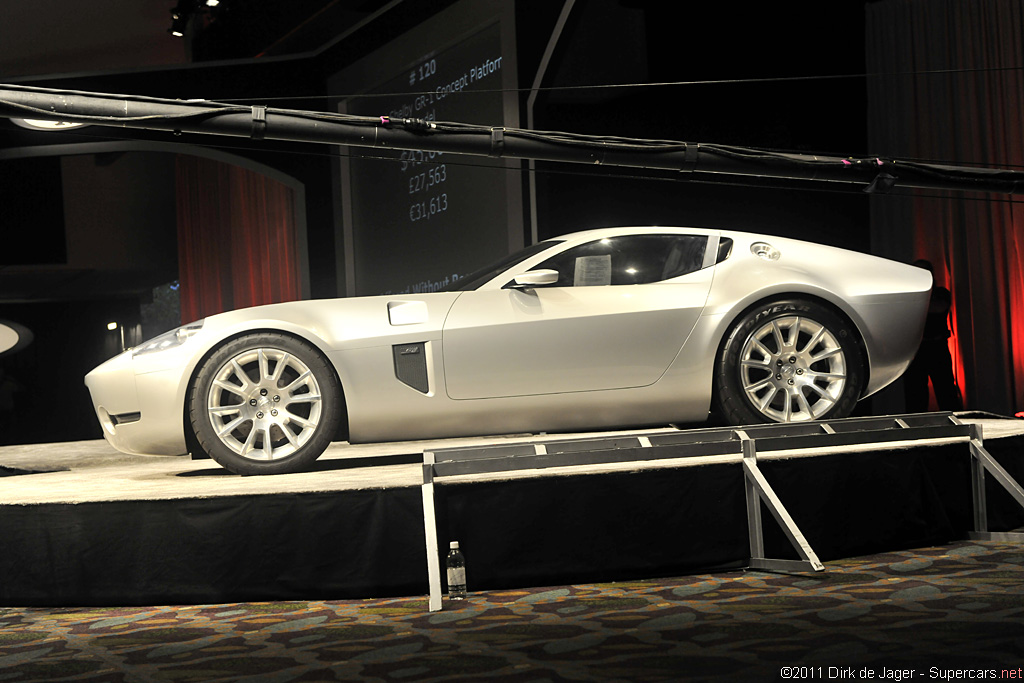 2005 Ford Shelby GR-1 Concept Platform Model – sold for $82,500 Offered by Ford Motor Company. Proceeds to Benefit the Juvenile Diabetes Research Foundation. As a platform model, this car does not contain an engine, drivetrain or interior. Auction Source: 2011 Monterey Auction by RM
Story by Ford Motor Company, edited by Supercars.net