2005 FPV GT-P
Ford Performance Vehicles has unveiled its bold new range of high-performance vehicles at the 2005 Australian International Motor Show. For the first time since FPV was launched in September 2002, the BF range will consist of a full product lineup of six high-performance models, and at the top is the GT-P.
Never has an Australian-built production car range contained so many technologically-advanced performance driving features. The new ZF six-speed automatic transmission or the close-ratio Tremec T56 six-speed manual, the Boss 290 quad cam V8 or the F6 270 Turbo with its twin-plate clutch, the award-winning Control Blade independent rear suspension system, Brembo brakes and the outstanding Falcon chassis, all combine to offer the very best range of vehicles yet from FPV.
The high-tech quad cam Boss 290 – the only V8 production engine to be built in Australia – has a number of upgraded features that coincide with the introduction of the new range.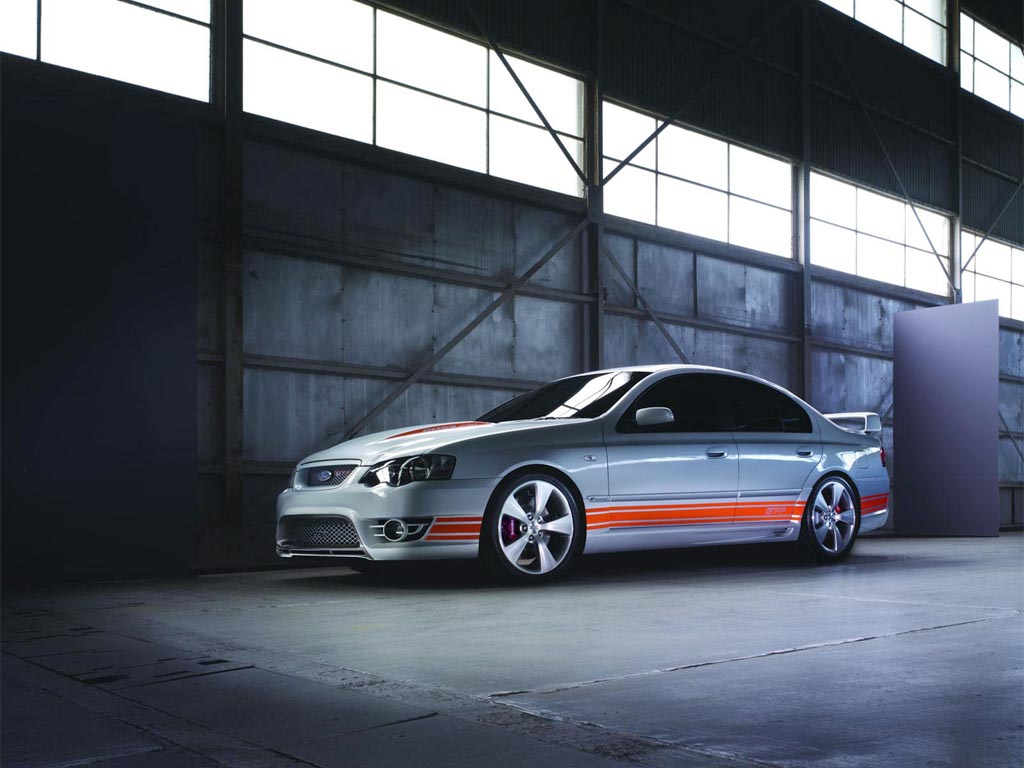 The new twin exhaust system not only lifts the aesthetic presence of the iconic V8-powered models, but also generates a traditional muscle car-inspired exhaust note. The system has four-into-one extractors from each bank of cylinders joining into a twin 2 Ľ-inch exhaust with an intermediate silencer box. The exhaust gases pass through new tri-flow silencers before exiting via the six-inch twin-outlets that feature a trapezoidal design reminiscent of iconic muscle cars of the 1970s.
Despite the restrictions imposed by the Euro III regulations, Prodrive's powertrain engineering team has maintained the power and torque outputs of the 5.4-liter quad cam Boss 290 V8. It produces maximum power of 394 bhp at 5,500rpm and 384 lb-ft of torque at 4,500rpm.
Enhancing the more aggressive styling, all FPV Boss 290 V8-powered models are now fitted with 19-inch alloy wheels as standard equipment. The wheels have been designed to accentuate the power and presence of the Brembo brakes that are now standard on all FPV models.
FPV owners will be offered even more ways to customize their vehicle, with a new-design side stripe and hood decal package available as an option on GT-P.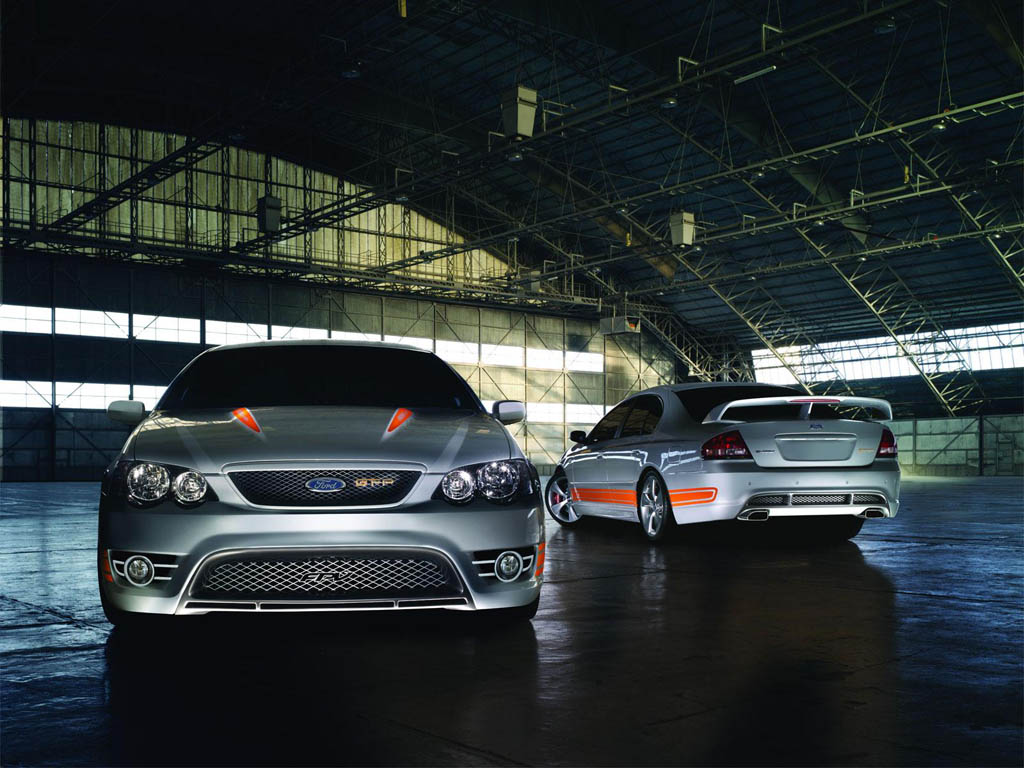 The flagship FPV GT-P features ultra-high-performance Brembo six-piston front calipers and a four-piston rear caliper. These calipers provide improved stopping power, better resistance to brake fade and improved pedal feel and effort. The monoblock construction is significantly stiffer than conventional two-piece calipers, generating better braking response and improving long-term durability and performance.
The cross-drilled and pillar-ventilated rotors measure 355 mm x 32 mm at the front and 330 mm x 28 mm at the rear. The unique pillar venting provides greater heat extraction from the inner portion of the rotor for better braking performance during enthusiastic driving.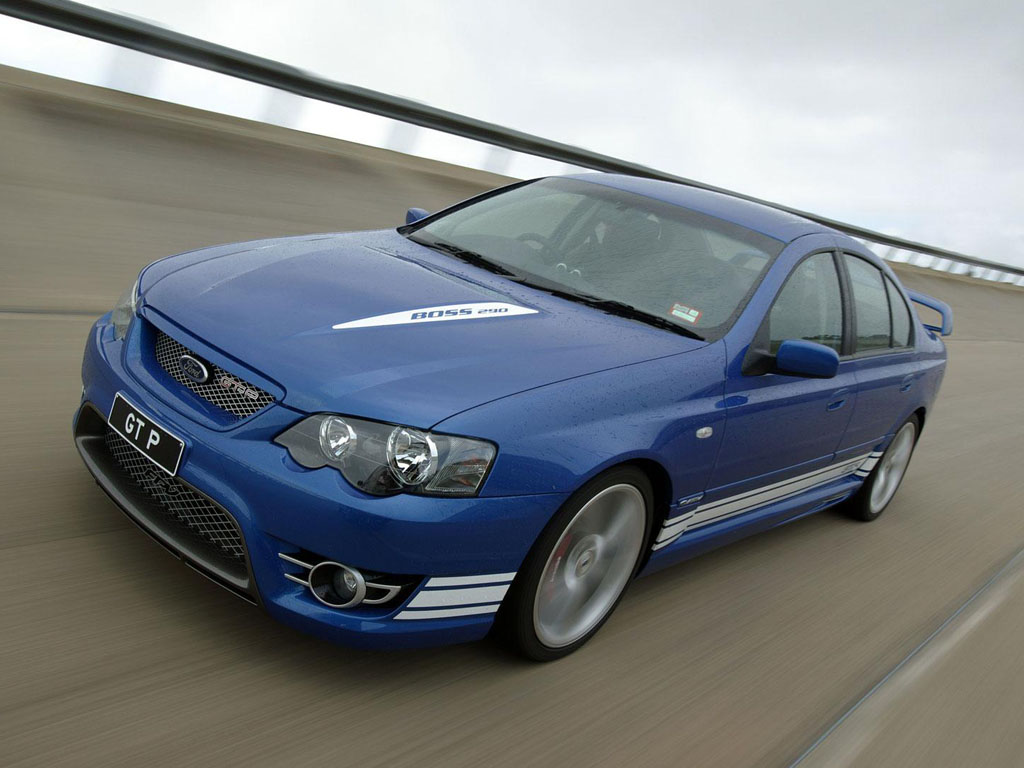 In Detail
| | |
| --- | --- |
| | |
| engine | BOSS 290 V8 |
| position | Front Longitudinal |
| valvetrain | DOHC 4 Valves per CYl |
| fuel feed | Multi-Point Sequential Injection |
| displacement | 5408 cc / 330.0 in³ |
| bore | 90.2 mm / 3.55 in |
| stroke | 105.8 mm / 4.17 in |
| compression | 10.5:1 |
| power | 293.8 kw / 394 bhp @ 5500 rpm |
| specific output | 72.86 bhp per litre |
| bhp/weight | 212.4 bhp per tonne |
| torque | 520.63 nm / 384 ft lbs @ 4500 rpm |
| driven wheels | RWD |
| front brakes | Discs w/Brembro 6-Piston Calipers, EBD, ABS |
| f brake size | x 355 mm / x 14.0 in |
| rear brakes | Discs w/EBD, ABS |
| r brake size | x 330 mm / x 13.0 in |
| f suspension | Double Wishbones |
| r suspension | Control BLade |
| curb weight | 1855 kg / 4090 lbs |
| wheelbase | 2829 mm / 111.4 in |
| front track | 1553 mm / 61.1 in |
| rear track | 1586 mm / 62.4 in |
| length | 4944 mm / 194.6 in |
| transmission | ZF 6-Speed Auto or Tremec T56 6-Speed Manual |
| gear ratios | 2.98:1, 1.78:1, 1.30:1, 1.00:1, 0.80:1, 0.63:1, :1 |
| final drive | 3.46:1 |
Story by Ford Performance Vehicles, edited by Supercars.net