2005 Volvo V50 SC Concept
Las Vegas, Nevada (November 2, 2004) – The Volvo V50 SV, making its debut today at the 2004 Specialty Equipment Manufacturers Association (SEMA) tradeshow, is the first-ever high-performance car to emerge from Volvo Cars Special Vehicle department in Gothenburg, Sweden.
While Volvo has no plans of offering the V50 SV parts or materials through its retailer network, it gives young enthusiasts and the aftermarket companies that cater to them a thought provoking launching pad to get their creative juices flowing. Understated and refined, the Volvo V50 SV has what it takes to turn heads and handle well on the race track.
Drivetrain
What dominates the performance of the Volvo V50 SV resides under the specially fabricated hood: a turbocharged 2.5-liter engine lifted from Volvo's high-performance S60 R. But while the S60 R puts out a commendable 300 horsepower, the V50 SV ups the ante considerably by producing an eye-popping 340 horsepower – an increase of 122 horsepower from the standard 218 horsepower found in a production V50 T5.
As with any turbocharged engine, getting large amounts of cool air pushed through the turbo housing is what gets the job done. In the case of the V50 SV, a highly modified front end incorporates massive lower air intakes. The air is routed up into the engine compartment to the turbo through larger-bore tunnels. Turbo boost pressure has been bumped from 1.0 bar to a heart-pounding 1.4 bar.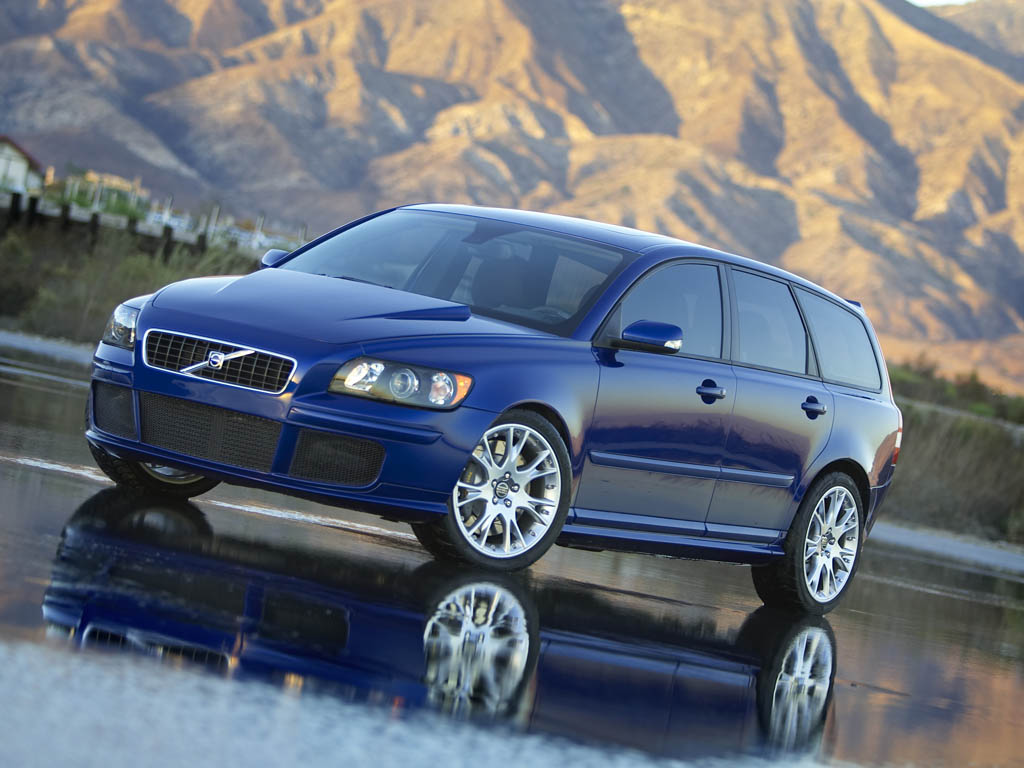 Horsepower is nothing without torque and the V50 SV won't disappoint. Volvo's history of minimizing turbo lag and offering a broad torque curve from very low rpm is retained in the V50 SV. With 331 lb.-ft. on tap from 1,500 to 4,800 rpm, the V50 SV will sprint to 60 mph in about 5.5 seconds.
A modified, low-restriction exhaust system with large-bore 3-inch diameter chrome tips adds the finishing touch-of-class at the rear end and also helps to boost engine performance. Its throaty note and distinctive burble give the V50 SV curb presence.
Putting the power to the pavement is a close-ratio 6-speed manual transmission that is also borrowed from the S60 R. The V50 SV's clutch effort, however, is lighter and easier to modulate than the brutish S60 R. Volvo's electronically controlled all-wheel-drive system by Haldex routes power to the rear wheels almost instantaneously when the front tires begin to lose traction. In normal driving situations, the V50 SV primarily powers the front wheels. It is only when the system detects that the front wheels have lost traction and have begun to spin that it delivers power to the rear wheels.
Suspension
The Volvo V50 SV's aggressive stance is made possible through a European-tuned sports suspension that is available optionally on Euro-spec V50s. It 12-mm lowered ride height is accomplished through shorter, stiffer springs and firmer shock absorbers. The suspension system has been carefully reworked to maintain a flat stance around corners, while never becoming twitchy when off-throttle maneuvers may threaten to bring the V50 SV's tail around.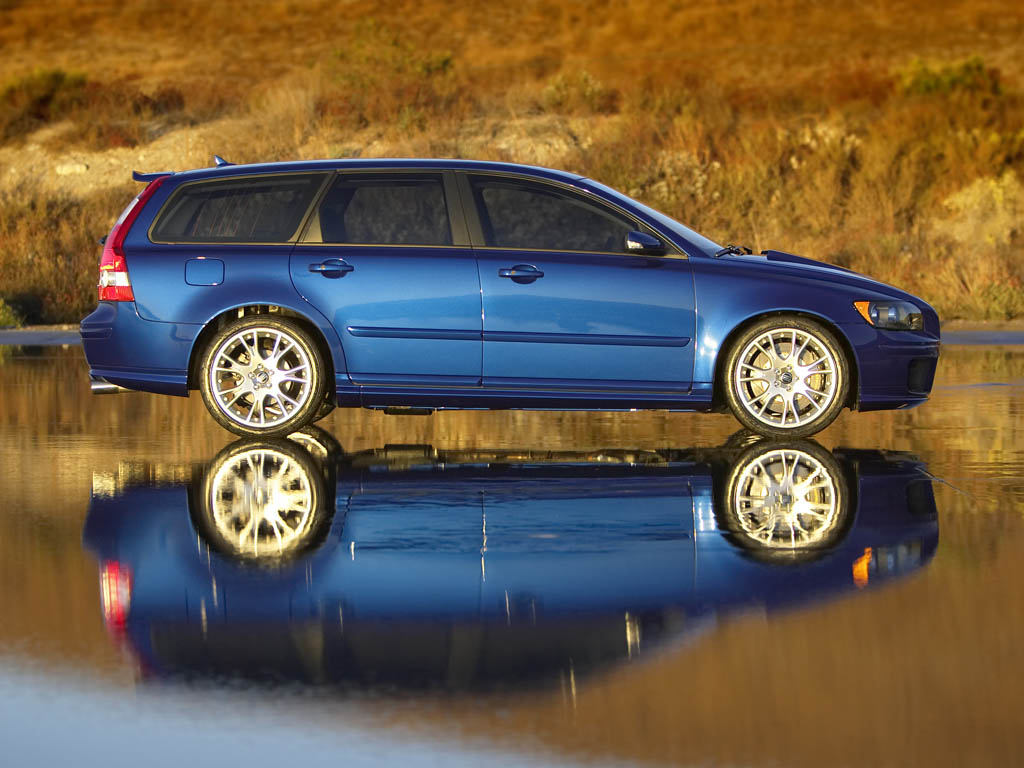 Filling the wheel wells of the V50 SV are sticky race-bred Pirelli 235/40ZR-18 Corsa tires mounted on 18-inch lightweight performance alloy wheels. To optimize handling, rear toe has been dialed in .50 inches, while rear toe angles out .70 inches. Front and rear camber angles are dialed in at 1.0 degrees.
Bringing the car to a stop in short order is an upgraded AP Racing brake package featuring large 13.9-inch disc brakes with four-piston calipers at the front wheels. At the rear are 11-inch discs with standard two-piston Volvo calipers. Of course Volvo's anti-lock braking system with electronic brake force distribution is also on hand to bring the car to a swift, controlled stop in any situation.
Exterior
Refined, restrained and coordinated are the words that best describe the V50 SV. In fact, a buyer interested in the V50 can actually obtain several of the exterior styling pieces – something that's not normally found on a SEMA display car.
he Volvo Dynamic Trim Package (MSRP: $2,025) is available from any Volvo retailer and features body color front and rear spoilers, lower side sill extensions, a rear bumper valance and 17-inch Sculptor alloy wheels shod with Michelin MXM4 all-season tires. Additionally, 18-inch accessory wheels are also available through the retailer network.
The high-gloss one-off Sonic Blue paint is sophisticated and subdued, masking the V50 SV's performance potential. The standard roof mounted spoiler has been customized to create more down force at high speeds and the sculpted hood allows for improved engine compartment airflow. To slim down the V50's profile the standard roof rails have been removed. Massive black-mesh grille inserts and high intensity gas discharge headlamps nicely compliment the standard Volvo egg crate grille and badge.
Interior
Volvo's typical attention to interior ergonomics is retained with the V50 SV. Only modestly modified, what's most evident once the driver is ensconced within the cabin is the brushed aluminum finish around the instrument cluster. The material matches what's found on the innovative ultra-slim center stack and door panels, and lends a high-tech appearance to the cleanly styled Scandinavian interior. A small shift light has been incorporated into the panel and a turbo boost gauge has also been added, with a maximum boost pressure reading of 1.4 bar.
Rear seat passengers will enjoy the fully integrated Volvo dual screen Rear Seat Entertainment system. Twin 7-inch LCD color screens have been mounted into the backs of the front headrests with a DVD player providing the entertainment. The Volvo Dual Screen Rear Seat Entertainment system is available from any Volvo Retailer as a factory installed option on the Volvo XC90.
Other interior touches include Wetsuit upholstery, a Volvo accessory three-spoke sport steering wheel with aluminum inlays, an aluminum shift knob and custom built racing pedals. The awesome 425-watt Dolby Pro Logic II stereo system with an in-dash 6-disc player is retained from the stock V50.
In Detail
| | |
| --- | --- |
| engine | S60R Turbocharged Inline-5 |
| position | Front Transve |
| aspiration | Turbocharged |
| valvetrain | DOHC, 4 Valves per Cyl |
| displacement | 2435 cc / Not Available in³ |
| power | 253.5 kw / 340 bhp |
| specific output | 139.63 bhp per litre |
| bhp/weight | 220.49 bhp per tonne |
| torque | 448.78 nm / 331 ft lbs @ 1500-4800 rpm |
| driven wheels | 4WD |
| front tires | Pirelli 235/40ZR-18 Corsa |
| rear tires | Pirelli 235/40ZR-18 Corsa |
| front brakes | AP Racing Discs w/4-Piston Calipers, ABS, EBD |
| f brake size | x 353 mm / x 13.9 in |
| rear brakes | Volvo Discs w/2-Piston Calipers, ABS, EBD |
| r brake size | x 279 mm / x 11 in |
| front wheels | F 45.7 x 23.5 cm / 18.0 x 9.0 in |
| rear wheels | R 45.7 x 22.9 cm / 18.0 x 9.0 in |
| f suspension | MacPherson Struts w/Coil over Springs, Stabilizer |
| r suspension | Multi-LInk w/Coil over Springs, Stabilizer |
| curb weight | 1542 kg / 3399 lbs |
| wheelbase | 2639 mm / 103.9 in |
| front track | 1534 mm / 60.4 in |
| rear track | 1532 mm / 60.3 in |
| length | 4514 mm / 177.7 in |
| width | 1770 mm / 69.7 in |
| height | 1441 mm / 56.7 in |
| transmission | S60R 6-Speed Manual |
| gear ratios | 3.39:1, 1.91:1, 1.27:1, 0.95:1, 0.78:1, 0.65:1, :1 |
| final drive | 3.77:1 |
| 0 – 60 mph | ~5.5 seconds |
| drag | 0.32 Cd |
Story by Volvo Car Corporation, edited by Supercars.net
Above Images ©IMAGE CREDITS – Volvo Car Corporation