2006 Aston Martin DBRS9
Not long after Prodrive developed Aston Martin's GT1 contender, they released the GT3 version known as the DBRS9. It competed regularly in the FIA GT3 as well as numerous other national championships such as the Speed World Challenge, British GT Championship, Belgian GT and ADAC GT Masters.
Using the standard DB9 platform Prodrive outfitted the car with roll-cage and a special version of the V12 which could produce 550 bhp. The car was fitted with carbon fiber panels and a stripped out interior which reduced overall weight by 1,100 lbs (480 kg).
The car was released for the inaugural FIA GT Championship season in 2006 by Barwell Motorsports, Jet Alliance and BMS Scuderia Italia. That year an overall victory was scored at Oschersleben by BMS Scuderia Italia. Hexis Racing began racing the DBRS9 alongside their GT1 contender in 2007 including a full season in the ADAC GT Masters. The Hexis car was quite successful, placing 2nd and 3rd in each series. IN 2009 Hexis won the Driver's Championship with Christopher Haase and Christopher Mies.
Press Release
Aston Martin Racing has unveiled the DBRS9, a competition car for club and national racing series, and a bridge for teams and drivers looking towards international GT racing.
The DBRS9 is based on the DB9 road car, but shares many design features from the full GT1 specification DBR9. It uses the road car's aluminium bonded chassis with a DBR9-based roll cage. Aston Martin Racing's engineers have tuned the standard 12 cylinder, six litre engine to produce approximately 550bhp (an increase of 20%) and reduced the overall weight by 480kg, to increase the power to weight ratio to nearly 430 bhp/tonne. Much of this is down to the extensive use of carbon composite materials for all the body panels (except the roof) and on the interior trim, as well as polycarbonate side and rear windows.
The DBRS9 has a six-speed H-pattern gearbox with new, shorter ratios for competition use, which can be upgraded to a full sequential racing box. The car's ride has been lowered and the double wishbone suspension has been rose jointed and fitted with two-way adjustable Koni dampers and stiffened competition springs.
While Aston Martin Racing's focus has been to optimise the DBRS9's performance, it has also been designed with practicality in mind. Both the seat and steering wheel are easily adjustable, and there is the option of a passenger seat, for demonstration drives. Removable body panels, a modular chassis and a package of spares simplify service and maintenance.
"There are many people who want to race Aston Martins competitively in everything from the occasional track day to weekend club or national series races." said David Richards of Aston Martin Racing. "The DBRS9 opens GT racing up to more enthusiasts and with its levels of performance will offer aspiring racing drivers the experience of a GT racing car without the complexity associated with running a full GT1 car."
The DBRS9 will start at 175 000 GBP plus options and taxes. The cars will be built to order at Aston Martin Racing's headquarters in Banbury, UK with first deliveries expected later in 2005.
In Detail
| | |
| --- | --- |
| | |
| type | Racing Car |
| built at | England |
| price £/td> | £175,000 |
| engine | 60 Degree V12 |
| position | Front Longitudinal |
| aspiration | Natural |
| valvetrain | DOHC 4 Valves per Cyl |
| fuel feed | Fuel Injection |
| displacement | 5935 cc / 362.2 in³ |
| bore | 89 mm / 3.5 in |
| stroke | 79.5 mm / 3.13 in |
| power | 410.1 kw / 550 bhp @ 6000 rpm |
| specific output | 92.67 bhp per litre |
| bhp/weight | 447.15 bhp per tonne |
| body / frame | Aluminum Monocoque |
| driven wheels | RWD |
| front brakes | Vented Discs |
| rear brakes | Vented Discs |
| steering | Rack & Pinion w/Power Assist |
| f suspension | Double Wishbones w/Coil over Dampers |
| r suspension | Double Wishbones w/Coil over Dampers |
| curb weight | 1230 kg / 2712 lbs |
| transmission | 6-Speed Manual |
| race victories | 2006 Oschersleben, 2007 Dubai, 2008 Brno, 2008 Nogaro, 2009 Adria, 2009 Paul Ricard, 2009 Oschersleben |
Auction Sales History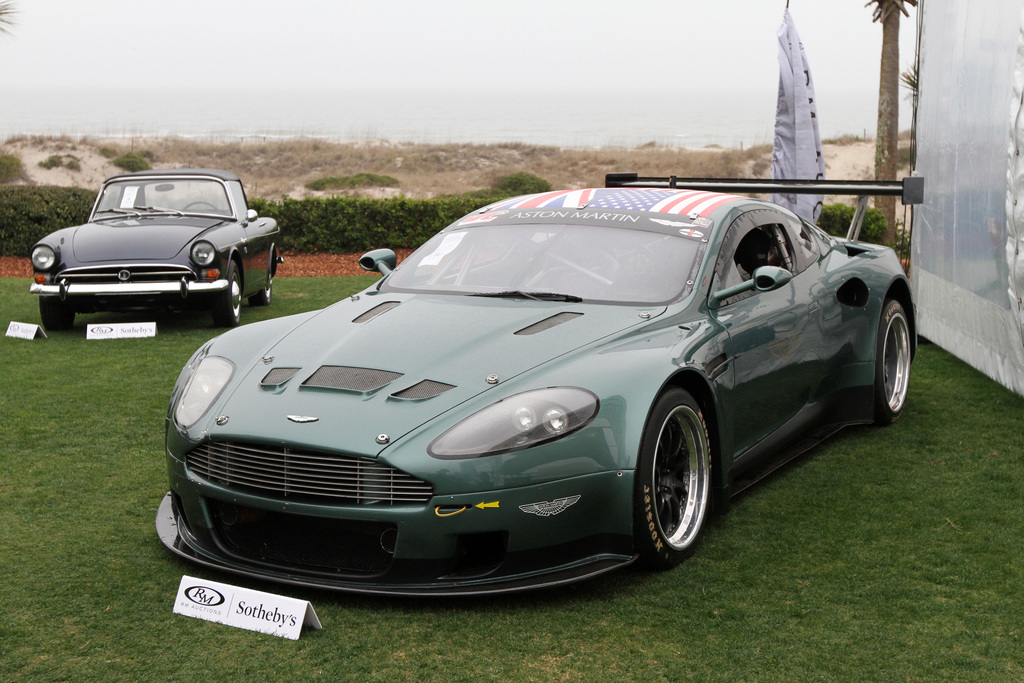 Campaigned in the SCCA Speed World Challenge GT and Pro Racing World Challenge series.The chassis was heavily revised, including shifting five percent of the car's weight distribution to the rear of the car, lowering the ride height by an inch, and revising the suspension format. In this specification, the car was raced three times in the 2008 and 2010 seasons, earning pole position at Road Atlanta and fastest lap at Mid-Ohio. Then, following the 2010 season, the car was sold to Rick Mancuso, of Lake Forest Sports Cars, who finished it in its current Aston Martin Racing Green livery. It was then acquired by collector Jeff Urbina, who in turn sold the car to the current consignor.
Auction Source: 2015 Amelia Island by RM Sotheby's