2007 Porsche 911 GT3
Geneva, Switzerland – Porsche's new 2007 911 GT3 will make its public debut at the Geneva Motor Show on February 28, 2006. The latest race-bred 911 sports coupe features a 415-horsepower naturally aspirated engine with an 8,400 rpm redline, an active suspension setup tuned for the track, and a mechanical limited-slip differential.
Serving as the homologation basis for Porsche's 911 GT3 RSR racecar, the 911 GT3 provides enthusiasts with an uncompromising road car that can easily transition to weekend track-day outings. The 415-horsepower, 3.6-liter flat-Six engine produces a specific output of 115.3 horsepower-per-liter, among the highest of any naturally aspirated production car. The Boxer engine's power peak is reached at 7,600 rpm, on the way to an 8,400 rpm redline — 200 rpm beyond the previous GT3 model.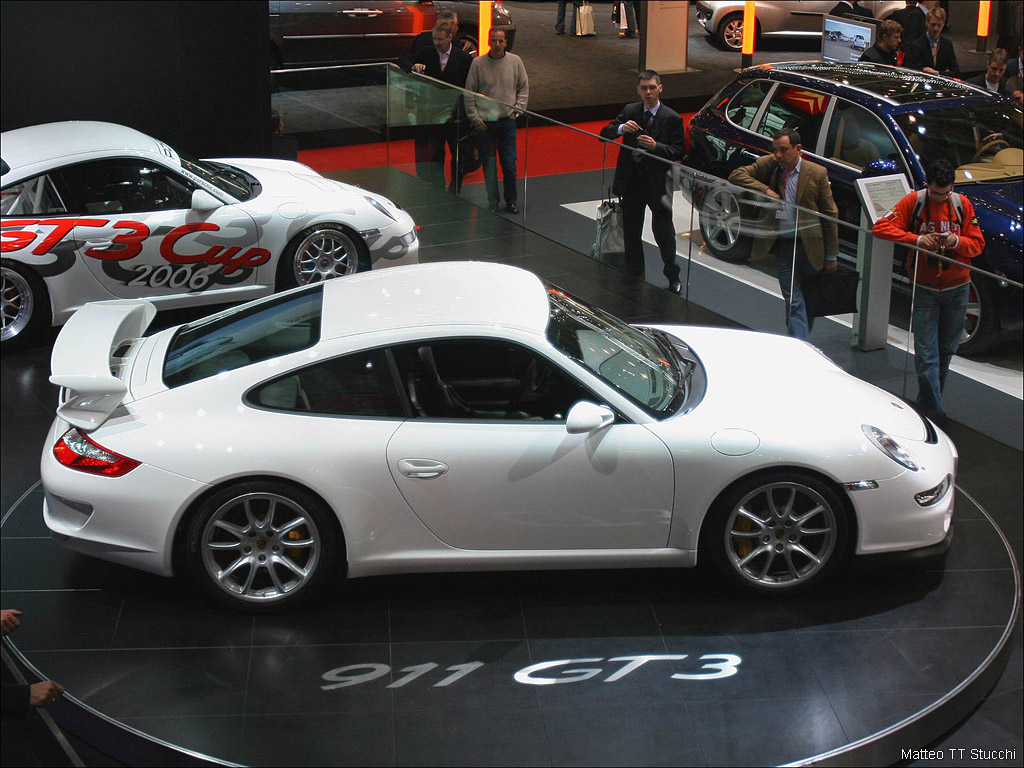 In addition to its high-revving characteristics, the Porsche GT3 engine's performance has been fortified by careful attention to airflow rates. Changes to the variable intake system include a throttle valve enlarged from 76 to 82 millimeters, optimized cylinder heads, and a low-backpressure exhaust system.
To take advantage of the extended-rev characteristics of the engine, the 2007 911 GT3 features a revised six-speed manual transmission, with lower gear ratios for 2nd through 6th, as well as shortened shift-lever throws. A new change-up display, which illuminates the tachometer shortly before the relevant engine speed is reached, provides GT3 pilots with an additional signal to optimize shift timing.
The combination of a more powerful, higher-revving engine and shortened gear ratios produces impressive acceleration figures, allowing the 2007 911 GT3 to reach 60 mph from a standstill in 4.1 seconds, and 100 mph from a standing start in 8.7 seconds. The top test-track speed of the new 911 GT3 is 193 mph.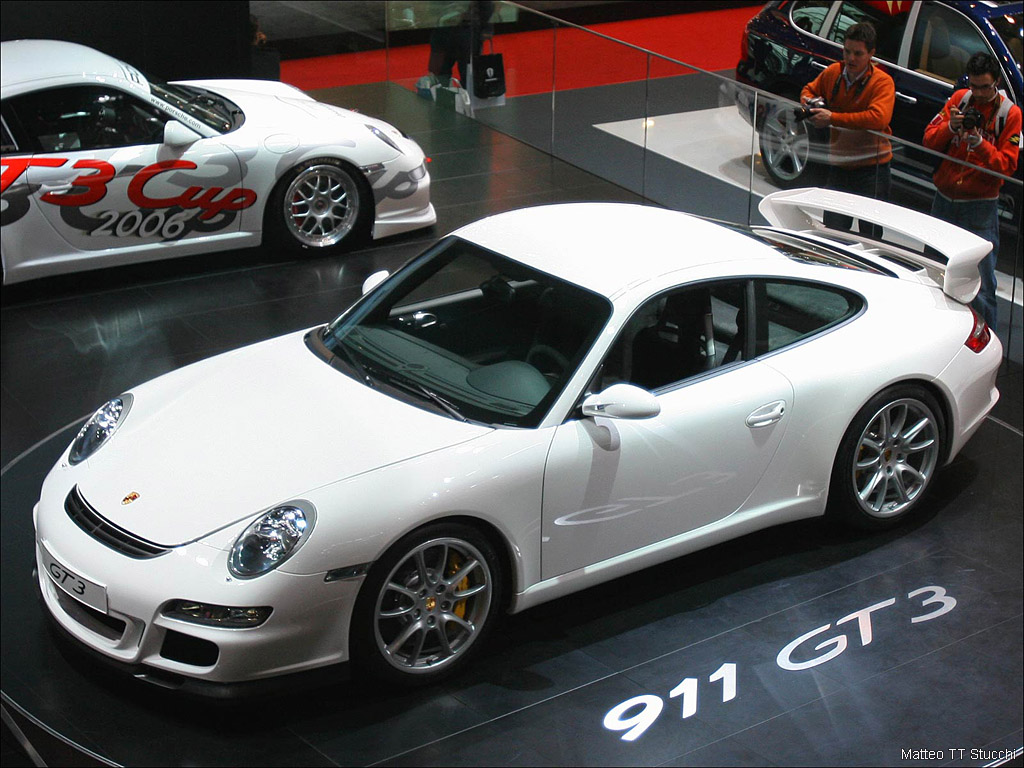 For the first time, the 911 GT3 boasts an active suspension. The standard Porsche Active Suspension Management (PASM) system offers two chassis in one: the basic configuration is similar to that of the previous model and is suitable for driving on alternating road surfaces. In Sport mode, the system provides even firmer damping, enabling more focused dynamics for the racetrack.
For the best possible transmission of engine power to the road, the GT3 is equipped with a comprehensive traction package, including new electronic Traction Control adapted from the Carrera GT, standard-equipment 19-inch sports tires, and a mechanical limited-slip differential. The new Traction Control setup features traction-slip and drag-torque control functions, allows the safe application of power under any driving conditions, and can be completely disabled if desired.
The 2007 Porsche 911 GT3 will be available in North America beginning in August 2006.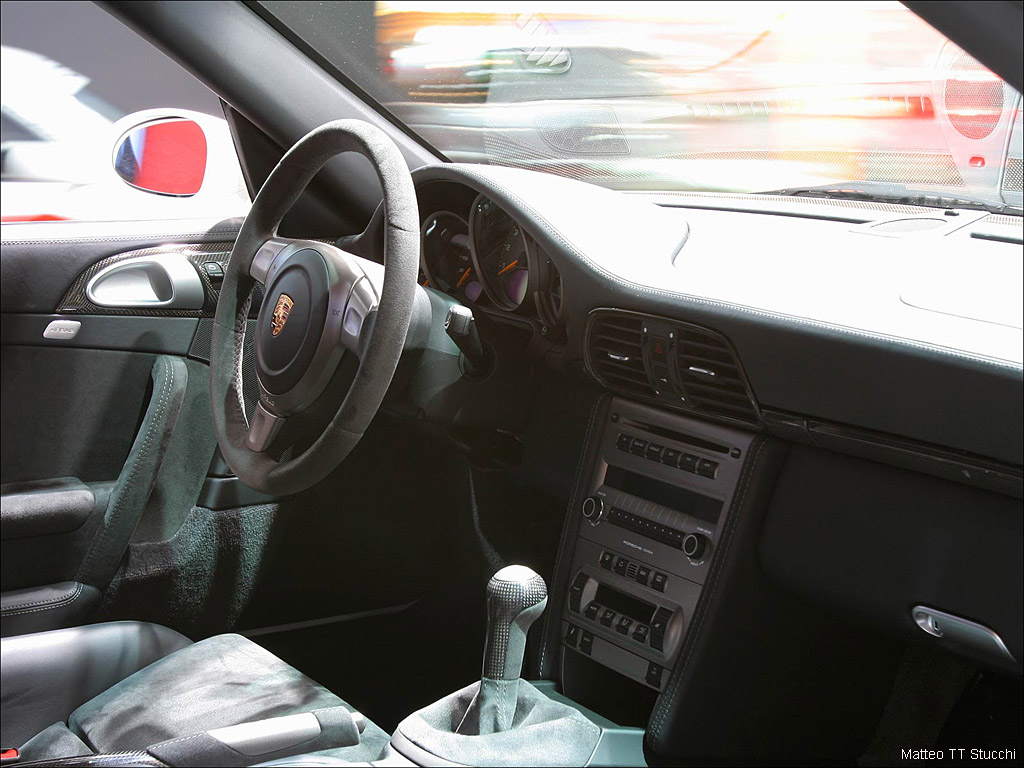 Story by Porsche, edited by Supercars.net
In Detail
| | |
| --- | --- |
| 400-500 | |
| type | Series Production Car |
| released at | 2007 Geneva Motor Show |
| built at | Stuttgart, Germany |
| price $ | $ 106,000 |
| engine | Flat-6 |
| position | Rear Longitudinal |
| aspiration | Natural |
| valvetrain | DOHC, 4 Valves per Cyl |
| fuel feed | Sequential Multi Point Fuel injection |
| displacement | 3598 cc / 219.6 in³ |
| bore | 100 mm / 3.94 in |
| stroke | 76.4 mm / 3.01 in |
| compression | 12.0:1 |
| power | 309.5 kw / 415 bhp @ 7600 rpm |
| specific output | 115.34 bhp per litre |
| bhp/weight | 286.01 bhp per tonne |
| torque | 405.39 nm / 299 ft lbs @ 5500 rpm |
| redline | 8400 |
| body / frame | Unit Steel w/Aluminum Panels |
| wheel type | Cast Aluminum |
| front tires | 235/35ZR19 Michelin Pilot Sport Cup |
| rear tires | 305/30ZR19 Michelin Pilot Sport Cup |
| front brakes | Drilled & Ventilated Discs |
| rear brakes | Drilled & Ventilated Discs |
| front wheels | F 48.3 x 21.6 cm / 19 x 8.5 in |
| rear wheels | R 48.3 x 30.5 cm / 19 x 12 in |
| steering | Rack & Pinion w/Variable Power Assist |
| f suspension | MacPherson Struts w/Coil over Gas Dampers, Anti-Roll Bar |
| r suspension | Multi-link w/Coil over Gas Dampers, Anti-Roll Bar |
| curb weight | 1451 kg / 3200 lbs |
| wheelbase | 2355 mm / 92.7 in |
| front track | 1486 mm / 58.5 in |
| rear track | 59.5 mm / -1.0 in |
| length | 4427 mm / 174.3 in |
| width | 1808 mm / 71.2 in |
| height | 1280 mm / 50.4 in |
| transmission | 6-Speed Manual |
| gear ratios | 3.82:1, 2.26:1, 1.64:1, 1.29:1, 1.06:1, 0.92:1 |
| final drive | 3.44:1 |
| top speed | ~310 kph / 192.6 mph |
| 0 – 60 mph | ~4.0 seconds |
| 0 – 100 mph | ~8.7 seconds |
| 0 – 1/4 mile | ~12.5 seconds |
| drag | 0.29 Cd |
997 Porsche 911 GT3 Video