2007 Radical SR8LM
In road legal trim and riding on Dunlop Direnza tyres Michael Vergers smashed one the world's most prestigious production car records in a Radical SR8. The 13-mile Nordschleife circuit lap record now stands at 6 minutes 55 seconds, a full 20 seconds off the next placeholder.
The Radical SR8 is powered by a 2.6-litre high-revving V8 engine, built in-house by Powertec, developing 360bhp. It generates enough downforce to be able to theoretically drive upside down and holds the outright lap record at Cadwell Park. With over twenty-five cars built and running, the SR8 is now a well-developed and reliable car.
The SR8 is not cheap, but where else in the world can you get a sports car which is designed around the world's only lightweight V8 engine which develops over 360bhp in standard form? The Powertec RPA enigne revs to 10,500rpm, has exceptionally good power and torque curves, and sounds gorgeous!
The SR8 is a available with either an ultra-lightweight Hewland JFR six-speed sequential gearbox, with plate-style LSD or the new uprated Quaife RQ2, with it's ultra-lightweight shift and torque-biasing LSD
The SR8 is comfy to sit in (a new, high-sided seat holds the driver in very securely) and all the controls come directly to hand. The pedal box and seat are fully adjustable, enabling drivers of all sizes to fit comfortably, which is just as well as the SR8 will pull 3g around a fast corner, helped by the sporty Dunlop 15" / 16" diameter slicks, designed specifically for the car.
Story by Radical, edited by Supercars.net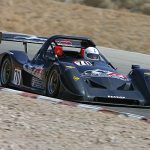 In Detail
| | |
| --- | --- |
| submitted by | Richard Owen |
| price $ | $180 000 USD |
| engine | Powertec RPB 72 Degree V8 w/GSXR 1300 Cylinder Heads |
| bore | 81 mm / 3.19 in |
| stroke | 63 mm / 2.48 in |
| compression | 11.0:1 |
| power | 339.3 kw / 455 bhp @ 10500 rpm |
| bhp/weight | 700.0 bhp per tonne |
| body / frame | Fibreglass over steel Spaceframe |
| driven wheels | RWD w/Quaife RQ2 Differntial |
| front brakes | Discs w/Radical 4-Piston Calipers |
| f brake size | x 280 mm / x 11.0 in |
| rear brakes | Discs w/Radical 4-Piston Calipers |
| r brake size | x 280 mm / x 11.0 in |
| front wheels | F 38.1 x 17.8 cm / 15 x 7 in |
| rear wheels | R 40.6 x 20.3 cm / 16 x 8 in |
| f suspension | Nik Doube Wishbones w/Radical Triple-Adjustable Shock Absorbers |
| r suspension | Nik Doube Wishbones w/Radical Triple-Adjustable Shock Absorbers |
| curb weight | 650 kg / 1433 lbs |
| length | 4050 mm / 159.4 in |
| width | 1800 mm / 70.9 in |
| transmission | Powertec P-tec Six-Speed Transaxle |
| gear ratios | :1 |