2008 Ferrari F430 Biofuel
Detroit (USA), 14th January 2008 – Ferrari has brought two models – the 430 Scuderia and the 599 GTB Fiorano – to the 2008 North American International Auto Show in Detroit. Also on the stand this year, however, is a biofuel-powered technological demonstration prototype which uses the F430 Spider as a base.
Ferrari has chosen Detroit as the venue for the presentation at a biofuel-powered F430 Spider in recognition of growing interest in North America in alternative sources of energy. The development of an engine powered by the biofuel E85 comes as part of a research and development program announced during the Technological Innovation Conference held at Maranello last June as part of our 60th Anniversary Celebrations. On that particular occasion, Ferrari also unveiled projects focused on improving the energy of the whole car which would in turn lower fuel consumption and emissions levels. The ultimate aim being, of course, to cut the latter by 40% by 2012.
Once again, in fact, the track has proved an excellent testing ground for innovative solutions which, if successful, can then be passed on to production cars. Such is the efficiency of the transfer of track technology to road cars at Maranello that all of the Prancing Horse's cars can already use up to 10% ethanol without any modification whatsoever.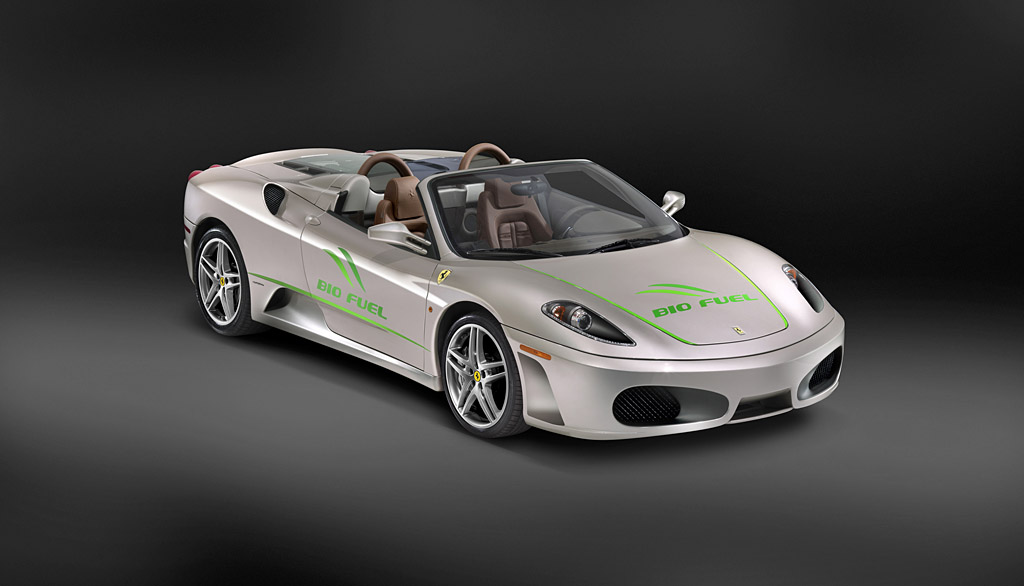 By developing this technological demonstration prototype however, Ferrari has proved category that it can offer the technological solutions demanded by the market demands without impinging on the distinctly sporty, high performance character and supreme driving pleasure of the unique cars it builds at Maranello.
In the case of the F430 Spider Biofuel, certain modifications were made to the fuel feed system and most importantly to the engine CPU to allow the engine use E85. Developing the CPU, two fuels (Flex Fuel) can be used by the engine with the same compression ratio. All of the other technical characteristics have remained unchanged with respect to a standard production engine, however. The use of this type of biofuel and the modifications made have resulted in a significant increase in maximum power output (+ 10 hp at the same rpm) and torque (+ 4%) yet overall weight was unchanged. The advantages to the environment translate too into a 5% drop in CO2 emissions.
In Detail
| | |
| --- | --- |
| submitted by | Richard Owen |
| type | Concept / Prototype Car |
| price $ | $ $171 000 USD |
| engine | Aluminum Alloy, 90 Degree V8 w/Dry Sump Lubrication |
| position | Mid Longitudinal |
| aspiration | Natural |
| valvetrain | DOHC, 4 Valves per Cyl w/Variable Timing, Variable Intake Tract |
| fuel feed | Electronic Sequential Injection |
| displacement | 4308 cc / 262.9 in³ |
| bore | 92 mm / 3.62 in |
| stroke | 81 mm / 3.19 in |
| compression | 11.3:1 |
| power | 367.6 kw / 493 bhp @ 8500 rpm |
| specific output | 114.44 bhp per litre |
| bhp/weight | 340.0 bhp per tonne |
| torque | 664.35 nm / 490 ft lbs |
| redline | 8500 |
| body / frame | Aluminum Monocoque |
| driven wheels | RWD w/E-Diff, CST |
| front brakes | Carbon-Ceramic Discs |
| rear brakes | Carbon-Ceramic Discs |
| front wheels | F 48.3 x 19.0 cm / 19 x 7.5 in |
| rear wheels | R 48.3 x 25.4 cm / 19 x 10 in |
| steering | Rack & Pinion |
| f suspension | A-Arms w/Coil Springs, Electric Adj Tube Shocks, Anti-Roll Bar |
| r suspension | A-Arms w/Coil Springs, Electric Adj Tube Shocks, Anti-Roll Bar |
| curb weight | 1450 kg / 3197 lbs |
| wheelbase | 2600 mm / 102.4 in |
| front track | 1669 mm / 65.7 in |
| rear track | 1616 mm / 63.6 in |
| length | 4512 mm / 177.6 in |
| width | 1923 mm / 75.7 in |
| height | 1214 mm / 47.8 in |
| transmission | Manual or F1 Paddle Shift |
| gear ratios | 3.29:1, 2.16:1, 1.61:1, 1.27:1, 1.03:1, 0.82:1 |