2008 Ferrari FXX Evoluzione
Maranello 28th October 2007 – The innovative FXX programme, based on the eponymous prototype car and launched by Ferrari in June 2005, is being extended to 2008/2009. The FXX, which is the most advanced GT ever created at Maranello, has been updated with an evolution package aimed at further improving its handling and performance.
The package was developed as a result of Ferrari's collaboration with its Client Test Drivers and with the invaluable support of Michael Schumacher. The FXXs equipped with this package will also sport a new livery in addition to new rear wing profiles.
The FXX is not homologated for road use and there are no plans to compete with it either. In fact, the FXX prototype is designed exclusively for track driving as part of a specific R&D programme agreed with a selected group of just over 20 clients involving 14 group test sessions and 14 private ones in the last two years.
Thanks to readings taken over the 16,500 kilometres of tests carried out in 2006 and the 18,500 kilometres covered in 2007, the modifications made to the car have focused on honing its aerodynamics, running gear and electronics. Seven-times Formula 1 World Champion Michael Schumacher also joined the ranks of the client test drivers and gave the programme the benefit of his vast experience on several occasions.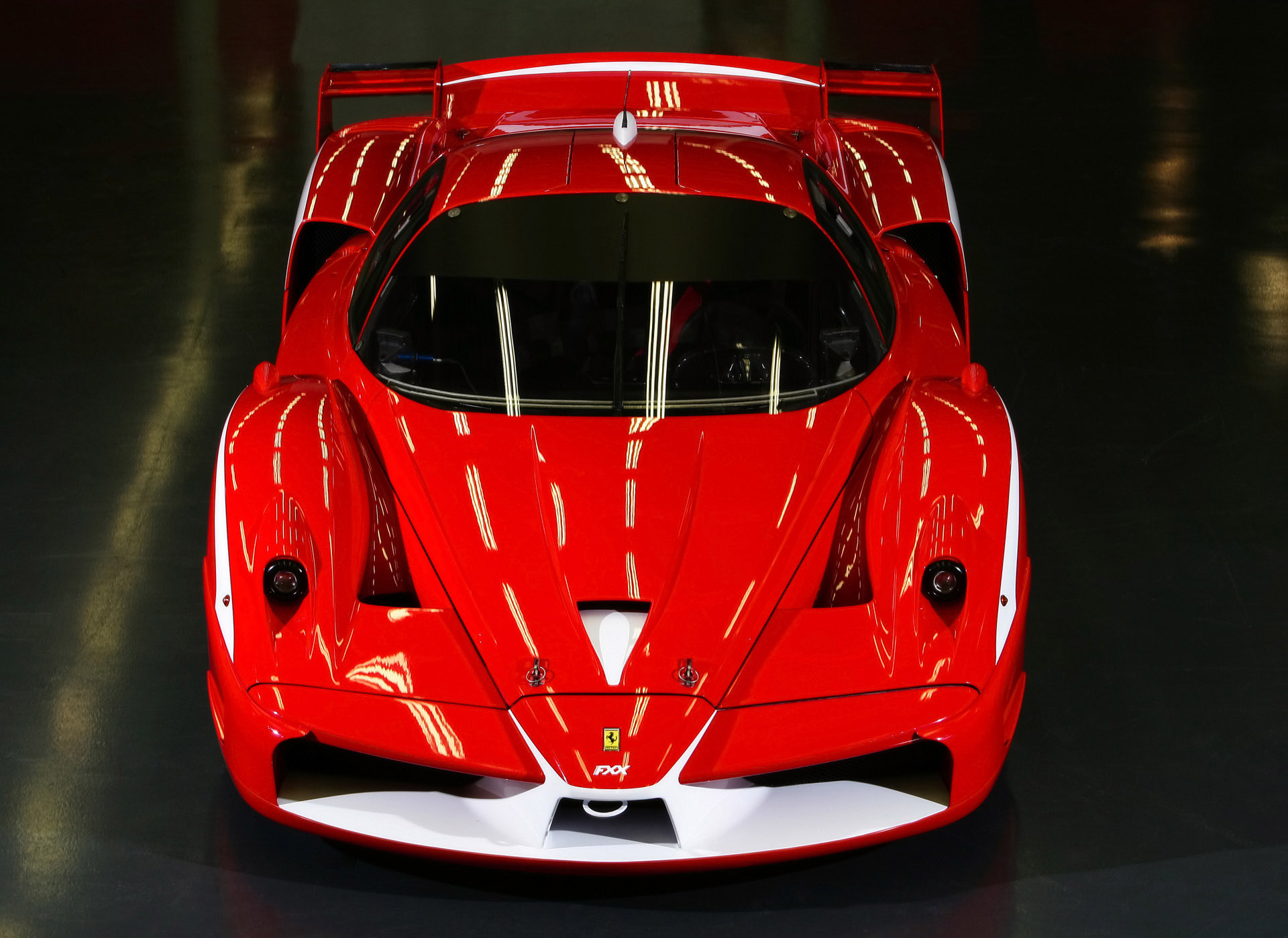 Maranello's engineers studied the wealth of information gained to develop a kit which will cut the FXX's Fiorano lap time to under 1'16" (previously it was 1'18"). The FXX's 6262 cc V12 engine can now punch out a massive 860 hp at 9500 rpm. Gear shifting takes just 60 ms, a drop of 20 ms on the previous time, and the gear ratios have been adapted to make use of the extra 1000 rpm now delivered by the engine.
The car's new traction control system, developed in close collaboration with the GES Racing Division engineers, gives the driver a choice of no less than nine different settings (plus the off position) which are selected using a switch on the central tunnel. This means that the driver really can modify the car's behaviour on the track from corner to corner, just as the Formula 1 drivers do to maximise performance and reduce tyre wear. The FXX's traction control is also now less invasive and more flexible, adapting more efficiently to the individual driving style of each driver – a requirement pinpointed when this very extreme car was being driven on the track by non-professional drivers.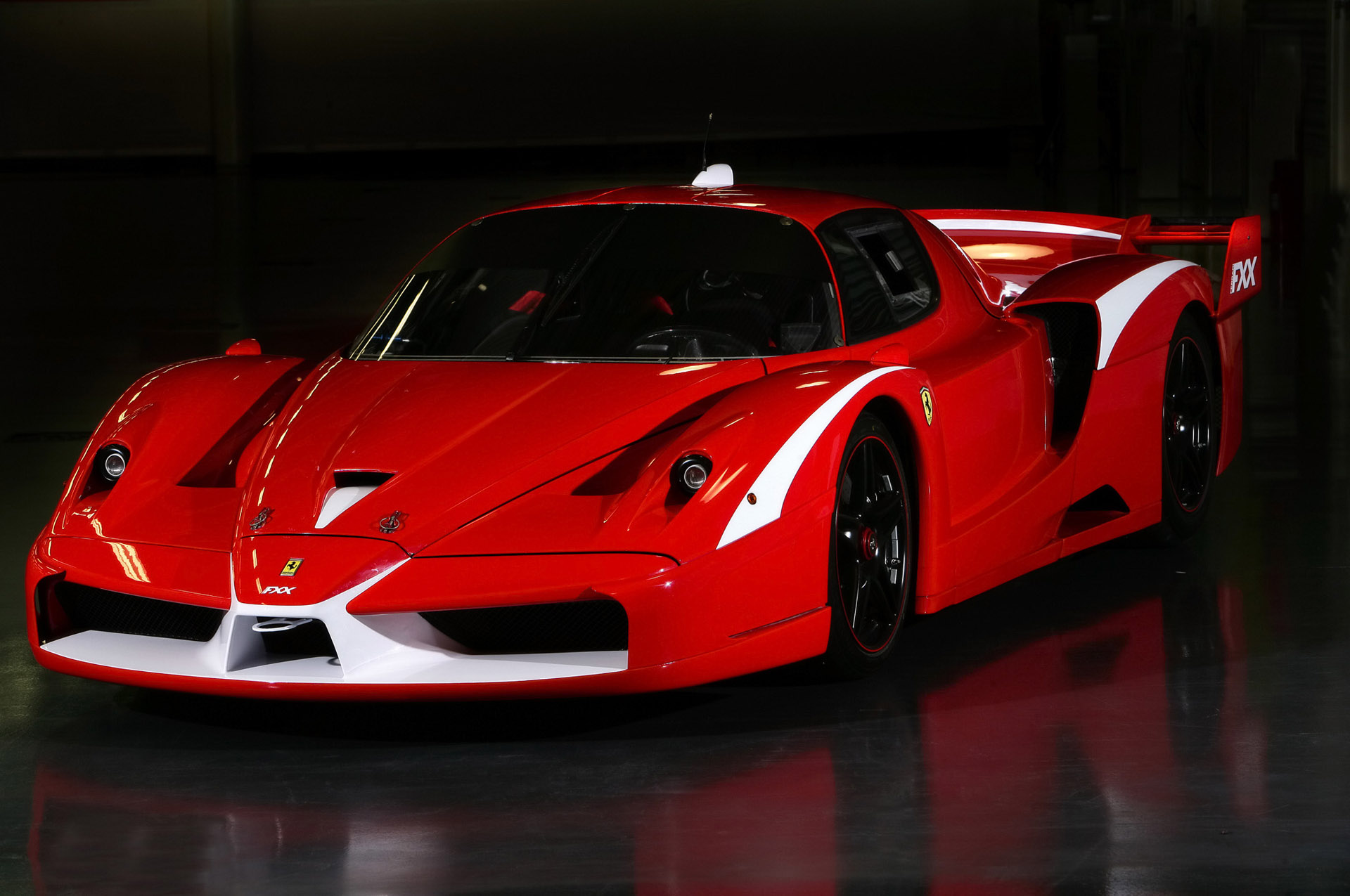 The FXX's special 19" Bridgestone tyres now last longer too thanks to a new car setup and new front suspension geometry, while the Brembo brakes, which boast large Composite Ceramic Material (CCM) discs, are more efficient with the result that the brake pads last twice as long. Thanks to the drivers' feedback the Ferrari engineers have also developed new aerodynamic solutions aimed at increasing downforce over the rear axle. The FXX now sports a new rear diffuser, nolder and rear flaps which have combined to increase aerodynamic efficiency by 25% overall. The active front spoiler control system settings have been adjusted to take these modifications into account too. New telemetry monitoring of the steering angle and brake pump pressure will further boost the interaction between Client test drivers and the company's engineers also. From next year onwards, it will be possible for drivers to have two extra video cameras mounted on their car in addition the existing rear-facing one. This will, of course, give the drivers excellent rear visibility without having to impinge in any way on the car's aerodynamics.
The FXX evolution package includes participation in a series of track events that Ferrari is organising at international circuits for 2008/2009. Six events are planned for each year (two in North America, two in Europe and two in Asia). In addition to these, the FXXs will also be participating, as per tradition, in the prestigious end-of-season Ferrari World Finals.
As happened in 2006/2007, the cars will be backed up at each event by a 15-member official team made up of engineers, electronics experts and mechanics capable of providing complete assistance to clients. Needless to say, the latter will still be able to organise their own private individual track sessions in their car as well.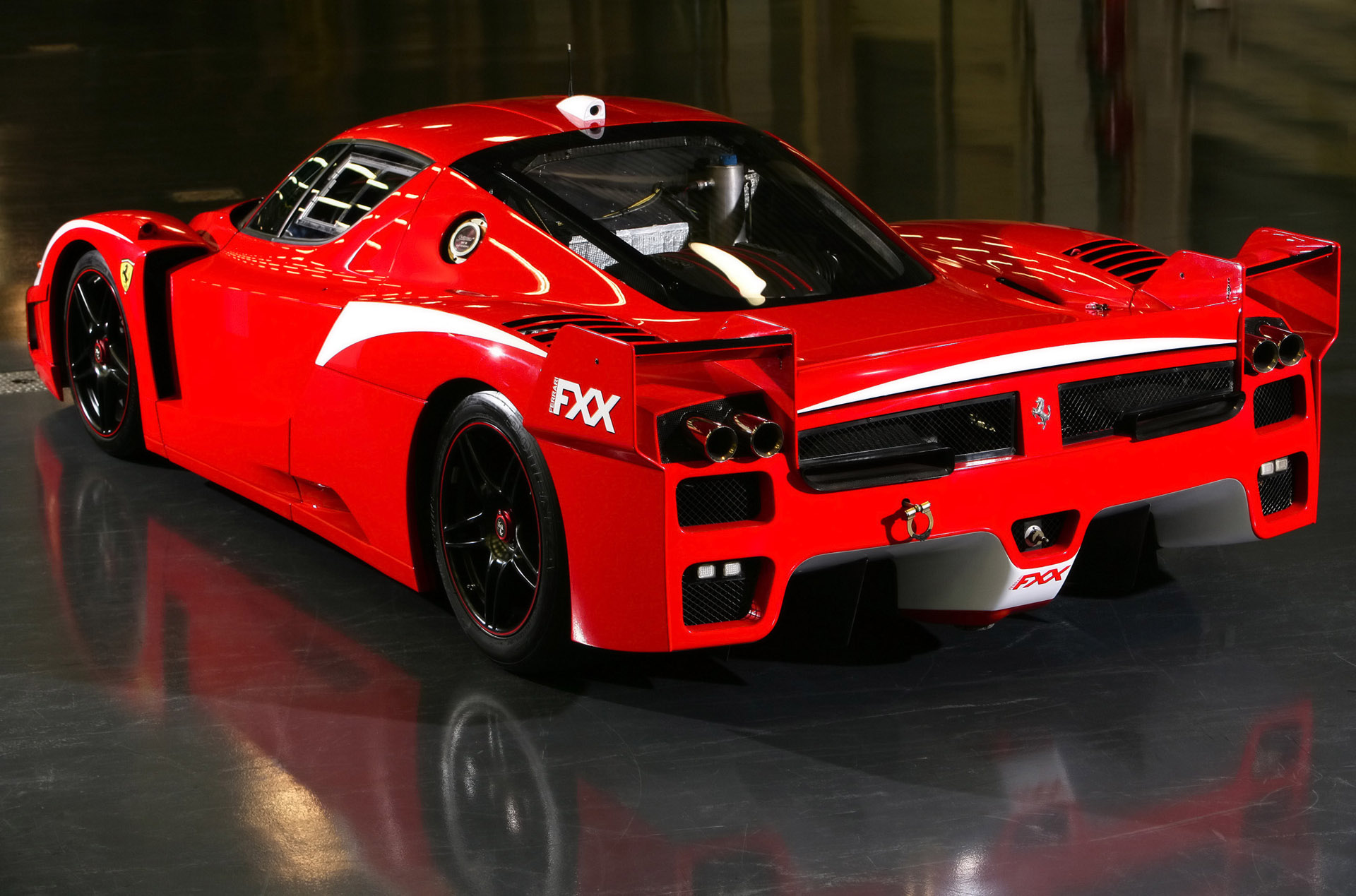 Ferrari FXX Evoluzione Video
In Detail
| | |
| --- | --- |
| submitted by | Richard Owen |
| type | Series Production Car |
| body stylist | Frank Stephenson |
| predeccesor | 2005 Ferrari FXX |
| succeccesor | 2015 Ferrari FXX K |
| engine | 65 Degree, Aluminum V12 |
| position | Mid Longitudinal |
| aspiration | Natural |
| valvetrain | DOHC, 4 Valves per Cyl w/Continuously Variable Timing |
| fuel feed | Bosch Motronic ME7 Sequential Electronic Injection |
| displacement | 6262 cc / 382.1 in³ |
| bore | 92 mm / 3.62 in |
| stroke | 78 mm / 3.07 in |
| compression | 11.6:1 |
| power | 641.3 kw / 860 bhp @ 9500 rpm |
| specific output | 137.34 bhp per litre |
| bhp/weight | 744.59 bhp per tonne |
| torque | 690 nm / 508.9 ft lbs @ 5750 rpm |
| body / frame | Carbon Fibre Body over Carbon Fibre Tub w/Rear Alloy Sub Frame |
| driven wheels | RWD w/TCS |
| front tires | Bridgestone |
| rear tires | Bridgestone |
| front brakes | Brembro CCM (Carbon-Ceramic) Discs w/6-Pot Calipers, Power Assist ABS |
| rear brakes | Brembro CCM (Carbon-Ceramic) Discs w/4-Pot Calipers, Power Assist, ABS |
| front wheels | F 48.3 x 22.9 cm / 19.0 x 9.0 in |
| rear wheels | R 48.3 x 33.0 cm / 19.0 x 13.0 in |
| steering | Rack & Pinion w/Power Assist |
| f suspension | Double Wishbones w/Push-Rod Actuated Coil-Shock Units, Adaptive Dampers, Electronic Shock Absorbers, Anti-Roll bar |
| r suspension | Double Wishbones w/Push-Rod Actuated Coil-Shock Units, Adaptive Dampers, Electronic Shock Absorbers, Anti-Roll bar |
| curb weight | 1155 kg / 2546 lbs |
| wheelbase | 2650 mm / 104.3 in |
| front track | 1660 mm / 65.4 in |
| rear track | 1650 mm / 65.0 in |
| length | 4702 mm / 185.1 in |
| width | 2035 mm / 80.1 in |
| height | 1147 mm / 45.2 in |
| transmission | 6-Speed Semi-Automatic |
Auction Sales History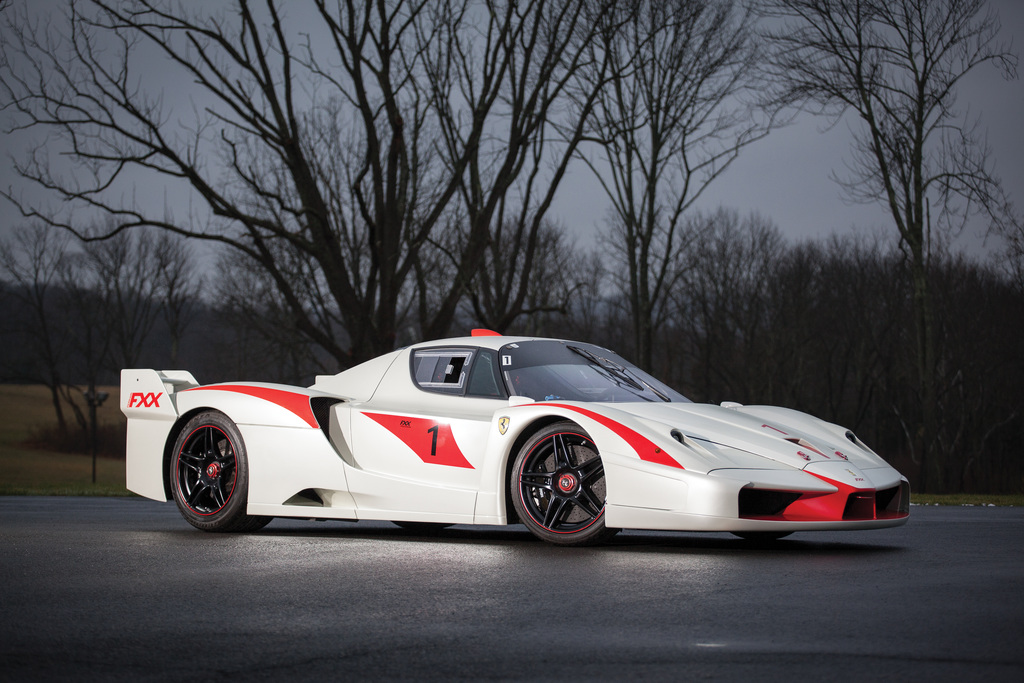 2005 Ferrari FXX Evoluzione ZFFHX62X000145369 – sold for $1,622,500 The first customer FXX produced. Single ownership from new; used at only three Corse Clienti events. Upgraded with the Evoluzione package by the factory. One of Ferrari's rarest and most exclusive automobiles; a track-day titan. Auction Source: Arizona 2015 by RM Auctions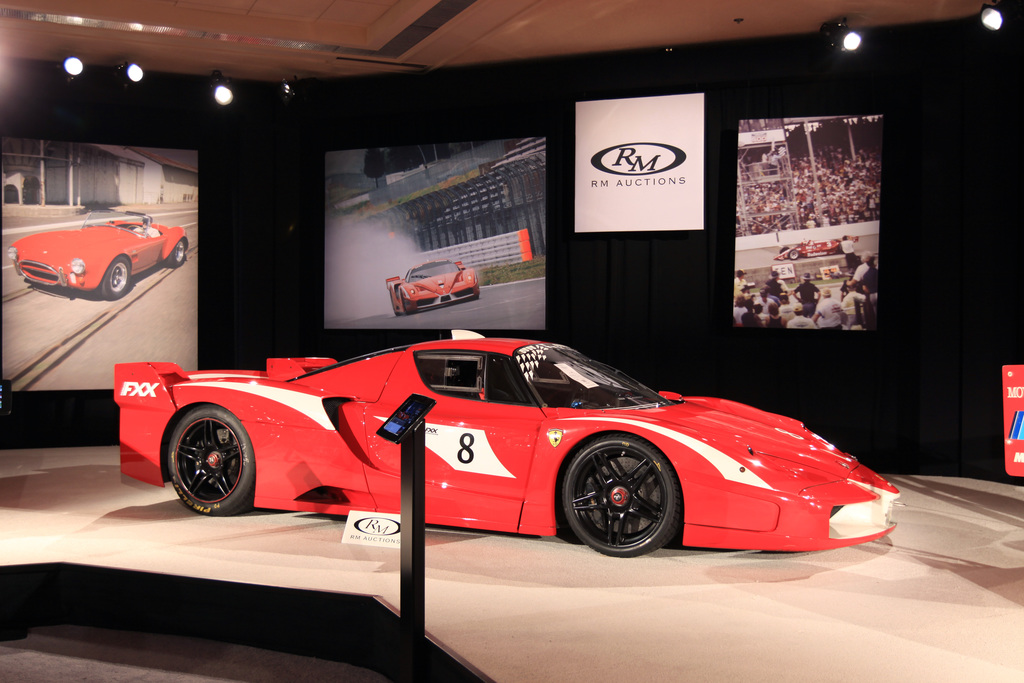 2006 Ferrari FXX Evoluzione ZFFHX62X000146359 – sold for $1,485,000 One of Ferrari's most exclusive automobiles. The 31st of 38 built; single ownership from new. Always maintained and garaged at the Ferrari factory. Factory updated with the Evoluzione package. A track-day titan, ready for Corse Clienti events. Auction Source: 2014 Monterey by RM Auctions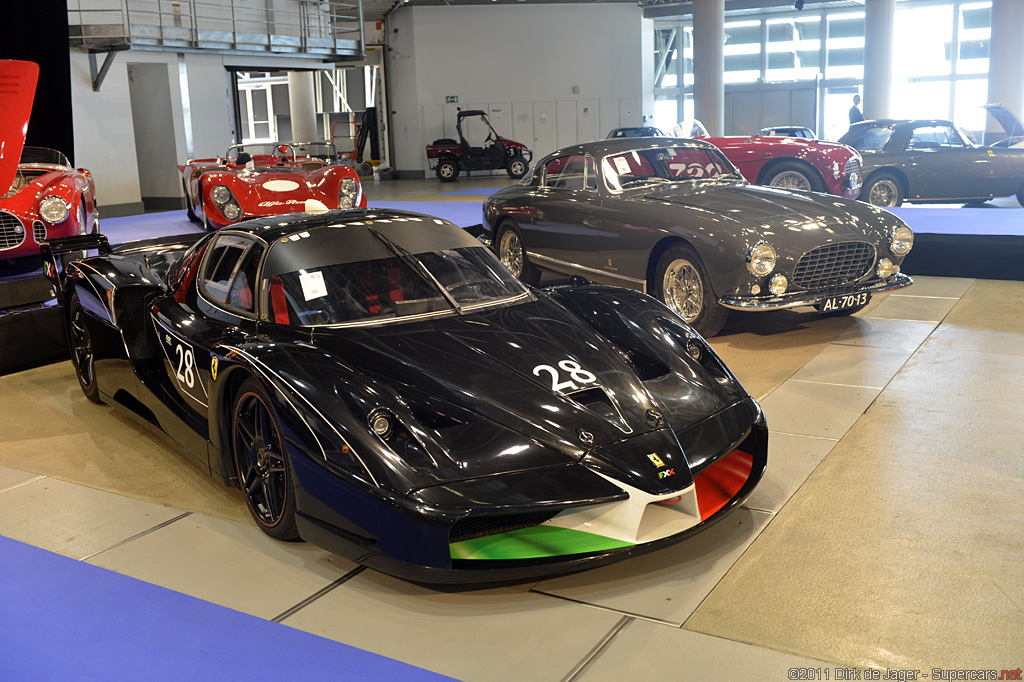 2006 Ferrari FXX Evoluzione 145766 – sold for €1,338,400 Ferrari's most exclusive, highest-performance production car; one of only 30 built. Just one owner from new; always kept at the Ferrari factory's Corse Clienti department. Factory-equipped with Evoluzione upgrades to 860 bhp; stunning colour combination. Auction Source: Monaco 2012 by RM Auctions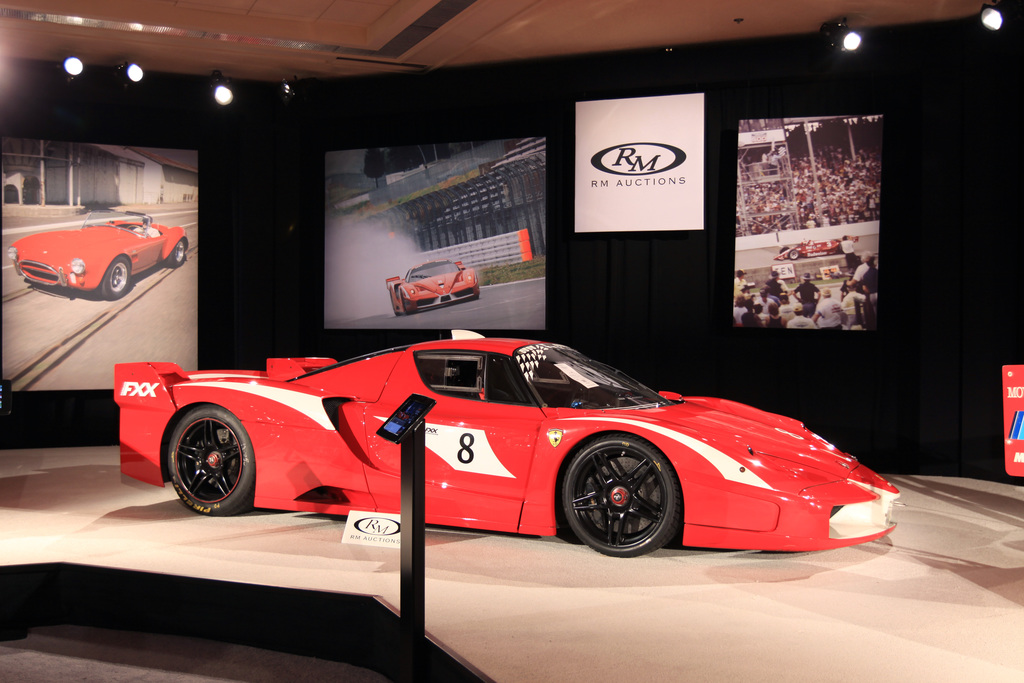 2006 Ferrari FXX Evoluzione ZFFHX62X000146357 – sold for $2,090,000. The Most Advanced Ferrari Production Car. One of Only 30 Examples Built. Purchased New by Benny Caiola. Distinctive, Specially Ordered Formula One Livery. Little Use Since Upgrade to Full Evoluzione Specifications. Successful Participant at Homestead, Infineon and Moroso. Offered with Build Records, FXX Programme Containers and Classiche Certification.
Presented here is an FXX Evoluzione that has it all: limited use, a distinctive livery, superb preparation, the complete supply of factory delivered accessories and a single owner from new whose reputation in Ferrari circles needs no introduction. Auction Source: 2011 Scottsdale Auction by Gooding & Company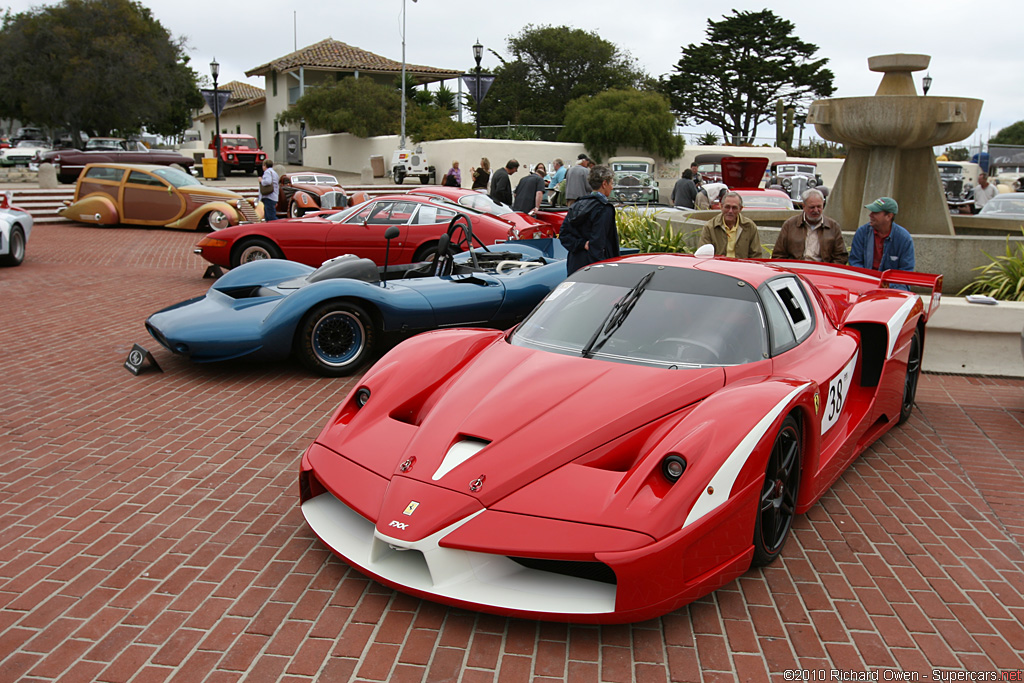 2007 Ferrari FXX Evoluzione – sold for $1,925,000. The Evoluzione we have the pleasure of offering here has participated in only three Ferrari sanctioned and organized track events. It has had just one owner from new. At the last of these events at Mugello, the car suffered a minor off; the owner had already decided to upgrade the car to Evoluzione specifications at Ferrari's Corse Clienti division after the event, and the car was sent to the factory for the upgrade. The Evoluzione kit effectively transformed the car into a stage 2 FXX with upgraded specs, including a major boost in horsepower.
The car has been in the care of Risi Competizione, the famous Houston, Texas GT Racing team, for its entire life and has been stored at the race team's workshop. Included with the FXX are the Technical Documentation manual, two sets of wheels and the official FXX Programme container, which contains the fueling rig, data acquisition instrumentation, tools, electronic cables and other equipment necessary to run this very sophisticated racing car.
The opportunity to acquire a Ferrari FXX is truly an opportunity unlikely to be repeated. The original 30 owners were all hand-picked by Ferrari and were each dedicated Ferrari clients and enthusiasts. Thus, changes in ownership are rare, much less at auction. This car offers the best of FXX ownership – Evoluzione upgrades, limited use and maintenance by the high-end, race-winning outfit of Risi Competizione. This is the ultimate mount for the weekend racer! Auction Source: RM Auctions' 2010 Sports & Classics of Monterey
Story by Ferrari S.p.A.