Wiesmann GT MF5
Completed just in time for the start of the IAA: the Wiesmann GT with the model name of MF 5 and a 10-cylinder motor. Hiding behind this unpretentious name is the most exciting sports car ever to be presented by Wiesmann to the public.
It is a perfect blend of the corporate philosophy's contents, which is a combination of beautiful body shapes and state-of-the-art technology. The appearance of this super sports car alone would clearly signal the arrival of something extraordinary: a very low and cowered-down body in combination with wide base tires stand for abounding power and a highly racy vehicle to be expected.
Wiesmann fulfills the desire of many a GT enthusiast, who had welcome the successful expansion of the Wiesmann model portfolio, and who, at the same time, had still wanted for the engine to become even racier.
Dipl.-Kfm. Friedhelm Wiesmann (business graduate), spokesman of the board, explains: "Our intention is to meet these demands with the GT MF 5. This new sports car tops off our portfolio of models, setting the new benchmark when it comes to the Wiesmann sports cars? driving performance – which is rather impressive anyhow."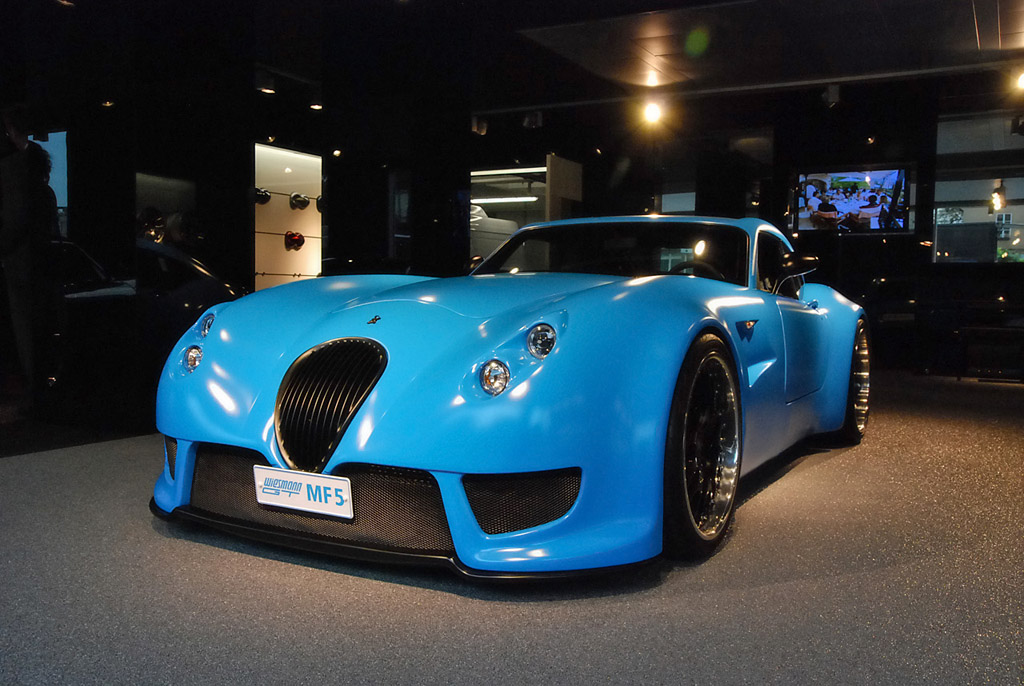 Dipl.-Ing. Martin Wiesmann (graduate engineer), managing director in charge of development and production, says: "Compared to the normal GT, it is already the outer appearance of the MF 5 that would be outstanding: both a wing as well as a diffuser generate the necessary rear-suspension drive line, thus ensuring an excellent stability especially for those high-speed moments. A lot of effort went into the development of a high-performance chassis to make sure the MF 5 driver will enjoy the ride and yet will at all times be safe no matter what."
The drive system of this super sports car comprises a 12:1 compacted V 10-cylinder front-mounted mid-engine with a cubic capacity of 5 liters boasting 507 HP which are generated by 7,750 crankshaft rotations. A maximum torque of 520 Nm ensures a powerful drive at all speeds and driving fun at its best.
GT experts will immediately notice the lower total height (- 5 cm), the slight increase in width (+ 9,6 cm), and the increase in total length by 8 cm to 4.3 m compared to the MF 4 with a correspondingly bigger track gauge of + 10 cm (front) and + 9.8 cm (rear). These details are crucial for its very low centre of gravity and hence its good road ability.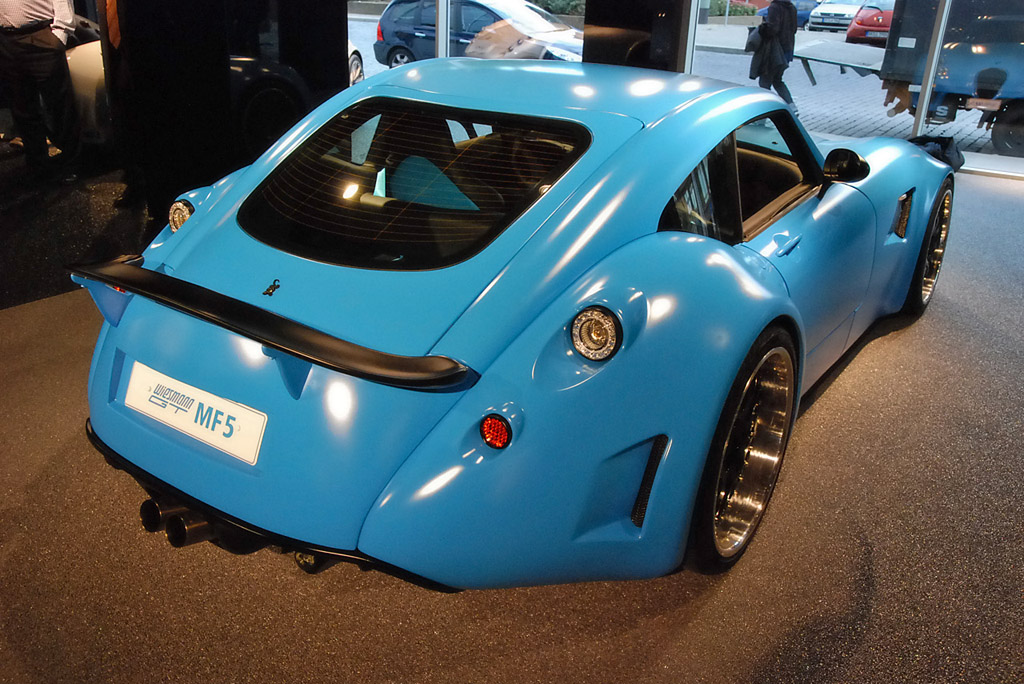 In spite of all its safety features, the vehicle's bigger size, the engine's high capacity, and the corresponding sequential 7-speed transmission system (in connection with a variable differential lock) account for a modest increase in weight of only 100 kg compared to the MF 4. The resulting driving performance is beyond each doubt: the acceleration time of 0 – 100 km/h is 3.9 seconds, and the power to weight ratio amounts to a sensational 2.7 kg/HP. With this value the MF 5 ranks among the top class of the sportsters league.
In order to be able to control such a powerful vehicle, both its driver as well as its fellow passenger need to be in close contact with it. The GT MF 5 therefore comes with especially designed bucket seats with an excellent lateral support, which by request may be adjusted to the driver's and fellow passenger's body contours. They give the necessary support, for the passengers to have a firm grasp in view of the great acceleration forces that may develop, and to be able to fully enjoy the driving performance. Special carbon seats are also available by request.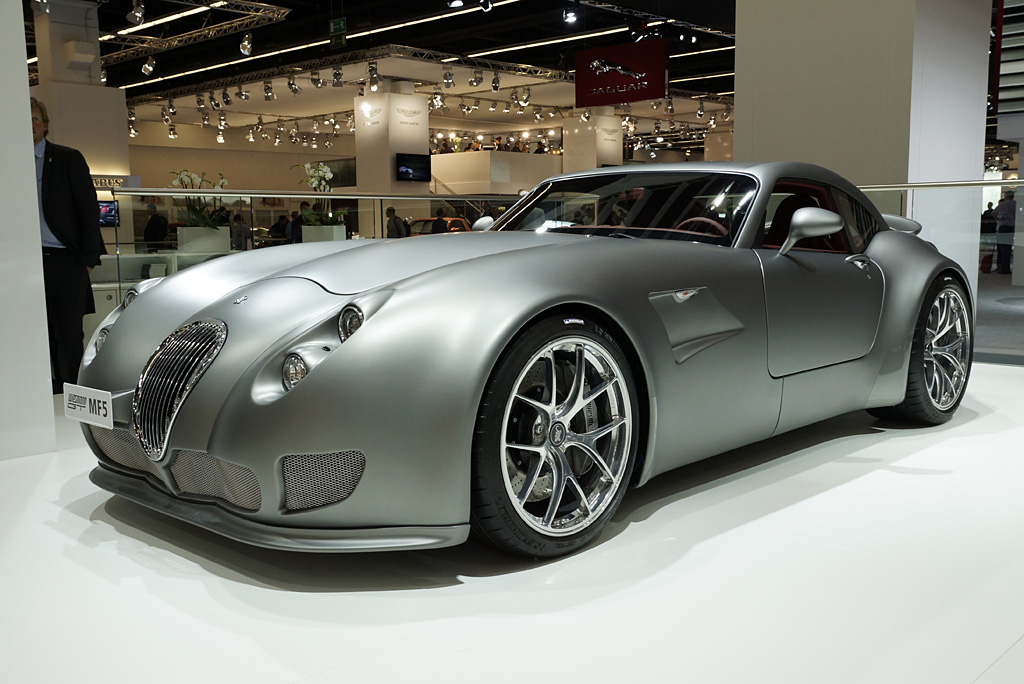 The passengers' safety is ensured by energy absorbing car body parts, by a stiff aluminum monocoque including a side-collision protection structure, and by the serial ABS combined with a dynamic stability control system DSC.
The months following the world premiere will be reserved for fine tuning and long-term as well as endurance testing, in order to fulfill all requirements of those already highly interested in Wiesmann?s newest super sports car.
The market launch of the Wiesmann GT MF 5 fully suitable for daily use is scheduled for spring of 2008. The price of the GT MF 5 with its comprehensive equipment amounts to 178,900 Euros incl. VAT. Exclusive carbon parts are also available by request.
Story by Wiesmann
In Detail
| | |
| --- | --- |
| engine | BMW V10 |
| position | Front Longitudinal |
| aspiration | Natural |
| valvetrain | Electronic Sequential Injection |
| fuel feed | ME 9.2.2 Fuel injection |
| displacement | 4999 cc / 305.1 in³ |
| bore | 92 mm / 3.62 in |
| stroke | 75.2 mm / 2.96 in |
| compression | 12.0:1 |
| power | 378.1 kw / 507 bhp @ 7750 rpm |
| specific output | 101.42 bhp per litre |
| bhp/weight | 367.39 bhp per tonne |
| torque | 520 nm / 383.5 ft lbs @ 6100 rpm |
| redline | 8250 |
| body / frame | Aluminum Monocoque Chassis |
| driven wheels | RWD w/DSC |
| wheel type | BBS RS-GT Alloy |
| front tires | 245/40 ZR 19 |
| rear tires | 275/35 ZR 19 |
| front brakes | Vented Discs w/2-Piston Sliding Calipers, ABS |
| f brake size | 36 x 374 mm / 1.42 x 14.72 in |
| rear brakes | Vented Discs w/Single-Piston Sliding Calipers, ABS |
| r brake size | 24 x 370 mm / 0.94 x 14.57 in |
| front wheels | F 48.26 x 21.59 cm / 19 x 8.5 in |
| rear wheels | R 48.26 x 25.40 cm / 19 x 10 in |
| steering | Rack & Pinion w/Power Asssist |
| f suspension | Double Wishbonws w/Trailing Links, Eibach Coil Springs, Bilstein Dampers |
| r suspension | Double Wishbonws w/Eibach Coil Springs, Bilstein Dampers, Anti-Roll Bar |
| curb weight | 1380 kg / 3043 lbs |
| wheelbase | 2507 mm / 98.70 in |
| length | 4300 mm / 169.29 in |
| width | 1950 mm / 76.77 in |
| height | 1170 mm / 46.06 in |
| transmission | 7-Speed Sequential Manual |
| gear ratios | 3.99:1, 2.65:1, 1.81:1, 1.39:1, 1.16:1, 0.83:1 |
| final drive | 3.62:1 |
| top speed | ~279.97 kph / 174 mph |
| 0 – 60 mph | ~3.9 seconds |
| fuel econ epa | 14.8 L/100 km or 16 mpg-us |