2009 Bugatti 16/4 Veyron 'Sang d'Argent'
Bugatti honours the importance of the Middle East market with 2 unique cars and a special series of only 5 Veyrons for the Middle East market Dubai, 15th December 2009 – Bugatti Automobiles S.A.S. finishes its Centenary celebrations with three tailor made cars, especially developed for its discerning clientele in the Middle East: the Veyron "Sang d'Argent", the Grand Sport "Soleil de Nuit" and the Veyron "Nocturne", limited to five cars only.
The two-tone-scheme of the Centenary Villa d'Este cars were at the origin of the "Sang d'Argent", a one-off Veyron version built exclusively for the Middle East. But the country coded coloured parts of the car have now been changed to a subtle silver metallic which discreetly flows into the lines of the polished aluminium parts – doors and front wings – thus enhancing the "silver theme" of this car; yet another unique Bugatti creation celebrating the 100th anniversary of the brand. The "Sang d'Argent" has the Grand Sport rims, they complete together with the air intakes on the roof the overall silver appearance. Through the windows shines a differentiating Havana interior with quilting pattern on seats and saddle and other very personalized items emphasizing the unique features of this very special Bugatti.
The cars will be available for delivery in the first quarter of 2010. Their prices range from 1.65 Mio Euro for the five car series of the "Nocturne" to 1.45 Mio Euro for the "Sang d'Argent" and 1.55 Mio for the "Soleil de Nuit", the Veyron and Grand Sport one-off models. All these models are a visible proof of how creativeness and inspiration can be successfully driven to new limits. Bugatti's constant strive for new technology, more power with less weight, more innovative design aiming for improved speed, easier handling and more inspiring elegance has become legendary. Bugatti's sophisticated individualization and personalization program has opened new opportunities for the creative and discerning customers found in the Middle East. New materials have widened the range of personalized options and have led to combinations and applications of different varieties of high tech elements never seen before. Thus Bugatti chose the Dubai Motor Show to present these new combinations the first and only time to a broader public.
Story by Bugatti Automobiles S.A.S.
Pictures & Gallery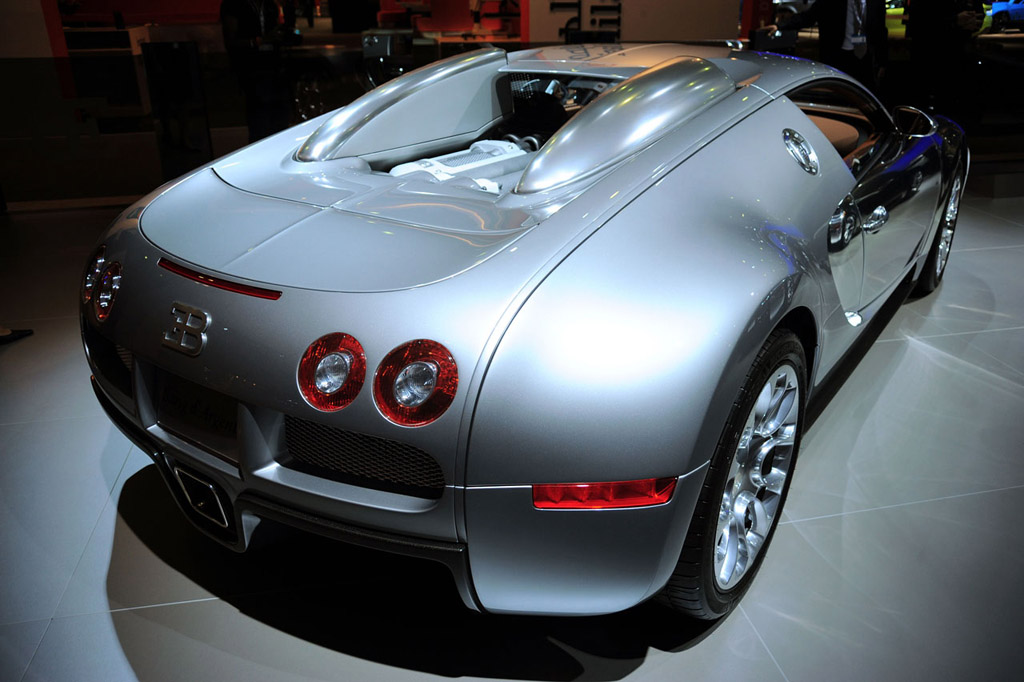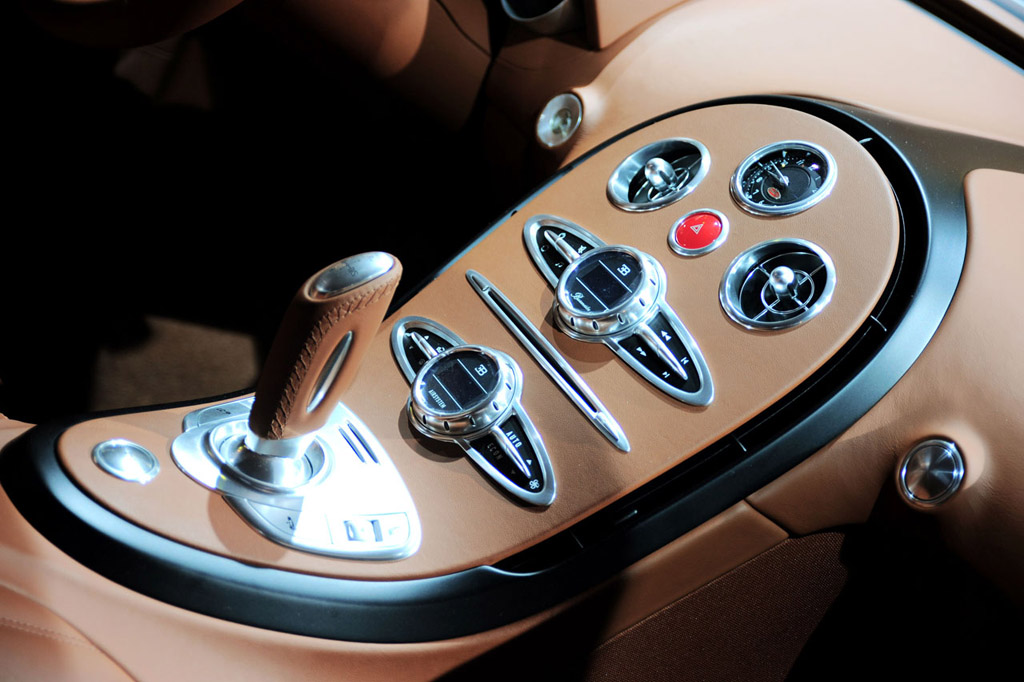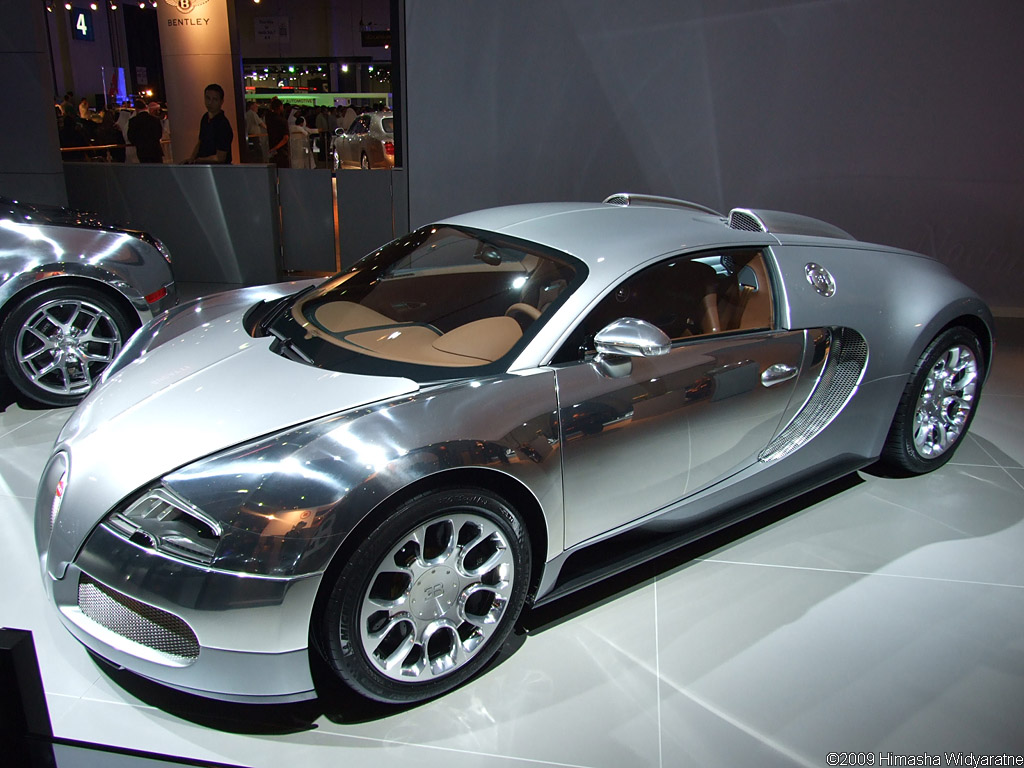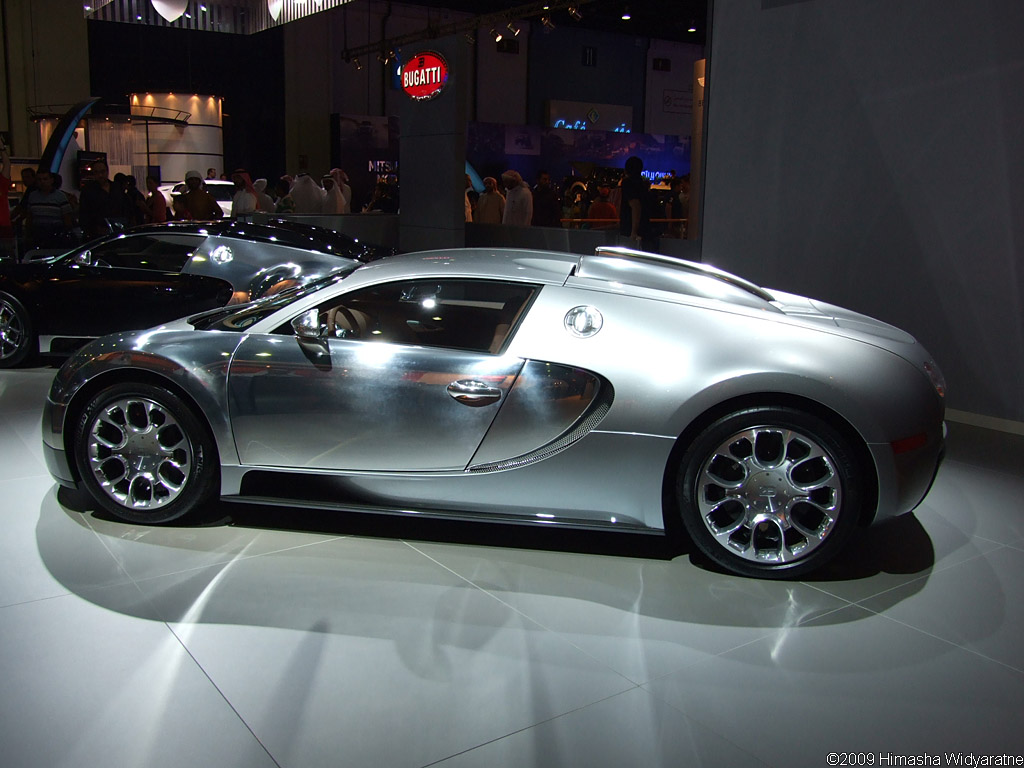 Specs & Performance
| | |
| --- | --- |
| | |
| type | Series Production Car |
| released at | 2009 Dubai Motor Show |
| built at | Molsheim, France |
| production | 1 |
| price €/td> | €1,450,000 |
| engine | Aluminum, Narrow Angle W16 |
| position | Mid Longitudinal |
| aspiration | Quad Turbocharged |
| block material | Forged Aluminum Alloy |
| valvetrain | DOHC 4 Valves / Cyl w/VVT |
| fuel feed | Multi-point Electronic Sequential Indirect Injection |
| displacement | 7993 cc / 487.76 in³ |
| bore | 86 mm / 3.4 in |
| stroke | 86 mm / 3.4 in |
| compression | 9.0:1 |
| power | 746.4 kw / 1001 bhp @ 6000 rpm |
| specific output | 125.23 bhp per litre |
| torque | 1250 nm / 922.0 ft lbs @ 3300 rpm |
| redline | 6600 |
| body / frame | Aluminum Panels over Carbon Fibre Monocoque w/Aluminum Front Subframe, Hybrid VCarbon/Stainless Steel Rear Subframe |
| driven wheels | 4WD w/TCS, Stability Control |
| front brakes | Ventilated & Drilled Carbon Discs w/8-Piston Calipers |
| rear brakes | Ventilated & Drilled Carbon Discs w/6-Piston Calipers |
| steering | Rack & Pinoin w/Hydraulic Power Assist |
| f suspension | Control Arms w/Coil Springs, Anti-Roll Bar |
| r suspension | Control Arms w/Coil Springs, Anti-Roll Bar |
| transmission | Electronically-Controlled Ricardo 7-Speed e/Dual-Clutch |
| tran clutch | Haldex LSD Clutch |