2010 Ford Focus Race Car Concept
LOS ANGELES, Nov. 17, 2010 – Ford Motor Company is putting racing on the map at the 2010 Los Angeles International Auto Show with the debut of the Focus race car concept, demonstrating future potential for the all-new 2012 Ford Focus to compete in road and touring car championships with teams around the world.
The Focus race car concept is a dramatic example of Ford's global approach to product development and builds on the company's comprehensive approach to leveraging its global product platforms.
This race car concept, powered by the sophisticated 2.0-liter Ford EcoBoost I-4 engine, is the first to benefit from a collaborative effort between Ford and race teams around the world that have already built and raced successful Focus race cars. The Focus race car concept has been based around rules governing circuit racing in the United States and beyond.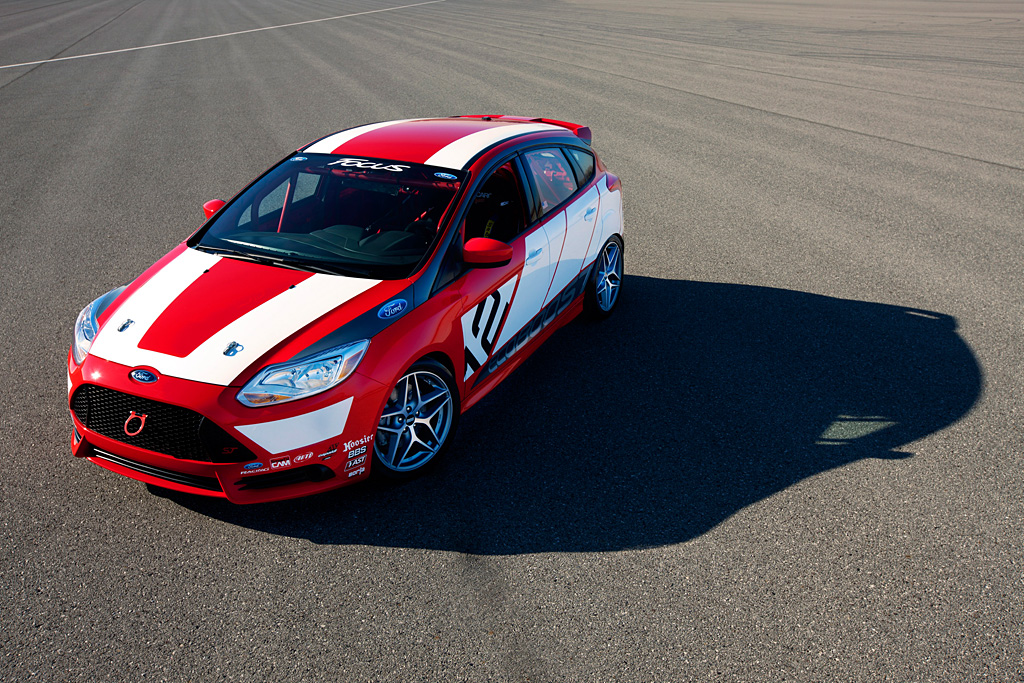 "This teamwork has resulted in a global racing platform using a common Focus body and a safety cage built to FIA regulations – a competitive platform that can be tailored for regional competition, based on different rules," said Jost Capito, director of Global Performance Vehicles and Motorsport Business Development. "By leveraging our collective experience and Ford technology worldwide, this approach parallels our global dedication to the Focus production car and specifically its exciting performance derivative, the new Focus ST, to deliver a competitive race car that can be campaigned around the world."
Using the all-new Focus as its base, the Focus race car concept features AST performance coil-over adjustable dampers, Ford Racing upgraded sway bars with adjustable end links and front brakes with 320-millimeter two-piece rotors and race pads. The Anthracite 18-inch wheels and Hoosier race tires put the finishing touches on the exterior.
In addition to the FIA Super 2000 regulations roll cage, interior components include a Recaro® racing seat, AIM MXL Pista data system and AIM SmartyCam. Ford Racing fire suppression system and Ford Racing six-point safety harness round out the modifications that bring the car from street-spec to race-ready.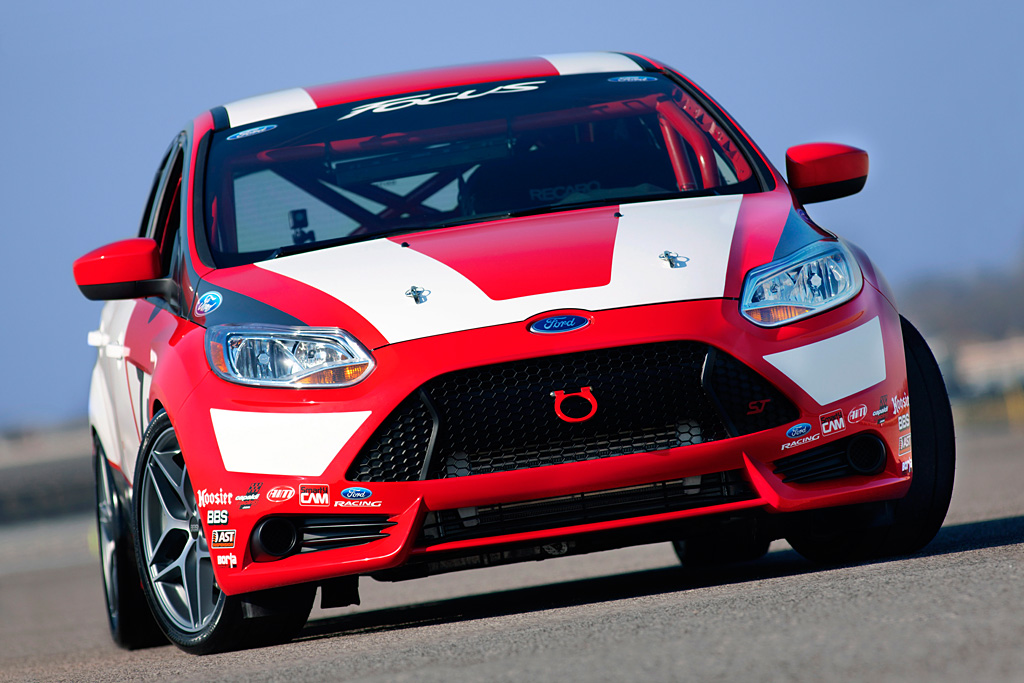 "There has been tremendous interest from the racing world in the new Focus, and it's the perfect fit for a global touring car," said Capito. "Even more, by working with professional private race teams, we're ensuring Focus has the support it needs to compete and win around the world."
Benefits will stretch beyond the track
Professional private race teams are partnering with Ford to develop common technical specifications for the race car, which will conform to FIA Super 2000 regulations with potential to adopt to other regulations.
The teams are being brought together by Ford to harness their strengths and define roles for the development of the race car. Ford will also support the race teams by providing data, advanced engineering tools, state-of-the-art testing facilities and production parts, resulting in teams racing more competitive cars that are developed with greater efficiency.
"Ford's commitment to using motorsports to influence high-performance vehicles will be highly evident, as the development of the Focus touring car will also provide valuable input as we develop the upcoming Focus ST production car," said Capito. "It's very similar to how the Mustang team was able to apply learnings from the Ford Racing Boss 302R to the 2012 Mustang Boss 302."
The first race appearance for the Focus is targeted for the 2011 British Touring Car Championship. Globally, the race car has the potential to run in many national and regional championships, such as the China Touring Car Championship and 24-hour endurance races like the classic Nürburgring in Germany.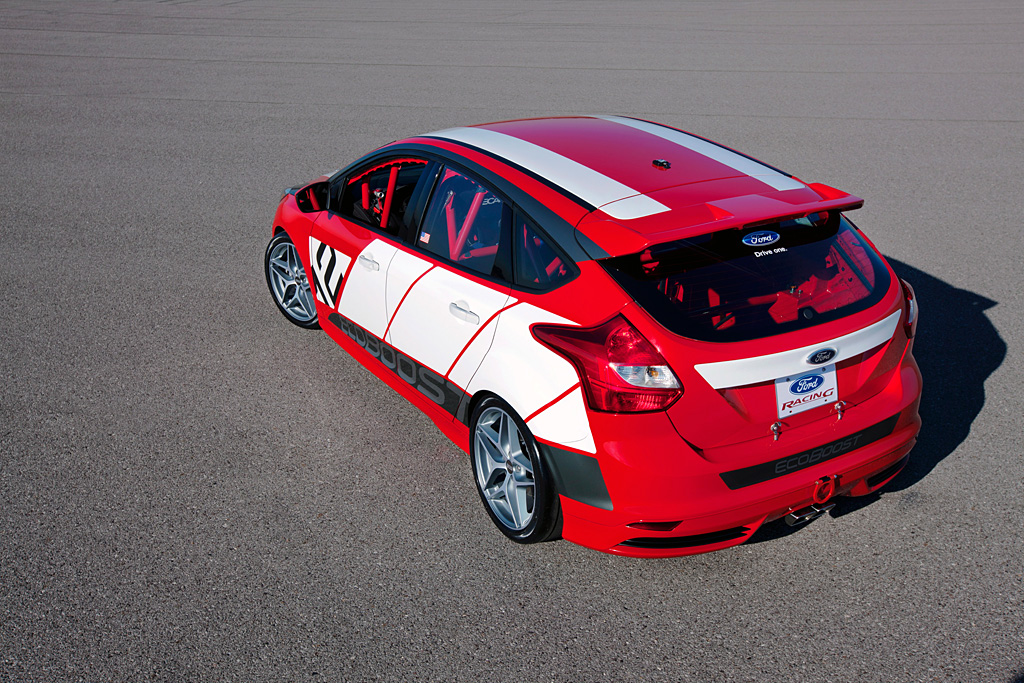 New global Focus has it all
The new Focus is the result of a global product development program bringing together Ford's best engineers and technology from around the world. The new Focus will be sold in 122 markets worldwide and manufactured in Ford plants in Asia, Europe and North America.
All Focus models sold in North America will be powered by Ford's most advanced naturally aspirated engine ever: a new, 2.0-liter gasoline engine equipped with direct injection and twin independent variable camshaft timing – two important fuel-saving technologies. A six-speed PowerShift automatic transmission will be offered.
A Focus ST version also will be available, boasting exhilarating performance and an addictive sound. Ford's first global high-performance model, scheduled for 2012 launch and developed by Ford's global performance vehicles team, will deliver a 2.0-liter EcoBoost I-4 engine, lowered chassis, high-performance brakes and unique suspension tuning. The standard transmission for Focus ST is a six-speed manual, optimized with sporting ratios matched to the performance characteristics of the engine.
Ford's North American engineering team is targeting fuel economy of 40 mpg highway for the most efficient Focus model, equipped with an automatic transmission. The new Focus will also offer North American consumers a full suite of Ford technology – including Ford SYNC®, MyFord Touch™, in-car Wi-Fi capability, active park assist and rear view camera.
Story by Ford Motor Co.
2010 Ford Focus Race Car Concept Gallery
In Detail
| | |
| --- | --- |
| submitted by | admin |
| type | Concept / Prototype Car |
| released at | 2010 LA Auto Show |