2011 Ford Fiesta RS WRC
For the 2011 WRC season, M-Sport have developed a 1.6-liter version of their S2000 Fiesta Rally Car. The new car will compete under the Ford Abu Dhabi World Rally Team banner for all rounds of the 2011 season.
Press Release
BIRMINGHAM, 13 January 2011 – Ford's all-new Fiesta RS World Rally Car was revealed in its 2011-specification today when the company unveiled the colour scheme that will adorn the car in the FIA World Rally Championship.
Ford Fiesta RS WRCTeam driver Mikko Hirvonen and Ford of Europe motorsport chief Gerard Quinn unveiled the livery for the eye-catching Fiesta RS WRC at the Autosport International Racing Car Show in Birmingham, motorsport's traditional start-of-season showcase event.
Ford's official WRC squad for 2011 also confirmed its new name and logo – it will compete as the Ford Abu Dhabi World Rally Team.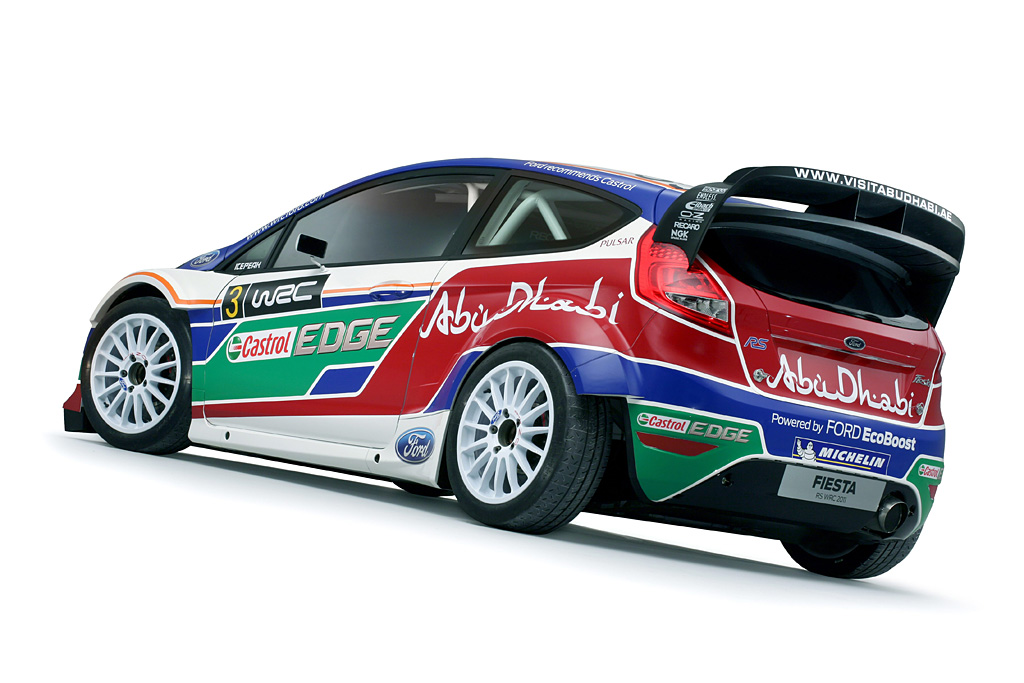 Title partner Abu Dhabi will continue its support throughout 2011 and its distinctive branding will also feature strongly in the new-look livery. Abu Dhabi has been a team partner since 2007 and Emirati driver Khalid Al Qassimi will drive a third Fiesta RS WRC in support of team-mates Hirvonen and Jari-Matti Latvala.
The team will also be sponsored by Castrol, the world's leading lubricants brand and a partner since 2005. Branding for Castrol EDGE, its global range of best-in-class motor oils, will feature prominently in the Fiesta RS WRC's livery.
BP, Castrol's parent company, plans to promote the Castrol EDGE range of advanced synthetic oils, and demonstrate their strength to perform in the demanding surroundings of the WRC.
"The preview version of the car we unveiled in September at the 2010 Paris Motor Show was dramatic in its blue and grey livery, developed specifically for the show by Ford of Europe's design team," said Quinn.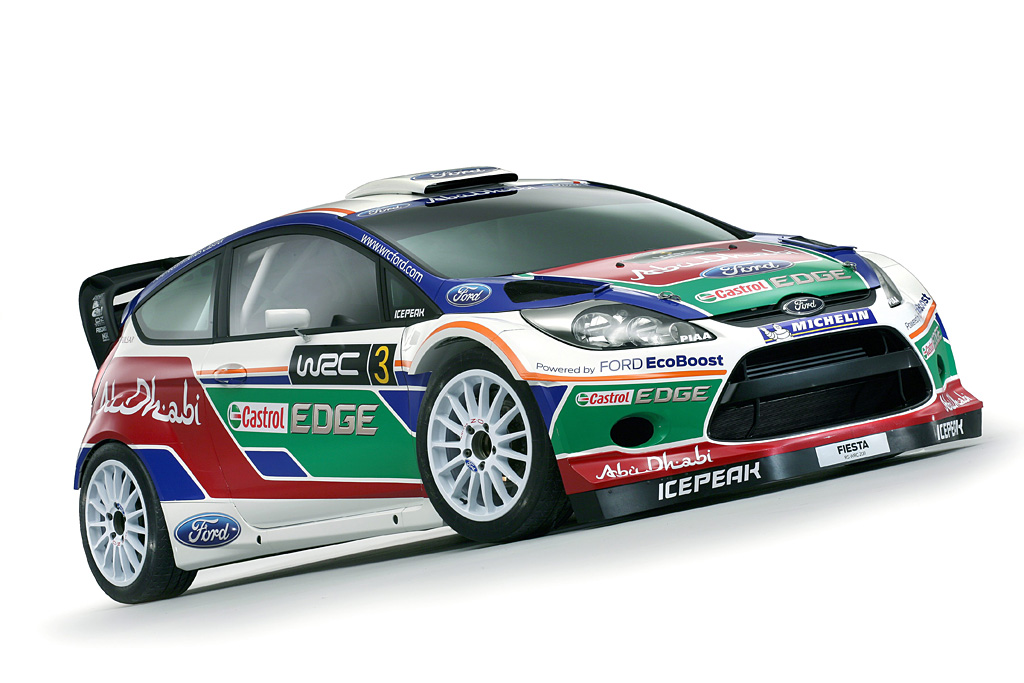 "But now we have a fully finished car in a really eye-catching new livery plus a new team name, and excitement is building throughout the squad as we prepare for the opening round in Sweden next month.
"Ford's designers and product development engineers have worked closely and efficiently alongside the expertise of our partners at M-Sport. The aim was, of course, to produce a car capable of challenging for world championship titles, but one which also reflects the much-admired 'kinetic design' styling cues synonymous with Ford's current road vehicles," added Quinn.
Ford's WRC challenger, derived from the best-selling Fiesta road car, has been developed by Ford of Europe and British-based rally partner M-Sport. It is based on the Fiesta S2000 rally car, which won the legendary Monte Carlo Rally in January 2010 and other international and national rallies during the season.
The Fiesta RS WRC will form part of a new era in the world championship, for which a revised cost-effective formula is introduced this season. It boasts four-wheel drive transmission and a 1.6-litre turbocharged engine, based on the new Ford EcoBoost road vehicle power plant, to comply with the new regulations.
The full specification of the car will be available at the beginning of February. Testing will continue in Sweden next week ahead of the Fiesta RS WRC's championship debut in Rally Sweden, the opening round of the series, on 10 – 13 February.
Story by Ford Abu Dhabi WRT
2011 Ford Fiesta RS WRC Gallery
2011 Ford Fiesta RS WRC Video
In Detail
| | |
| --- | --- |
| type | Racing Car |
| built at | Dovenby, England |
| engineers | Christian Loriaux, Chris Gray, Anthony Brinkman |
| engine | Ford EcoBoost Inline-4 |
| position | Front, Transverse |
| aspiration | Garrett Turbocharger |
| valvetrain | 4 Valves per Cyl |
| fuel feed | Direct Injection |
| displacement | 1600 cc / 97.64 in³ |
| bore | 83 mm / 3.3 in |
| stroke | 73.9 mm / 2.9 in |
| power | 223.7 kw / 300 bhp @ 6000 rpm |
| specific output | 187.5 bhp per litre |
| bhp/weight | 250.0 bhp per tonne |
| torque | 450 nm / 331.9 ft lbs @ 4000 rpm |
| body / frame | Unitary Steel Monocoque w/Composite Panels, T45 Roll Cage, |
| driven wheels | 4WD w/Mechanical Front & Rear Diffs |
| wheel type | Aluminium |
| front tires | Michelin 650mm |
| rear tires | Michelin 650mm |
| front brakes | Brembro Ventilated Discs w/4-Piston Monoblock Calipers |
| rear brakes | Brembro Ventilated Discs w/4-Piston Monoblock Calipers |
| front wheels | F 45.7 x 20.3 cm / 18 x 8 in |
| rear wheels | R 45.7 x 20.3 cm / 18 x 8 in |
| steering | Rack & Pinion w/Power Assist |
| f suspension | MacPherson Struts w/Reiger Damper Resevoirs, Anti-Roll Bar, Aluminium Uprights |
| r suspension | MacPherson Struts w/Reiger Damper Resevoirs, Anti-Roll Bar, Aluminium Uprights |
| curb weight | 1200 kg / 2646 lbs |
| wheelbase | 2480 mm / 97.6 in |
| length | 3963 mm / 156.0 in |
| width | 1820 mm / 71.7 in |
| transmission | M-Sport / Xtrac 6-Speed Sequential |
| tran clutch | M-Sport / AP Racing Twin Disc |
| fuel capacity | 80 litres or 21.12 gal. |
| key drivers | Mikko Hirvonen |